You finally went out on a limb and purchased an air fryer. You've heard so many great things about how they cook... but now you don't know where to start when it comes to using it! That's where these Easy Air Fryer Recipes for Beginners come in! All of these beginner recipes are simple to make, turn out perfect, and even a newbie can make them!
The good news about using this new kitchen appliance is that air frying is the easiest way to get crispy skin and still uses way less oil than deep frying! And, you can also spend less time cooking when you chose an air fryer over a conventional oven.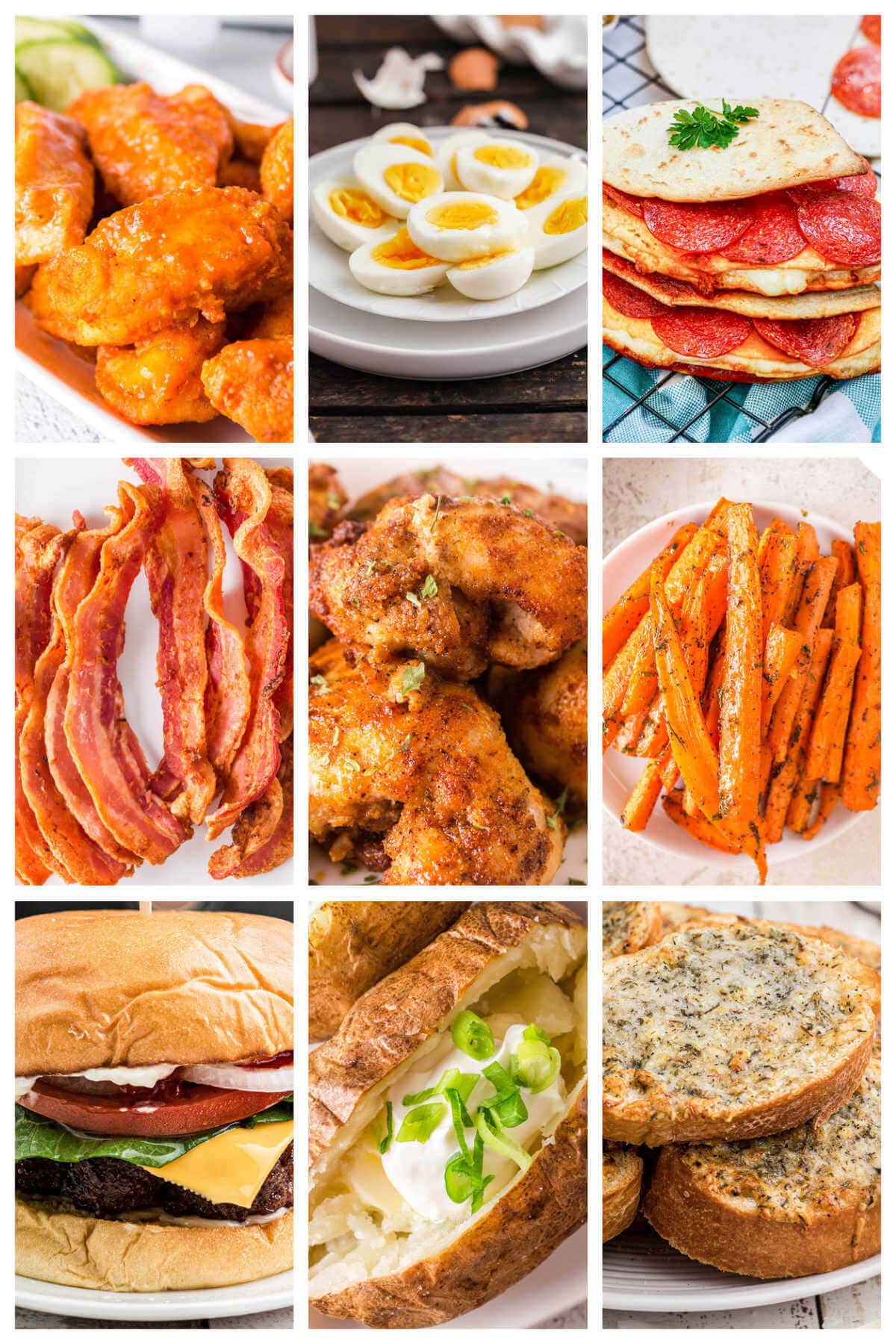 If you love easy recipes that are great for busy weeknights then look no further than this Dump and Go Instant Pot recipes. The next time you need a family-friendly meal give these Ground Beef Recipes for Kids a try.
Jump to:
Deb's Tips and Tricks
Air fryers are becoming increasingly popular as a healthier way to prepare food without added fats and oils. If you're new to air fryer cooking, here are some tips to get you started.
To achieve the most crunchy, crispy food with your air fryer, be sure to preheat it before each use.
Additionally, don't overcrowd the basket or air fryer tray as that can result in uneven cooking and soggy food.
For best results, cut food items into uniform sizes so they cook consistently.
And, of course, experiment with different spices and seasonings - it's a great way to add flavor when cooking with an air fryer!
If you are cooking main dishes that can get a little messy during the cooking process, you can line your air fryer basket with foil or parchment paper for easy cleanup.
When you are making these easy air fryer meals, make sure that you place your food in a single layer so that the hot air has room to move freely, the hot air is what gives your simple ingredients that crispy exterior.
If you are using a smaller air fryer you will most likely need to cook in batches. You can keep your food warm in a 200-degree regular oven while you make the batches.
With these simple tips in mind, you'll soon be creating scrumptious meals that use little to no oil or butter in an economical and efficient way.
FAQ's
What is an air fryer?
An air fryer is an electrical kitchen appliance that uses hot air to cook food instead of traditional cooking methods such as baking, deep-frying, or grilling. It's a great way to make delicious meals with little to no oil or butter.
How does an air fryer work?
An air fryer works by circulating hot air around the food in a contained area. This helps to create an even crispiness and flavor throughout the food while also keeping it moist on the inside.
What can I cook in the air fryer?
You can cook almost anything in an air fryer - from chicken, shrimp or burgers to side dishes like baked potatoes, carrots or asparagus. Did you know the air fryer makes the BEST crispy bacon? You can even make great desserts. The possibilities are endless! Just be sure to adjust the time and temperature according to the instructions for each specific food item.
Do you need to preheat the air fryer?
Just like you preheat your oven, preheat the air fryer for most recipes.
Now that we've gotten all the facts out of the way, it's time to get cooking. So, open up that box and get ready for some of the best food you've ever made in your kitchen!
1. Air Fryer Bacon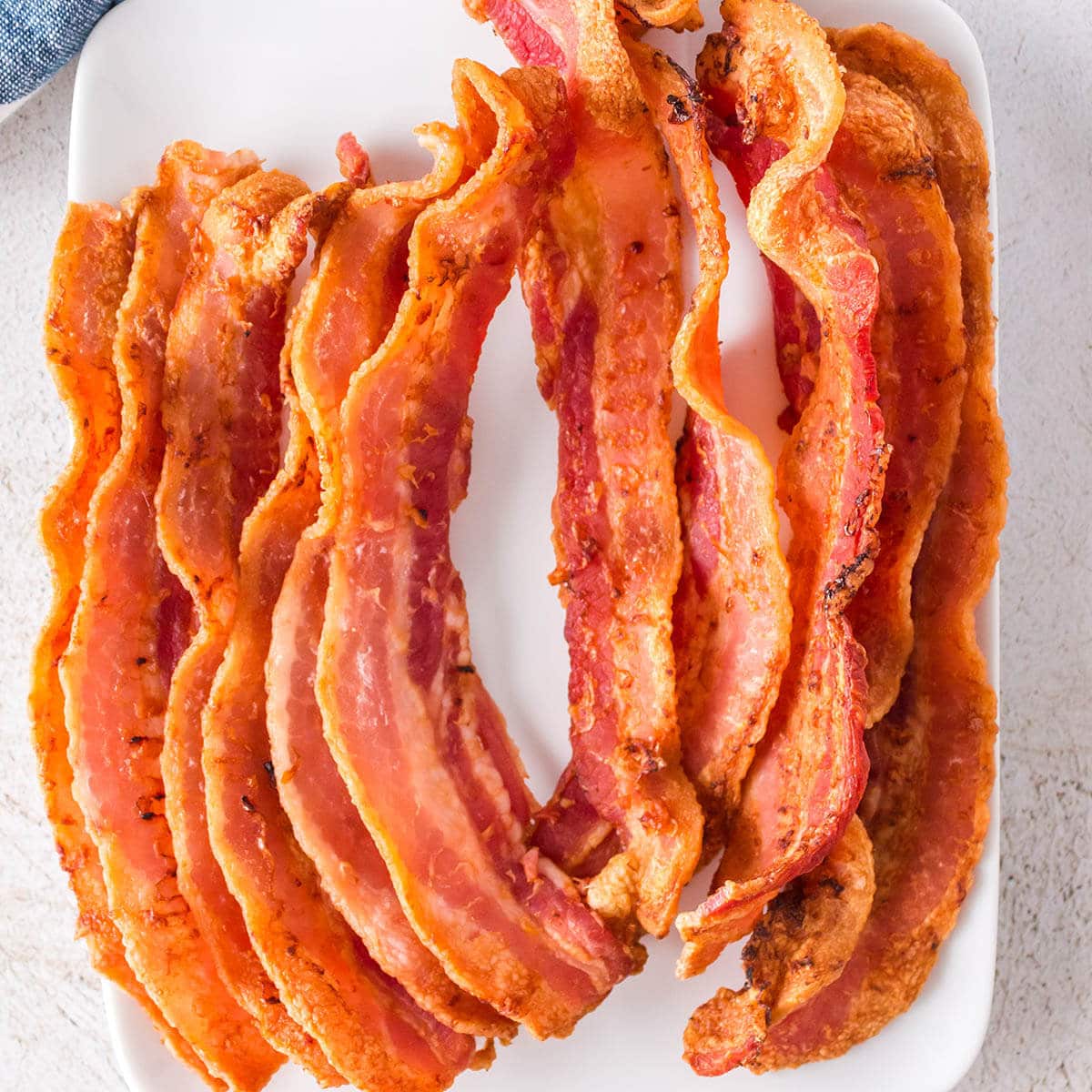 Do you love fresh bacon in the mornings but hate all the splatters on your stove or even worse your clothes? That's where this Air Fryer Bacon recipe comes in handy. The grease is contained and it turns out crispy every time that you make it.
Serve it along some french toast casserole and you will have a delicious meal that the whole family will love for breakfast or brunch!
You could also use this air fried bacon in this Cheese and Bacon Pasta Bake or in this Bean and Bacon Soup. No matter which recipe you choose to try, you will love it!
2. Air Fryer Baked Potato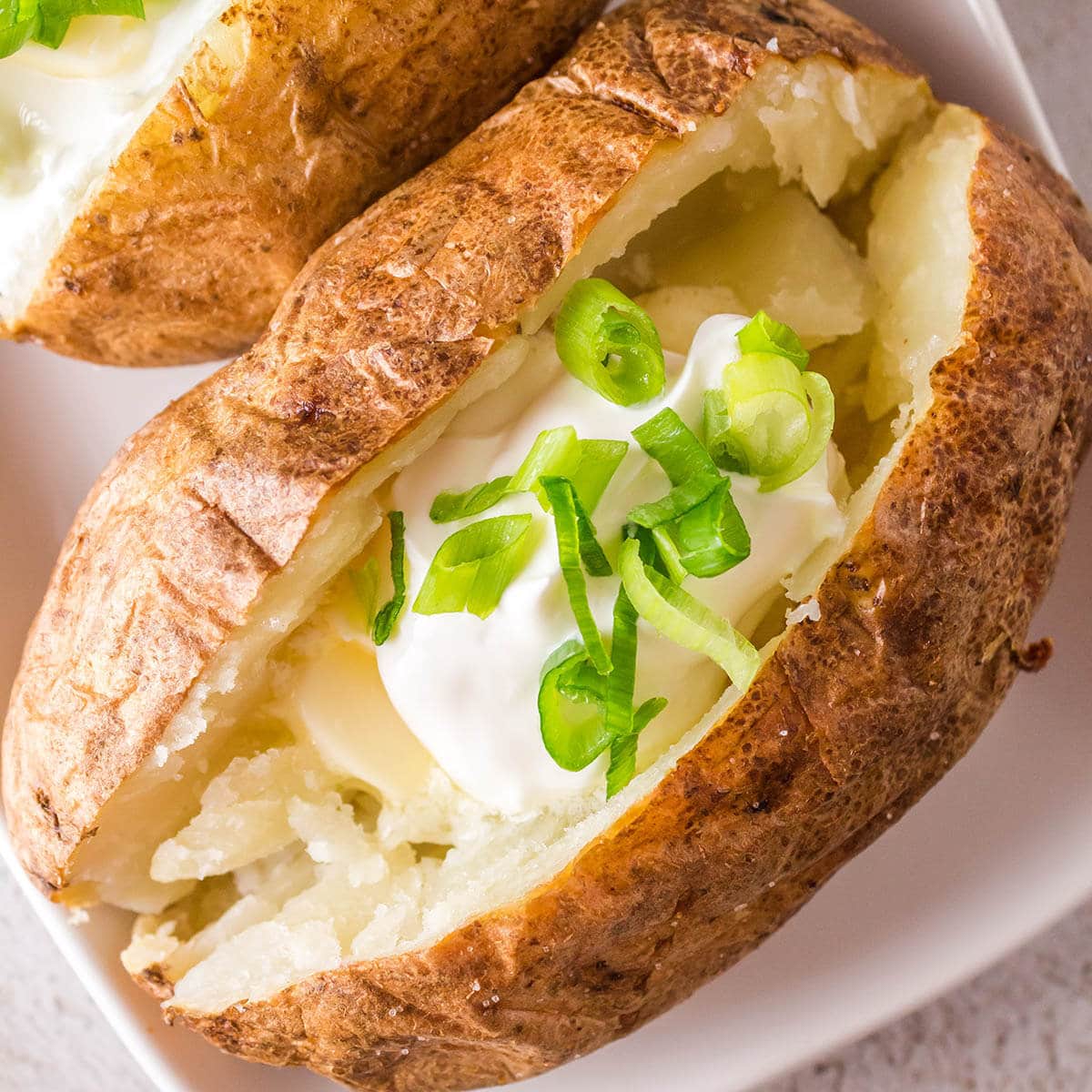 Air Fryer Baked Potatoes are a perfect weeknight meal when you want something simple yet comforting. The best part of making baked potatoes in the air fryer is that they take less time than in the oven and the skin turns out so crispy!
This air fryer potatoes recipe is one of my favorite easy air fryer recipes for beginners which makes it a win on busy weeknights.
Load these baked potatoes with your favorite toppings like butter, sour cream, green onions or chives. You could also top them with pulled pork butt or tailgate chili for a hearty meal.
3. Air Fryer Boiled Eggs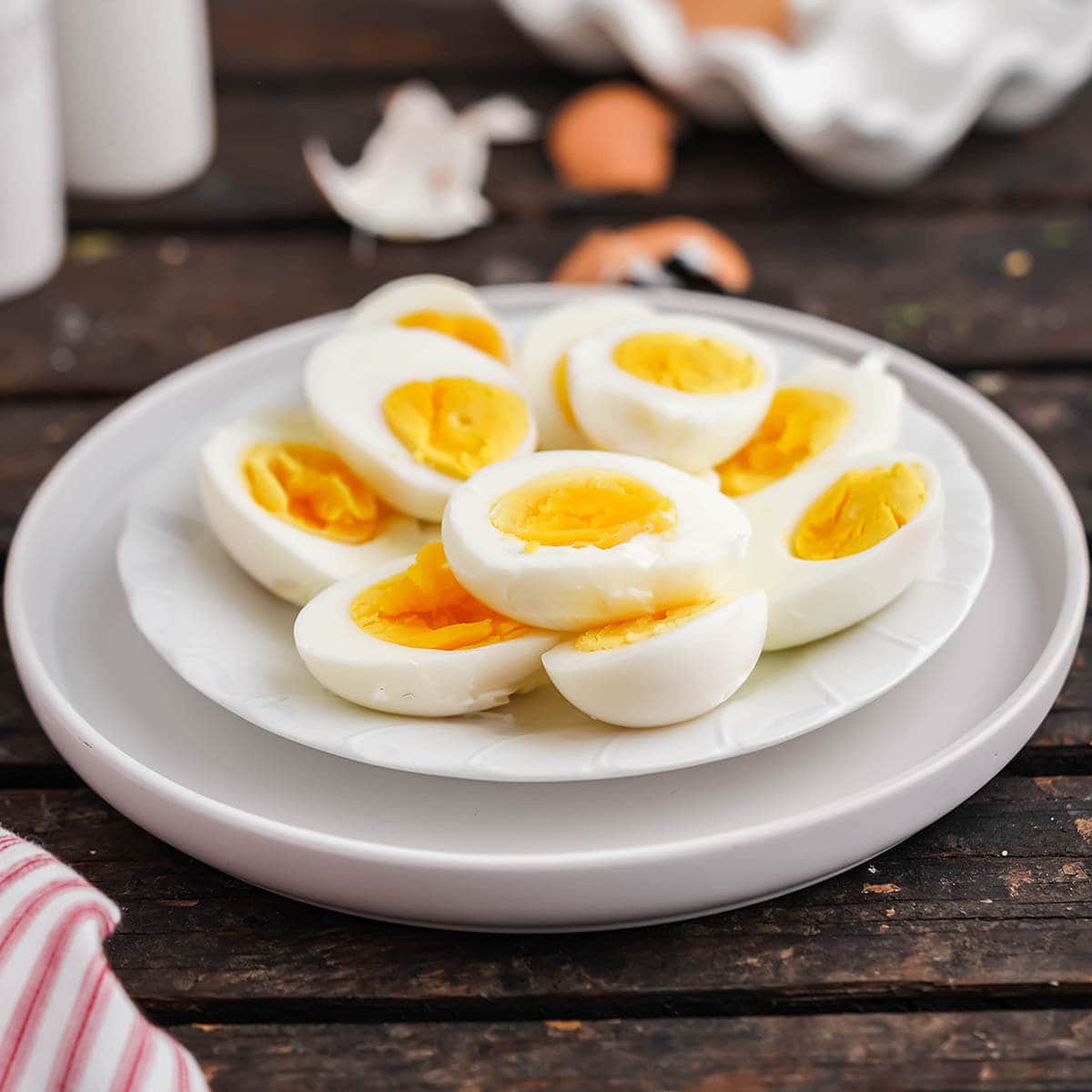 Air Fryer Boiled Eggs are as simple as placing them inside, setting the timer and temperature, and then letting them sit until they're cooked - no water necessary! Perfect hard-boiled eggs every time.
If you love easy egg casserole recipes, then next time you may want to give this Overnight Eggs Benedict Casserole recipe a try.
4. Air Fryer Maple Glazed Carrots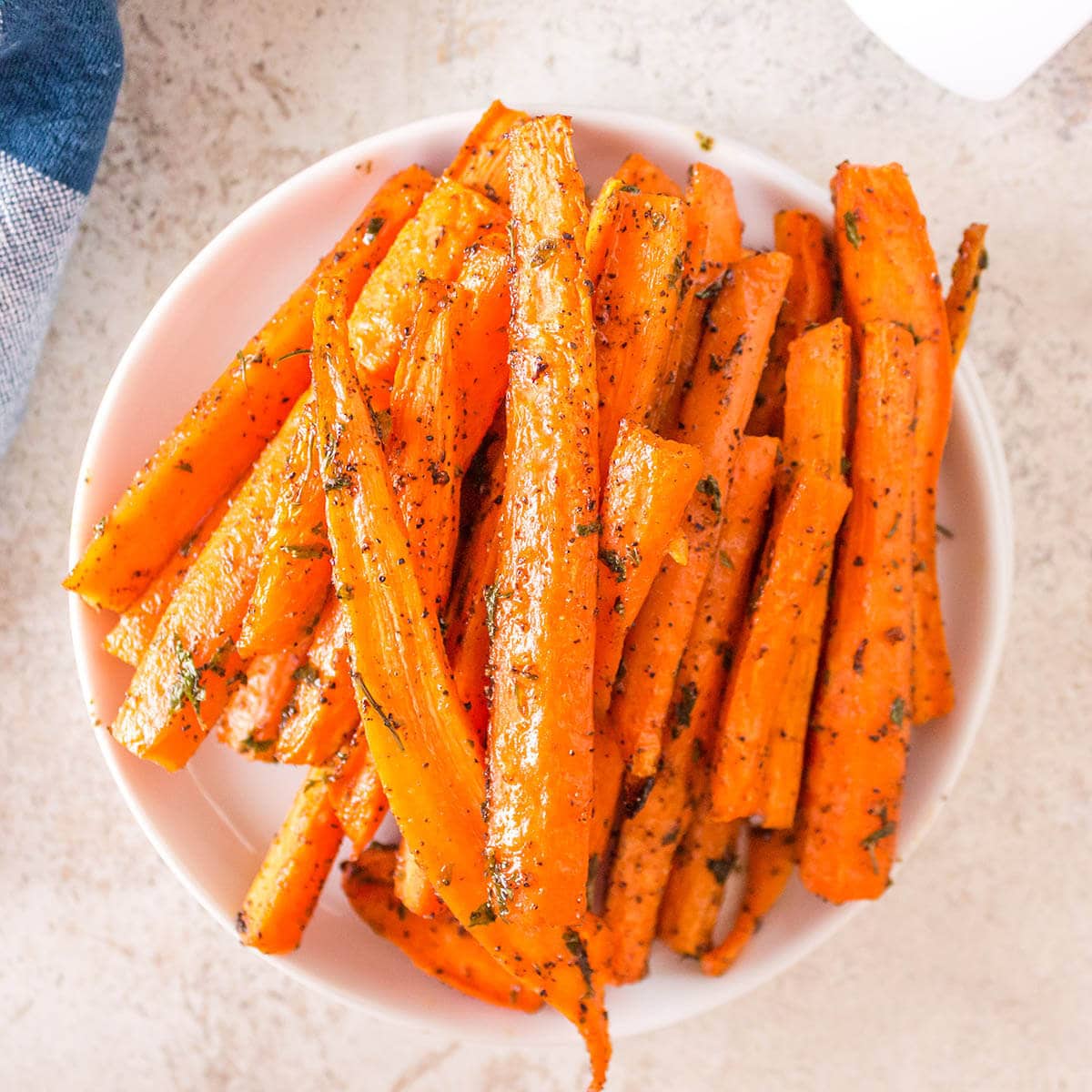 Air Fryer Maple Glazed Carrots are a delicious and nutritious recipe, perfect for dinner parties or as a side dish. The combination of sweetness from the maple syrup, complemented by the savory flavors salt, black
pepper, and parsley makes these carrots unbelievably flavorful. Plus, adding them to an air fryer means they get just the right amount of crispiness that everyone loves!
Do you love to serve simple vegetable side dish recipes with your family dinners? These Pan Roasted Vegetables are crispy, flavorful and pair well with just about any meal. You could also give these Roasted Green Beans and Carrots recipes a try the next time you need new healthy recipes.
5. Air Fryer Frozen Burgers
Are you craving an easy dinner that perfect for busy weeknights? If so, these Air Fryer Frozen Burgers are just the ticket. No need to worry about the weather when you are craving a homemade burger. It's perfect for beginner cooks.
There is basically no prep time involved. So, it's a win-win all the way around!
Top your homemade burgers with these Refrigerator Pickles, they are tangy, and crunchy and taste amazing on a fresh burger. I also like to serve these juicy burgers with a side of tater tots, deviled egg potato salad, or even french fries.
6. Air Fryer Quesadilla Recipe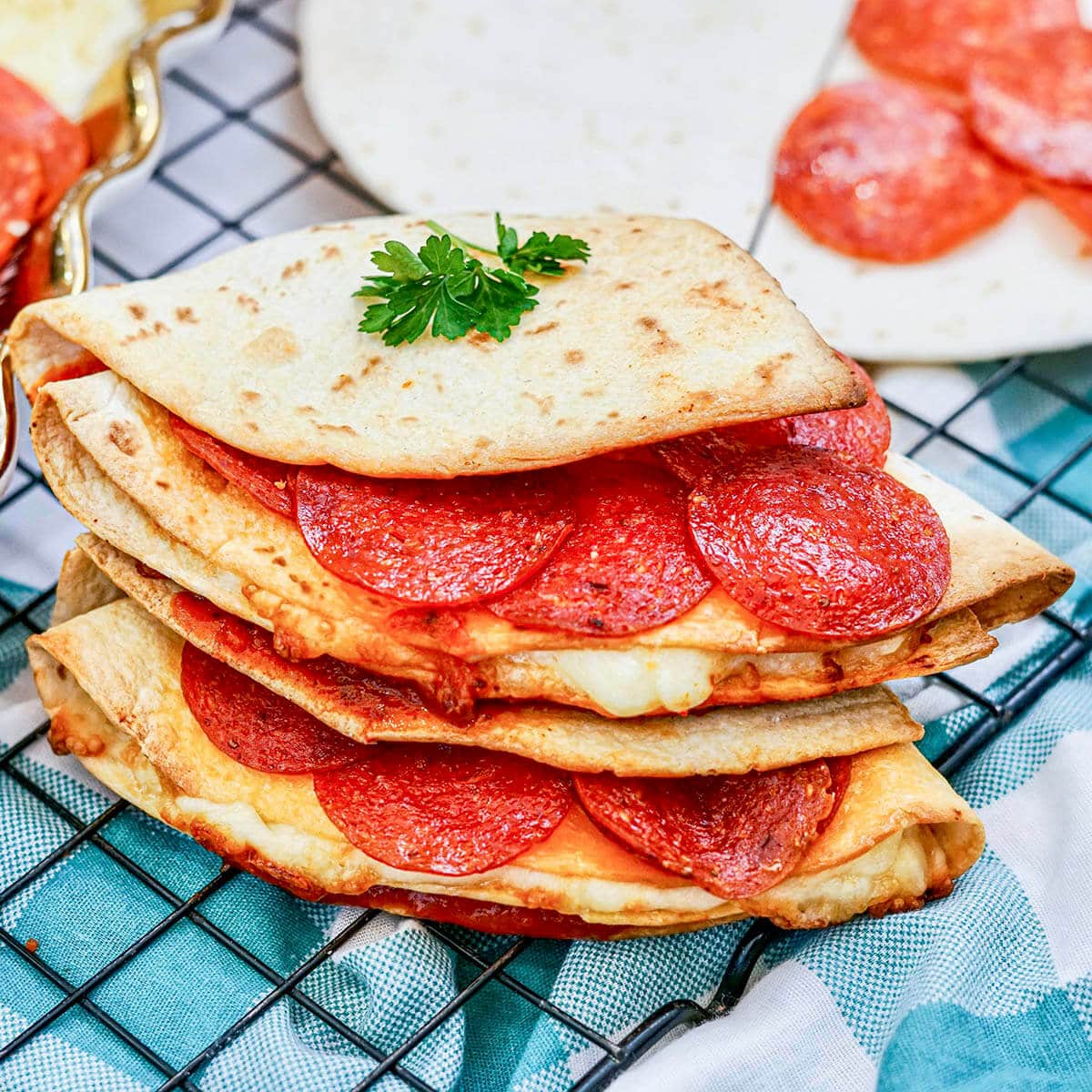 Do your kids come home from school ravenous and asking you for a snack? Skip the junk food, and whip up these Air Fryer Quesadillas. They are quick, hearty, and oh so easy to make.
They also make for a tasty lunch or dinner when you are craving something simple. So, next time you want to change up your afterschool routine give this simple recipe a go!
If you love all the flavors of homemade pizza but don't want to spend the time making a homemade crust, then this Naan Bread Pizza recipe is for you!
7. Air Fryer Chicken Thighs
Air fryer chicken thighs make a fantastic meal that comes together in no time at all. The meat stays tender and juicy on the inside. This makes for an incredibly tasty dish that is sure to become a favorite with your family!
If you have leftover chicken, use it up in this Chicken Spaghetti with Rotel Casserole. It's always a hit with your friends and family.
8. Air Fryer Shrimp
Air Fryer Shrimp is a wonderful way to enjoy a seafood snack. Through the use of hot forced air and no oil, it's possible to attain a delicious crunchy outer layer for the shrimp with a juicy center. Serve it with plenty of shrimp cocktail sauce for dunking!
Occasionally I like to serve my shrimp with sweet potato fries but most of the time I enjoy pairing them with Oven Roasted Potatoes.
9. Air Fryer Hamburgers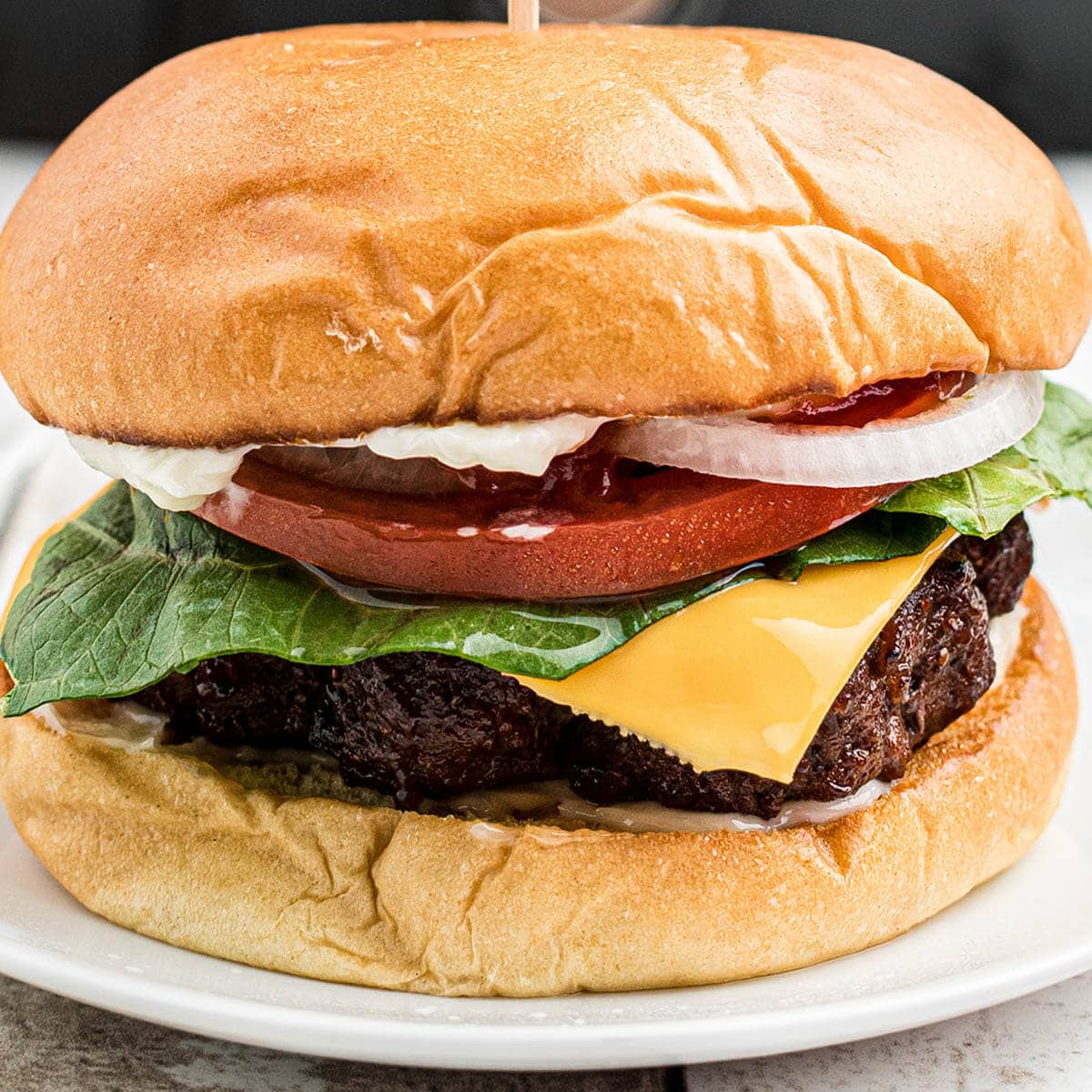 Air fryer burgers are becoming a popular alternative to traditional pan searing or grilling. Cooking burgers in an air fryer is faster and easier, but can still yield an incredible flavor!
So, the next time you are craving a juicy burger but it's raining outside whip up a batch of these homemade burgers.
I don't know about you but I like to pair this simple meal with a fresh vegetable side dish like these Steamed Brussel Sprouts.
10. Air Fryer Garlic Bread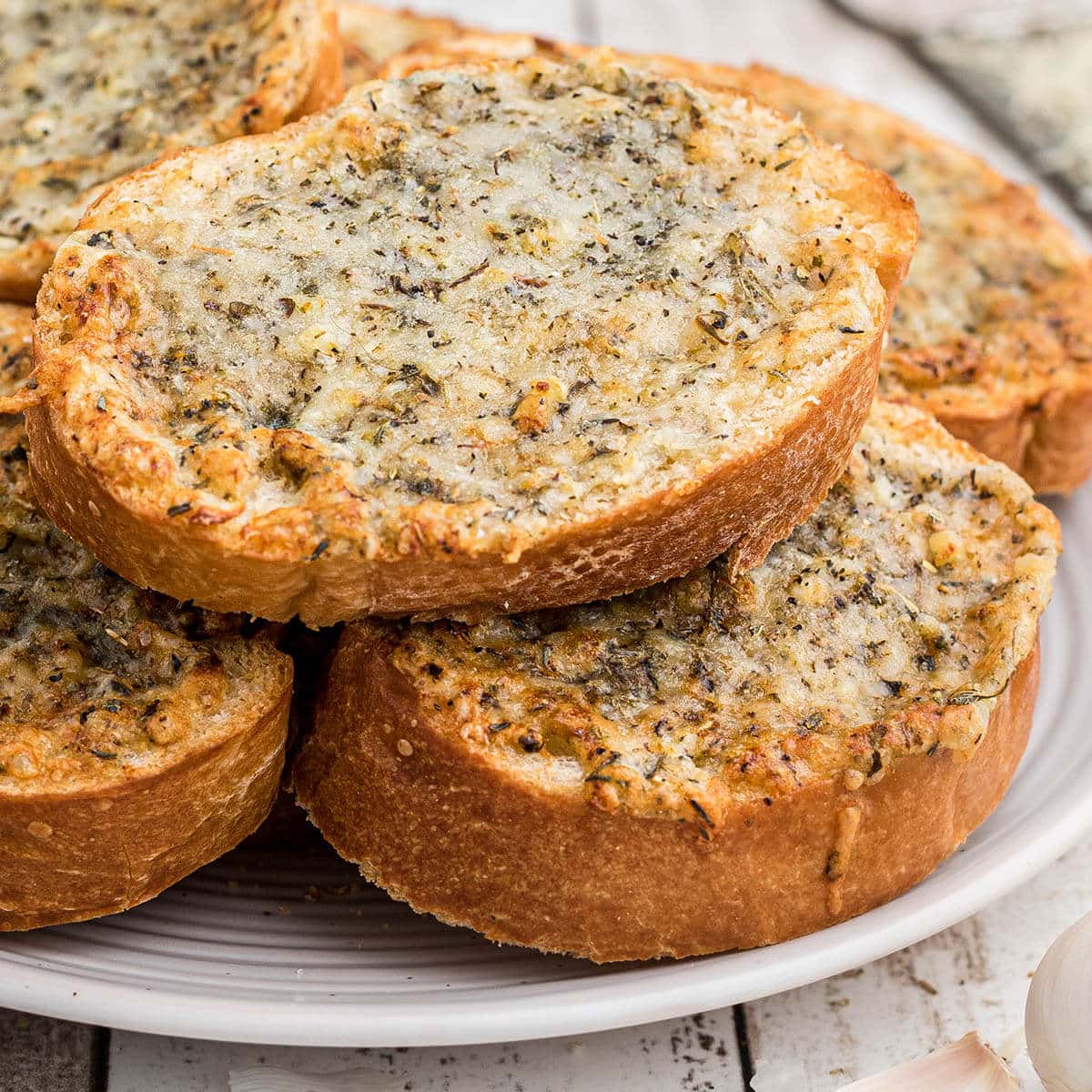 Don't forget to top it with parmesan cheese for a little extra zing!
11. Air Fryer Pineapple
Air fryer pineapple is a tasty and healthy way to enjoy the naturally sweet flavor of the tropical fruit. Air frying infuses the flavorful juices and sugars from pineapple into a delicious, crispy texture.
This is a crave-worthy side dish that the entire family will enjoy. Pair it with these Instant Pot BBQ Pork Ribs for a tropical take on dinner any day of the week!
12. Air Fryer Cauliflower
Who said that eating healthy had to be boring? Air fryer buffalo cauliflower is a delicious and nutritious alternative to the usual deep-fried version. Not only does it have fewer calories, but also it has more of a kick than most other vegetable recipes.
Serve this tasty vegetable alongside these Sticky Chicken Wings, onion rings, potato skins or mozzarella sticks, at your next game day party!
13. Air Fryer Bonelss Buffalo Chicken Bites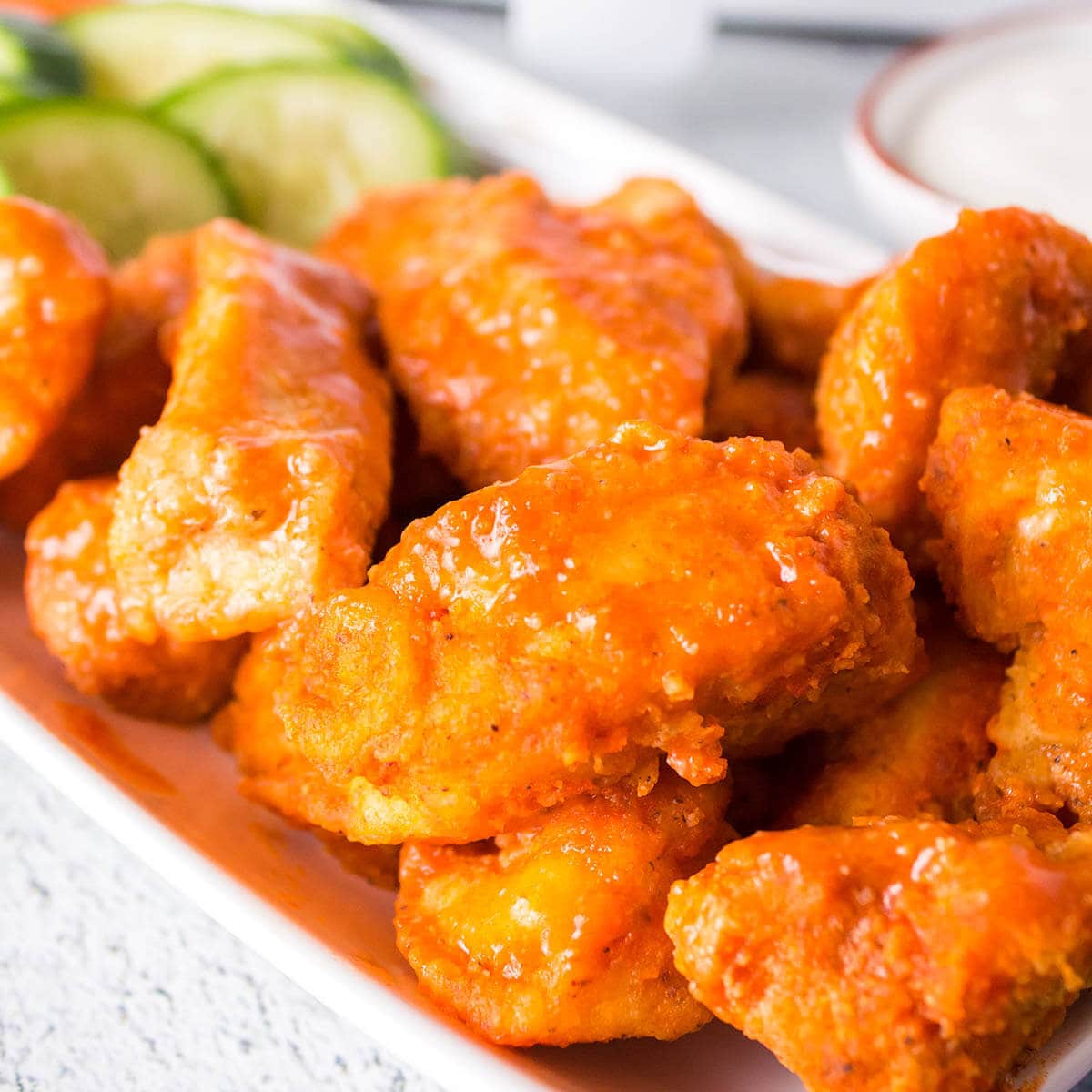 No deep-fat frying is needed for these tasty buffalo chicken bites made in the air fryer! Perfect for game day snacks and leftovers are great on a salad on sandwich.
You'll love how easy these are to make!
14. Air Fryer Twice Baked Potatoes
More easy air fryer recipes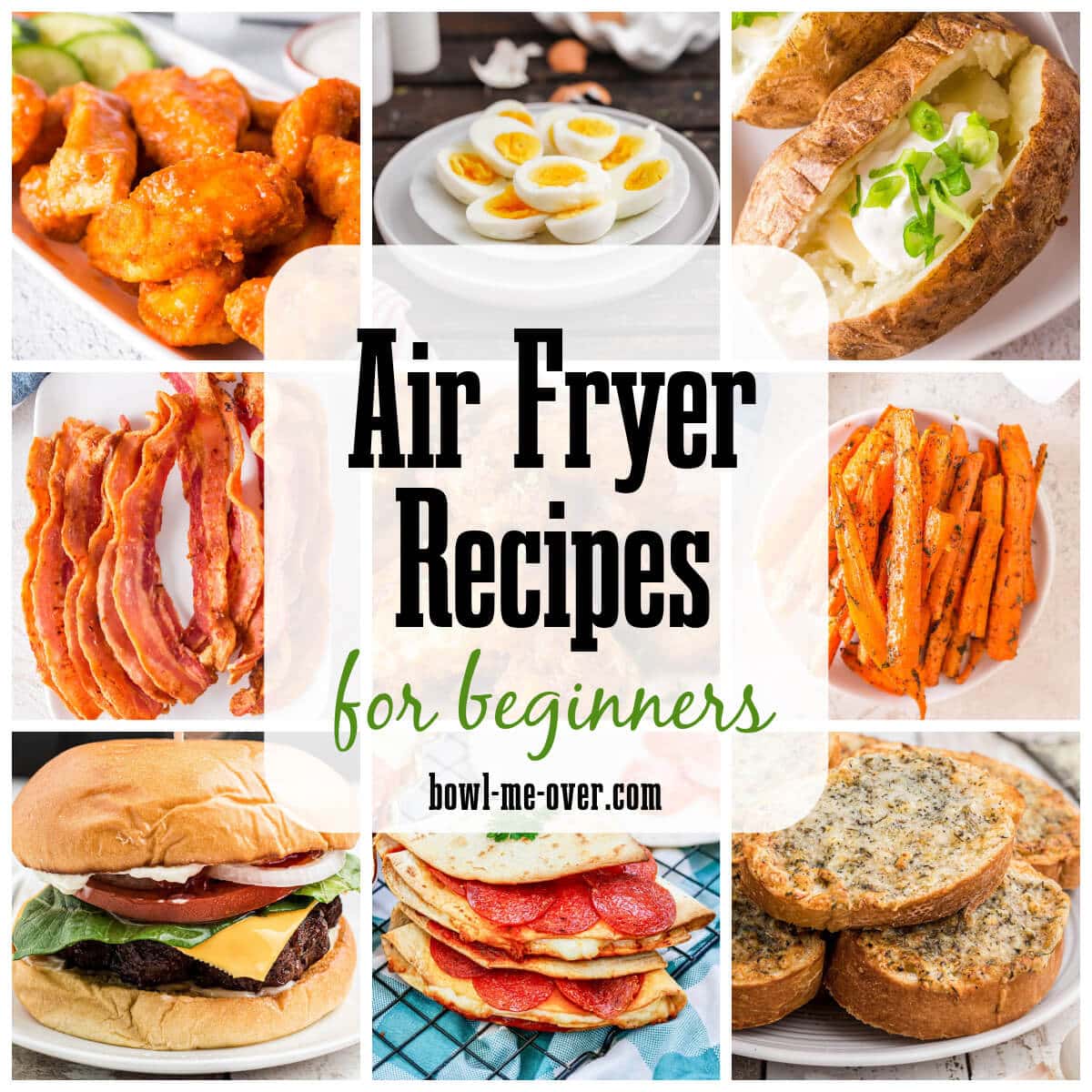 Recommended Air Fryer
The following are affiliate links. We are a participant in the Amazon Services LLC Associates Program, an affiliate advertising program designed to provide a means for us to earn fees by linking to Amazon.com and affiliated sites.
Vortex Air Fryer - this is the air fryer I use. It's so versatile and large enough that I don't have to make things in batches.
Cosori Air Fryer - pictured in this blog post, my friend and colleague uses this one. Do your homework and pick the best one that works for you!
Parchment Paper for Air Fryer - not necessary, but parchment paper does make cleanup a breeze!
I don't know about you, but these air fryer recipes for beginners look just like the recipes that my family loves to eat. So, whip out that brand new air fryer and enjoy these tasty morsels!
And, the next time that you are looking for some new family dinner recipes that are guaranteed to please the young and old alike, stop by and browse these Easy Chicken Casserole recipes.