Homemade refrigerator pickles recipe - crunchy and sweet, these are easy to make! They are the perfect topping for a burger AND a great snack! There's no canning required for this easy sweet pickle recipe!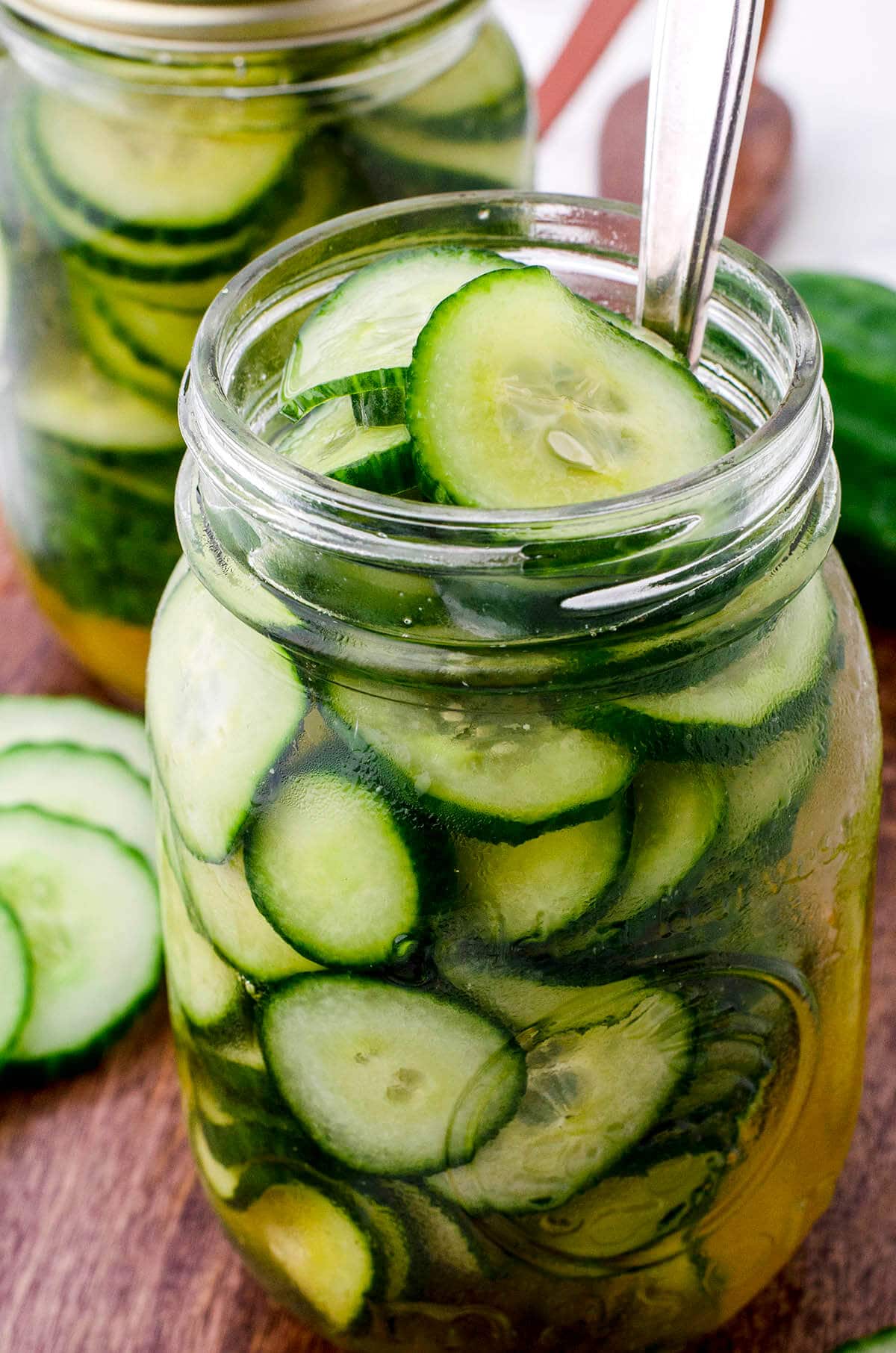 Jump to:
Why you'll love this recipe
This is a great use of your bumper-crop of cucumbers and makes the BEST pickles. They are so simple and good!
✔️ crisp pickles.
✔️ easy to make.
✔️ no canning required!
Ingredients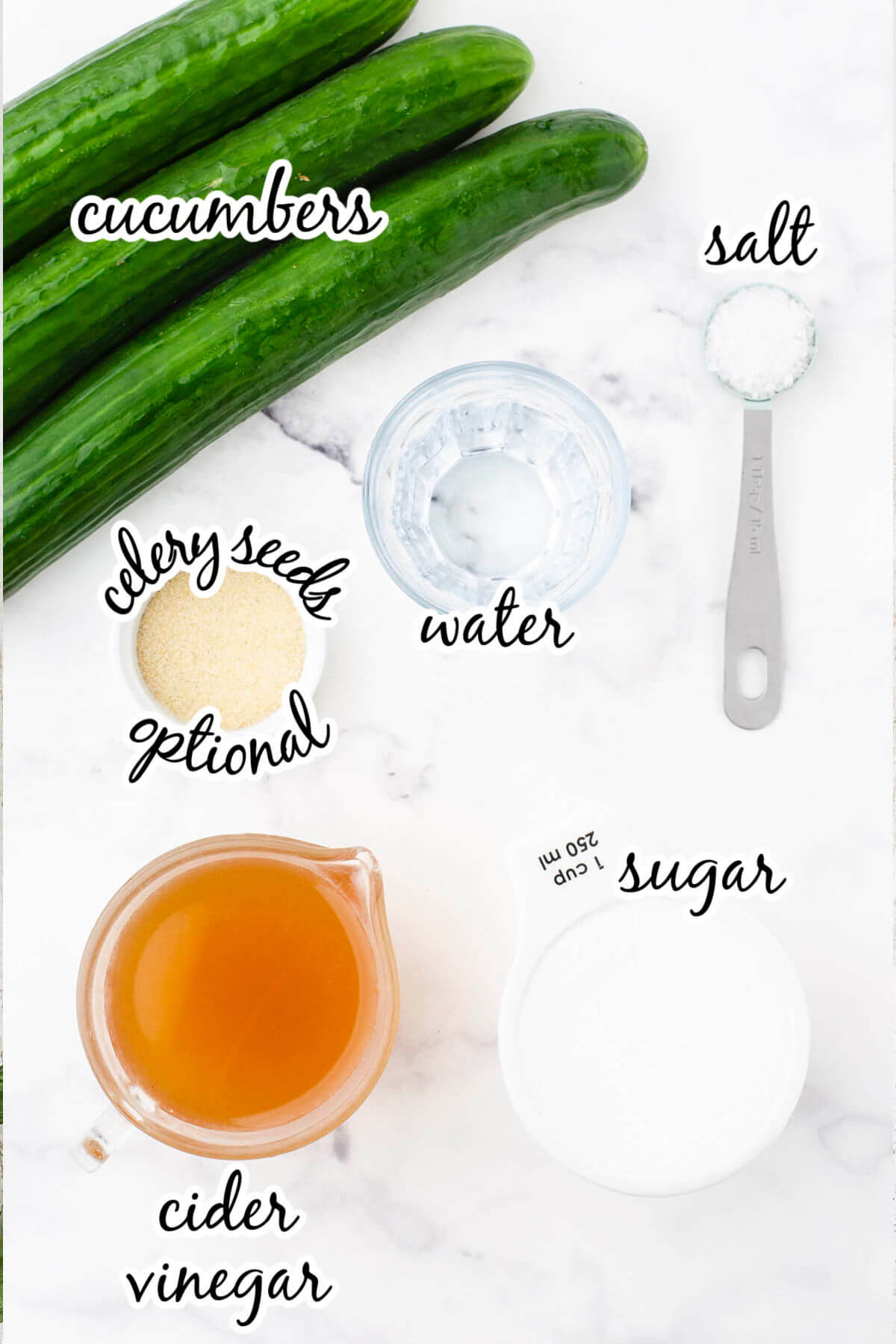 For the exact measurements for the homemade refrigerator pickles, please refer to the recipe card at the bottom of this post.
cucumbers - you can use regular cucumbers from the grocery store, English cucumbers, kirby cucumbers or pickling cucumbers.
cider vinegar or white vinegar
white sugar
kosher salt
celery salt (optional)
Instructions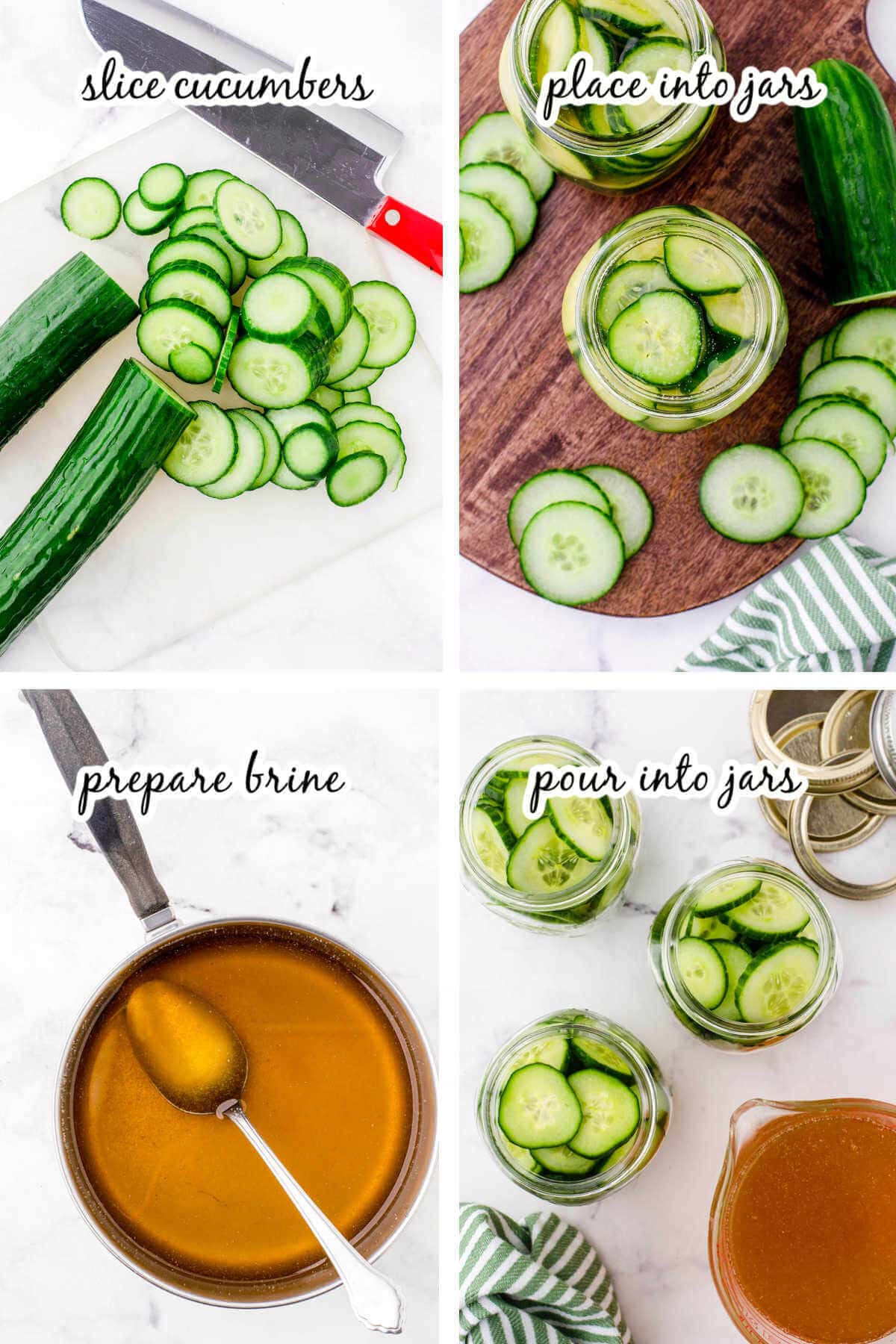 This is an overview of the instructions for this easy recipe. For the complete directions just scroll down to the bottom!
Start by making the simple brine. Place the vinegar, water, salt and sugar in a small saucepan on the stovetop over medium heat.
Stir until the sugar and salt are completely dissolved.
Remove from heat and set aside.
Slice the cucumbers in ¼ inch slices
Pack the cucumber slices into mason jars.
Pour the vinegar mix over the cucumbers and cover tightly. Cool to room temperature and refrigerate.
See how easy these tangy pickles are to make? We eat a TON of them every summer. Any unused cucumbers get sliced up and into the brine they go!
YouTube video
Click on the image to watch me make this recipe from start to finish with extra tips! (Video opens in a new tab).
Please like & subscribe to the channel so you'll be the first in the know! Click to watch the full video on YouTube.
Equipment
The following are affiliate links. We are a participant in the Amazon Services LLC Associates Program, an affiliate advertising program designed to provide a means for us to earn fees by linking to Amazon.com and affiliated sites.
A mason jar - quart jars are great for storage.
A sharp knife is necessary as well, to slice the fresh cucumbers.
🙋‍♀️ FAQ's
How long does the homemade refrigerator pickle recipe last?
The pickles are ready to eat in a few days, but they last for three months in the fridge. The longer they are refrigerated the less crunchy they become.
Do sweet pickles need to be refrigerated after opening?
Yes they should be refrigerated.
Can you use apple cider vinegar to make pickles?
You bet! This recipe uses Though you can also use distilled white vinegar for a tangy bite! Even rice wine vinegar.
How long before you can eat the pickles?
Three to four days. I think Grandma would leave them for a week, but they never seem to last that long in our home!
Do pickles go bad in the refrigerator?
Unopened pickles will not go bad in the refrigerator because of the fermentation process from the brine. Though pickles have a use by date, even after that date they will not go bad. Of course if it develops any mold, discard the entire jar.
What is the difference between butter pickles and homemade dill pickles?
Dill pickles are spiced with sprigs of fresh dill, garlic cloves and spices.
Tips
It is not necessary to peel the cucumbers before slicing - keep it on or remove it, your personal preference. Just be sure to wash the cukes well first. I prefer the texture of the peel after it's pickled.
If you prefer a crisp pickle, slice the cucumbers a little wider, say ⅜ inch.
Save the pickle juice, you can reuse the brine!
There's no need for a water bath - no canning is required!
Variations
Adding a teaspoon of red pepper flakes will spice up the brine.
You can also make pickle spears by slicing the cucumbers lengthwise.
Add red onions or sliced green pepper to the mason jars along with the pickles - they are delicious!
celery seed or mustard seed adds a whole new flavor.
Storage
Refrigerate - store pickles in airtight containers, refrigerated up to two months.
Serving suggestions
Related recipes
Video
Click on the image to watch the video short for this recipe.
Click on the link below to watch the full homemade pickles YouTube video from start to finish, with additional tips! Amish Refrigerator Pickles Recipe.
Don't forget to check out my Amazon storefront for some of my favorite products! 🛍️
If you love this recipe please leave a ⭐⭐⭐⭐⭐ rating!
Easy Refrigerator Pickles Recipe
Refrigerator Pickles - no canning required! Even if this is the first time you've ever made pickles they are guaranteed to satisfy your pickle craving! These sweet, crunchy pickles are the perfect way to use the end of the season abundance of cucumbers and are 100 times better than store-bought pickles!
As an Amazon Associate I earn from qualifying purchases.
Ingredients
2-3

cucumbers

1

cup

cider vinegar

1

cup

sugar

½

cup

water

1

tablespoon

kosher salt

1

teaspoon

celery salt

optional
I earn a commission from Instacart from qualifying purchases.
Instructions
Wash jars in hot soapy water. You'll want to start with clean jars - you can use pint-sized jars, or quart jars. They need to be clean.

In a saucepan over medium heat combine the vinegar, water, salt and sugar.

Stir until the sugar and salt are completely dissolved.

Remove from heat and stir in the celery salt (if using), set aside.

Slice cucumbers in ¼ inch slices

Pack the sliced cucumbers into canning jars.

Pour the hot pickling brine into the mason jars and cover tightly. 

Place the jars of pickles in the refrigerator and allow them to marinade over night. Eat and enjoy!
Notes
** For variations, use rice wine vinegar & black sesame seeds or poppy seeds. You can also add red onion, carrots or jalapeños.  Great use of cucumbers in summer as these will keep for several months in the refrigerator.
Nutrition
Calories:
89
kcal
|
Carbohydrates:
21
g
|
Sodium:
2096
mg
|
Potassium:
99
mg
|
Sugar:
20
g
|
Vitamin A:
45
IU
|
Vitamin C:
1.9
mg
|
Calcium:
10
mg
|
Iron:
0.2
mg
Sign up for my recipes here!!
Don't worry, we'll never share your email.
💭 Recipe backstory
I'm embarrassed to admit I have a love affair with pickles.
I know... I'm weird right? But pickles are my thing! I think it's the tangy, sweet combo and that little bite you get when you crunch into something with a vinegary kick!
I eat a jar of pickles weekly. Seriously.... I have a problem! 😋
Dan says it's because of all the running I do and my body craves the salty brine? Maybe so.
Maybe it's because pickles have been something I've enjoyed since I was a kid. My Grandma used to make these for my brother and I every summer. She'd make them in a huge plastic gallon bucket and it would be filled to the brim.
Every meal Don and I would grab a huge helping of pickles!
Every meal Grandma would tell us to leave some for others, she'd scold us but then she would smile and say it's so good to see we are enjoying them!
This post has been updated from March 2015 on July 21, 2021.