Homemade Tomato Relish
I'm excited to share this recipe with you today. It's an old family recipe, it's been in the family for 100+ years! And since we are coming to the end of summer and you may have a tomato…. or two….. or ten extras….. Tomato Relish will help you preserve some of those tomatoes and trust me, this will be your new favorite condiment!
It is easy and delicious and when you make it it's tucked away in the fridge and lasts over a month! (Honestly I think it will last longer, but I've never been able to keep it that long because we eat it that fast!)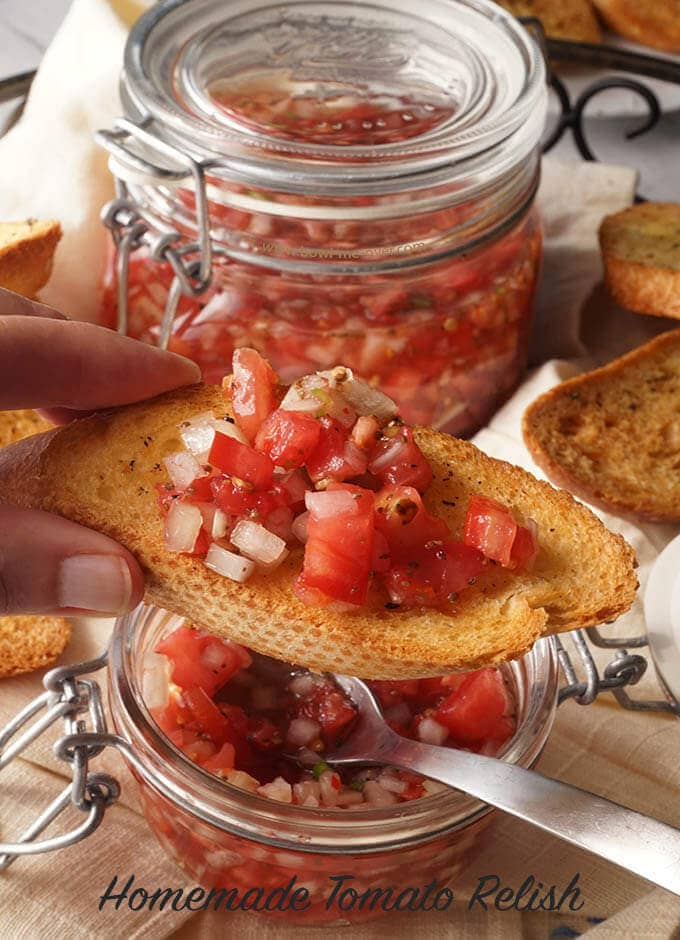 This was my Great Grandma Amy's recipe. When my Grandmother passed away, my Aunt was kind enough to give me her old cookbooks and notes.
What might look like tatters and notes to some, was a treasure trove of memories to me! As I was going thru this recipe, I originally thought it was my Grandma's, but I didn't recognize the handwriting. After searching thru more records, I realized this is my Great Grandma Amy's recipe. This recipe has been in our family for over 100 years!
This recipe uses everyday ingredients that will give you an over-the-top new condiment! Tomato Relish will quickly become a new favorite!
And trust me, you'll want to double the recipe!
I know this because the first time I made it…. we ate it all. So then I had to make it again and we ate it. In fact, I made it three times before I got a chance to photograph it, it's that good!
What will you use this delicious Homemade Tomato Relish on?
Toss it in macaroni salad for an extra added zing!
Layer it on a toasted bagel with cream cheese, delish!
Use it as a light salad dressing – it's really has great flavor!
Exchange tomato relish for pickles in potato salad – yum!
Finish off a grilled veggie patty – everyone will be saying WOW that's good!
Better yet – enjoy with my Slow Cooker Mushroom Burger!
Topping grilled vegetables will give them extra flavor.
Slather on Toast Points
Serve alongside a delicious Omelet
Add it to your Egg Salad to give an extra POP!
It's delicious over a country omelet!
Top off your favorite burger!
Whatever you use ketchup or salsa on you can now replace with this amazing recipe!
Here is what you will need –
Tomatoes, onion, a Fresno chili pepper, celery seed, salt, pepper, sugar and vinegar – dice the tomatoes, onions and pepper finely – mix together with the spices. Screw the lid on tightly and let stand overnight and it's ready to use. Having said that I waited about an hour before trying it – so there's that! 😋 I've kept in the refrigerator for up to two weeks.
I hope you enjoy this recipe for Homemade Tomato Relish!
This post first appeared as a guest post on Healing Tomato – you can check out her website for delicious vegetarian and vegan recipes!
Homemade Tomato Relish
Fresh tomatoes, onions and peppers combine with delicious pickling ingredients to become a fabulous new condiment with bright fresh flavor!
Ingredients
1

cup

diced tomatoes

finely diced

1/2

yellow onion, diced

finely diced

1/2

Fresno chili pepper or jalapeño pepper

finely diced, seeds removed

1/2

tsp

celery seed

1/2

tsp

salt

1/2

tsp

pepper

2

tbsp

sugar

2

tbsp

red wine vinegar
Instructions
Finely dice the tomatoes and onion.

Slice the chili pepper in half, remove the ribs and seeds. Finely dice.

Mix together all of the ingredients. Pour into a small jar and seal. Let stand for at least an hour. Refrigerate any unused portions.

Keeps in the refrigerator up to two weeks.

Nutrition Facts
Homemade Tomato Relish
Amount Per Serving
Calories 14
% Daily Value*
Sodium 119mg 5%
Potassium 45mg 1%
Total Carbohydrates 3g 1%
* Percent Daily Values are based on a 2000 calorie diet.
 Suggested Pairings
Comeback Crackers – Take Two Tapas
 Mushroom Omelette Recipe with Microgreens  – Platter Talk