Tangy and fresh this will be your new favorite condiment!
Homemade Tomato Relish Recipe - No canning required! Sweet, juicy tomatoes, onions and spices turned into the best condiment! Simple and delicious this is perfect for your bumper crop of tomatoes. Only 15 minutes with easy to make with step-by-step directions!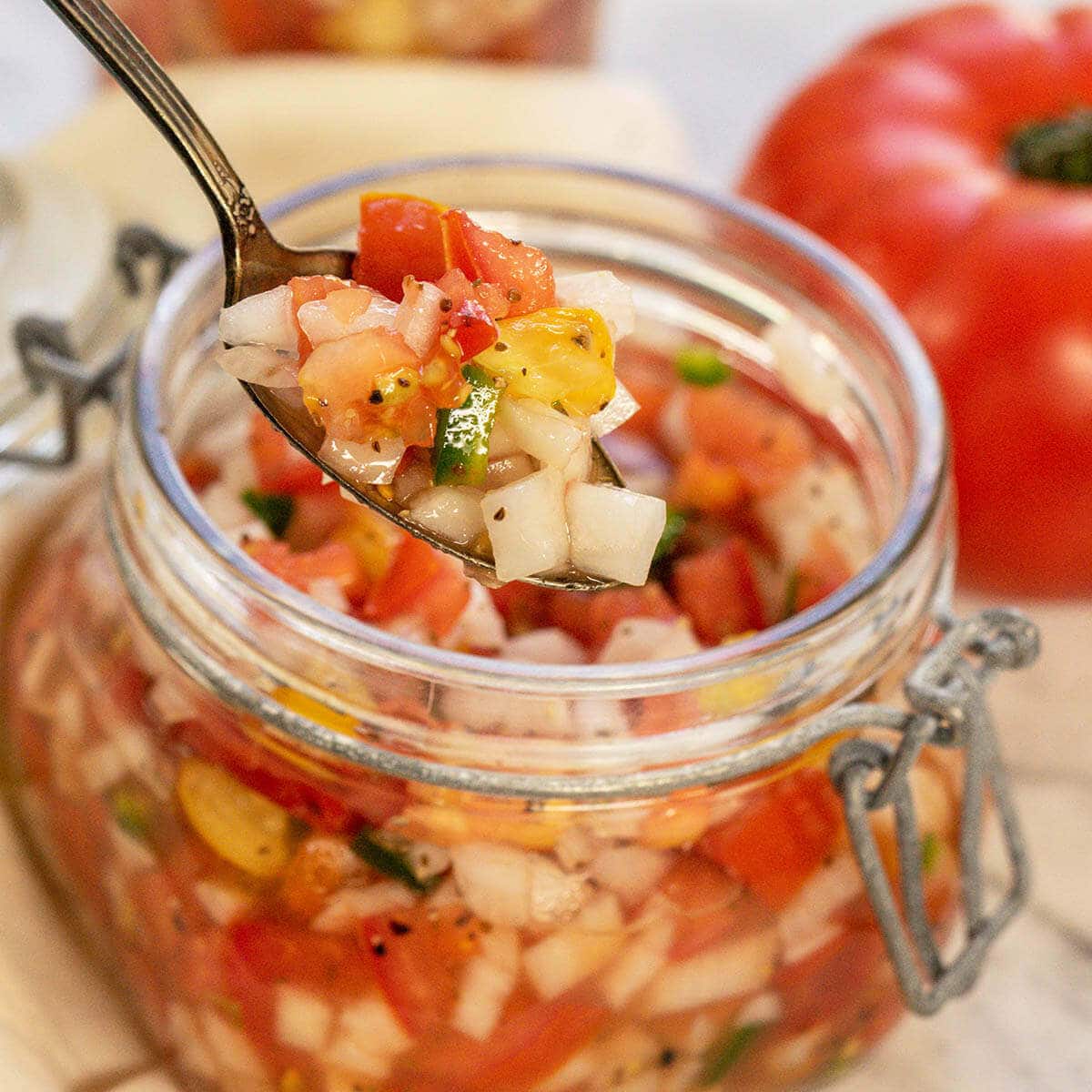 Jump to:

Why you'll love it!
Tomato Relish is tangy, sweet and delicious! It only takes minutes to make and lasts for a couple weeks in the refrigerator.
And since summer is almost over you may have a tomato.... or two..... or ten! This will help you preserve some of those and trust me, it will be your new favorite condiment!
🛒 Ingredients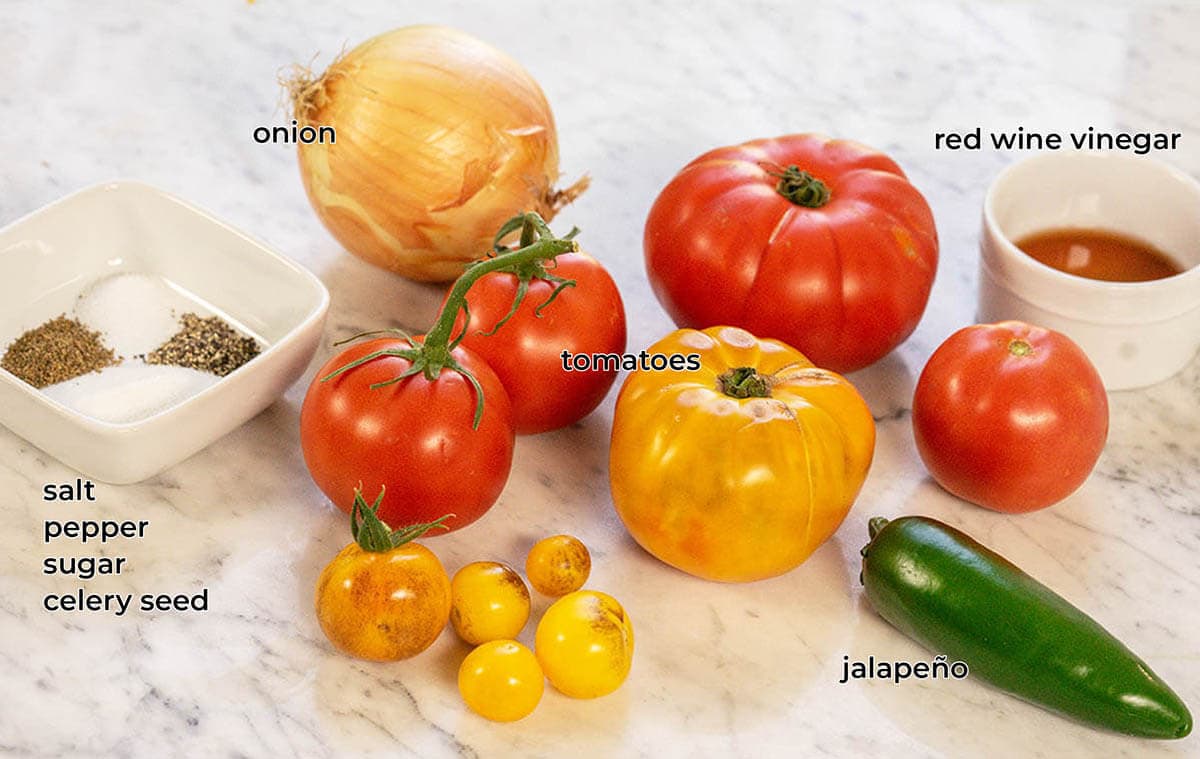 tomatoes - you can use any variety or color of ripe tomatoes.
jalapeño peppers or Fresno chili's - either will be great.
⏲️ Instructions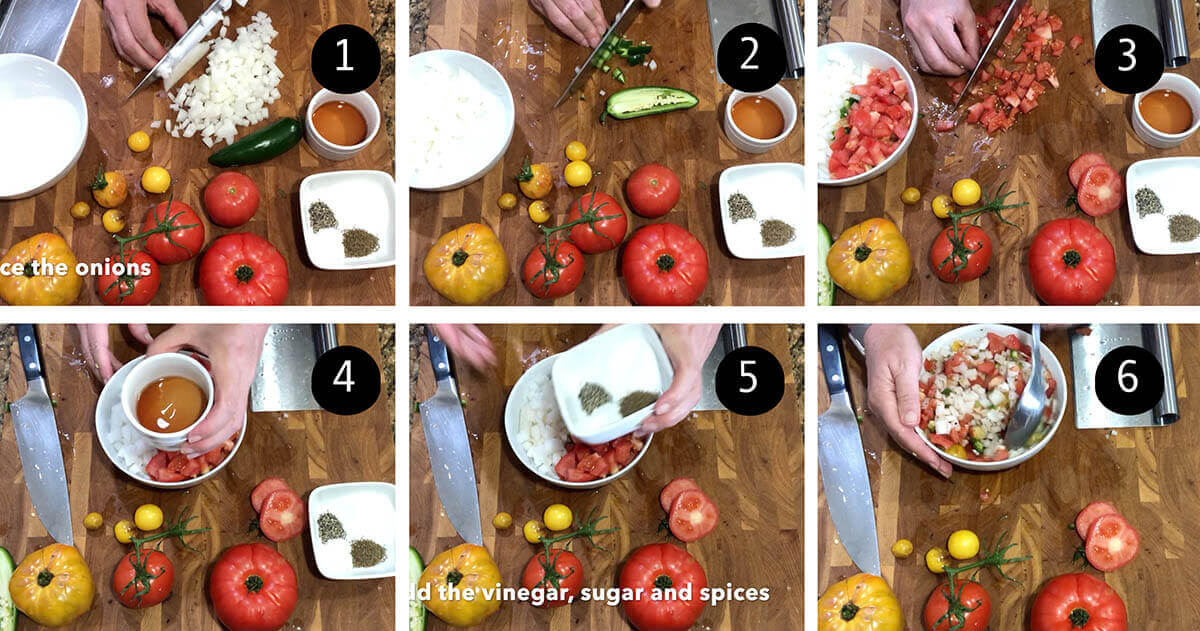 This is an overview of the instructions. For the complete directions just scroll down to the bottom!
Dice the tomatoes and onion.
Slice the pepper in half and mince well. If you don't like heat, be sure to to remove the ribs and seeds.
Mix everything together.
Pour into a jar.
Let stand for at least an hour.
🙋🏼‍♀️ Recipe FAQ's
What is the difference between tomato chutney and tomato relish?
Chutney is slow cooked and thick and often made with fruits. Relishes are finely diced or grated - this requires no cooking at all!
What do you eat tomato relish with?
• Toss it in macaroni salad for an extra added zing!
• Layer it on a toasted bagel with cream cheese, delish!
• Use it as a light salad dressing - it really has great flavor!
• Exchange tomato relish for pickles in potato salad - yum!
• Finish off a grilled veggie patty - everyone will be saying WOW that's good!
• Better yet - enjoy with my Slow Cooker Mushroom Burger!
• Topping grilled vegetables with tomato relish will give them extra flavor.
• Slather on Toast Points
• It's delicious on eggs; fried, scrambled or an omelet!
• Add it to your Egg Salad to give it an extra POP!
• Top off your favorite burger!
Do you need to peel the tomatoes?
Not at all! That's one of the reasons it's so simple to make!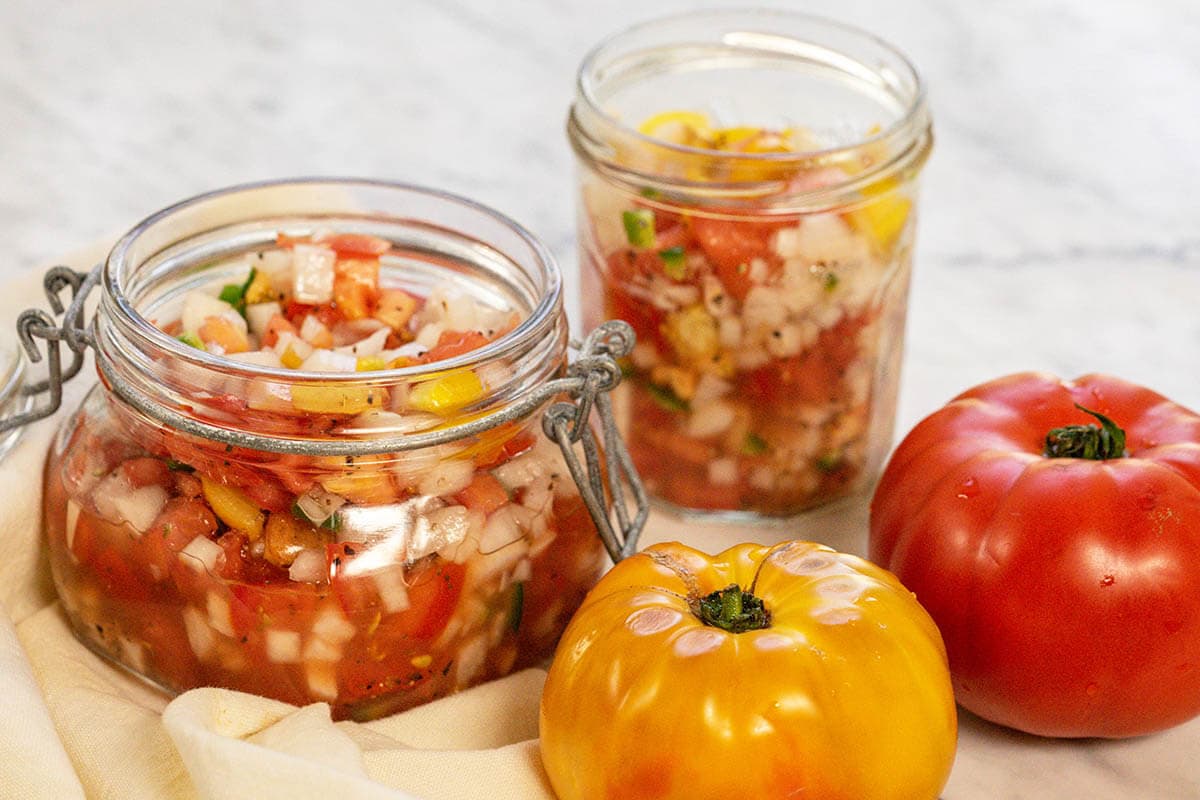 ✔️ Tips
You can use any type of tomatoes available; cherry, Roma or beefsteak. Organic or heirloom or the regular variety. Any color works too! Of course the more flavorful the tomato, the better the relish.
Choose firm ripe tomatoes, overripe or green would not be a good choice.
Consider doubling the tomato relish recipe! Why? Because the first time I made it.... we ate it all! So then I had to make it again and we ate it also! Refrigerate any leftovers.
Expert Tip: Do not try and can the relish, there is not enough acid to preserve the tomatoes.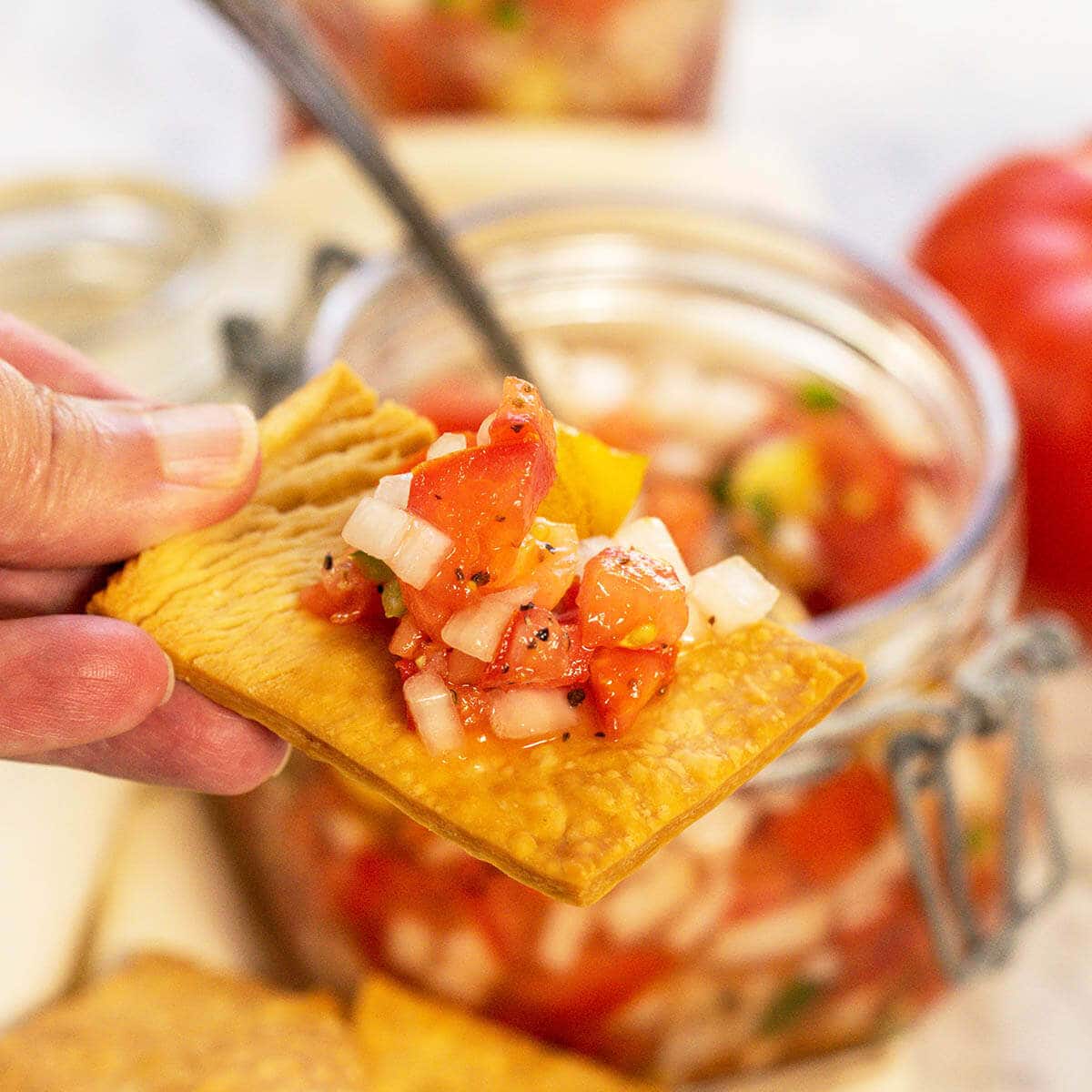 I'm excited to share my homemade Tomato Relish recipe with you. This recipe has been in our family for over 100 years, passed down from generation to generation!
More yummy condiments
Alabama White Sauce - tangy and delicious, I love this as a dipper for chicken and it's a delicious salad dressing. Need more ideas? Just dip a French fry in it and you'll love it!
Sweet Red Pepper Relish is a tasty option. It's the perfect balance of sugar and spice!
Don't forget to check out my Amazon storefront for some of my favorite products! 🛍️
I reply to every comment on the blog and I'd appreciate hearing from you! When you make this, be sure to tag me on Instagram @bowl_me_over or use the hashtag #bowlmeover - that's me! If you love this as much as we do, be sure to leave a five star rating below!
Homemade Tomato Relish Recipe
Tangy and fresh this will be your new favorite condiment!
As an Amazon Associate I earn from qualifying purchases.
Ingredients
1

cup

tomatoes

finely diced

½

yellow onion

finely diced

½

jalapeño pepper

finely diced,

2

tbsp

sugar

2

tbsp

red wine vinegar

½

tsp

celery seed

½

tsp

salt

½

tsp

pepper
Instructions
Start by removing the stem of the tomato and finely dice. Do the same with the onion and place them in a bowl.

Next slide the pepper in half and scrape out the ribs and seeds, finely dice.

Add the salt, pepper, celery seeds and sugar.

Using a spoon, miix together all of the ingredients. Allow it to stand at room temperature for about an hour and it's ready to enjoy! Refrigerate leftovers. This keeps in the refrigerator up to two weeks.
Notes
Any firm, ripe tomato will be great for this recipe! Use roma, cherry, beefsteak whatever variety you have available. This is great using organic or heirloom tomatoes and any color is delicious!
Of course the more flavorful the tomato, the tastier the relish will be!
Keep up to two weeks in the refrigerator. 
Do not attempt to can this recipe, it will not preserve the tomatoes.
Nutrition
Calories:
14
kcal
|
Carbohydrates:
3
g
|
Sodium:
119
mg
|
Potassium:
45
mg
|
Sugar:
2
g
|
Vitamin A:
30
IU
|
Vitamin C:
2.2
mg
|
Calcium:
9
mg
|
Iron:
0.3
mg
Sign up for my recipes here!!
Don't worry, we'll never share your email.