Homemade Tomato Relish Recipe - No canning required! With sweet, juicy tomatoes, onions and spices, this condiment is simple to make and just and delicious. Perfect if you have a bumper crop of tomatoes.
This fresh tomato recipe is fantastic on a turkey burger, give it a try I think you'll really love it!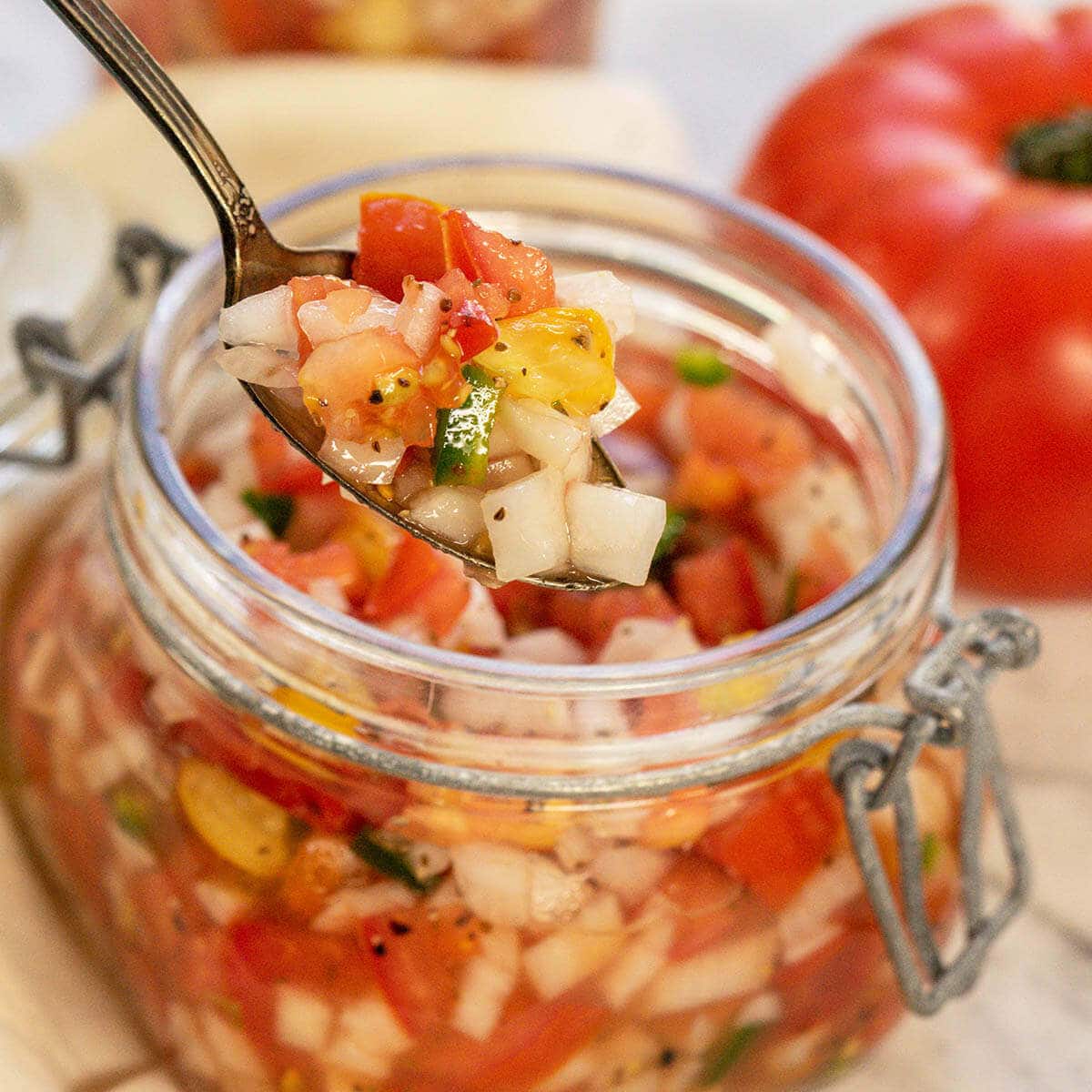 Jump to:
❤️ Why you'll love this recipe
This is a great recipe! Tomato Relish is tangy, sweet and delicious! It only takes 15 minutes to make and lasts for a couple weeks in the refrigerator. It's a perfect way to use those end of season tomatoes.
If you have a few tomato plants, this will preserve some of those fresh tomatoes and trust me, it will be your new favorite condiment!
This original recipe came from my great grandma - it's been in the family over a hundred years! It's delicious and I hope you really enjoy it!
🗒️ Ingredients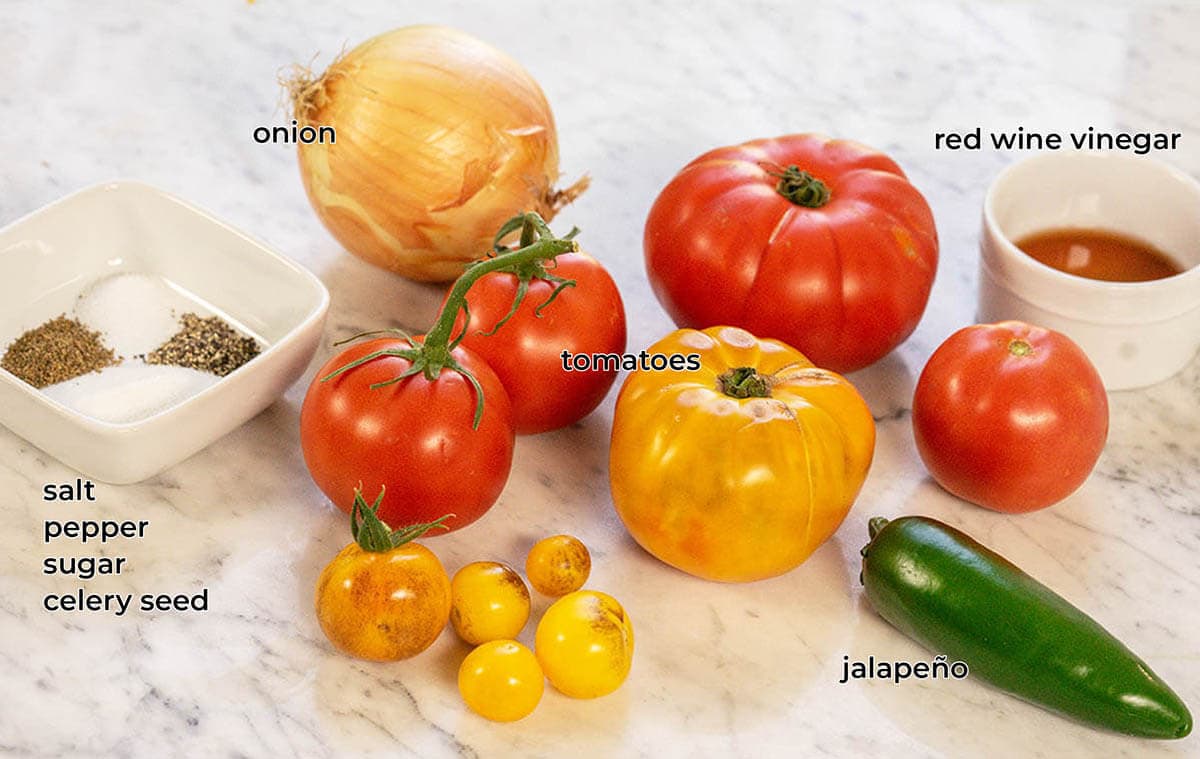 For the exact measurements, please refer to the full recipe card at the bottom of this post.
tomatoes - you can use any variety or color of ripe tomatoes, the tastier the tomato the better the tomato relish will taste.
onions - I use yellow onions, but mild red onions or shallots would be great as well.
for seasoning, you'll need kosher salt or sea salt, black pepper, white sugar and celery seed.
red wine vinegar - in addition to the tang you'll get from it helps preserve the tomatoes.
jalapeño peppers or Fresno chili's - either will be great.
🔪 Instructions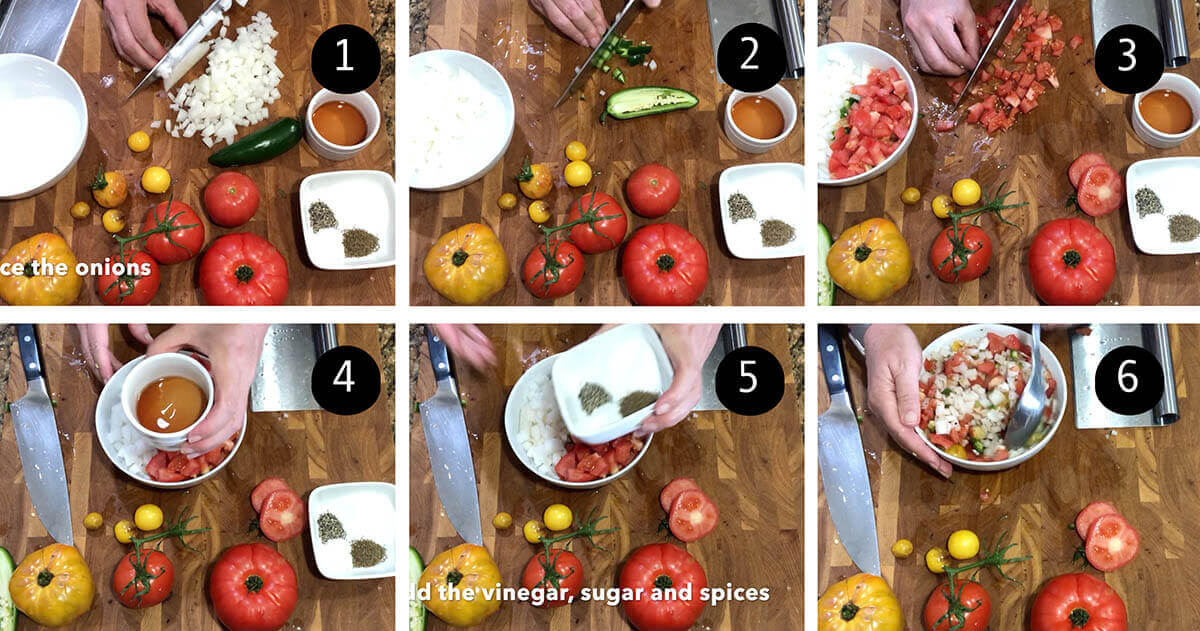 This is an overview of the instructions for this delicious recipe! For the complete directions just scroll down to the bottom!
No need to break out the food processor, this is a simple recipe to make. The first thing to do is chop tomatoes and onions into a small dice.
Slice the pepper in half and mince well. If you don't like heat, be sure to to remove the ribs and seeds.
Add the chopped tomatoes, chopped onions, peppers and the rest of the ingredients to a large bowl and mix well.
Pour into a glass jar and screw on the lid.
Let stand for at least an hour. Refrigerate leftovers.
🔪 Equipment
The following are affiliate links. We are a participant in the Amazon Services LLC Associates Program, an affiliate advertising program designed to provide a means for us to earn fees by linking to Amazon.com and affiliated sites.
🙋‍♀️ FAQ's
What is the difference between a tomato chutney recipe and tomato relish?
Chutney is slow cooked and thick and often made with fruits. Relishes are finely diced or grated - this requires no cooking at all!
Do you need to peel the tomatoes?
Not at all! That's one of the reasons it's so simple to make!
Does the homemade relish need to be cooked?
There's no need to cook the recipe. Between the acidity from tomatoes and vinegar it preserves the tomatoes.
What is the difference between pickles and relish?
Pickles are preserved in a brine. Relishes are made up of chopped vegetables.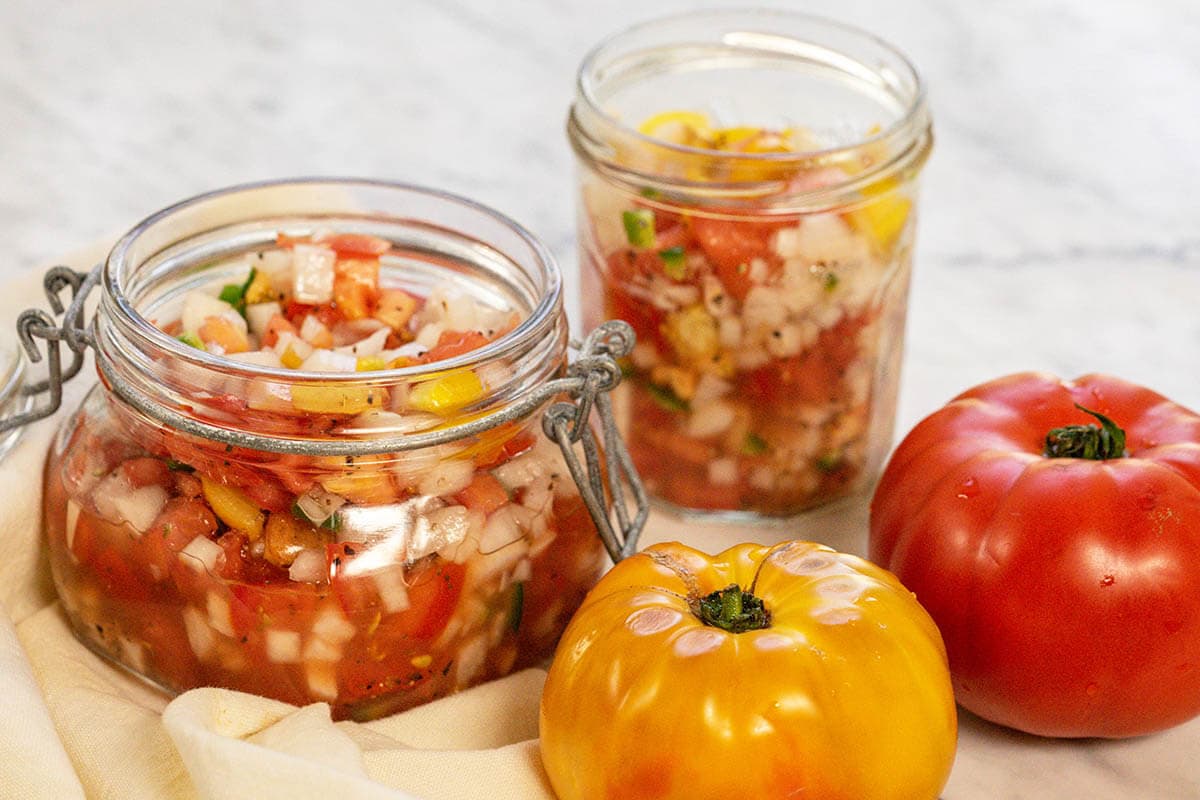 Variations
This is a sightly sweet relish. If you prefer a hot relish, double the jalapeños or add a good pinch of chilli flakes, cayenne pepper or red pepper flakes!
Substitute balsamic vinegar, malt vinegar or one of the white vinegars for the red wine vinegar.
Tips
You can use any type of tomatoes available; cherry tomatoes, Roma or beefsteak. Organic or heirloom or the regular variety. Any color works too! Of course the more flavorful the tomato, the better the relish.
Choose firm ripe tomatoes, overripe or green tomatoes would not be a good choice.
Consider making a large batch. Why? Because the first time I made it.... we ate it all! So then I had to make it again and we ate it also! Refrigerate any leftovers.
This recipe cannot be canned to preserve. Nor do I recommend freezing the tomato relish recipe as it changes the texture.
Expert Tip: Do not try and can the relish, there is not enough acid to preserve the tomatoes.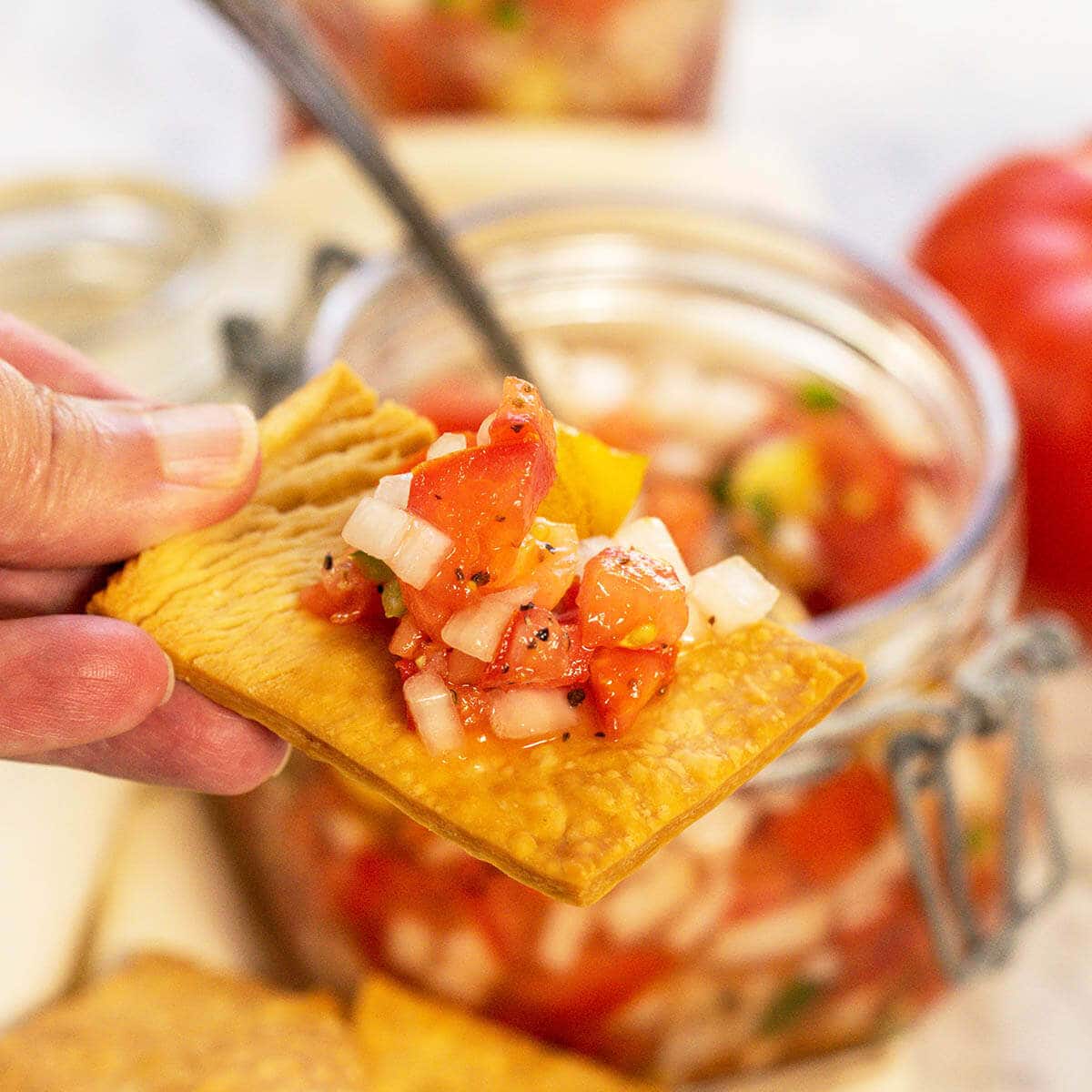 Storage
Glass mason jars are perfect for storing the fresh tomato relish or any airtight container. Be sure to refrigerate leftovers.
This will last in the refrigerator up to two weeks.
Serving suggestions
There are so many uses for homemade relish, here are a few of my favorites!
Toss it in macaroni salad for an extra added zing!
Layer it on a toasted bagel with cream cheese, delish!
Use it as a light salad dressing - it really has great flavor!
Exchange tomato relish for pickles in potato salad - yum!
Finish off a grilled veggie patty - everyone will be saying WOW that's good!
Better yet - enjoy with my Slow Cooker Mushroom Burger!
Topping grilled vegetables with tomato relish will give them extra flavor.
Slather on Toast Points.
Perfect on hot dogs.
It's delicious on eggs; fried, scrambled or an omelet!
Add it to your Egg Salad to give it an extra POP!
Top off your favorite burger!
Sprinkle over. grilled pork chops.
Related recipes
Alabama White Sauce - tangy and delicious, I love this as a dipper for chicken and it's a delicious salad dressing. Need more ideas? Just dip a French fry in it and you'll love it!
One of my favorite homemade sauces is this super yummy Plum BBQ Sauce Recipe, it's sweet and a little spicy, perfect on pork or chicken!
Pollo Tropical Cilantro Lime Sauce is outstanding! It's great to dip chicken or pork, terrific for fries as well!
Still have leftover tomatoes? Try this Green Tomato Relish Recipe - you'll love this tangy sauce as well!
Fresh Tomato Relish Recipe
This zesty relish recipe will be your new favorite condiment!
As an Amazon Associate I earn from qualifying purchases.
Ingredients
1

cup

tomatoes

finely diced

½

yellow onion

finely diced

½

jalapeño pepper

finely diced,

2

tablespoon

sugar

2

tablespoon

red wine vinegar

½

teaspoon

celery seed

½

teaspoon

salt

½

teaspoon

pepper
I earn a commission from Instacart from qualifying purchases.
Instructions
Start by removing the stem of the tomato and finely dice. Do the same with the onion and place them in a large mixing bowl.

Next slice the pepper in half and scrape out the ribs and seeds, finely dice.

Add the remaining ingredients - salt, pepper, celery seeds and sugar.

Using a spoon, miix together all of the ingredients. Allow it to stand at room temperature for about an hour and it's ready to enjoy! Refrigerate leftovers. This keeps in the refrigerator up to two weeks.
Notes
Any firm, ripe tomato will be great for this recipe! Use roma, cherry, beefsteak whatever variety you have available. This is great using organic or heirloom tomatoes and any color is delicious!
Of course the more flavorful the tomato, the tastier the relish will be!
Keep up to two weeks in the refrigerator. 
Do not attempt to can this recipe, it will not preserve the tomatoes.
Nutrition
Calories:
14
kcal
|
Carbohydrates:
3
g
|
Sodium:
119
mg
|
Potassium:
45
mg
|
Sugar:
2
g
|
Vitamin A:
30
IU
|
Vitamin C:
2.2
mg
|
Calcium:
9
mg
|
Iron:
0.3
mg
Sign up for my recipes here!!
Don't worry, we'll never share your email.