Grilled veggies the easy way! Wrapped in foil and tossed on the BBQ, this is such an easy side dish!
Everything tastes better on the grill, right? Why not veggies too! Once you try this recipe for Vegetable Foil Packets, you'll be making them all summer long. The shortcut of salad dressing packs all the flavor in this easy to make side dish!
If you're looking for another yummy vegetable on the grill be sure to try grilled bacon wrapped asparagus next - it's so easy to do and everyone loves bacon!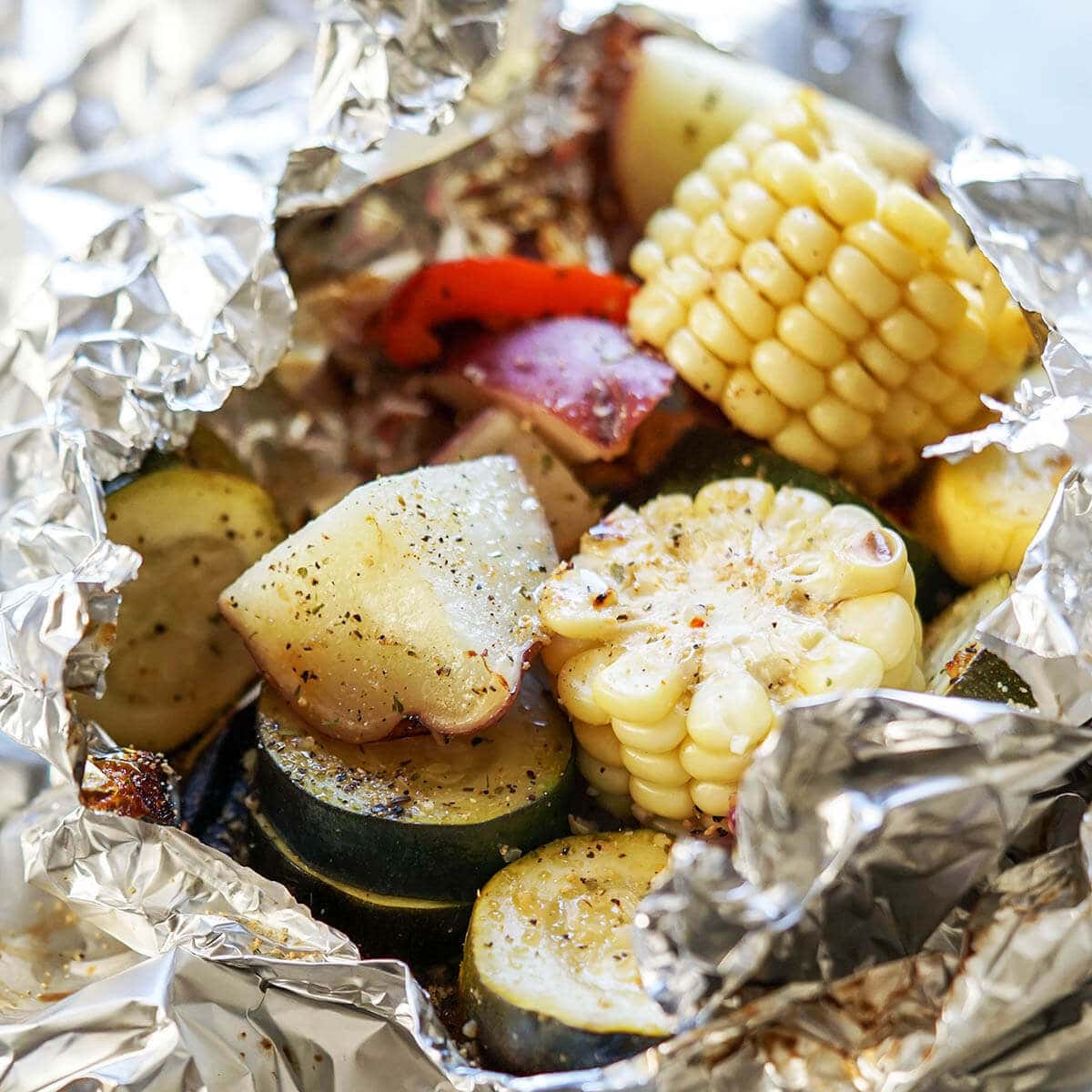 Everyone is going to gobble up their veggies when they are grilled! Everyone gets their own veggie pack, how fun is that? Clean up is a breeze as well. The whole family is going to love this dish!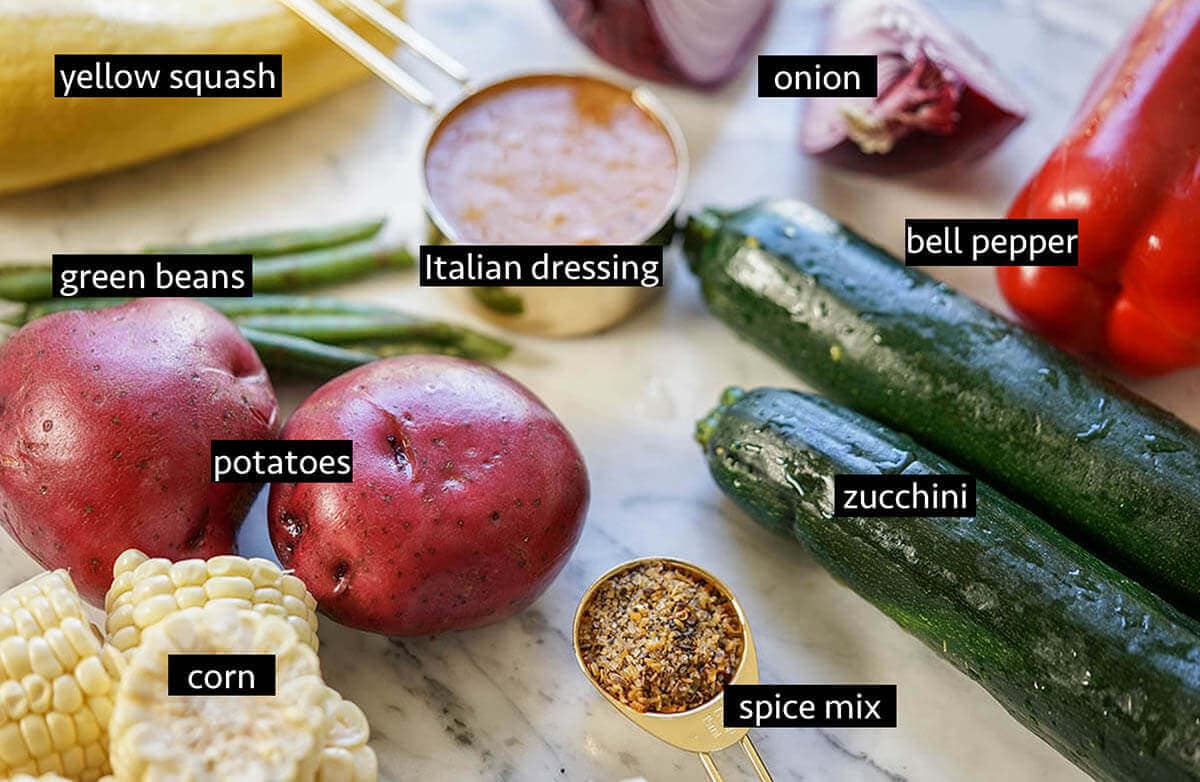 For the exact measurements, please refer to the recipe card at the bottom of this post.
Simple, delicious, hands-free - what's not to love?
corn
potatoes
green beans
zucchini
yellow squash
medium zucchini
Italian salad dressing
grill seasoning
Really you can use your favorite vegetables! Don't think of this as an ingredient list, but a guideline to get you started.
This is an overview of the instructions. For the complete directions just scroll down to the bottom!
Clean the veggies and slice.
Toss in a large bowl. Top with dressing and toss until everything is coated.
Tear 4 squares of foil. Divide vegetables between 4 pieces. Fold foil and crimp edges to seal into a packet.
Place on gas or charcoal grill for 20-30 minutes or until the potatoes are tender.
Remove from the grill and vent by poking holes in the foil with a fork to allow the steam to escape. Then carefully open the foil.
Serve and enjoy!
Can you use different types of vegetables?
Absolutely, be creative! Tomatoes, sweet potatoes, mushrooms, broccoli, carrots, really whatever is in season.

You can also use different seasonings - herbs or spices are great to flavor the packet! Chili power, asian seasoning, fresh basil, curry powder - yum, so many possibilities!
How do you steam vegetables in aluminum foil?
In this case, the liquid from the salad dressing takes the place of water and helps steam and flavor the veggies!
Can you use aluminum foil to roast vegetables?
Of course! Heavy duty aluminum foil is best. If you have a light foil, double the thickness so the vegetables on the bottom don't get burnt.
Foil - shiny or dull side - does it matter?
I arrange so the shiny side is in, facing the food. I don't know that it makes a huge difference, but my thoughts are the shiny reflects heat. Hey... it's a theory anyway!
Can I use parchment paper?
Sure, you can! I use foil because I'm lazy and don't want to the fancy folds required when you use parchment. It's a great substitution if you don't have foil handy.
There are simple ways to make your vegetables taste better.
Add salt and black pepper - the grill seasoning used this recipe contains both!
Olive oil - anytime you add a little fat it equates to flavor. The salad dressing in this recipe adds seasoning and flavor!
Roasting, sautéing or pan frying vegetables will give them the most flavor. Finishing with a squeeze of lemon or lime will help brighten the flavors.
Frequent the Farmers Market if you have one available. Vegetables are fresh and often organically grown. Using good quality vegetables will result in the best flavor!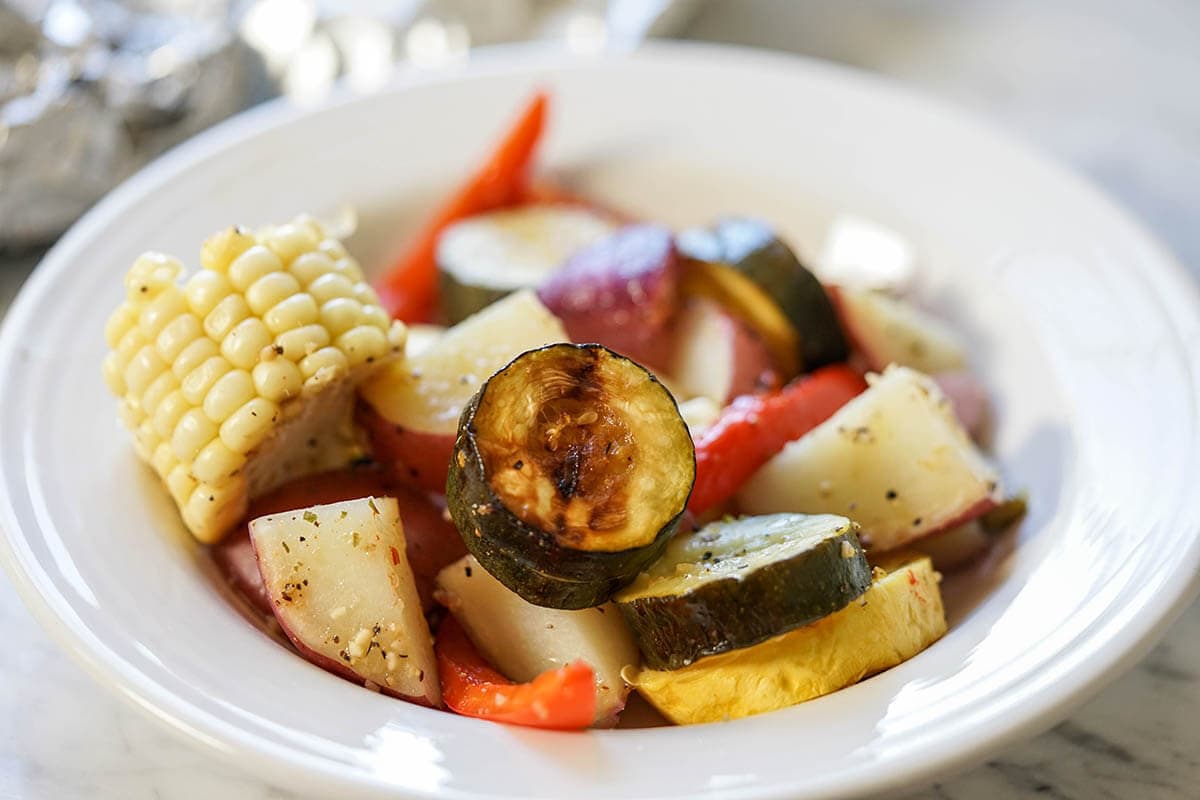 The great part about vegetables foil packets is you can use any type of produce you prefer. In addition to the items in the recipe, mix it up by adding:
sliced green, yellow or red bell pepper
mushrooms
baby tomatoes
eggplant
asparagus
red onion
Just remember potatoes take the longest to cook, you'll want to make sure they are tender before removing the packets from the grill.
Want an easy idea for dinner? Add marinated chicken breast, thighs or chicken sausage to the packets and you'll have a complete meal!
🏕️ Camping
Firey Campfire Vegetables! This is the best side dish when you're camping! The summer veggie foil packets can be prepared up to a day in advance. When you are ready for dinner, place the sealed packet on the hot coals, flipping occasionally.
🧑‍🍳 Foil Packets in Oven
No grill? No problem! Vegetables foil packets can be made in the oven as well.
Preheat the oven to 375 degrees.
Prepare the grill packet as directed.
Place on baking sheet and roast for 20-25 minutes until the vegetables are tender.
Really all you need for this recipe is a sharp knife and heavy duty foil!
Growing up in the country, my folks always had a garden and I think that's why I've always consider a side dish an important part of the meal.
There are so many great recipes to choose from; steamed, pan fried, or a casserole, there are just so many options!
Side dishes don't have to be complicated or fancy and they sure round out your meal. I think you'll find these vegetable foil packets to be an easy way to enjoy veggies in a new way!
Don't forget to check out my Amazon storefront for some of my favorite products! 🛍️
When you make this please comment below and let me know what you think! I'd love it if you tag me on Instagram @bowl_me_over or #bowlmeover - so I can see your photos!
If you love this recipe please leave a ⭐⭐⭐⭐⭐ rating!
Vegetable Foil Packets
Grilled veggies the easy way! Wrapped in foil and tossed on the BBQ, this is such an easy side dish!
As an Amazon Associate I earn from qualifying purchases.
Ingredients
4

red potatoes

2

ears

corn

½

cup

green beans

fresh

2

zucchini squash

2

yellow squash

½

cup

Italian Salad Dressing

1

tbsp

grill seasoning
Instructions
Pre-heateat grill to 350 degrees. Clean the veggies and slice.

Add all of the vegetables to a large bowl. Top with the Italian dressing and seasoning. Toss until everything is coated.

Tear 4 squares of aluminum foil, set 4 aside. Divide vegetable mixture between 4 pieces. Fold the foil over the top of vegetable mixture and crimp the edges to seal and to form a packet.

Place on pre-heated gas grill for 20-30 minutes or until the potatoes are tender. If you don't have a grill bake veggie packs in the oven at 400 degrees for 20-30 minutes.

First vent by poking holes in the foil with a fork to allow the steam to escape. Then carefully open the foil.
Notes
Heavy duty aluminum foil will keep the vegetables from burning or sticking. You can use a combination of any vegetables. The potatoes take the longest to cook, so adjust the cook time accordingly.
Nutrition
Calories:
264
kcal
|
Carbohydrates:
45
g
|
Protein:
7
g
|
Fat:
8
g
|
Saturated Fat:
1
g
|
Sodium:
341
mg
|
Potassium:
1535
mg
|
Fiber:
6
g
|
Sugar:
11
g
|
Vitamin A:
528
IU
|
Vitamin C:
54
mg
|
Calcium:
71
mg
|
Iron:
3
mg
Sign up for my recipes here!!
Don't worry, we'll never share your email.
First posted May 26, 2020 - updated April 29, 2021 to improve readability.