Tender asparagus wrapped in bacon is the best side dish. Made on the grill or in the oven, it such an easy recipe! Learn how to grill delicious Bacon Wrapped Asparagus, a simple side that everyone loves and you can enjoy all summer long!
Next time try grilled asparagus. It's such an easy asparagus dish!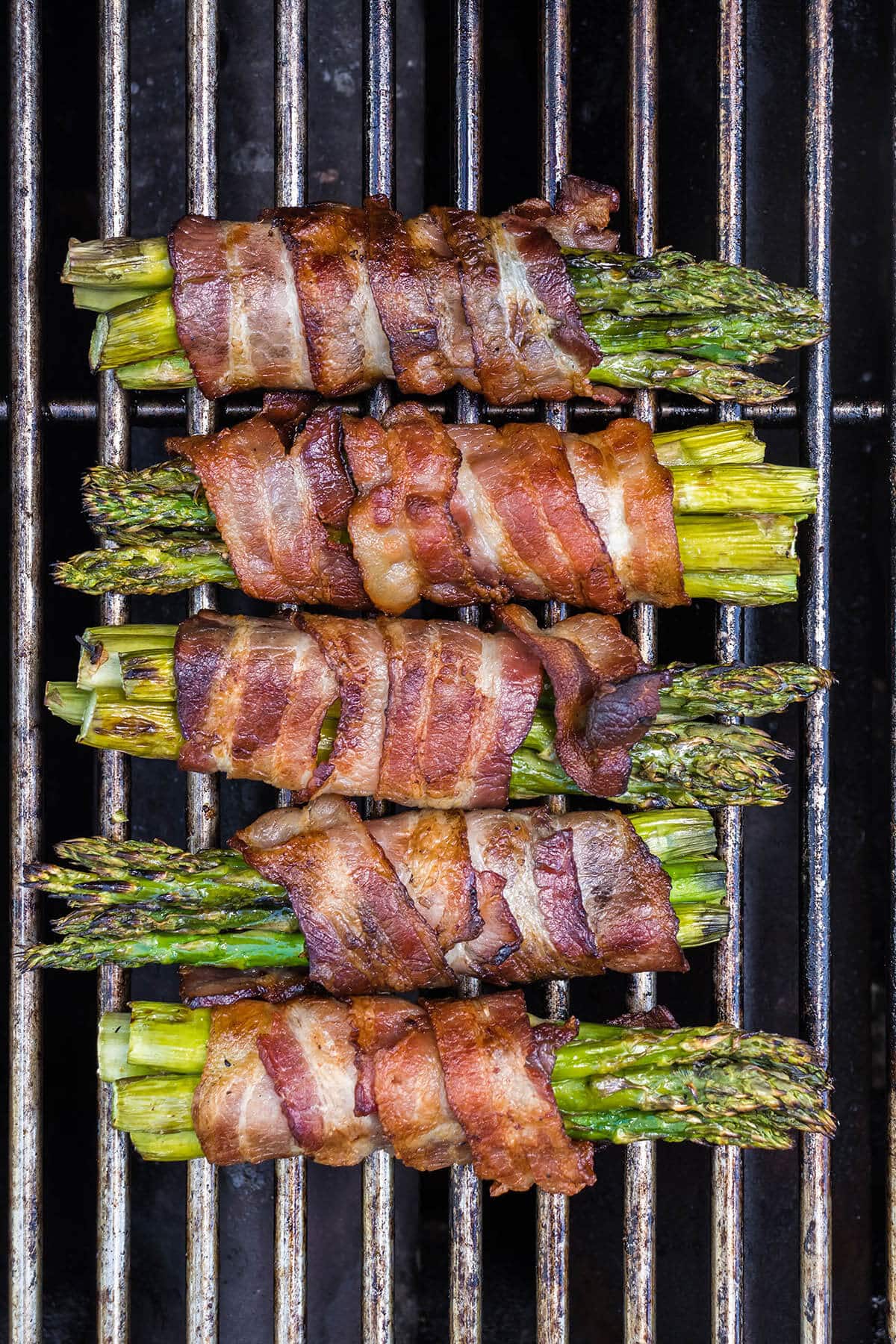 Jump to:
Why you'll love this recipe
Bacon. Wrapped. Asparagus. Need I say anymore?
I'm an asparagus fan, what can I say! However....
The first time we made asparagus wrapped in bacon it was on the grill and it was a hot flame-out mess. The bacon stuck to the grill, came unwrapped from the asparagus and wasn't completely cooked. It was awful!
Not happy!
I have it going on, it really shouldn't be that hard, right? So now I'm here to tell you I got this one figured out! You won't need to make the same mistakes I made!
The salty bacon gets crisp while the asparagus is perfectly tender. This is perfect to make year round and especially in the spring during asparagus season. It is delicious! This is a side dish you'll want to make extra of because everyone will want seconds!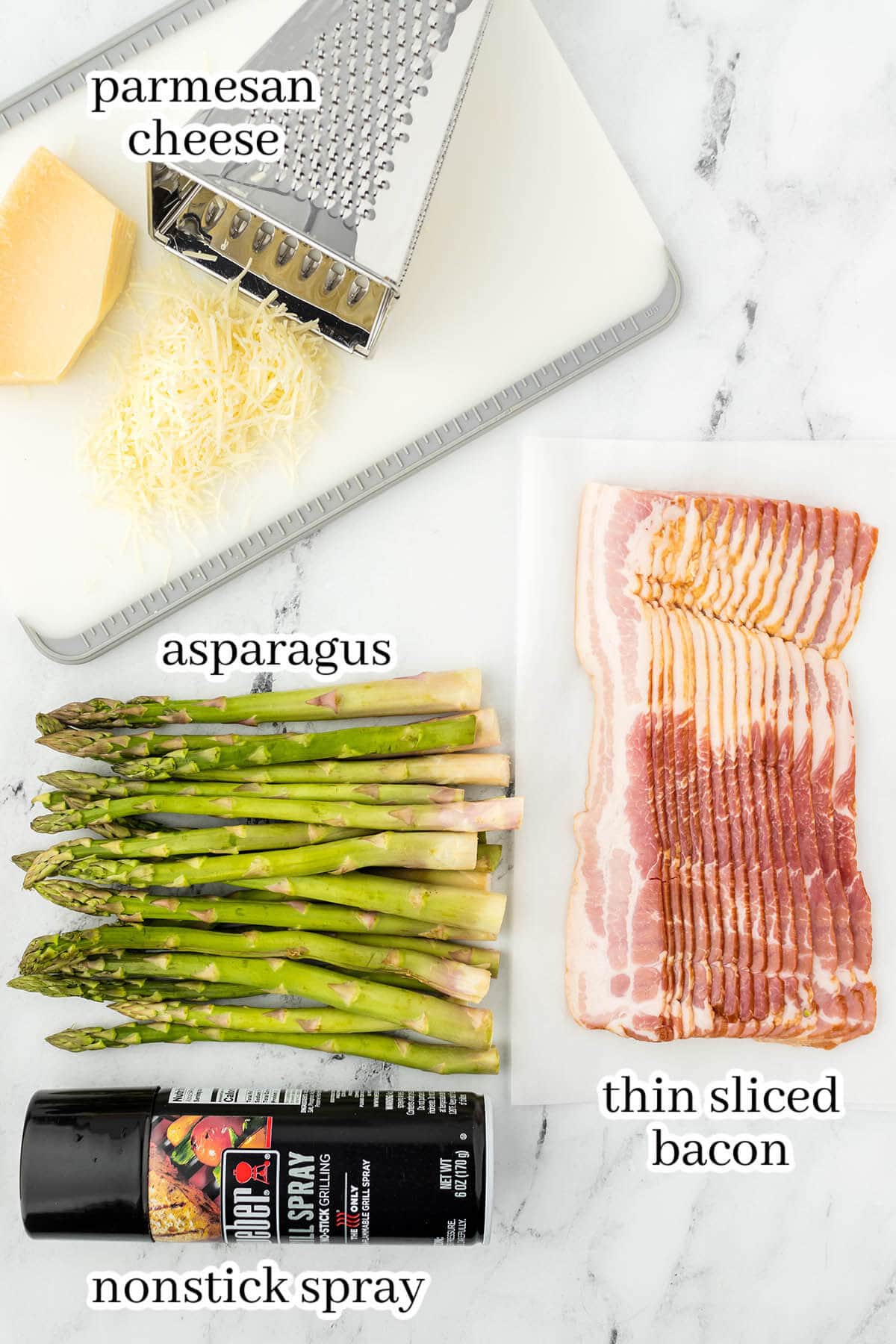 Ingredients
Grilled asparagus wrapped in bacon is such a simple, easy side dish!
fresh asparagus spears.
bacon strips - thin-sliced bacon is best. Thick cut bacon has too much fat and will catch fire more easily. I prefer using a good smokey bacon.
parmesan cheese - fresh, not pre-shredded is best.
nonstick coating or oil for the grill.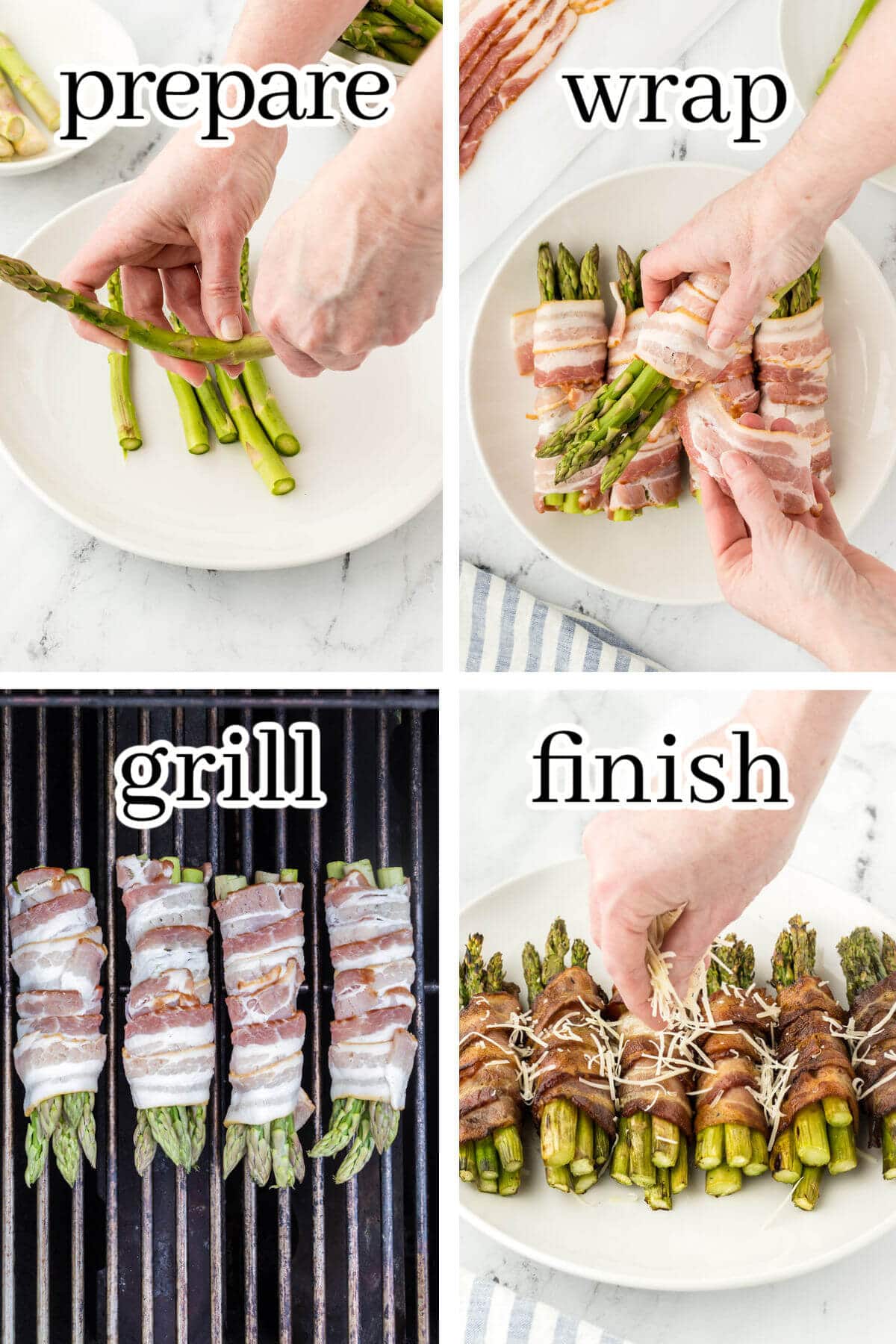 Instructions
Grill instructions
This recipe only takes a few minutes of prep! This is an overview of the instructions for this easy recipe. For the complete directions just scroll down to the bottom!
Choose thicker asparagus stalks and prepare a bundle with about 5-6 pieces of asparagus.
Wrap the pieces of bacon tightly around the tender asparagus spears.
Cleaning the grill, remove any burned on bits. Oil the grill.
Preheat on medium heat.
Place each bundle of asparagus on the hot grill and close the lid.
Flip it every three minutes or so. Don't fuss with it, just rotate it to the new side.
Continue turning the bundles until the bacon cooks and is crispy on all sides.
Sprinkle with parmesan cheese the instant it comes off the grill
Oven Instructions
Asparagus wrapped in bacon is easily made in the oven as well - here's the instructions!
Preheat the oven to 400 degrees.
Prepare the bacon, wrapping around the tender spears as directed above.
Place on an oven safe wire rack, then on a rimmed baking sheet (this will catch the bacon grease as it cooks).
Bake for 10 minutes, flip and continue baking for another 15 minutes.
Place under broiler for 3-5 minutes to completely crisp the bacon.
🔪 Equipment
The following are affiliate links. We are a participant in the Amazon Services LLC Associates Program, an affiliate advertising program designed to provide a means for us to earn fees by linking to Amazon.com and affiliated sites.
If you're baking the bundles, this rack will help the bacon to crisp while it's cooking in the oven.
FAQ's
How do you trim asparagus spears?
Rinse asparagus to remove any grit.
Snap or trim woody ends, save the end pieces to make homemade vegetable stock!
We'll use the top tender part in the asparagus bundles
What temperature to cook bacon wrapped asparagus?
Preheat the grill to 350-375 degrees. Try and keep the grill within that medium temperature range. Definitely less than 400 degrees.
Below 350 degrees, the bacon will just steam. If the temperature gets above 375 degrees. the bacon will burn and turn black. I know.... I've done the research! 😀
How long do you grill asparagus wrapped in bacon?
It takes 20-25 minutes to completely cook the bundles.
Can you substitute turkey bacon?
Absolutely! Again, use thin bacon slices.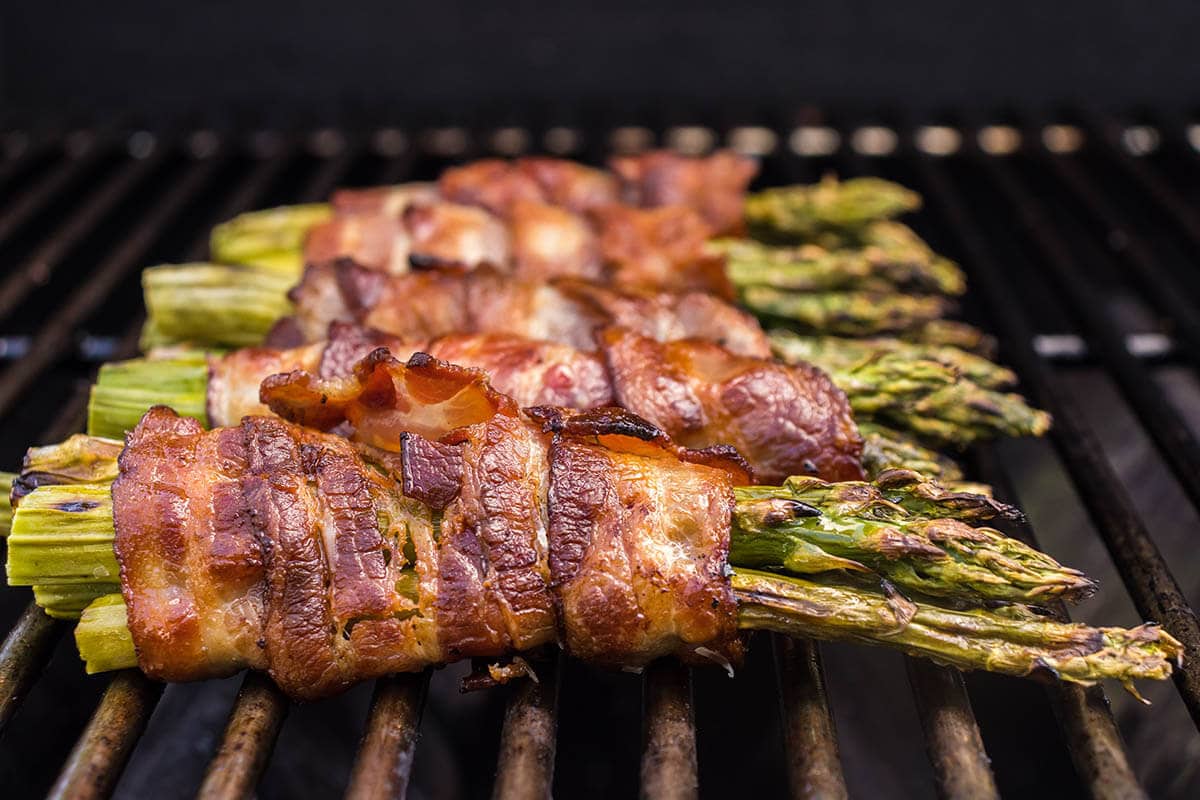 Things to know
Keep a piece of heavy duty aluminum foil handy. If there's a flame up, place the foil on the grill and transfer the bundles on top of the foil.
Poke holes in the foil so that fat can drain through, and the bacon will still get crispy! The goal lis crispy bacon!
Your local grocery store probably carries asparagus wrapped bacon already bundled in the meat department. All you'll need to do is grill it!
Bacon Wrapped Asparagus
Just be patient - the wrapped asparagus bundles take about 20-25 minutes to cook. You want crispy bacon! The hardest part is not eating them as soon as it comes off the grill!
Sprinkle the bundles with Parmesan cheese the instant you take it off the grill so it melts and gets all cheesy! Lightly cover the side with foil until you're ready to serve.
This is a great low carb dish and can be an easy appetizer or a tasty side dish! It's a delicious way to up your vegetable game!
Variations
There are so many great vegetables recipes that tastes even better on the grill! If you're wondering what are the best grilled vegetables, here are some of my favorites!
corn - you can leave them husk on or off, either way is delicious!
sliced planks of zucchini and eggplant
portobello mushrooms, crimini, white button mushrooms - all are delicious!
bell peppers and onions - great skewered shish kabobs!
and of course this asparagus recipe!
This wrapped asparagus recipe is delicious! There's just something about that smokey flavor the grill imparts. It makes everything taste even better!
A pinch of red pepper flakes over the bacon wrapped bundles will add a nice amount of heat!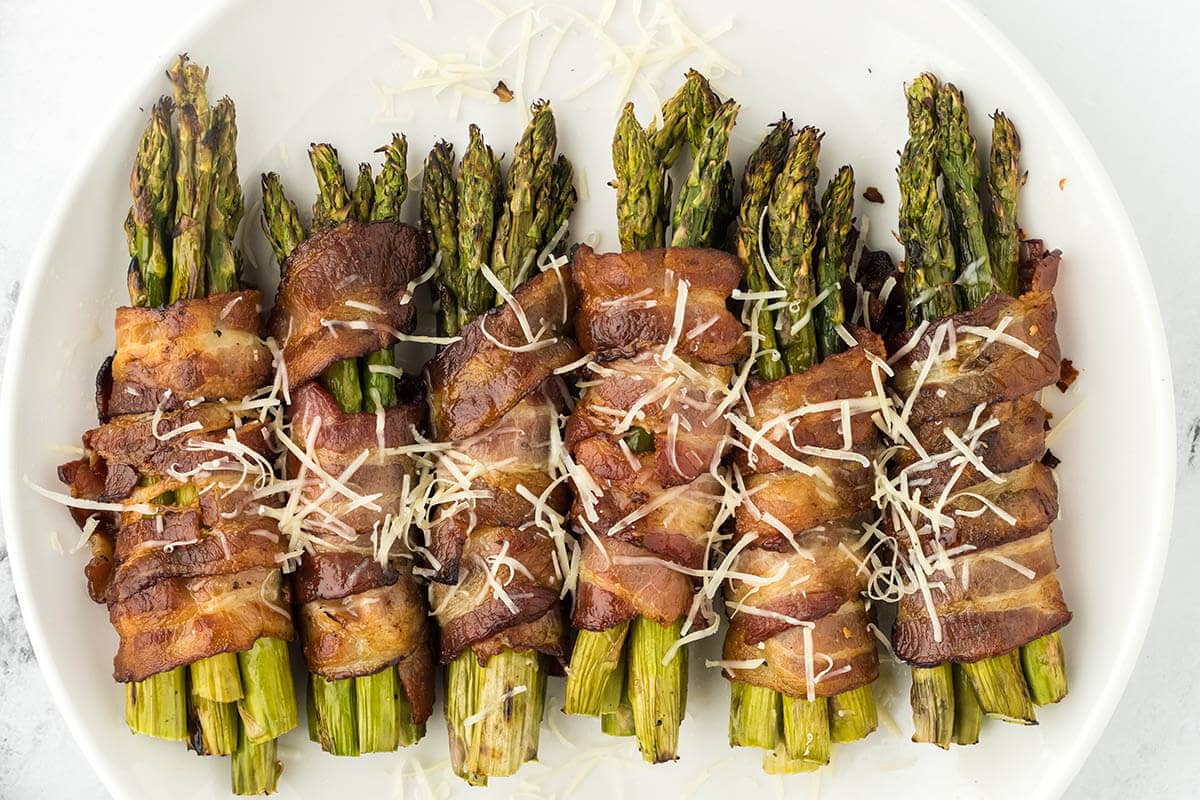 Serving suggestions
If you're looking for something super tasty to serve as a main course? How about teriyaki steak? We love this marinade and use it on just about everything!
Related recipes
More delicious side dishes? Roasted, grilled or steamed, here are a few of my favorites!
Now don't forget if you make this be sure and tag me on Instagram at @bowl_me_over or #bowlmeover, I'd love to see your awesome pictures!
Also if you love this great side dish, be sure to comment and leave a ⭐⭐⭐⭐⭐ rating below, I'd love to hear from you!
Asparagus and Bacon Recipe
Easy to make asparagus wrapped with juicy bacon. It's the perfect side dish!
As an Amazon Associate I earn from qualifying purchases.
Ingredients
1 ½

lbs.

fresh asparagus

12

slices

bacon

thin sliced bacon

¼

cup

parmesan cheese

shredded

nonstick coating for the grill
I earn a commission from Instacart from qualifying purchases.
Instructions
Clean the vegetables, snap off the woody ends of the asparagus.

Prepare each bundle with about 5-6 spears.

Wrap a bacon piece tightly around the bundle. First, wrap one slice of bacon, then the second slice. Use two slices of bacon per bundle.

Clean the grill grates well, then oil. Add the bundles of asparagus to the grill. Grill on all sides three minutes per side until the bacon is crispy 20-25 minutes.

Sprinkle with parmesan cheese the instant it comes off the grill.
Notes
Oven Instructions:
Preheat the oven to 400 degrees.
Prepare the bacon asparagus bundles as directed above.
Place on an oven save wire rack, then on a baking sheet.
Bake for 10 minutes, flip and continue baking for another 15 minutes.
Place under broiler for 3-5 minutes to completely crisp the bacon.
Nutrition
Calories:
222
kcal
|
Carbohydrates:
5
g
|
Protein:
9
g
|
Fat:
18
g
|
Saturated Fat:
6
g
|
Cholesterol:
31
mg
|
Sodium:
360
mg
|
Potassium:
316
mg
|
Fiber:
2
g
|
Sugar:
2
g
|
Vitamin A:
905
IU
|
Vitamin C:
6.4
mg
|
Calcium:
79
mg
|
Iron:
2.6
mg
Sign up for my recipes here!!
Don't worry, we'll never share your email.