Tender spring asparagus is the BEST side dish! Wrapping the spears in bacon and grilling until it's crispy cooks the asparagus perfectly! Learn how to grill Bacon Wrapped Asparagus, an easy side that everyone loves! First Published: July 28, 2018… Last Updated: April 27, 2019
How to Grill Bacon Wrapped Asparagus
Bacon. Wrapped. Asparagus. Need I say anymore?
I'm not gonna lie, the first time we made asparagus wrapped in bacon it was on the grill and it was a hot flame-out mess. The bacon stuck to the grill, came unwrapped from the asparagus and wasn't completely cooked. It was awful!
Not happy!
<
I have it going on, it really shouldn't be that hard, right? So now I'm here to tell you I got this one figured out! You won't need to make the same mistakes I made!
The salty bacon gets crisp while the asparagus is perfectly tender. And it is delicious! This is a side dish you'll want to make extra of because everyone will want seconds!
Bacon Wrapped Asparagus Recipe Grill
Let's go thru the basics!
How do you trim asparagus spears?
Rinse the asparagus to remove any grit.
Snap off the woody end.
You can save the end pieces to make homemade vegetable stock if desired.
Steps to make Asparagus Side Dish
Prepare a bundle with about 5-6 spears
Wrap tightly with thin sliced bacon – 2 slices of bacon per bundle
Grill on all sides until the bacon is crispy
Sprinkle with parmesan cheese the instant it comes off the grill
What temperature to cook bacon wrapped asparagus?
Preheat the grill to 350-375 degrees. Try and keep the grill within that temperature range. Definitely less than 400 degrees.
Below 350 degrees, the bacon will just steam. Much more than that and the bacon will burn and turn black. I know…. I've done the research! 😀
How do you grill asparagus wrapped in bacon?
Start by cleaning the grill, remove any burned on bits.
Oil the grill well.
Add the bacon wrapped asparagus and close the lid.
Flip it every three minutes or so. Don't fuss with it, just rotate it to the new side.
Continue turning the bundles until the bacon is crispy on all sides.
It will take 20-25 minutes to completely cook the bundles.
Bacon Wrapped Asparagus
Just be patient – this takes about 20-25 minutes to cook. You want the bacon good and crispy! The hardest part is not eating this as soon as it comes off the grill!
Sprinkle the bundles with Parmesan cheese the instant you take it off the grill so it melts and gets all cheesy! Lightly cover the side with foil until you're ready to serve.
What are the best vegetables to grill?
corn
zucchini
portobello mushrooms
eggplant
bell peppers
onions
and of course asparagus!
I think just about everything is better on the grill! There's just something about that smokey flavor the grill imparts that makes everything taste even better!
Grilled Bacon Wrapped Asparagus on the BBQ
If you're looking for something super tasty to serve with this meal, how about teriyaki steak? We love this marinade and use it on just about everything!
More delicious side dishes? Roasted, grilled or steamed, here are a few of my favorites!
Now don't forget if you make this be sure and tag me on Instagram at @bowl_me_over or #bowlmeover, I'd love to see your awesome pictures!
Also if you love this great side dish, be sure to comment and leave a ⭐⭐⭐⭐⭐ rating below, I'd love to hear from you!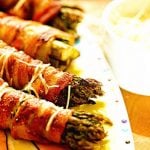 Print
Asparagus Wrapped Bacon
Asparagus Wrapped in Bacon is an easy and delicious side dish! Made on the grill the bacon gets crispy and flavorful! Wrapped around tender asparagus and sprinkled with salty Parmesan cheese, this simple side dish is giving you a new reason to eat asparagus!

Ingredients
1 1/2

lbs.

fresh asparagus

12

slices

bacon

recommend thin sliced bacon

1/4

cup

parmesan cheese

shredded

nonstick coating for the grill
Instructions
Clean the asparagus, snap off the woody ends.

Prepare each bundle with about 5-6 spears.

Wrap tightly with thin sliced bacon - 2 slices of bacon per bundle.

Oil the grill and add the bundles to the grill. Grill on all sides three minutes per side until the bacon is crispy 20-25 minutes.

Sprinkle with parmesan cheese the instant it comes off the grill.
Nutrition
Calories:
222
kcal
|
Carbohydrates:
5
g
|
Protein:
9
g
|
Fat:
18
g
|
Saturated Fat:
6
g
|
Cholesterol:
31
mg
|
Sodium:
360
mg
|
Potassium:
316
mg
|
Fiber:
2
g
|
Sugar:
2
g
|
Vitamin A:
905
IU
|
Vitamin C:
6.4
mg
|
Calcium:
79
mg
|
Iron:
2.6
mg
Sign up for emails here!
Don't worry, we don't share emails!