This teriyaki marinade recipe is both sweet and savory, perfect for marinating boneless chicken breasts, pork tenderloin, shrimp, tofu or my favorite - beef tenderloin! Tenderizing the meat with brown sugar, soy sauce, garlic and ginger it glazes the meat adding great flavor.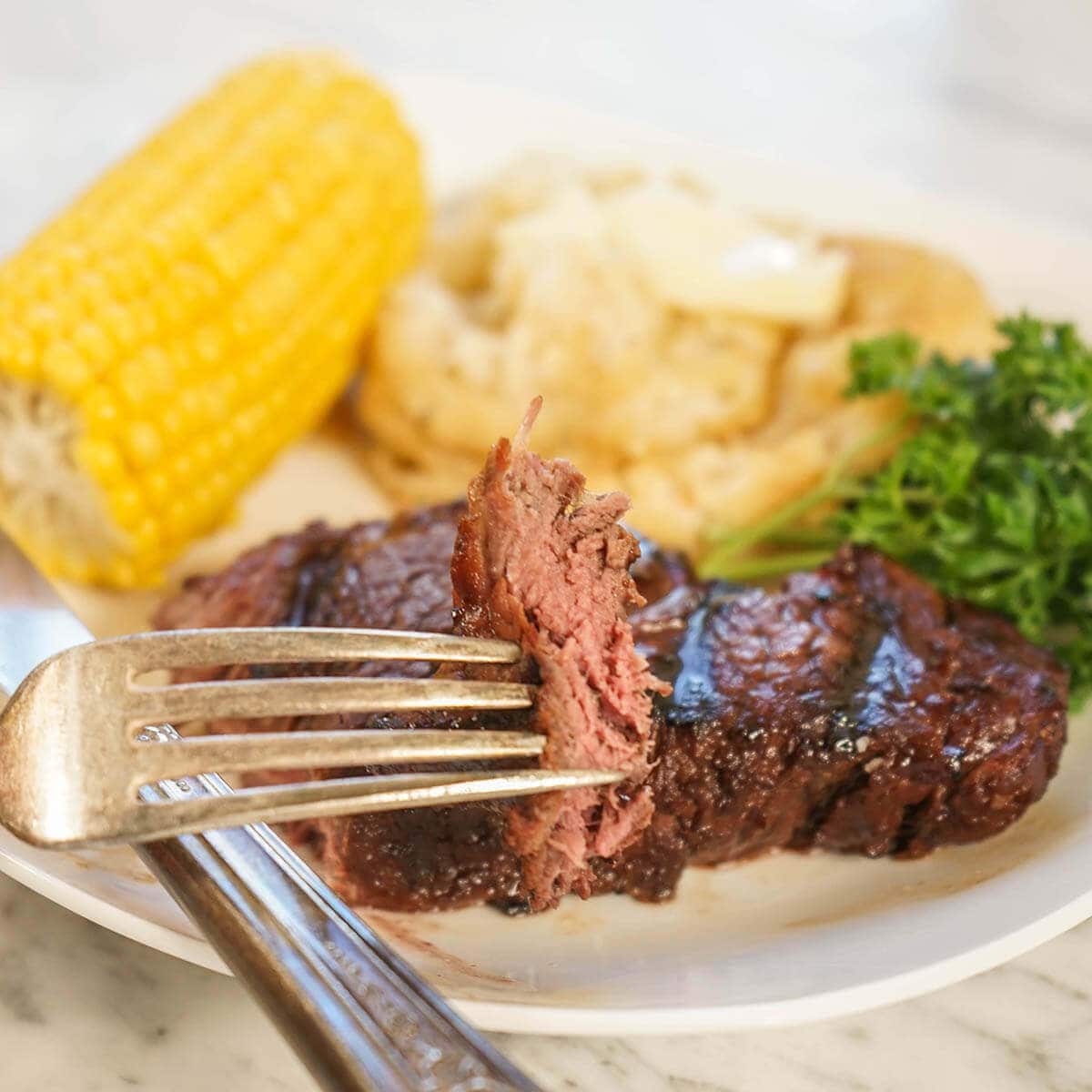 Next time try this recipe for Grilled Teriyaki Chicken Bowl!
Jump to:
❤️ Why you'll love this recipe
Simply - this easy marinade sauce tastes 100 times better than store-bought teriyaki marinade. Hands down the best you've ever tried and because it's made with pantry staples, you'll never buy it again!
What is your favorite cut of steak? When my folks visit often times I will go to Costco and get a whole beef tenderloin. It takes a bit of time to properly trim off the fat and silver skin, but what you're left with are several amazing filet mignon steaks!
A teriyaki marinade recipe is the perfect flavoring for your favorite meats! This one is easy to make and delicious. In fact, I promise after making this you'll never buy store-bought sauce again!
🗒️ Ingredients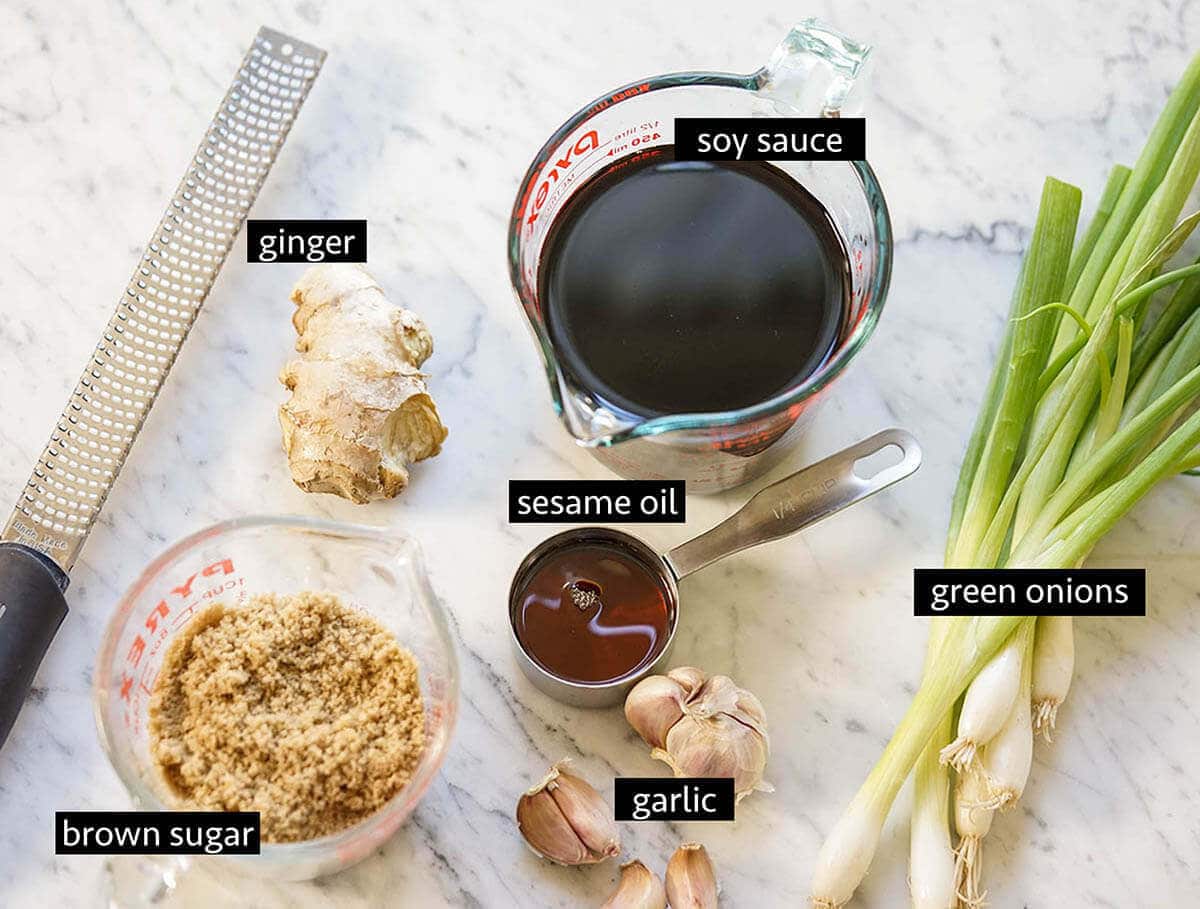 Teriyaki marinade recipe has only a handful of ingredients👇
low sodium soy sauce - I prefer low sodium, but you can certainly use regular.
brown sugar - you can use light or dark brown sugar, both are delicious!
fresh ginger root

and fresh garlic - both grated.
sesame seed oil - for its nutty toasted seasoning.
green onions - for light oniony flavor.
This is great on fillets, t-bones, ribeye, London broil, skirt steak, chicken breasts, chicken thighs, shrimp or pork!
You probably even have these marinade ingredients in your pantry!
🔪 Instructions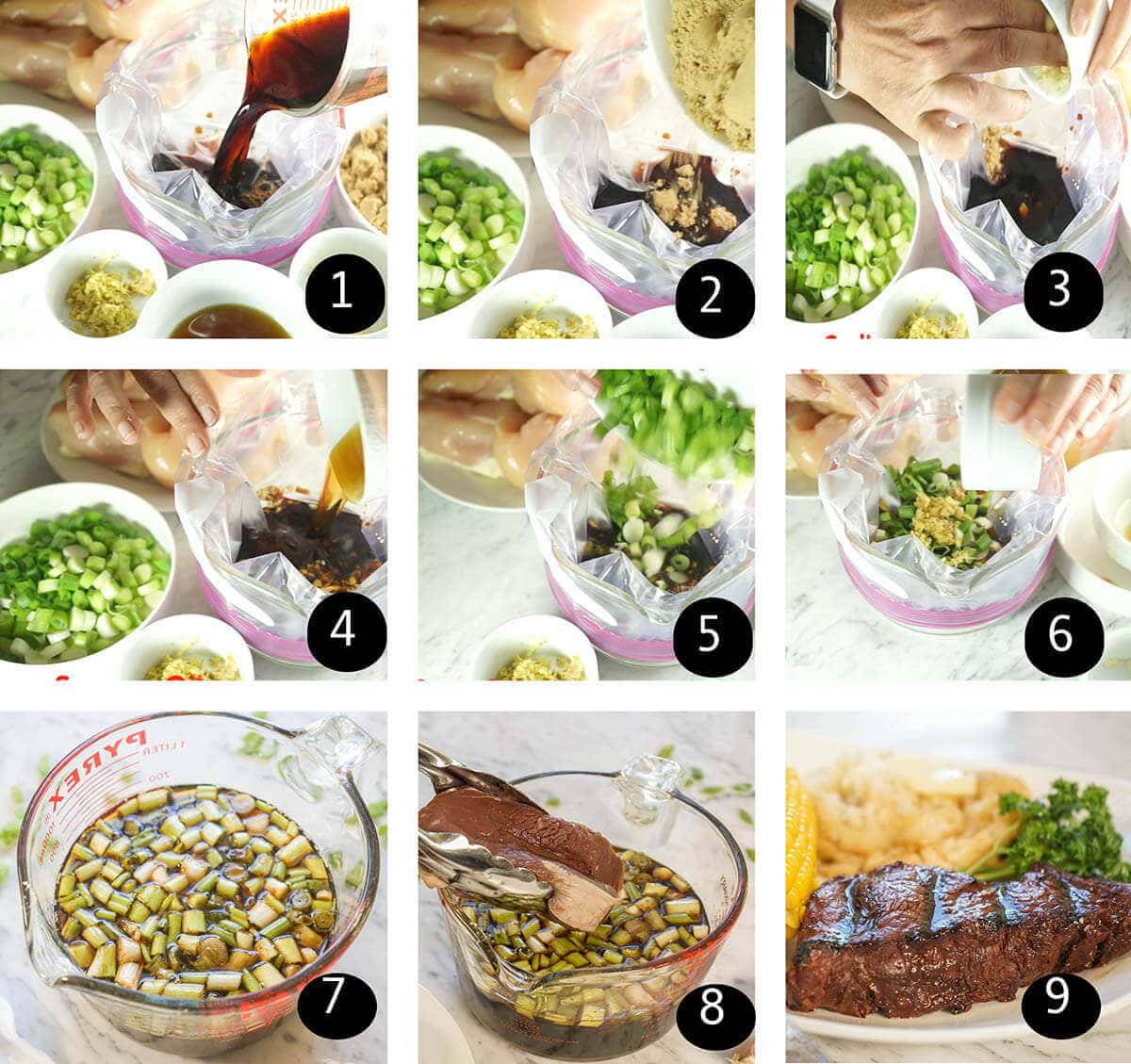 The teriyaki sauce has amazing flavor and only needs a few pantry ingredients! It is so simple to make. It's hard to believe it could be so delicious!
Add the soy sauce to a large ziplock bag or mixing bowl.
Add the brown sugar, ginger, sesame oil and sliced green onion.
Whisk soy sauce mixture to combine.
Place chicken, steak, pork or shrimp in the sauce and marinate.
Grill and enjoy!
See, super simple huh? This is the best - the easiest too! No matter what you are grilling. Take the 5 minutes and make this recipe. You'll never buy store-bought again!
🔪 Equipment
The following are affiliate links. We are a participant in the Amazon Services LLC Associates Program, an affiliate advertising program designed to provide a means for us to earn fees by linking to Amazon.com and affiliated sites.
I keep it simple and use a ziplock bag for marinating.
🙋‍♀️ FAQ's
Is Teriyaki Marinade Recipe the same as Teriyaki Sauce Recipe?
The difference is the thickness of the sauce. A marinade is meant to slowly absorb into the protein and a sauce is used on the finished meal.
How do you thicken a classic teriyaki sauce with brown sugar?
If you want a thick sauce, make a slurry with cornstarch - about 1 tablespoon cold water with 1 tablespoon cornstarch. Stir until smooth add to the sauce and bring to a boil. It thickens quickly!
What's the difference between hibachi and teriyaki?
Teriyaki is full of ingredients and flavor, the result is a saucy sheen - hibachi is a Japanese cuisine. It uses just soy sauce for flavoring.
How long do I need to marinate?
This is a great sauce for beef, pork, chicken or shrimp - even tofu!
Beef, pork and chicken should marinade for at least an hour or two. What's even better is overnight.
Shrimp or tofu need only 20-30 minutes!
Can I reuse the marinade?
No, I don't recommend reusing the marinade. I know you're going to hate doing that, but it's just not recommend to reuse it.
👍 Tips
This is going to sound silly, but my best tip for tasty teriyaki marinade is to make your own! This recipe is so simple - five minutes prep and you're done.
If you'd like to use this as a dipping sauce reserve a small bowl of marinade prior to adding the raw meat. If you prefer, you can thicken it with a cornstarch slurry.
Do not use marinade that has had raw meat in it as a dipping sauce.
Variations
Spice it up by adding Sriracha.
Lemon or lime adds a nice citrus flavor
Sesame seeds with drive that toasted sesame oil flavor home!
No soy sauce? Use mirin, it's a little sweeter but it's a great substitution.
Delicious with boneless skinless chicken breasts.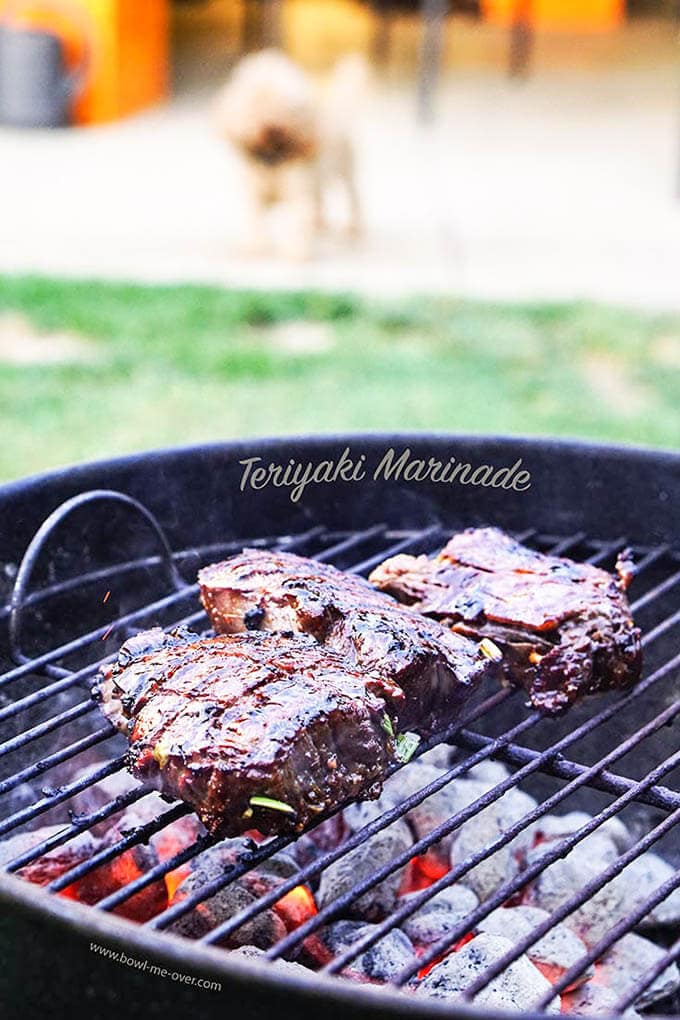 We usually have an audience when we grill and last night was no different!
Max carefully supervised to make sure Dan got it just right! All joking aside, my hubby is summer grill master - he prefers old fashioned charcoal grill for that smokey flavor!
Related recipes
Serving suggestions
This homemade teriyaki marinade is terrific on beef - steak, flank steak and pork chops. It is a great chicken marinade! I've yet to try it on scallops, but I bet it would be fantastic!
When I use marinade this on steak, I always serve a loaded baked potato, I just love that combination! A macaroni pasta salad would be super amazing as well!
Up your steak game by serving Cowboy Butter Dipping Sauce alongside. SO good!
Pan roasted vegetables or roasted carrots are great options for tasty side dishes!
Love this recipe? Please leave a comment with a five-star rating below, or pop me a note.
I love hearing from you! If you make this, be sure to tag me on Instagram @bowl_me_over or just hashtag me! #bowlmeover - I can't wait to see your photos!!!
Teriyaki Marinade
You won't believe how good this tastes! Simple, super flavorful and so delicious, it's an easy way to bump up the flavor in steak, chops or chicken.
As an Amazon Associate I earn from qualifying purchases.
Ingredients
2

cups

low sodium soy sauce

¾

cup

brown sugar

2

inch

ginger root

grated

2

cloves

garlic

grated or minced

¼

cup

sesame seed oil

1

bunch

sliced green onions

chopped (green and white parts)
I earn a commission from Instacart from qualifying purchases.
Instructions
Add the soy sauce and brown sugar to a plastic bag or bowl.

Grate the fresh ginger. Pour in the sesame oil and grated ginger.

Thinly slice the onions, add them next with the minced garlic.

Mix to combine and add your protein. Marinade 2-3 pounds of steak or chicken about 2 hours, turning occasionally. If using shrimp or tofu, reduce marinade time to 20-30 minutes. Grill & enjoy!
Notes
Customize this recipe by adding your own touch - 
Spice it up by adding Sriracha, red chilis or crush red pepper flakes.
Lemon or lime adds a nice citrus flavor
Sesame seeds will add even more toasty goodness!
No soy sauce? Use mirin, it's a little sweeter but it's a great substitution.
If you're using a Ziploc bag, be sure to place it in a large bowl prior to refrigerating in case it springs a leak. 
Nutrition
Calories:
234
kcal
|
Carbohydrates:
35
g
|
Protein:
5
g
|
Fat:
9
g
|
Saturated Fat:
1
g
|
Sodium:
2842
mg
|
Potassium:
210
mg
|
Fiber:
1
g
|
Sugar:
28
g
|
Vitamin A:
40
IU
|
Vitamin C:
1
mg
|
Calcium:
42
mg
|
Iron:
2
mg
Sign up for my recipes here!!
Don't worry, we'll never share your email.