Teriyaki Chicken Bowl 
When my hubby and I were dating he would drive up from Fresno to Sacramento Friday nights and stay until Sunday.  Often times before he would leave we'd go out to lunch. One of our favorite easy foods was I <3 Teriyaki, a restaurant in Mather.  At I <3 Teriyaki they grill mounds of chicken and it's served over rice with a small side salad.
I still have family in Sacramento and my hubby Dan is often in the area for business.  We still stop and dine whenever we have the chance.  I've even been known to toss a cooler in the car. That way I come home we can enjoy a meal from this restaurant, even when we're on the road!
It never occurred to me to make it at home!!
Seriously, this is what I do for a living.  Ha!
It's not hard either!
Nailed it!  😀
Chicken thighs, teriyaki sauce, rice.  Pretty simple huh?  You'll combine the marinade ingredients.  Soy sauce, brown sugar, ginger, onion, garlic & sesame oil.  Add the chicken.  Refrigerate for 2-3 hours or overnight – even better!  The next day or that evening, grill the chicken.  I saved out a bit of the marinade (before adding the chicken) and simmered it until it had reduced and thickened. Then drizzle the sauce over the chicken before serving. Cook rice and just look how wonderful this meal is!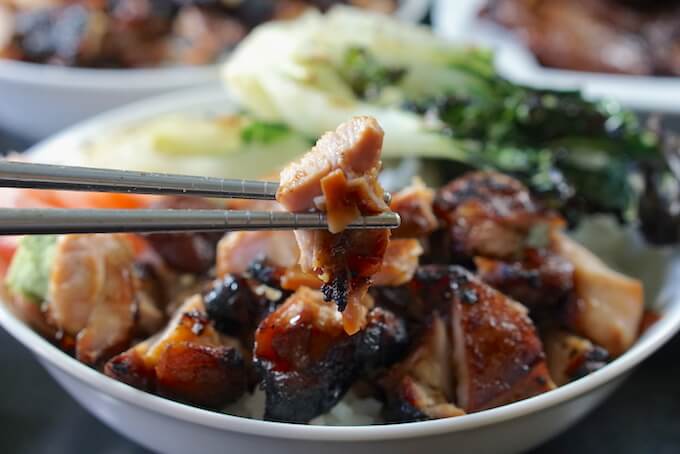 Since the grill was already heated rather than making a salad I grilled  some baby bokchoy.  For this I simply split them in half, drizzled with sesame oil and a splash of soy sauce and onto the grill they went.  They only take a few minutes per side.
Now we can have one of our favorite meals at home!  And YOU can too!  It's easy.  Super delicious and a perfect weeknight meal!
What is your favorite restaurant meal?
Teriyaki Chicken Bowl
Love meals in a bowl, how about you? This Teriyaki Chicken Bowl combines simple ingredients and offers big flavor. So yummy and easy enough for a simple weeknight meal!
Ingredients
6-8

boneless skinless chicken

2

cups

soy sauce

¾

cup

brown sugar

1

inch

piece ginger root

grated

2

cloves

garlic

grated

¼

cup

sesame seed oil

1

bunch green onions

chopped (green and white parts)
Instructions
Measure the soy sauce & brown sugar and place in a large ziploc bag. Grate the ginger root & garlic. Chop the onions and add them to the bag. Mix well. Scoop out about half a cup and set aside to reserve.

Add the boneless, skinless chicken thighs to the bag. Refrigerate for at least two hours. You can even leave it overnight. (This is simple enough to put together before work in the morning and grill when you get home.)

When it's time to grill, remove the chicken from the bag shaking off the excess liquid. Discard the liquid. Grill the chicken until the thighs are completely cooked thru - about 6-8 minutes per side depending on the size of the meat. Remove from the grill and and place on a plate. Cover loosely with foil and allow the meat to rest for 10 minutes . Chop into small bite sized pieces.

While the meat is resting put the reserved sauce in a small pan on the stove. Bring it to a boil, then turn the burner on low and allow to simmer and reduce for ten minutes.

Serve the meat over cooked rice, drizzle with teriyaki sauce. If desired, grill additional vegetables and serve alongside.
Nutrition Facts
Teriyaki Chicken Bowl
Amount Per Serving
Calories 544
Calories from Fat 162
% Daily Value*
Total Fat 18g 28%
Cholesterol 108mg 36%
Sodium 6688mg 279%
Potassium 927mg 26%
Total Carbohydrates 47g 16%
Protein 48g 96%
* Percent Daily Values are based on a 2000 calorie diet.
Easy Teriyaki Chicken Bowl – so simple you'll love making this at home. So easy, it will be like dining at your favorite teriyaki restaurant!