Easy to make meal everyone loves! Only 15 minutes on the grill and dinner is done. Chicken Teriyaki Skewers are always a hit!
Grilled Teriyaki Chicken Kabobs are a quick and easy meal that everyone loves! Moist, tender chicken dunked in a homemade marinade and skewered with your favorite vegetables. Grilled to perfection these are the perfect salty, sweet summertime meal!
Love teriyaki? Then be sure to try teriyaki steak marinade next!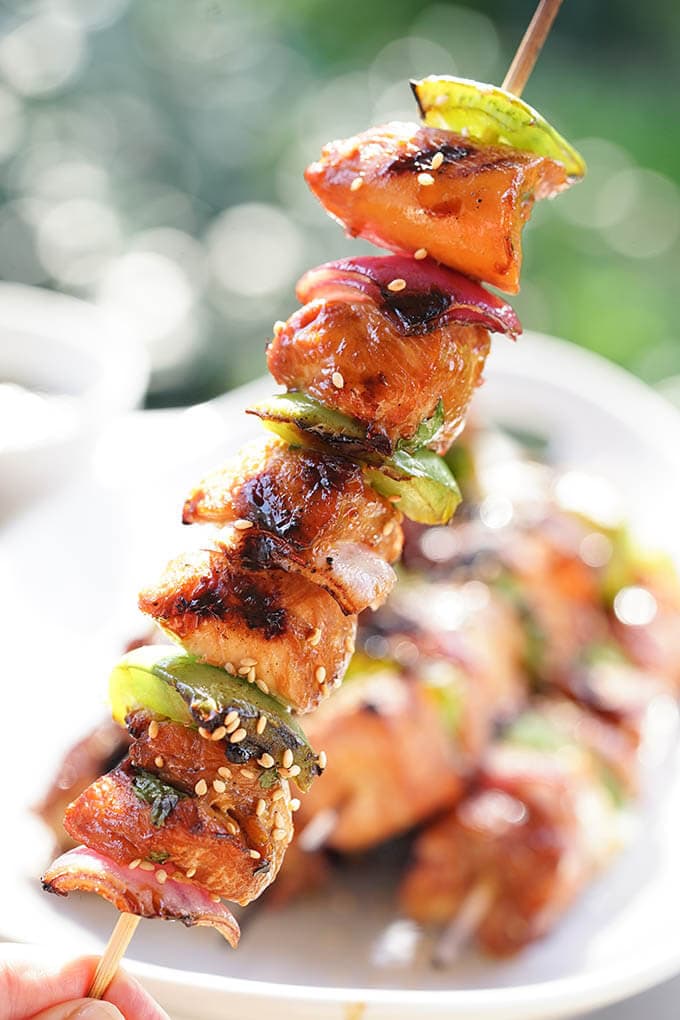 Love this recipe
Oh my goodness, the weather has turned and just like that!! It's grilling season, yay - one of my favorite times of the year! Just thinking about Grilled Chili Lime Chicken, Lemon Pepper Marinade and Teriyaki Chicken makes me want to fire up the grill!
I mean seriously, what's not to love?
When I lived in Green Bay we had very defined seasons but here in the Valley, there's really only two. Fall and Winter blend into one and when we move into spring and summer it's all about outdoor living, grilling and of course air conditioning.
This is Fresno after all! 🤣
I have dreams of putting in a pool next year and let me tell you.... I'm working hard to make that happen! Trying to work smarter. Focusing on connecting with you and creating the types of meals you're looking for.
So if there's ever a recipe you're thinking about, be sure and let me know ok? Comment on the blog or email me at [email protected]
But I guess I'm rambling,.... sorry about that! You're here today to learn all about these AMAZING Teriyaki Chicken kabobs, right?
It all starts with an easy Homemade Sauce!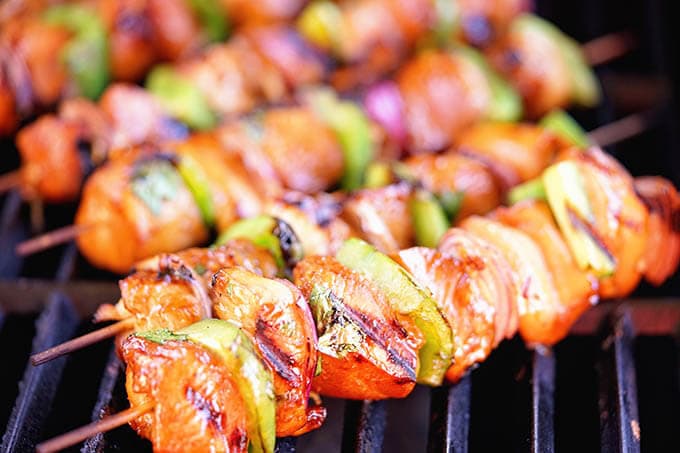 Now it only takes about 5 minutes to put this marinade together. It's so simple and 100 times better than what you get in a jar. If you do choose to take a shortcut and buy a marinade, hey - no judgment!! I just want to see you cook up some easy meals with your family!
🛒 Ingredients
Here is the grocery list for the Teriyaki Chicken Skewers:
boneless skinless chicken breasts or boneless skinless chicken thighs
green bell pepper
red onion
store-bought or homemade teriyaki sauce
green onion or sesame seeds - optional garnish
I get it, we're all busy, but if you take the time to make the sauce, it makes all the difference and you probably have all of the marinade ingredients on hand - soy sauce, brown sugar, ginger, garlic, sesame oil and green onions. It's a super easy recipe!
⏲️ Instructions
Making grilled teriyaki chicken skewers is super simple! Here's an overview, for the complete instructions, just scroll down to the bottom of the post.
If using wooden skewers be sure to soak them for at least 30 minutes prior to grilling.
Combine the ingredients for the marinade place in a large ziplock bag or shallow pan in a single layer.
Dice the breast or thigh into 1 ½ inch pieces of chicken. Add to the teriyaki marinade, cover with plastic wrap and allow to soak for at least 30 minutes. If you're marinating in a bag, turn bag every 10 minutes to make sure all of the meat gets marinaded.
Dice the vegetables into 1 ½ inch pieces.
Thread chicken pieces onto bamboo skewers or metal skewers, alternating the meat, onions, and green, red or yellow bell peppers.
Place skewers on the indoor or outdoor grill for about 6 minutes each side. Chicken is done when it reaches an internal temperature of 165 degrees.
🙋🏼‍♀️ Recipe FAQ's
What is teriyaki sauce made of?
The main ingredients in this sauce are soy sauce, brown sugar and ginger root. It's easy to make and you probably have most of the ingredients on-hand! Why not make it yourself?!!
How do you make grilled teriyaki chicken skewers?
Simply thread the chicken and vegetables on the skewers alternating as you go; meat, green pepper, meat, onion repeat!
How do you keep the chicken from burning?
Wooden skewers should be soaked at least 30 minutes to lessen burning. They may still char a bit, but shouldn't burn through. Also you can wrap the tips of wood in aluminum foil to prevent burning.
✔️ Tips
Here are some tips to make Chicken Skewers
Cutting the chicken and vegetables to a uniform size will ensure the vegetables and meat get done simultaneously.
If you're making your own delicious teriyaki sauce (trust me, it's AMAZING!), reserve a cup prior to adding the chicken. Brushing sauce on the kabobs when they come off the grill makes the skewers glisten, plus having extra sauce to pass at the table ensures all of the chicken will be moist and delicious!
These are great for meal prep. Double the recipe and make extra! On day two, dinner can be Teriyaki Chicken Salad and lunches are chicken teriyaki and vegetables stuffed in a wrap or pita bread. Add some spinach and ranch dressing, YUM!
Keep the grill lid closed as much as possible while grilling.
It only takes about 6 minutes per side - be careful not to overcook. Nobody likes dry chicken!! Poultry is done when the internal temperature reaches 160 degrees.
🥣 Variations
You can really add any variety of vegetables to the kabobs!
onions, bell peppers, fresh pineapple, zucchini, mushrooms, cherry tomatoes - really anything you can thread on a skewer!
steamed baby potatoes - just be sure to steam them first because it takes longer to cook the potatoes than the chicken.
adding a couple thin slices lemon adds bright citrus freshness to the chicken skewer.
🥗 Serving Suggestions
Here are some suggested to serve alongside your Teriyaki Chicken Kabobs - pick your favorite!
Related Recipes
I have several amazing teriyaki recipes on the blog like this yummy teriyaki chicken bowl, teriyaki noodles and the best teriyaki marinade you've ever tried!
If you're looking for more great kabob recipes, then here you go!
Amazon Disclosure: Some of the items below contain affiliate links; I am a participant in the Amazon Services LLC Associates Program, an affiliate advertising program designed to provide a means for us to earn fees by linking to Amazon.com and affiliated sites. However, I only promote things that I love and think you will love, too. For more information, please see our Disclosure Policy.
Skewers - these are a ton cheaper than purchasing at the grocery store. I personally prefer the shorter skewers also, because you can serve more people.
Indoor Grill Pan - always be sure to run your stove fan when grilling indoors!
Do you love it? Rate it.... please! Seriously though, please take a moment and comment below! I'd love to hear what you think!
If you make these kabobs and snap a photo, be sure to tag me on Instagram @bowl_me_over or using the hashtag #bowlmeover - thank yoU!!
Teriyaki Chicken Kabobs
Easy to make meal everyone loves! Only 15 minutes on the grill and dinner is done. Chicken Teriyaki Skewers are always a hit!
As an Amazon Associate I earn from qualifying purchases.
Ingredients
3

chicken breasts or boneless chicken thighs

diced into 1 ½ inch pieces

1

green bell pepper

diced into 1 ½ inch pieces

½

red onion

diced into 1 ½ inch pieces

2

cups

teriyaki sauce

2

tbsp

sesame seeds

toasted, optional garnish
Instructions
If you're using wooden skewers, be sure and soak them for at least 30 minutes prior to grilling.

Combine the ingredients for the homemade teriyaki sauce and place in a large Ziploc bag or large bowl.

Dice the chicken into 1 ½ inch pieces. Add the chicken to the marinade and soak for 30 minutes.

While the chicken is marinating, dice the vegetables into 1 ½ inch pieces.

Next, assemble the kabobs alternating meat and vegetables until you've used up all of the ingredients.

Grill for about 6 minutes each side or until the internal temperature is 160 degrees F. Avoid overcooking, so the chicken doesn't dry out.
Nutrition
Calories:
358
kcal
|
Carbohydrates:
26
g
|
Protein:
45
g
|
Fat:
6
g
|
Saturated Fat:
1
g
|
Cholesterol:
108
mg
|
Sodium:
5718
mg
|
Potassium:
1044
mg
|
Fiber:
1
g
|
Sugar:
21
g
|
Vitamin A:
160
IU
|
Vitamin C:
27
mg
|
Calcium:
94
mg
|
Iron:
3.8
mg
Sign up for my recipes here!!
Don't worry, we'll never share your email.