Sweet, tender shrimp take just minutes to make on the grill. That's what I'm talking about! How to grill Shrimp Skewers for a quick and easy weeknight meal! This meal couldn't get any easier or any more delicious!
Let me show you some quick shortcuts and you'll be making grilled shrimp kabobs for dinner tonight!
If you enjoy this recipe, be sure to try Teriyaki Chicken Kabobs next, they are amazing!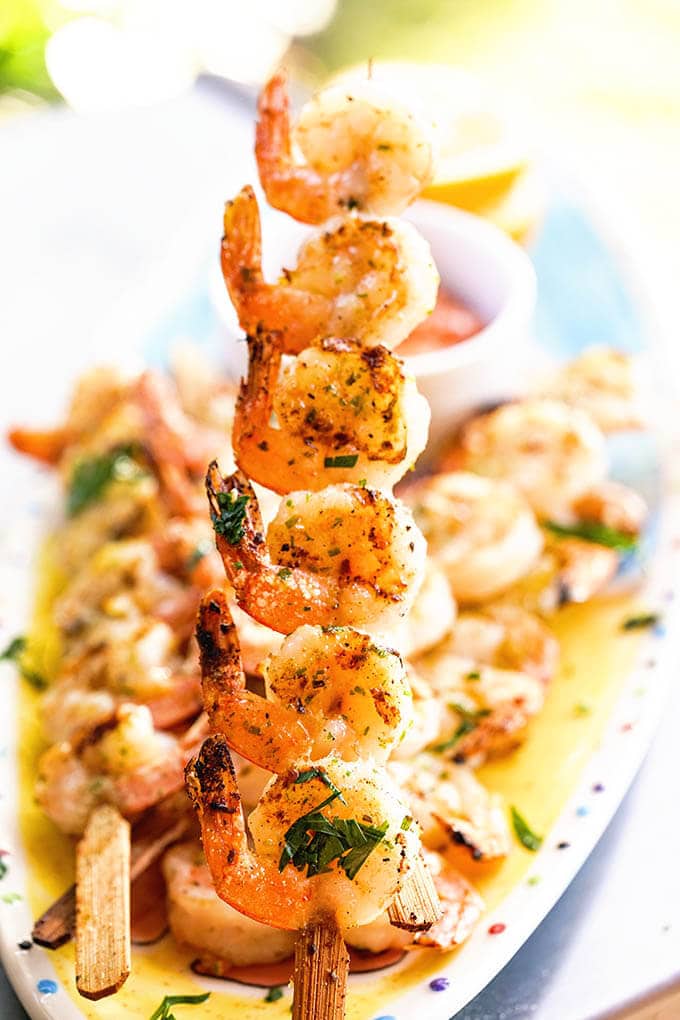 Jump to:
Why you'll love this recipe
One of the reasons I love shrimp is because it's such an easy weeknight meal and tastes just delicious! I have several great shrimp recipes on the blog - Garlic Parmesan Roasted Shrimp and Garlic Shrimp, and Cajun Baked Shrimp - YUM!
Yup, shrimp is a fav here at the house and my favorite dunkers for shrimp is this easy Shrimp Cocktail Sauce Recipe or Alabama White Sauce - both are fantastic with seafood!
When I'm grilling just about any protein, I try to keep it simple. Olive oil and seasoning, perhaps some sauce at the end. You can use a gas or charcoal grill - your choice!
Ingredients
For the exact ingredients and measurements, please refer to the recipe card at the bottom of this post.
peeled, deveined shrimp
olive oil
grill seasoning
fresh lemon
non-stick coating
🔪 Instructions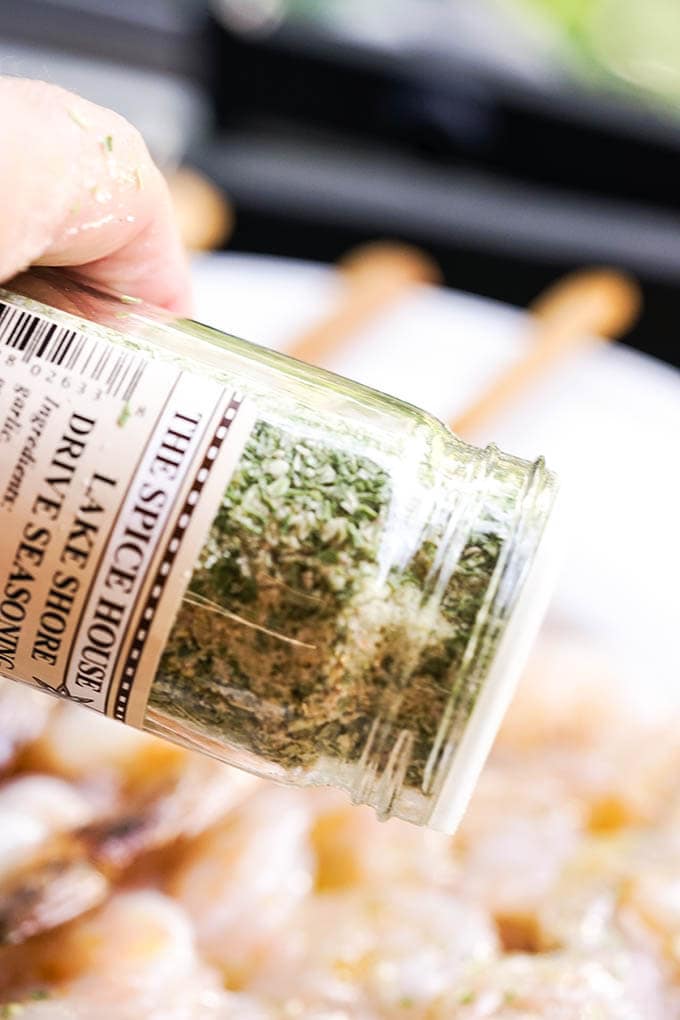 This is an overview of the instructions. For the complete directions just scroll down to the bottom!
It doesn't take long to grill the shrimp kabobs recipe at, only 5-7 minutes per side depending on the size of the shrimp!
Preheat the grill.
Peel and devein shrimp.
Rinse the raw shrimp in cold water, pat dry with paper towels and thread shrimp onto skewers.
Brush the shrimp with olive oil.
Season shrimp.
Shrimp cook quickly and will only need to 5-7 minutes total, turning once during grilling.
Serve with a fresh lemon wedge on the side, finish with a squeeze of lemon juice.
Equipment
The following are affiliate links. We are a participant in the Amazon Services LLC Associates Program, an affiliate advertising program designed to provide a means for us to earn fees by linking to Amazon.com and affiliated sites.
FAQ's
What should grilled shrimp look like?
One of the biggest mistake people make with shrimp is overcooking it. When properly the tails of the shrimp will be pink and the flesh just slightly white. Overcooked the flesh will be bright white and the shrimp will be rubbery.

Cooked shrimp will curl into a little C shape.
Is it better to grill shrimp with shell on or off?
I think it's easier to enjoy this meal when the shells are removed, but it's purely personal preference.
Is shrimp supposed to be chewy?
It's easy to overcook shrimp. It just takes minutes per side. Shrimp shouldn't be chewy or dry. They should taste sweet, flavorful and moist.
How do you make bbq prawn skewers more flavorful?
Use plenty of seasoning! Don't skimp, it adds so much flavor. And baste the shrimp with butter.....mmmmm!!!
How to grill shrimp without skewers?
If you don't want to use wooden skewers to grill shrimp you have a couple of options. Purchase jumbo shrimp so they don't fall through the grill. Or use a grill basket - those work terrific!
What spices and herbs go well with shrimp?
Keep it simple with lemon zest, black pepper and a sprinkling of kosher salt.
Tips
Peel and devein the shrimp before grilling.
Using skewers that are flat ensures the shrimp won't twirl on the skewer. It makes flipping them so much easier! If you have round grill sticks, double skewer them.
Shrimp size matters. Buy the largest shrimp that meets your budget. The little ones cook quickly and are easy to overcook. No one likes rubbery shrimp!
Often frozen bags of jumbo shrimp go on sale and are quite inexpensive. Watch for the sale!
Unless you live on the coast, nearly all shrimp have been frozen. There's nothing wrong with frozen shrimp!
Flat (rather than round) bamboo skewers, are best because the meat won't twirl when you're trying to flip it.
Always soak bamboo skewers for 30 minutes to avoid the wood from burning while grilling.
Metal skewers work great as well and don't need soaking!
Whether you use a gas grill or a charcoal, grilling shrimp kebabs are easy! A perfect meal, great for appetizers and delicious over a salad - seriously you can't go wrong!
Tips for purchasing fresh shrimp
buy shrimp on the day you're going to use it.
seafood should smell like the ocean - not fishy or spoiled.
rinse and pat dry before putting on the grill.
Variations
Add veggies to your skewers. Quick cooking veggies are perfect like asparagus, slices of zucchini, yellow squash, red or yellow onions. Peppers and tomatoes are also delicious grilled.
BBQ Sauce is delicious - or give your shrimp kabobs a Mexican flair by sprinkling with taco or fajitas seasoning or using a shrimp marinade (this teriyaki recipe is AMAZING!).
This plum bbq sauce is perfect with shrimp as well.
Serve with garlic butter for dipping.
A pinch of red pepper flakes adds a pop of heat.
Related recipes
Serving suggestions
Here are some of my favorite sides the enjoy with this meal.
Don't forget to check out my Amazon storefront for some of my favorite products! 🛍️
If you love this recipe please leave a ⭐⭐⭐⭐⭐ rating!
How to Grill Shrimp Skewers
Cooking shrimp doesn't have to be complicated. Make tender, juicy shrimp every time when you follow these step-by-step instructions!
As an Amazon Associate I earn from qualifying purchases.
Ingredients
1.5

lb.

shrimp

2

tablespoon

olive oil

1

tablespoon

grill seasoning

non-stick coating

for grill

1

lemon
I earn a commission from Instacart from qualifying purchases.
Instructions
Preheat the grill to 350 degrees.

Rinse the shrimp, pat dry and thread onto bamboo skewers.

Prepare the shrimp skewers by brushing lightly with olive oil.

Sprinkle the shrimp with seasoning.

Grilled the skewers 5-7 minutes total, turning once during grilling.

Serve with wedges of fresh lemon on the side, finish with a squeeze of lemon juice.
Notes
Don't overcook the shrimp! When properly cooked the tails of the shrimp will be pink and the flesh just slightly white. Overcooked the flesh will be bright white and the shrimp will be rubbery.

Cooked shrimp will curl into a C shape.
Nutrition
Calories:
235
kcal
|
Protein:
34
g
|
Fat:
9
g
|
Saturated Fat:
1
g
|
Cholesterol:
428
mg
|
Sodium:
1322
mg
|
Potassium:
136
mg
|
Vitamin A:
25
IU
|
Vitamin C:
7
mg
|
Calcium:
257
mg
|
Iron:
4
mg
Sign up for my recipes here!!
Don't worry, we'll never share your email.