Veggie Kabobs with Plum BBQ Sauce
Happy Labor Day!!! If you're here in the States you just might be planning a cookout today. And just in case, I have the perfectly easy and deliciously tasty sauce for you to mop all over your grilling goodies today. Plumb BBQ Sauce!
And because you'll want to offer up a meatless grilling option, how about these yummy grilled vegetables?
I find when I'm working with food, I will cook what's in season (that's good!) but then because I'm focusing on that one ingredient, I present several recipes using that ingredient. Bad? Not sure – you guys tell me! If you get tired of something, don't be afraid to let me know ok? I think earlier this season I must have posted 4 recipes using corn, then strawberries, etc.
Now I've moved onto sweet bell peppers. You know the ones you buy at the store in a bag and there's 35-30 in a bag? It's kinda hard to use them all up, but I hate throwing food away. Here's what I always say….it can go to waist…but not to waste! 😀  I've put the bell peppers  in salads, made sweet pickled peppers (recipe coming soon) and I'm working on an amazing appetizer too. So delicious!
I wanted to make kabobs with just peppers….but there wasn't quite enough (because they went to waist…). So I was I added some zucchini and red onion., but this is the time you get to choose. Use your favorite vegetables. The true star of this blog is the Plum BBQ Sauce. Sweet and just a little spicy it's perfect for an easy kabob! But the sauce….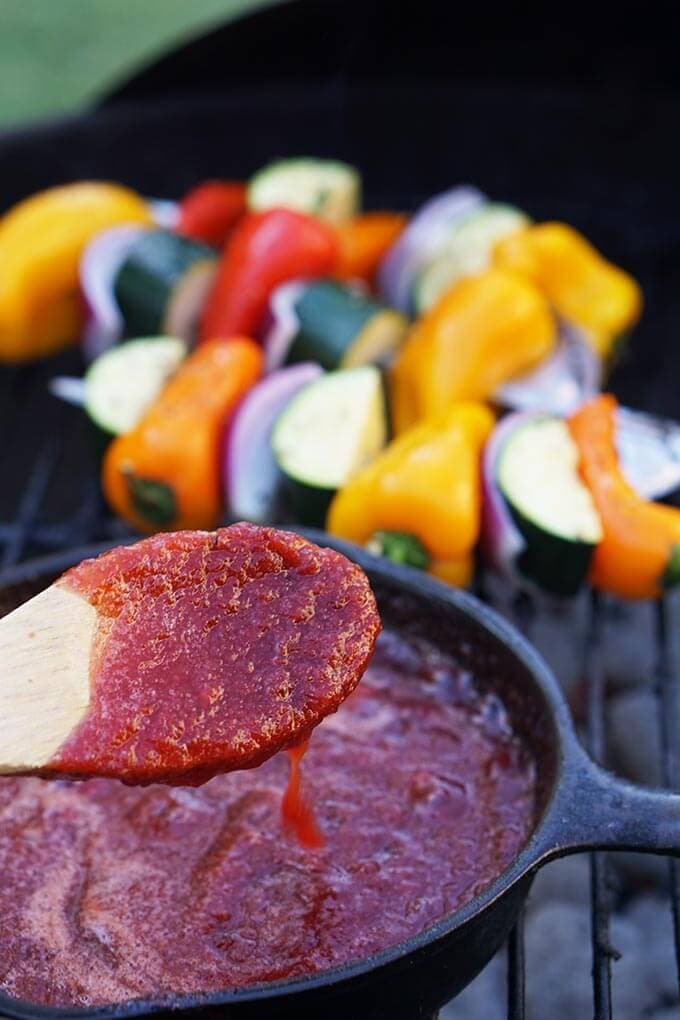 It is so delicious and super simple! All of the ingredients went into the blender and it was processed until smooth and then poured it into a small cast iron skillet and cooked/reduced it right on the grill.
While the kabobs grilled, I basted them with the sauce. The sauce bubbled away cooked and reduced. I kept stirring it while it was bubbly and hot. (Of course if you don't want to use the grill you can certainly reduce the sauce on the stove top, it would only take about 10 minutes.)
See it just bubbling away? Awesome flavor from the sweet plums with just a hint of spice. It's over the top delicious!
Print Recipe
Veggie Kabobs with Plum BBQ Sauce #MeatlessMonday
Plum BBQ Sauce is the star of this meal. Sweet and just a little spicy it's perfect for your favorite kabob!
As an Amazon Associate I earn from qualifying purchases.
Ingredients
1

cup

chopped plums

2-3 plums depending upon the size

1/3

cup

catsup

1/3

cup

brown sugar

2

Tablespoons

Apple Cider Vinegar

1

teaspoon

Worcestershire sauce or soy sauce

vegan

1/2

teaspoon

salt

1/2

teaspoon

pepper

1/4

teaspoon

red pepper flakes

1/4

teaspoon

garlic powder

Veggies of choice for the kabob
Instructions
There is no need to peel the plums. Add all of the ingredients to your blender or food processor. Process until smooth.

If reducing on the grill, pour into a small cast iron skillet and reduce the sauce. You'll need to stir it frequently so it doesn't burn. If reducing on the stove, place in a small sauce pan over medium heat and reduce stirring frequently. This takes about 10 minutes, either on the grill or stovetop.

Choose your veggies and prepare the skewers. After cleaning the vegetables, thread them onto the skewer, brush with olive oil and sprinkle with salt and pepper.

Grill about 3 minutes each side, mop with sauce, flip & repeat until the vegetables are cooked.
Nutrition
Calories:
230
kcal
|
Carbohydrates:
57
g
|
Protein:
1
g
|
Sodium:
989
mg
|
Potassium:
328
mg
|
Fiber:
1
g
|
Sugar:
52
g
|
Vitamin A:
11.3
%
|
Vitamin C:
11.5
%
|
Calcium:
3.7
%
|
Iron:
4
%