Plum BBQ Sauce is the star of this meal. Sweet and just a little spicy it's tangy, tasty, easy to make and perfect with pork, chicken, fish or seafood!
If you love a great sauce on your bbq, be sure to try the Alabama white sauce recipe next, it's perfect for dunking!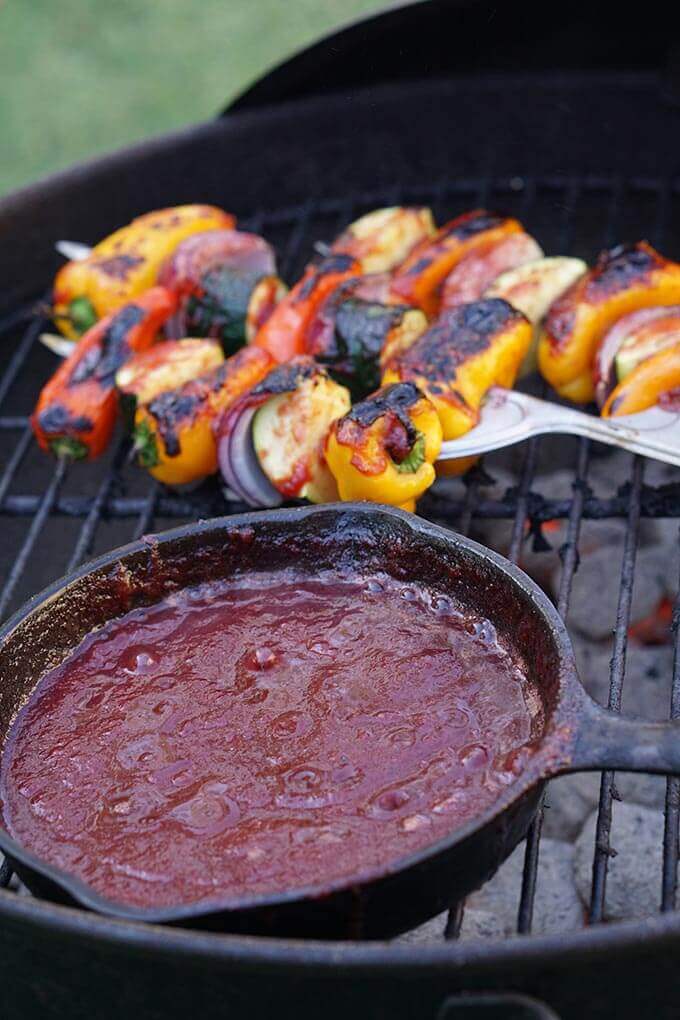 Plumb BBQ Sauce
Are you planning a cookout this week?. I know we've been doing a ton of grilling!
If you are too, I have the perfect easy and deliciously tasty sauce for you to mop all over your grilling goodies, Plumb BBQ Sauce!
I find when I'm working with food, I will cook what's in season (that's good!) but then because I'm focusing on that one ingredient, I present several recipes using that ingredient.
Bad? Not sure - you guys tell me! If you get tired of something, don't be afraid to let me know ok? I think earlier this season I must have posted 4 recipes using corn, then strawberries, etc.
Now I've moved onto sweet bell peppers. You know the ones you buy at the store in a bag and there's 12-15 in a bag? It's kinda hard to use them all up, but I hate throwing food away.
Here's what I always say....it can go to waist...but not to waste! 😀 I've put the bell peppers in salads, made sweet pickled peppers and I'm working on an amazing appetizer too. Yum!!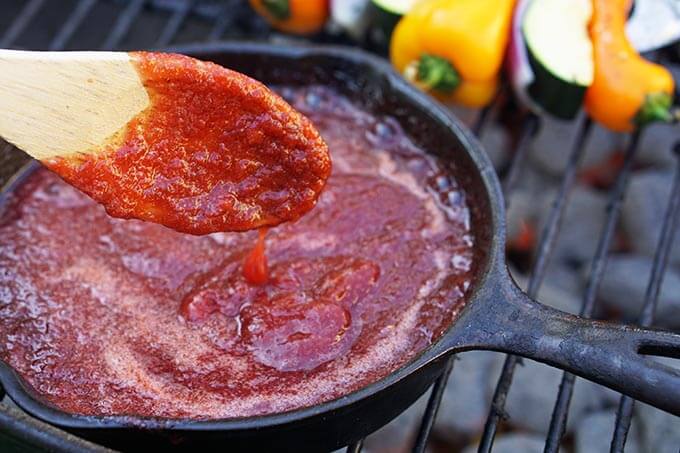 Plum BBQ Sauce Recipe
Along with those peppers came a pile of plums. They were plump and so sweet. I got a large bag of them at the farmers market and decided to make sauce with them.
You'll love this recipe - it's not your ordinary sauce! AND it's 100 times better than what you get in a bottle.
Using ordinary ingredients that you have on hand, this comes together in a snap! No need to heat up the house either, you can cook it right on the grill.
Ingredients
plums
catsup
brown sugar
apple cider vinegar
Worcestershire sauce
salt
pepper
red pepper flakes
garlic powder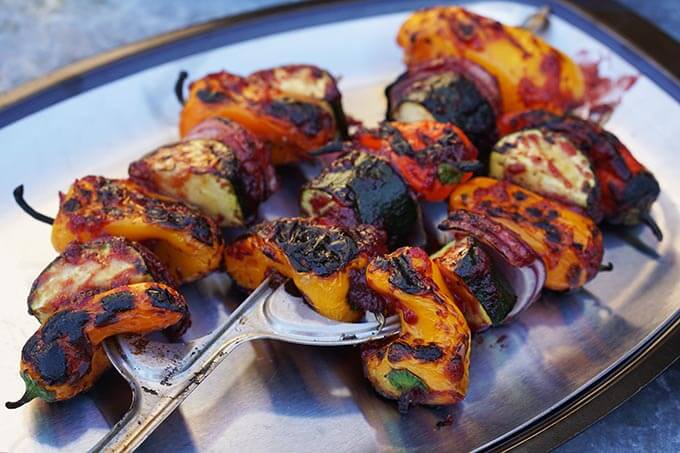 Grilled Veggie Kabobs
I wanted to make kabobs with just peppers....but there wasn't quite enough so I added some zucchini and red onion, but of course use your favorite vegetables.
The true star of this blog is the Plum BBQ Sauce. Sweet and just a little spicy it's perfect for an easy kabob!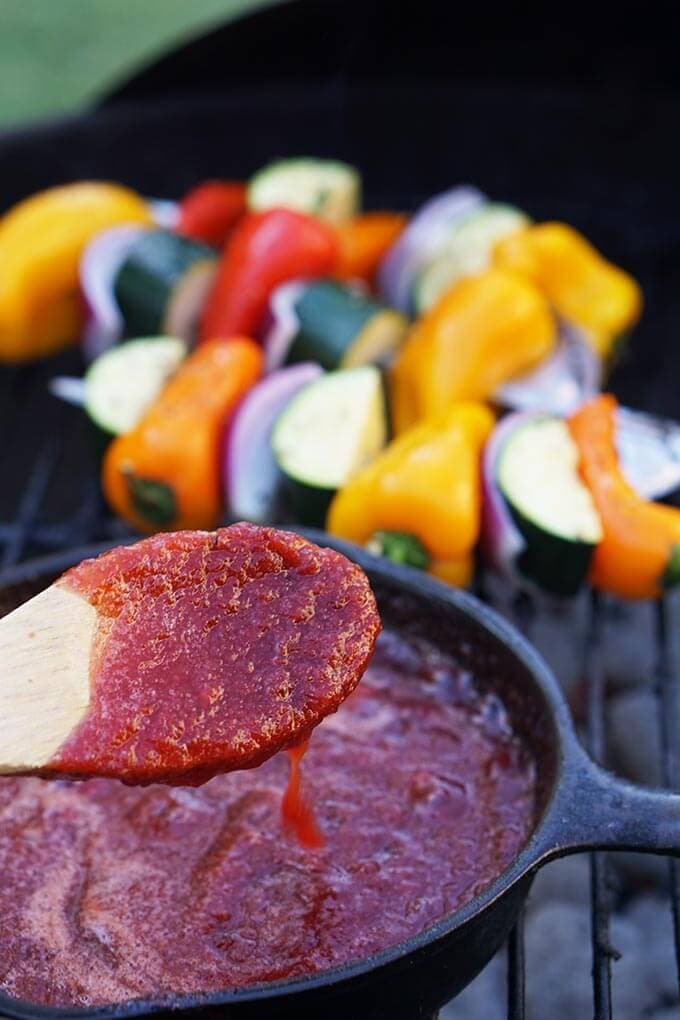 Plum Barbecue Sauce
Do I need to peel the plums?
Not at all, peeling the plums is not necessary. Just remove the pits and give the plums a rough chop.
I don't have plums, can I substitute another fruit?
Absolutely! Actually, you can use almost any fruit! I would recommend peaches, nectarines or apricots. Strawberries or even blackberries would also be delicious!

If you do substitute another fruit like peaches, nectarines or apricots I wouldn't worry about peeling those either.
What is barbeque sauce made of?
Many barbecue sauces are tomato based and get their tangy from vinegar and spices
Is BBQ sauce unhealthy?
Because many are loaded with sugar and preservatives they sure can be. Making your own sauce helps you control the ingredients.
Instructions
Clean the plum, slice in half remove the pit.
Give them a rough chop.
Add the plums and remaining ingredients to a blender and process until smooth.
Pour into a small skillet or pan and cook over medium heat for 10 minutes stirring frequently to avoid burning.
It is so delicious and super simple! All of the ingredients went into the blender and it was processed until smooth and then poured it into a small cast iron skillet and it cooked and reduced right on the grill.
While the kabobs grilled, I basted them with the sauce. The sauce bubbled away cooked and reduced. I kept stirring it while it was bubbly and hot. (Of course if you don't want to use the grill you can certainly reduce the sauce on the stove top, it would only take about 10 minutes.)
Serve with
Side Dishes to pair with this meal!
If you're grilling up a protein, I'd recommend some Corn on the Cob and a great pasta salad, like my Bow Tie Pasta Salt, Macaroni Pasta Salad or Southern Style Ham Pasta Salad - wouldn't that be delicious?
For dessert consider serving Grandma Darnell's Blueberry Cobbler or my Mom's recipe for Rhubarb Pie - YUM!!!
More great spice mixes and sauces

See it just bubbling away? Awesome flavor from the sweet plums with just a hint of spice. It's over the top delicious!
Homemade Plum BBQ Sauce
Plum BBQ Sauce is the star of this meal. Sweet and just a little spicy it's perfect for your favorite kabob!
As an Amazon Associate I earn from qualifying purchases.
Ingredients
1

cup

chopped plums

2-3 plums depending upon the size

⅓

cup

catsup

⅓

cup

brown sugar

2

Tablespoons

Apple Cider Vinegar

1

teaspoon

Worcestershire sauce or soy sauce

vegan

½

teaspoon

salt

½

teaspoon

pepper

¼

teaspoon

red pepper flakes

¼

teaspoon

garlic powder

Veggies of choice for the kabob
I earn a commission from Instacart from qualifying purchases.
Instructions
There is no need to peel the plums. Add all of the ingredients to your blender or food processor. Process until smooth.

If reducing on the grill, pour into a small cast iron skillet and reduce the sauce. You'll need to stir it frequently so it doesn't burn. If reducing on the stove, place in a small sauce pan over medium heat and reduce stirring frequently. This takes about 10 minutes, either on the grill or stovetop.

Choose your veggies and prepare the skewers. After cleaning the vegetables, thread them onto the skewer, brush with olive oil and sprinkle with salt and pepper.

Grill about 3 minutes each side, mop with sauce, flip & repeat until the vegetables are cooked.
Notes
Pollo tropical cilantro garlic sauce makes a great dip for the veggie kabobs!
Nutrition
Calories:
230
kcal
|
Carbohydrates:
57
g
|
Protein:
1
g
|
Sodium:
989
mg
|
Potassium:
328
mg
|
Fiber:
1
g
|
Sugar:
52
g
|
Vitamin A:
565
IU
|
Vitamin C:
9.5
mg
|
Calcium:
37
mg
|
Iron:
0.7
mg
Sign up for my recipes here!!
Don't worry, we'll never share your email.