This is a delicious recipe and easy to make on the stove top! Candied Sweet Potatoes are a classic holiday dish and MUST HAVE on every dinner table! This is a simple recipe with only 4 ingredients and tastes 100 times better than what you get in a can!
Next time try this recipe for Cracker Barrel Fried Apples - it's delicious and these little candied apples take just minutes to make!
Here you'll find the BEST collection of Thanksgiving Side Dishes for your holiday meal.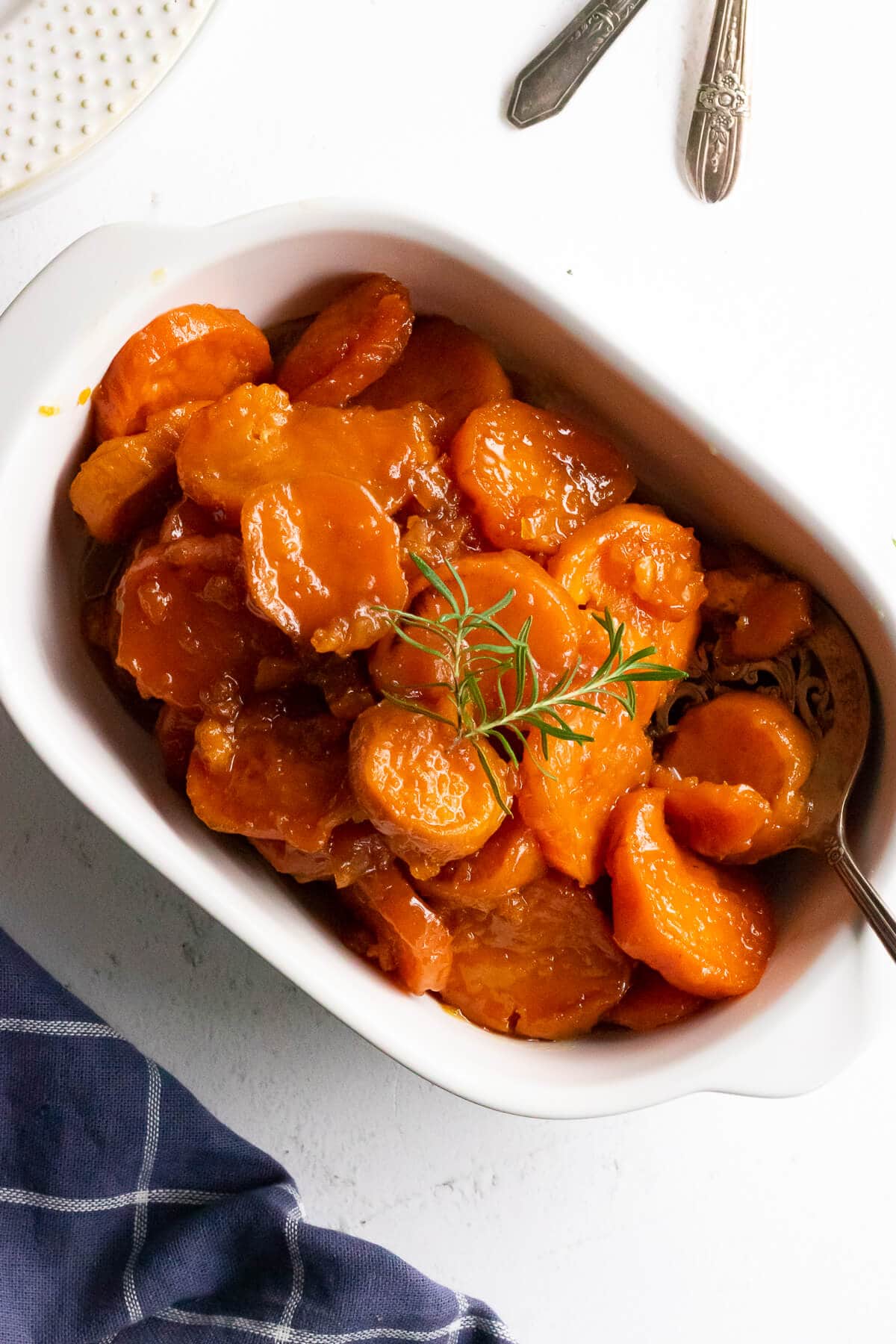 Jump to:
Why you'll love this recipe
Did I mention this family recipe is over 100 years old? This southern staple is a must for every holiday dinner. It's the tried and true, favorite way to make candied yams! Candied sweet potatoes are a must have! They are....
easy to make
only needs a handful of ingredients
the candied sweet potatoes turn out tender, sweet and buttery every time!
Move aside sweet potato casserole! This classic Thanksgiving side dish will be your new favorite! It is the perfect side dish for Sunday Supper and one of my favorites Thanksgiving recipes!
Ingredients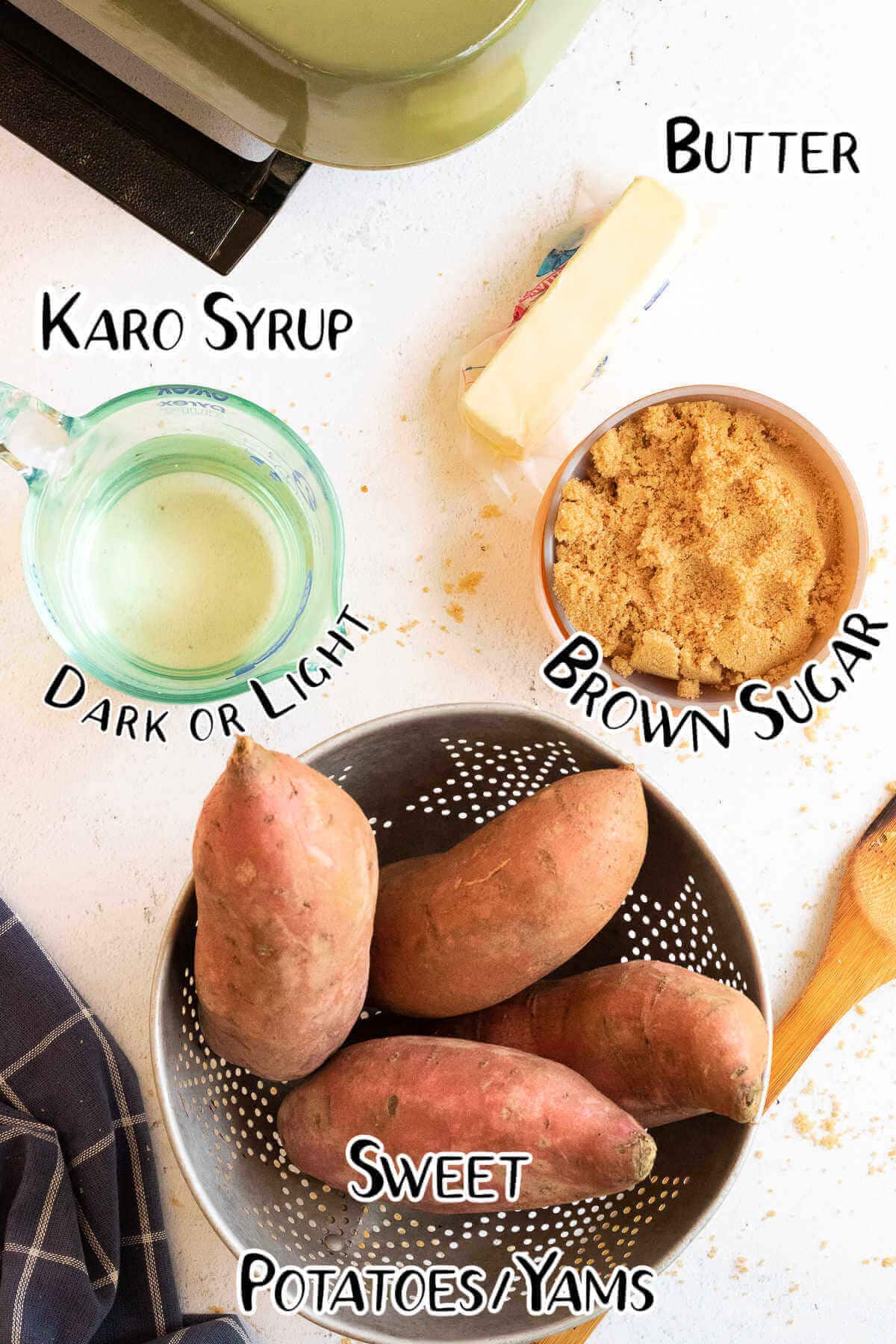 For the exact measurements for southern candied sweet potatoes, please refer to the printable recipe card at the bottom of this post.
You'll only need a handful of simple ingredients for this recipe.
large sweet potatoes, light skinned or dark (I prefer the dark only because of the dark orange color of the flesh).
real butter, not margarine - you can use salted or unsalted butter.
sweet brown sugar - light or dark brown sugar can be used.
Karo syrup - you can use dark or light syrup.
Instructions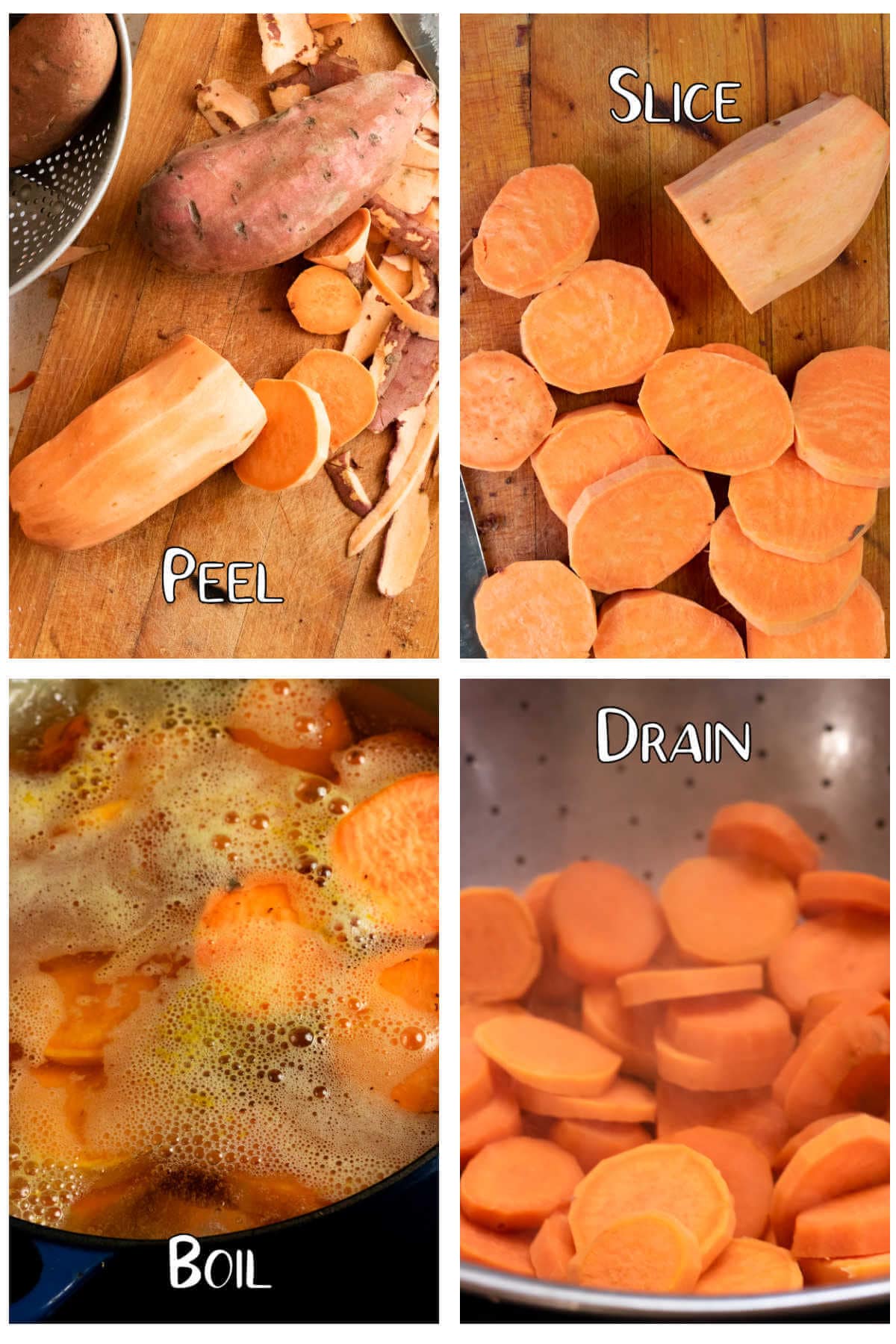 This is an overview for the complete instructions for this easy sweet potato recipe just scroll down to the bottom!
Start by peeling the sweet potatoes.
Next slice them into rounds. Make thick slices.
Place in a large pot. Add enough water to cover the potatoes and boil until fork tender.
Drain off all the water.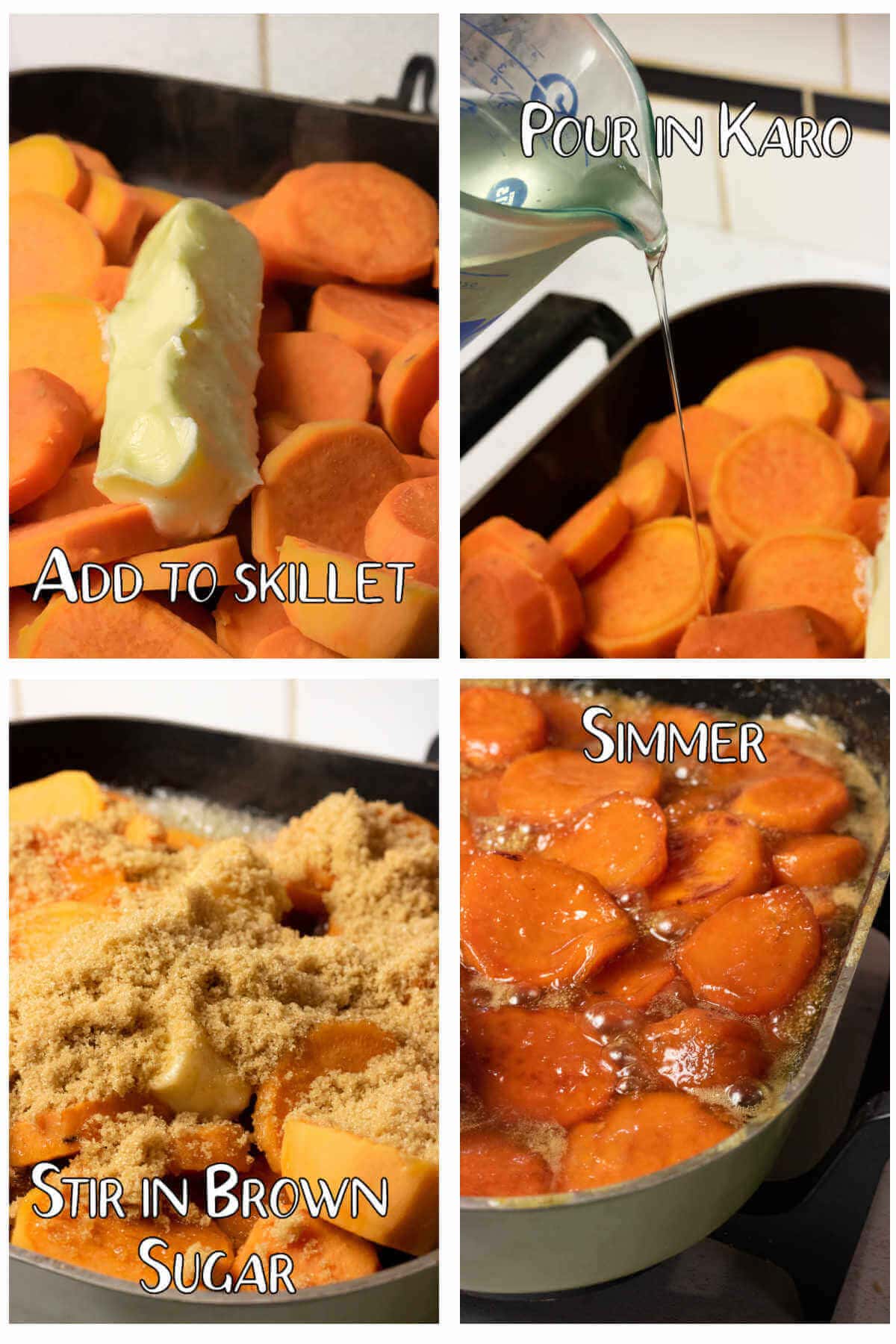 Now add them to a skillet and top with butter.
Drizzle in the Karo Syrup.
Stir in the brown sugar.
Baste with the sugar mixture and simmer until the potatoes are golden brown and glazed.
Equipment
The following are affiliate links. We are a participant in the Amazon Services LLC Associates Program, an affiliate advertising program designed to provide a means for us to earn fees by linking to Amazon.com and affiliated sites.
Electric Skillet - perfect when all the burners are busy on the stove.
FAQ's
What is the difference between sweet potatoes and yams?
When you're at the store you'll find two different types of sweet potatoes. Golden-skinned potatoes; these will have white/golden flesh on the inside. The other choice will be dark skinned orange potatoes. The flesh is bright orange inside.

Both are actually sweet potatoes and they taste about the same and will work for this recipe. It's more about what your grocery store or market carries.
Does it make a difference which potato you choose - light or dark-skinned?
Not at all! I choose the darker colored potatoes just because when they cook up and caramelize, they look so amazing!
Can candied sweet potatoes be made in advance?
Yes! This recipe can be made three days in advance.
What is the best way to reheat them?
To reheat, remove from the refrigerator, place in an oven proof
dish, cover and bake at 350 degrees for about 30 minutes or until hot and bubbly.
I don't have an electric skillet. Can I still make them?
Absolutely! You can make on the stovetop. Place them in a skillet with high sides to avoid drips or a large pot or stovetop casserole dish.
Can you substitute white sugar for the brown sugar?
I don't recommend it. If you did you would also need to add molasses or possible maple syrup. Just use brown sugar for the best results.
Can you use either light or dark brown sugar for sweet potatoes?
Absolutely, you can use either light and dark brown sugar in this recipe.
That's a lot of sugar, can you substitute with a Splenda sweetener?
I've never tried to use a sugar substitute. I question whether it would caramelize and candy the potatoes.
Tips
When you boil the potatoes, make sure they are just fork tender as they will continue to cook during the caramelization process.
You can use light or dark Karo Syrup and light or dark brown sugar. Both are interchangeable.
A squeeze of fresh orange juice and/or orange zest as it simmers really compliments this dish!
Expert Tip: You can't rush the process to candy the yams. It takes at least an hour and a half to 1 hour 45 minutes. Continue basting the sweet potatoes every 10-15 minutes. Soon the candied yams will begin to glisten and caramelize!
Storage
Serve – hot and bubbly. Pour the brown sugar glaze over the potatoes in the serve dish. Your guests can spoon the sweet "gravy" on top of their serving!
Store – allow to cool completely and refrigerate up to three days.
Freeze – Although most potato dishes don't freeze well, this one does! You can make it several days/weeks in advance. Sealed well, it can be frozen for up to three months, thawed and reheated.
Make ahead
This classic dish is a terrific make ahead side dish. It can be made up to 3 days in advance. It also can be made ahead and frozen! I do this every year so the Thanksgiving and Christmas dinner preparations aren't so hectic.
Related recipes
Make-ahead Sweet Potato Casserole is a simple, satisfying dish. Filled with sweet mashed potatoes and topped with crunchy pecans, it's another option for your Thanksgiving table!
If you want to enjoy sweet potatoes without the glaze, next time try sheet pan pork tenderloin with Brussels sprouts and sweet potatoes.
I love this recipe for candied sweet potatoes! If you want more of my recipes for holiday side dish recipes click here! Additionally if you're a fan of the Instant Pot, this links has 40+ pressure cooker recipes for side dishes!
If you're serving a crowd, triple this recipe for Cracker Barrel Fried Apples trust me, it will be the first thing to go!
I would be amiss if I didn't share my favorite side dish which is sweet buttered rutabagas. It's so easy to make and super yummy! Although this recipe for stovetop roasted vegetables is really a fan favorite!!
If you love of Brussels sprouts I have several outstanding recipes on the blog - steamed, roasted or pan fried, what's your favorite?
Cranberry Apple Orange Sauce is a must on every holiday table!
No Bake Pumpkin Pie with Graham Cracker Crust or classic Pumpkin Pie Recipe will be the star of the table! Top with a dollop of whipped cream or homemade marshmallow whipped cream!
I think I'm as much of a fan of the sides as I am the star of the meal like turkey or ham (usually is!) ! It brings back comforting memories of meals shared with loved ones!
Serve with
Of course this recipe is AMAZING at Thanksgiving dinner with this holiday turkey recipe - it's my very favorite combination. Or if you're planning a small gather make this crockpot stuffed turkey breast, it's the perfect side for a smaller crowd.
It's also super delicious with glazed ham!
Homemade cranberry sauce is a traditional side for your holiday meal.
Mashed potatoes as well - this recipe is a mash of cauliflower and potatoes. This recipe is your traditional type mashed potatoes - these are ready in a snap using the pressure cooker.
Buttered Rutabagas are always on our Thanksgiving table.
And of course every meal needs easy dinner rolls. These are super simple to make AND you still get the smell of fresh baked bread - YUM!
I think the misnomer is sweet potatoes are only eaten during the holidays, but this is a great Sunday side dish year round. I hope you enjoy it often!
When you try these candied yams, be sure and leave a five-star rating below! It's one of our very favorites and I know you'll love it too!
Also if you snap a picture, be sure and tag me on Instagram at @bowl_me_over or #bowlmeover – I'd love to see photos of your tasty eats!
Stove Top Candied Sweet Potatoes
No oven space? No problem! This sweet yams recipe has been handed down for generations and is always served on special occasions and holiday meals!
As an Amazon Associate I earn from qualifying purchases.
Ingredients
3

pounds

sweet potatoes

1

cup

dark brown sugar

1

stick butter

1 ½

cups

Karo Syrup
I earn a commission from Instacart from qualifying purchases.
Instructions
Peel the potatoes and slice into 1 inch rounds or large chunks.

Add to a large pot and boil the sweet potatoes until just fork tender - about 15 minutes.

Remove from heat and immediately drain really well.

Transfer the tender sweet potatoes to a large skillet or electric skillet.

Add the remaining ingredients, brown sugar, butter & syrup. Place on medium heat until the butter and brown sugar melts and the mixture is thick and bubbly.

Reduce heat to low and simmer for about 1 ½ hours, basting every 10-15 minutes.
Notes
When you boil the potatoes, make sure they are just fork tender as they will continue to cook during the caramelization process.
You can't rush the process to candy the yams. It takes at least an 1 ½ hours to 1 ¾ hours. Be patient and continue basting the sweet potatoes every 10-15 minutes. Soon the candied yams will begin to glisten and caramelize!
Serve the glazed sweet potatoes in a large bowl. Pour syrup overtop and place a large spoon in the serving dish so guests can ladle sweet syrup over their potatoes.
Nutrition
Calories:
432
kcal
|
Carbohydrates:
110
g
|
Protein:
2
g
|
Sodium:
141
mg
|
Potassium:
609
mg
|
Fiber:
5
g
|
Sugar:
82
g
|
Vitamin A:
24130
IU
|
Vitamin C:
4
mg
|
Calcium:
82
mg
|
Iron:
1.2
mg
Sign up for my recipes here!!
Don't worry, we'll never share your email.