Slow Cooker Creamed Corn - Easy to make this buttery, rich and creamy corn is the perfect holiday side dish!
Crockpot Cream Corn - sweet corn kernels that are buttery, rich and creamy! You're not going to believe how simple it is to make with pantry ingredients. Slow Cooker Creamed Corn does not get easier or better than this!
Crockpot Cream Cheese Corn
The first time I made this recipe for crockpot cream corn we grilled Tri-Tip and had a fresh fruit salad. And Dan went back for seconds.... for the corn!
But who was I to complain, I was standing in the kitchen eating it with a spoon!
It's a great side dish for almost any meal - meatloaf, ribs or grilled chicken. And perfect for your holiday meal!
THIS is an easy, wonderful side dish! Super simple and ridiculously good.
Slow Cooker Creamed Corn
What is in canned creamed corn?
Surprisingly canned creamed corn doesn't contain cream! It has corn, salt, water and a thickening agent - no milk or cream!
Can you cook canned corn in a crockpot?
You bet! Though this recipe calls for frozen corn, both can be cooked in the slow cooker.
You can make this recipe from fresh, canned or frozen corn which means you can enjoy this recipe all year long!
Can you reheat creamed corn?
Yes, store leftovers in a buttered casserole dish. On day two, sprinkle with brown sugar and heat until bubbly. Tuck it under the broiler - oh my! Ridiculously good!
How do you make canned corn taste fresh?
You can certainly substitute canned corn and if you do be sure and drain it. The addition of butter really makes the corn taste fresh.
How do you thicken creamed corn?
The brick of cream cheese thickens it up so nicely! After it's done cooking, give it a good stir. As the cream cheese dispurses, it will thicken the casserole.
Crockpot Corn Casserole with Cream
Ingredients for Crockpot Cream Corn Recipe
frozen corn - crunchy and fresh it's the next best thing to fresh corn!
cream cheese - will help make this casserole cheesy and rich
evaporated milk - easy pantry ingredients, though you can certainly substitute milk.
butter - brings it all together
salt, pepper and sugar - perfectly season this side dish.
Steps to make Slow Cooker Creamed Corn
You're going to love how quick and easy this recipe comes together!
Add the corn to the crockpot.
Cube the butter and cream cheese, add it on top of the corn.
Pour in the milk.
Sprinkle with seasoning
Cover and cook for 2-3 hours
More of my favorite easy side dishes!
An easy side dish that is so popular in the fall is Steamed Brussels Sprouts or Pan-Roasted Sprouts, which is also super popular! What holiday meal is complete without Green Bean Casserole - I mean seriously?!!!
Candied Sweet Potatoes Recipe
Handed down for generations this family recipe is always served on special occasions.
Check out this recipe
3 Ingredient Steamed Green Beans
10 minutes from start to finish with this simple side dish!
Check out this recipe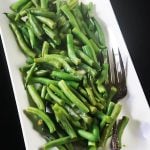 Pan Roasted Vegetables
Fresh crisp vegetables lightly sautéed in butter and olive oil until caramelized and sweet. Adding tomatoes at the end makes a delicate light sauce. An easy lightened up side dish that only takes 15 minutes to make!
Check out this recipe
Asparagus Wrapped Bacon
Asparagus Wrapped in Bacon is an easy and delicious side dish! Made on the grill the bacon gets crispy and flavorful! Wrapped around tender asparagus and sprinkled with salty Parmesan cheese, this simple side dish is giving you a new reason to eat asparagus!

Check out this recipe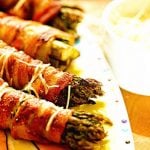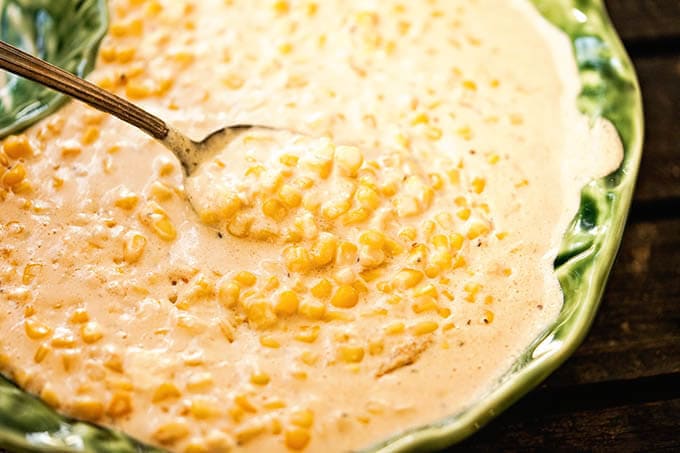 Slow Cooker Side Dish
I am a participant in the Amazon Services LLC Associates Program, an affiliate advertising program designed to provide a means for us to earn fees by linking to Amazon.com and affiliated sites.
This is the slow cooker I have and recommend. You can use the manual version or programmable. It's easy to use and affordable.
Don't forget to check out my Amazon storefront for some of my favorite products! 🛍️
When you make this please comment below and let me know what you think! I'd love it if you tag me on Instagram @bowl_me_over or #bowlmeover - so I can see your photos!
If you love this recipe please leave a ⭐⭐⭐⭐⭐ rating!
Crockpot Cream Corn
Crockpot Cream Corn
Slow Cooker Creamed Corn - Easy to make this buttery, rich and creamy corn is the perfect holiday side dish!
As an Amazon Associate I earn from qualifying purchases.
Ingredients
2

16 oz.

frozen corn

8

oz.

cream cheese

4

tbsp

butter

12

oz

can evaporated milk

1

tsp

salt

½

tsp

pepper
Instructions
Add the frozen corn to the slow cooker.

Pour in the evaporated milk, sprinkle with salt and pepper. Give the mixture a stir.

Cube the cream cheese and butter. Place it on top of the corn.

Seal the slow cooker, cook on low for 4 hours.
Notes
Got leftovers? Put them in a buttered casserole dish and sprinkled the top withwith brown sugar and heat until bubbly, covered with foil. Right before serving, remove foil - tuck it under the broiler until carmelized - fabulous!
Nutrition
Calories:
244
kcal
|
Carbohydrates:
7
g
|
Protein:
6
g
|
Fat:
21
g
|
Saturated Fat:
12
g
|
Cholesterol:
71
mg
|
Sodium:
642
mg
|
Potassium:
52
mg
|
Fiber:
1
g
|
Sugar:
7
g
|
Vitamin A:
741
IU
|
Calcium:
55
mg
|
Iron:
1
mg
Sign up for my recipes here!!
Don't worry, we'll never share your email.