Tender, juicy meatloaf cooked in half the time in your pressure cooker! Instant Pot Meatloaf Recipe is a snap to make and so delicious! Making this pressure cooker meatloaf recipe is the easiest way to enjoy classic comfort food!
If you enjoy this meal, put this creamy ground beef noodle casserole on the menu next! It's such a family favorite!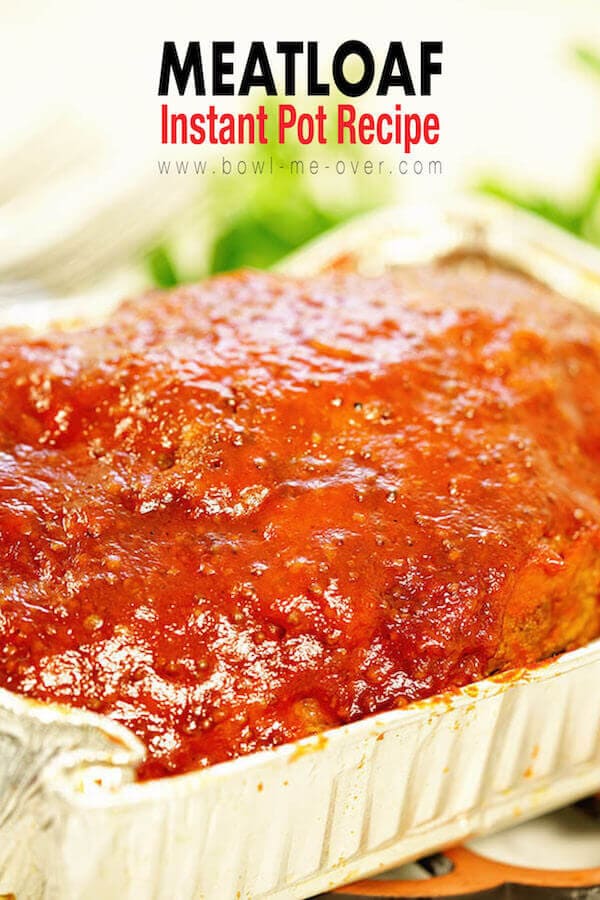 Jump to:
Why you'll love this recipe
✔️ It takes minutes instead of hours.
✔️ Moist and juicy every time.
✔️ Of course this is delicious on day one BUT leftovers make the best sandwiches!
Ingredients
For the exact measurements, please refer to the printable recipe card at the bottom of this post.
lean ground beef
Italian sausage
egg
parmesan cheese
tomato juice
catsup
mustard
Worcestershire sauce
yellow onion

garlic
salt, pepper
aluminum foil
Instructions
Ok… let's start talking Instant Pot Meatloaf! I promise it will be your new favorite way to cook meatloaf! It's quick and easy but you get all the flavor just like you do when it bakes for 1 ½ hours in the oven.
Grate the cheese, dice the onion and mince the garlic.
Next, mix together the meatloaf ingredients. Do not over-mix.
Form a small pan with aluminum foil and shape the meat mixture into pan.
Add two cups of water to the bottom of the Instant Pot.
Place the trivet in the bottom.
Place the pan on top. Add the lid and seal. Set timer for 40 minutes. Quick release at the end.
Half the time… all the flavor… YES!!
Equipment
The following are affiliate links. We are a participant in the Amazon Services LLC Associates Program, an affiliate advertising program designed to provide a means for us to earn fees by linking to Amazon.com and affiliated sites.
FAQ's
How many eggs do you use in meatloaf?
This recipe serves six and uses two eggs.
Why do you put eggs in this recipe?
Like the breadcrumbs, eggs help bind the meatloaf. It helps it stick together in a u0022loafu0022.
How long do I pressure cook a meatloaf?
This meatloaf takes 40 minutes on high pressure.
Can you put raw meat in a pressure cooker?
Yes, you can put raw meat in the InstaPot. It's a great way to cook main dishes, side dishes, rice or eggs!
What is the best egg substitute for meatloaf?
My favorite substitutes for egg are ayonnaise and olive oil add flavor and richness.
How can you tell if meatloaf is done?
The best way to tell if a meatloaf is done is by using an instant reared thermometer.
Things to know
Here are the keys to making the best meatloaf ever!
The key to making delicious, moist and tender pressure cooker meatloaf is to be sure the mixture is moist before it's cooked.
Cooking meatloaf using the steam method or pressure cooker method doesn't dry it out.
My best tip to making a delicious meatloaf is after you mix the meat and before you begin cooking it in your Instant Pot or oven, take a small amount – just a tiny handful and fry it. (Especially if it's your first time making a recipe!)
Taste it, what do you think? Flavorful and savory? Great! Or does it need more salt, pepper or ? Now's the time add it, before it's been cooked, not after.
Variations
Make this low carb by substituting pork rinds for the bread crumbs.
No aluminum pan? Just shape one with aluminum foil.
Leftover meatloaf makes the best meatloaf sandwiches!
Storage
Store leftover meat loaf in an airtight container, refrigerated up to three days.
Related recipes
Serve with
What do you think? I know you're going to love making pressure cooker meatloaf. If you you're still not comfortable, check out this free resource for pressure cooking. It comes with a TON of tips, recipes, meal pairings and resources.
Don't forget to check out my Amazon storefront for some of my favorite products! 🛍️
If you love this recipe please leave a ⭐⭐⭐⭐⭐ rating!
Instant Pot Meatloaf Recipe
Delicious Pressure Cooker Meatloaf Recipe is a snap to make and so easy! Juicy and tender making pressure cooker meatloaf is quick. It's the easiest way to enjoy this classic comfort food!
As an Amazon Associate I earn from qualifying purchases.
Ingredients
1

lb.

ground beef

½

lb.

Italian sausage

mild or spicy, use your favorite!

⅔

cup

bread crumbs

½

yellow onion

peeled and diced

½

cup

parmesan cheese

½

cup

tomato juice

¼

cup

catsup

2

eggs

1

tablespoon

parsley

minced

1

teaspoon

Worcestershire sauce

1

clove

garlic

minced

½

teaspoon

salt

¼

teaspoon

black pepper

Topping

¼

cup

catsup

2

tablespoon

yellow mustard

3

tablespoon

brown sugar

I like a sweet sauce topping my meatloaf. If you like it not so sweet, reduce to 2 tablespoons
I earn a commission from Instacart from qualifying purchases.
Instructions
Grate the cheese, dice the onion and mince the garlic, add to a large bowl

Add the remaining ingredients and mix together well but do not over-mix.


Form a small pan with tinfoil (or use a small aluminum pan my personal choice), ensuring the pan will fit into your pressure cooker.

Shape the meatloaf into pan.


Add two cups of water to the bottom of the Instant Pot.

Place the trivet in the bottom.

Place the pan with the meatloaf on top. Add the lid and seal. Set on Manual for 40 minutes at high pressure. Quick release at the end.

Prepare the meatloaf sauce. After it has completed cooking in the Instant Pot, slather it over the top of the meatloaf. Place under the broiler for 3-5 minutes or until it's toasted. Enjoy!!
Nutrition
Calories:
481
kcal
|
Carbohydrates:
22
g
|
Protein:
25
g
|
Fat:
31
g
|
Saturated Fat:
12
g
|
Cholesterol:
142
mg
|
Sodium:
1015
mg
|
Potassium:
496
mg
|
Sugar:
12
g
|
Vitamin A:
390
IU
|
Vitamin C:
6.9
mg
|
Calcium:
161
mg
|
Iron:
3.2
mg
Sign up for my recipes here!!
Don't worry, we'll never share your email.
Recipe backstory
Do you have an Instant Pot? If not and you enjoy quick and easy meals I would tell you that a pressure cooker is a MUST!
If you do have one, but haven't broken the seal.... or it seems kinda scary. Don't be embarrassed, I was too!
My pressure cooker sat on the counter until I was forced to use it. My oven died on Thanksgiving Day and nearly set the house on fire… true story! Because I had no oven, I jumped in with both feet and leaned to use it.
I have several great recipes on my blog for the Instant Pot like Instant Pot Corn on the Cob, an amazing recipe for Potato Soup with Ham and Pressure Cooker Mashed Potatoes and Gravy all cooked in the Instant Pot!
But since we're talking meatloaf - let me tell you this is our favorite way to make it now. It's quick and easy and because it's cooked in the pressure cooker it comes out moist and juicy every time!
I make this often and use meatloaf slices for our lunches. It delicious and makes about 10 sandwiches. Perfect for the entire week! I'm trying to avoid using too much processed meat.