Using your Instant Pot doesn't have to be scary! This will relieve your stress and get the pressure cooker out of your pantry and onto your cupboard! Use this Instant Pot Quick Reference Guide to help simplify your cooking experiences with your pressure cooker.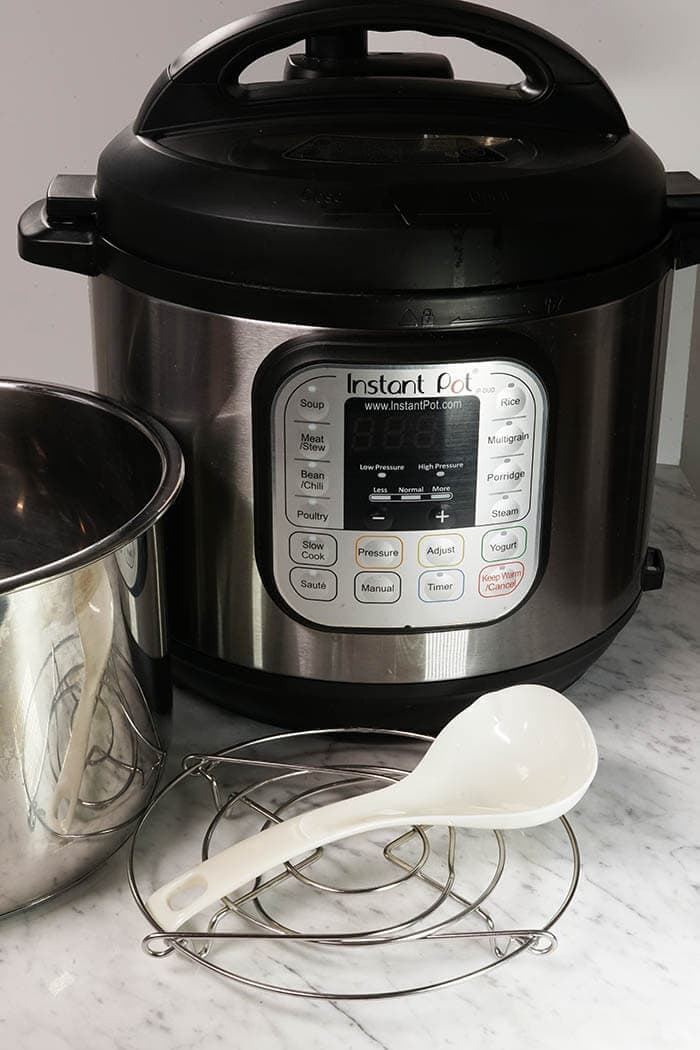 Instant Pot Quick Reference Guide
Pressure cooking has received a major update lately. Pressure cookers have become a fantastic stress-free way of cooking great meals quickly!
This pressure cooker reference guide is going to answer your questions and help you to be confident in the kitchen!
There are many different types of programmable pressure cookers
Instant Pot –

6 Qt 7-in-1 Multi-Use Programmable Pressure Cooker, Slow Cooker, Rice Cooker, Steamer, Sauté, Yogurt Maker and Warmer

Cosori –

6 Qt Premium 8-in-1 Programmable Multi-Cooker (Pressure Cooker, Rice Cooker, Steamer, Warmer, Etc.)

Cuisinart – 6 Quart 1000 Watt Electric Pressure Cooker (Stainless Steel)
At the time of my research, prices range right around $100. Do your research – look at the different options each brand offers and pick the one that best fits your families needs!
I opt'd for the Instant Pot 6 qt and here's why – because this is a fairly new piece of equipment I wanted to stick with the name brand as most of the references I found specifically referred to the Instant Pot.
Pressure Cooker Reference Guide
I've created some great recipes with the pressure cooker like black beans and Macaroni and Cheese – YUM!
I will confess, Initially I was afraid to use it. Pressure cooking = scary, right? I contacted a colleague and she gave me a super easy recipe to try – that would take away the "fear" associated with using a pressure cooker.
Pressure Cooking Tip – Do not place your Instant Pot or pressure cooker under a cupboard because when it vents, it releases a powerful blast of hot steam that lasts for several minutes. Over time, this blast of hot steam could damage a wooden cupboard.
The recipes turned out great and I was proud that I gave it a try!
But I still did not begin using it and developing recipes until our oven died on Thanksgiving Day – to read more about the day the house nearly caught on fire click here….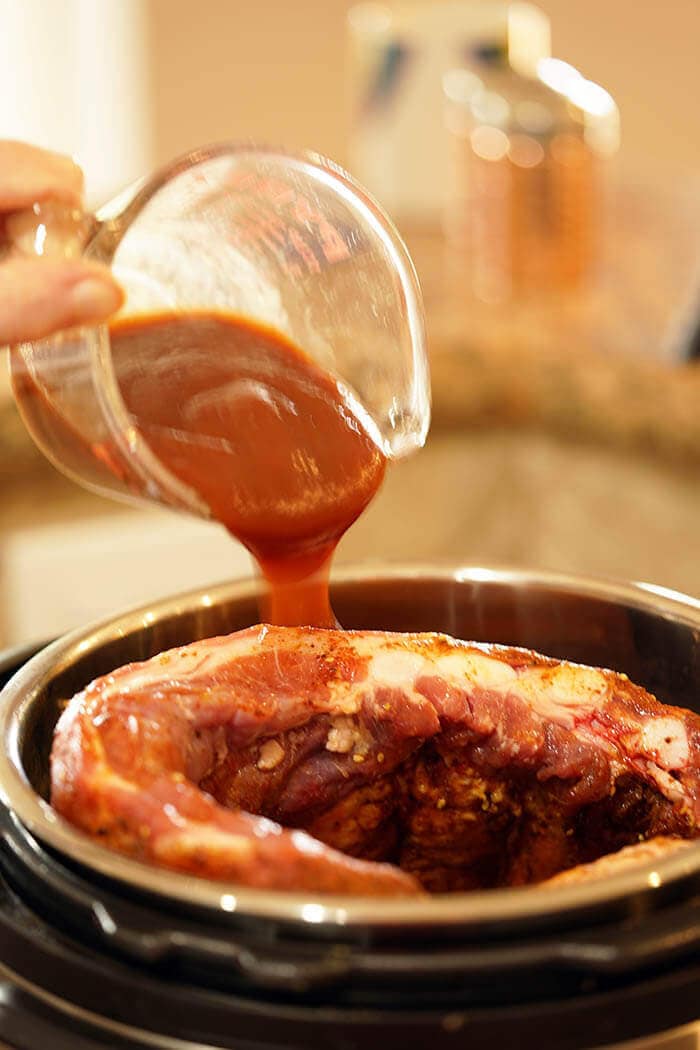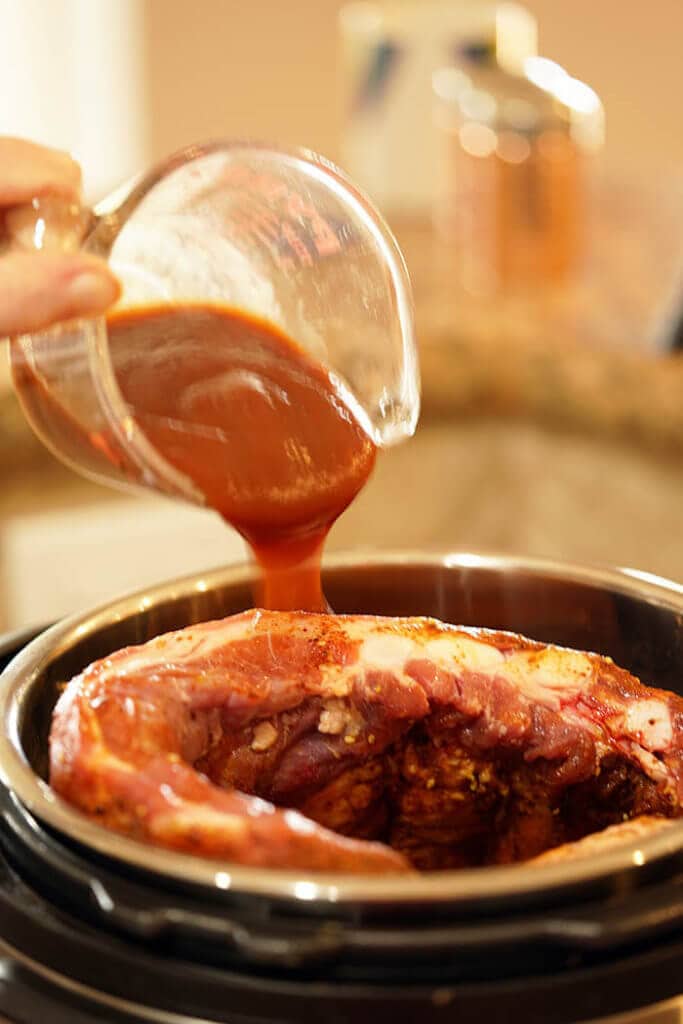 Basic Instant Pot Questions
How do I set my instant pot to seal?
Put the cooking vessel in the pressure cooker
Add the ingredients and liquid to the pot
Lock the lid in place
Place the vent in the sealing position
Select a button for cooking
Set the time for cooking
After the machine beeps, it will begin cooking
It takes anywhere from 5 to 15 minutes for the pressure cooker to come to temperature. The time is dependent upon the volume of liquid and ingredients in the pot.
Recipes include cooking time but not necessarily the amount of time it takes to come to pressure. Good news? When cooking is complete it automatically goes into the "keep warm" mode.
What works for me? Making my meal ahead of time so dinner is ready timely.
<
This Instant Pot Quick Reference Guide has a ton of information. If you'd like to learn even more, click above for my Instant Pot 101 Cheatsheet!
What can I cook in instant pot?
The list is endless! Of course, I've made a ton of soups and stews, but you can also cook one pot casseroles, pasta dishes, even ribs – yes ribs!
This piece of equipment works well when you're cooking something that is made with liquid – think soups and stews! It makes tender pork ribs and it's perfect for steaming vegetables.
Some of my favorite recipes are:
How do you depressurize an instant pot?
Pressure can be released two ways:
One way is with the quick release valve (recipes may list QR, this will signify quick release) Before releasing, protect your hand with a hot pan holder or using a kitchen utensil to flick the valve to the venting position. Recipes may list QR, this will signify quick release.
The second option is called a natural pressure release (referred to as NPR_. When the cooking is complete, you simply do nothing and allow the cooker to naturally release the pressure as the ingredients inside the cooker cool.
How do I clean an instant pot?
The outside of the instant pot is easily cleaned with a damp sponge. Clean it after every use! Don't forget to unplug it first.
Clean the lid of the instant pot with every use also, remove the rubber ring, rinse and clean. The pressure cooker lid and rubber sealing ring can be put on the top drawer of the dishwasher!
The stainless steel vessel can be put in the dishwasher also – love that!
How full can I fill my instant pot?
Do not fill the Instant Pot past the max fill line. Every pressure cooker has the max fill clearly displayed. I avoid filling it more than two-thirds full.
Overfilling can clog the vent and mess with the cooking time!
Does the Instant Pot countdown?
Yes! Once it comes to pressure the Instant Pot will begin a count down to zero.
Once cooking is complete, an alarm will sound and then, following the directions of your recipe – QR (quick release) or NPR (natural pressure release).
What do you do when your instant pot says burn?
I haven't had this happen (yet!) but if it does;
press the cancel/off button on your pressure cooker.
open the vent and allow the steam to completely release.
release and open the lid and evaluate the ingredients. If something is stuck to the bottom, scrub to release.
resume cooking or perhaps order out… hey it happens to all of us!
What are the best accessories for instant pot?
I am a participant in the Amazon Services LLC Associates Program, an affiliate advertising program designed to provide a means for us to earn fees by linking to Amazon.com and affiliated sites.
Have you found this Instant Pot Quick Reference Guide helpful?
Do you have a question I didn't answer? Please tell me! I would love to add an answer to my Instant Pot Quick Reference Guide! Your questions need answers!
If you post a photo, please tag me! I'd love to see your pictures! You can tag me with #bowlmeover or if you're on Instagram use @bowl_me_over I can't wait to see how yummy this turned out for you! I would love it if you gave this recipe 5 stars!!