Fluffy baked potatoes, perfectly cooked every time! Baked potatoes are made quick and easy your pressure cooker!
Pressure Cooker Baked Potatoes are perfectly cooked, fluffy potatoes every time! Baked potatoes don't have to take hours in the oven, you can make tender Instant Pot Baked Potatoes in half the time that are light, tender and delicious!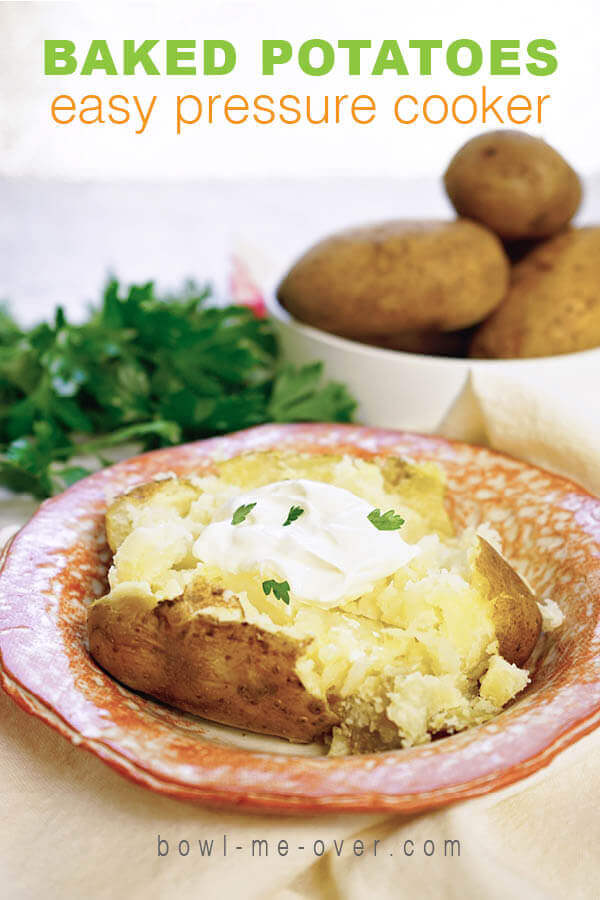 Pressure Cooker Baked Potatoes
How to make Baked Potatoes in the Pressure Cooker that are light and fluffy!
When I was in the third grade we moved out to the country. My folks bought a little house with a couple of acres, a barn and one of the first things Dad did was put in a garden. He tilled up the soil and put us kids to work.
Dad, Mom, Don and I planted corn, radishes, squash, onions and little hills of potatoes. Planted on what was formerly a chicken coop, the garden flourished!
Our "little" garden produced about 500 pounds of potatoes!
Apparently tilling up the soil where the chickens used to peck and scratch turned out to be some of the most fertile ground in Oregon.
We ate potatoes until the cows came home. Literally! Fried Potatoes, Breakfast Potatoes, smashed potatoes, Roasted Potatoes, Mashed Potatoes – any way you can think of, we ate potatoes. All. Winter. Long.
Luckily… I still love potatoes!
Now I have yet one more way to enjoy a great baked potato! What used to take you hours in the oven is now ready in just minutes.
No more burn-the-roof-of-your-mouth microwave potatoes that are rock hard in the middle either. Pressure cooker baked potatoes are totally the way to go!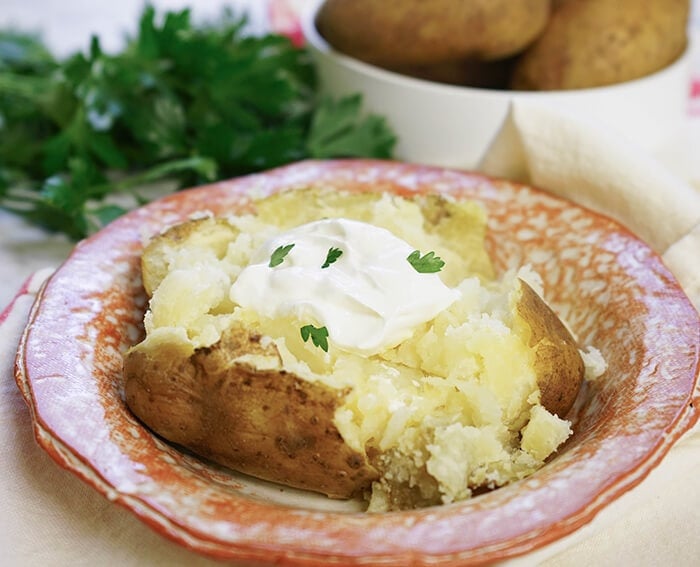 Instant Pot Baked Potatoes
Baking potatoes in the instant pot makes them light and fluffy.
Tips for cooking potatoes in the Instant Pot
Scrub the potatoes well before adding them to the pressure cooker.
Prick the outside of the potatoes several times with a fork or knife to keep them from bursting.
Do not allow the potatoes to sit in the water. Set a trivet or stainless steel steamer basket in the pressure cooker or Instant Pot before adding the potatoes.
What can I use as a trivet or steam tray in a pressure cooker?
You can certainly use the trivet that comes with the Instant Pot when you purchase it, however the potatoes cannot be sitting in water.

I use a stainless steel vegetable steamer. It lifts the potatoes off the bottom well and works perfectly.
How long do you pressure cook baked potatoes?
• Small potatoes - 3 minutes (baby potatoes)
• Medium-sized potatoes - 6 minutes (4-5 inches long)
• Large potatoes - 12 minutes (sold individually these will be very large)

NPR or quick release at the end?
Allow the Instant Pot to natural pressure release (NRP) at the end of cooking.
How fast does a pressure cooker cook?
A pressure cooker speeds up cooking time by about thirty percent.
How to cook potatoes in a pressure cooker?
scrub and clean the potatoes well.
place the steam basket in the pressure cooker
prick the potatoes with a fork several times
add the potatoes, stacking evenly
add the water
close the lid, seal – set timer for 10 minutes
natural pressure release at the end
season with butter, sour cream, salt and pepper
See how easy this is? It's just the best way to make perfectly baked potatoes every time!
Under Pressure? Fear Not! Learn all the tips and tricks to use your pressure cooker. Get it out of the pantry and onto the count and GET COOKING!
You know if you're still a little uncomfortable with your pressure cooker, you can get my cheat sheet with all my Instant Pot tips and tricks - click on the photo below!
Got leftover baked potatoes? I vote for repurposing those leftovers and making Loaded Baked Potato Soup!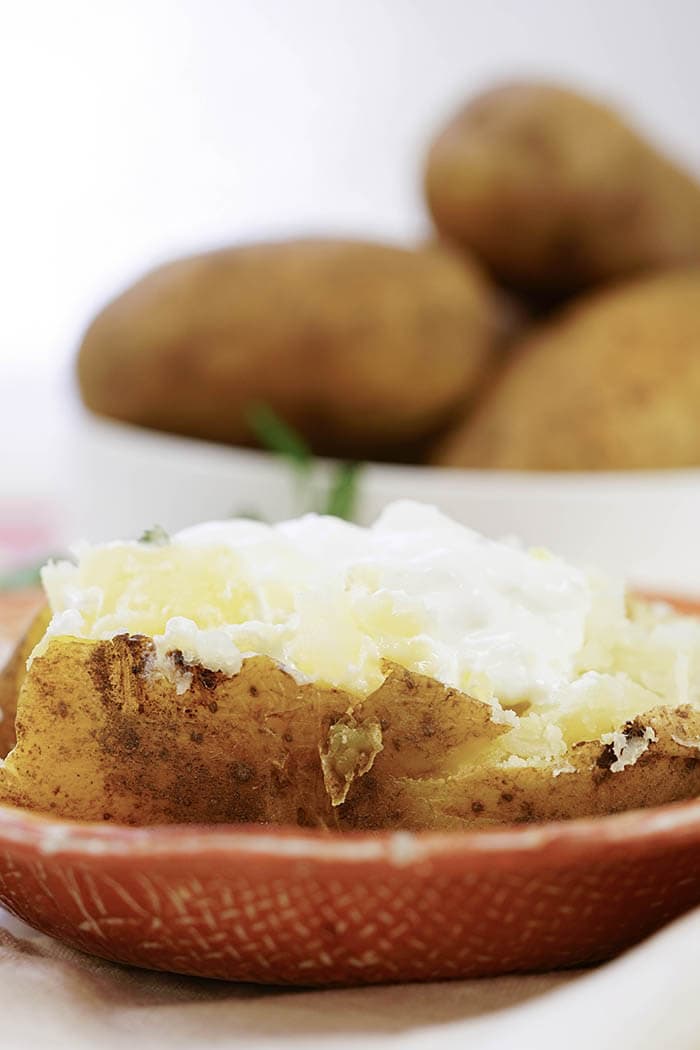 What's your favorite side dish with a great steak?
Baked Potatoes in the Pressure Cooker
More great Instant Pot Recipes
What's YOUR favorite meal or side dish to make in the Instant Pot?
Love this recipe too? Be sure and comment with a 5-star rating below! If you're on Instagram take me at #bowlmeover or @bowlmeover, can't wait to see what you're cooking up!
Some of the items below contain affiliate links; I am a participant in the Amazon Services LLC Associates Program, an affiliate advertising program designed to provide a means for us to earn fees by linking to Amazon.com and affiliated sites. However, I only promote things that I love and think you will love, too. For more information, please see my Disclosure Policy.
Instant Pot Pressure Cooker - love mine, I think you'll love yours too!
Pressure Cooker Baked Potatoes
Fluffy baked potatoes, perfectly cooked every time! Baked potatoes are made quick and easy your pressure cooker!
As an Amazon Associate I earn from qualifying purchases.
Ingredients
6

russet potatoes

medium-size

1

cup

water
Instructions
Wash the potatoes under cool water. Scrub and clean the potatoes well.

Prick each potato with a fork to allow steak to escape.

Add a stainless steel steam rack or basket, to the bottom of the pressure cooker.


Next add the potatoes, stacking evenly.


Now add the water, add the water. Close and seal the lid, set the valve to seal. Set timer for 10 minutes.


Natural pressure release (NPR) at the end.
Nutrition
Calories:
168
kcal
|
Carbohydrates:
38
g
|
Protein:
4
g
|
Sodium:
12
mg
|
Potassium:
888
mg
|
Fiber:
2
g
|
Sugar:
1
g
|
Vitamin C:
12.1
mg
|
Calcium:
28
mg
|
Iron:
1.8
mg
Sign up for my recipes here!!
Don't worry, we'll never share your email.
First Published: December 9, 2018... Last Updated: May 30, 2019