Easy Potato Soup
Every couple of weeks I put together a care package for my mother-in-law. She's 82 years old and no longer cooks.  A few months back when I took her to the doctor for a check-up, we discovered she'd lost 22 pounds in a real short period of time.
No surprise since her diet consisted mainly of canned food & frozen meals. Really nothing tastes good to her anymore! This is not unusual. As we age, we begin loose different senses including the sense of taste. Medicines can change the way things taste also. Sometimes it's hard to find food that she enjoys and she's not alone. Aging changes the senses and we need to find ways to accommodate the change and foods/spices that she will enjoy.
It was tough trying to convince her we could help, but once we did, I started making meals for her. Her favorite soup is potato soup.  I made this (and other meals) once a week for six weeks for her and I finally asked her one day, aren't you getting tired of potato soup? And she said well….maybe just a little!  😀
I hope you give this recipe a try. I think after tasting this, it may be your favorite too!
This is an easy vegetarian soup and rather than purée it, I leave it chunky and so it is thick and satisfying. Also I prefer adding sour cream instead of heavy cream or milk – the sour cream gives it a nice tang and depth of flavor.  It tastes like it's been simmered all day long!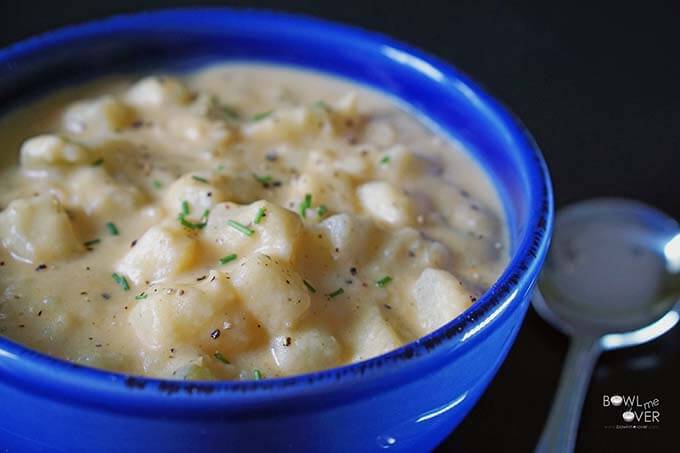 Now I hesitate to say this is a 30 minute soup, but I do make this in 30 minutes from start to finish.  But I'm truly hustling the whole time.  I also dice the potatoes quite small so the cooking time lessens and it will easily fit on a spoon.  Simple, basic ingredients – you probably have everything in your fridge and pantry – so why not make this for dinner tonight?
This is a recipe I've shared in the past but I wanted to share it with you again today because as we enter "soup season" this is truly one of my favorite meals! It's easy and quite delicious, I'm sure you will enjoy it as much as we do!
Easy Potato Soup #MeatlessMonday
What to make for dinner? Easy Potato Soup #MeatlessMonday - Everyone's favorite (vegetarian) potato soup. Creamy, delicious and hearty!
Ingredients
6-8

cups

russet potatoes

peeled and chopped (3-4 large potatoes

1

yellow onion

peeled and diced

2

stalks celery

chopped

1

clove

garlic

4

cups

vegetable stock

2

cups

cheddar cheese

shredded

1/2

cup

Parmesan cheese

shredded

1/2

cup

sour cream or cream

1

teaspoon

salt

1/2

teaspoon

pepper

Pinch red pepper flakes

1

tablespoon

butter

1

tablespoon

olive oil
Instructions
Begin by chopping the onion and celery.

Heat a large pot on the stove over medium heat add the butter & olive oil then add the onions & celery - season with salt, pepper and red pepper flakes.

Next peel and dice the potatoes - add the potatoes and minced garlic to the pot and continue to sauté all of the ingredients for about 5 minutes.

Add the vegetable stock and increase the heat to high. Bring to a boil - stirring quite often - this will release the starch in the potatoes and help thicken the soup. Depending on the size of the dice of the potatoes it will take 14-18 minutes. Cook the potatoes until they are fork tender. The stew will be quite thick.

Remove from heat and stir in both cheeses and the sour cream. That's it! So thick and creamy and an easy meal to put together in a short amount of time!
Nutrition Facts
Easy Potato Soup #MeatlessMonday
Amount Per Serving
Calories 395
Calories from Fat 198
% Daily Value*
Total Fat 22g 34%
Cholesterol 60mg 20%
Sodium 1432mg 60%
Potassium 758mg 22%
Total Carbohydrates 32g 11%
Protein 16g 32%
* Percent Daily Values are based on a 2000 calorie diet.
Another one of Lawanda's favorite meals is Minestrone Soup another easy vegetarian Soup!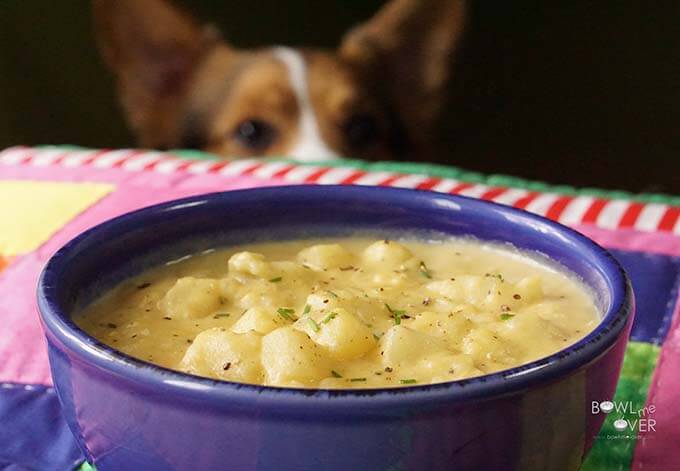 One last picture of Mama's little helper…..I've mentioned this before, but we have dogs & and cats – it's often challenging to take a picture with so many helpers nearby and Dudley was just dying for a taste!  😀 This picture is too cute  not to share!