If you love a good Cuban sandwich, then this sweet, buttery and cheesy Cuban slider recipe is for you! It's the BEST make ahead dinner. It's perfect for tailgating or movie night snack. This make-ahead sandwich will be a family favorite!
Like my recipe for Sticky Chicken Wings with Blue Cheese Dip, Cuban Sliders are perfect for tailgating!
Next time try you have some leftover ham, try this recipe for deviled ham!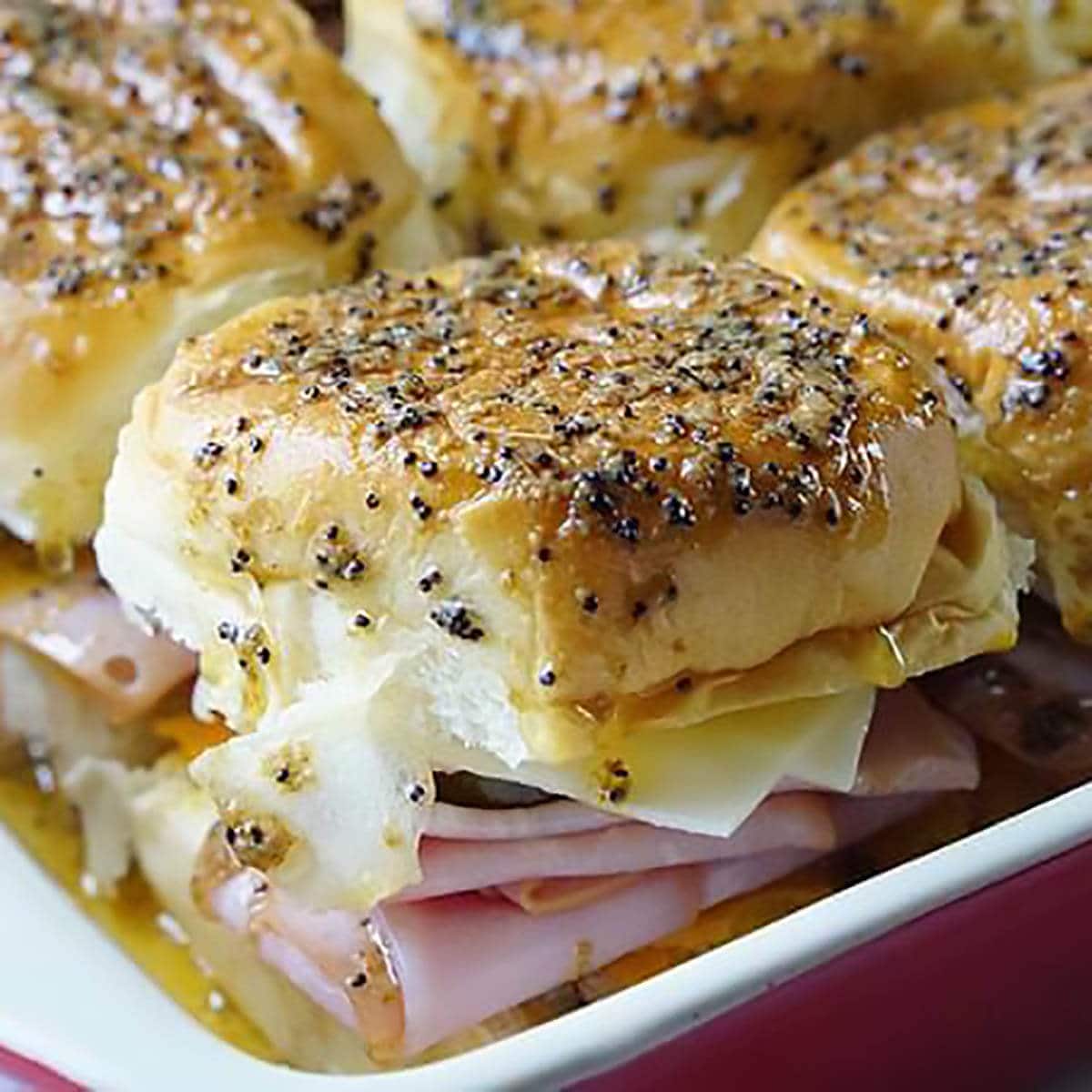 Jump to:
❤️ Why you'll love this recipe
You will love this the Cubano Sandwich! They will be the first thing gone on the buffet.
✔️ Cuban Sliders are sweet, buttery, salty, tangy, spicy, cheesy and amazing! Because they are made the night before, this is easy sandwich perfection!
✔️ Super yummy and great as an appetizer or main dish!
✔️ No fancy panini maker necessary!
🗒️ Ingredients
For the exact measurements Cuban Slider Recipe, please refer to the recipe card at the bottom of this post.
Package of sweet King's Hawaiian Rolls are the closest to sweet Cuban bread - If you don't have Hawaiian Sweet Rolls available, fluffy potato rolls, dinner rolls or mini bun would be a great substitute! You're looking for a soft slider roll, not one with a firm crust.
ham slices - you can use deli counter sliced ham, honey ham, pork roast, leftover pork tenderloin as well. Or a combo of ham and sliced pork or shredded pork.
crisp dill pickle slices - no substitute here, need that briny bite!
Swiss and cheddar cheese - you can substitute coldly jack or mozzarella for the cheddar, Swiss cheese is a must have ingredient for the Cuban Hawaiian Sliders.
melted butter, yellow mustard or dijon mustard or grainy mustard, cumin, pepper, salt, garlic powder - for the butter sauce
poppy seeds or sesame seeds
🔪 Instructions
This is an overview of the instructions for the Cuban Hawaiian Sandwiches. For the complete directions just scroll down to the bottom!
Prepare the butter sauce - in a small saucepan melt the butter, add the spices and seasoning, mix to combine.
Pour ⅓ of the sauce to the bottom of a baking dish.
Slice the buns in half with a serrated knife. Slather both sides of the buns with mustard sauce. Put the bottom half of the rolls in the buttered baking dish.
Pile on the sandwich fillings - sliced cheese, ham, pickles. Top with Swiss Cheese, add the top of the slider bun.
Finish by pouring the remaining butter mixture on the top of the sliders. Cover and refrigerate.
Bake for 30 minutes until the cheese is hot and gooey and the top is golden brown!
This recipe checks all of those boxes!
Equipment
The following are affiliate links. We are a participant in the Amazon Services LLC Associates Program, an affiliate advertising program designed to provide a means for us to earn fees by linking to Amazon.com and affiliated sites.
🙋‍♀️ FAQ's
What is a Cuban Slider Recipe made of?
Typically with sliced ham and pork, Swiss cheese, mustard and pickled - then pressed or grilled until crispy and the cheese is melted.
What bread is closest to Cuban bread?
Unless you're lucky enough to have a latino bakery nearby look for a soft French roll or Italian roll. For the sliders the Hawaiian rolls are perfect!
Is the Cubano sandwich served hot or cold?
Which ever is your preference, either way is delicious!
👍 Tips
Serve hot out of the oven, with the melted cheese and salty ham? They are amazing, this is the perfect appetizer!
Or serve the mini Cuban Sandwiches at room temperature. I've enjoyed them both ways and they are delicious. That's why these are great for tailgating and great for the big game!
For best flavor, use high quality deli ham and cheese.
Pickles can be sliced or you can use dill pickle chips, which ever you prefer.
🤔 What I've learned
I have some high standards when it comes to tailgating and game day food.
It has to taste fabulous with BIG flavor.
Finger food - It can be eaten with your hands while watching TV or tailgating in a parking lot.
Make-ahead is a must (because I ain't gonna be in the kitchen during the game).
The recipe has to be easy.
Serving suggestions
These are a great appetizer for your next party or terrific weeknight meal!
If you're keeping it simple, serve with French fries or potato chips.
Related Recipes
If you're looking for more party food to serve with the Cuban pork sandwiches. here are a few more recipes for tailgating and a few easy slider recipes!
When you make this please comment below and let me know what you think! I'd love it if you tag me on Instagram @bowl_me_over or #bowlmeover - so I can see your photos!
If you love this recipe please leave a ⭐⭐⭐⭐⭐ rating!
Cuban Sliders Recipe
This is the ultimate slider sandwich! Make-ahead mini sandwiches made with Hawaiian rolls are great for tailgating, movie night or your next party!
As an Amazon Associate I earn from qualifying purchases.
Ingredients
1

package of Hawaiian rolls

or your favorite slider rolls - you'll need 12 rolls.

24

slices

ham

thinly sliced

12

slices

Swiss cheese

6

slices

cheddar cheese

1-2

dill pickles

thinly sliced

Butter Sauce

6

tablespoon

butter

1 ½

teaspoon

cumin

1

teaspoon

pepper sauce

(I used tabasco sauce)

½

teaspoon

salt

½

teaspoon

garlic powder

2

tsps

poppy seeds

yellow mustard
I earn a commission from Instacart from qualifying purchases.
Instructions
Prepare the butter sauce in a small bowl - melt the butter, add the spices and seasoning. Add about a third of the sauce to the bottom of a baking pan.

Slice the slider buns in half. Slather mustard on both sides of the sliced buns. Place the bottom halves of the bun in the buttered baking dish.

Top the bottom half of each bun with ½ slice of cheddar, 2 pieces of thinly sliced deli ham, sliced pickles and top with layers of Swiss cheese. Finish by adding the top of the bun.

Brush the remainder of the sauce over the top of the rolls. Cover with aluminum foil. While you're covering, press down lightly to bind the ingredients. Tuck in the refrigerator for four hours or even better - overnight.

Remove the pan from the refrigerator and allow the casserole dish to come to room temperature for 15 minutes. Before baking loosen the foil from the top of the buns (that way they do not stick when you remove the foil after baking). 

Preheat the oven to 350 degrees. Bake for 30 minutes. Remove the pan from the oven. Remove the foil and return the pan back to the oven and bake for an additional 5 minutes.

Nutrition
Serving:
1
slider
|
Calories:
324
kcal
|
Carbohydrates:
6.9
g
|
Protein:
20.9
g
|
Fat:
23.6
g
|
Sodium:
950
mg
Sign up for my recipes here!!
Don't worry, we'll never share your email.
Recipe backstory
At any given time there are at least two jars of dill pickles in our refrigerator. I'm obsessed with pickles. I'm not sure why?
When I first saw a recipe for a Cuban sandwich with a big slice of dill pickle of course I had to try it! Cuban sandwiches are stuffed with pork, ham, pickles, Swiss cheese mustard and grilled panini style. In a word, a Cuban sandwich is delicious!
I first got the idea to turn this sandwich into a slider when we were home for Thanksgiving a few years back. I developed the recipe there. Served it up to my entire family (for the first time) and got their unanimous stamp of approval.
When I was a teenager my summer job was working at Steinfeld's Pickle Plant in Portland Oregon. So you'd think after wearing blisters on my thumbs from packing cucumbers into jars, I'd be sick of them.
But no. I eat pickles every day, sometimes several a day. I probably need to seek help! 🤣
Published February 2, 2017 - Updated May 25, 2021