Easy to make Pizza Bomb Recipe are the perfect bite! Using products you have in your refrigerator and pantry, they are easy to make and delicious. Toasted, golden brown and stuffed with your favorite pizza toppings, they are great finger food and a great snack for movie night or a fun family night!
Next time try this recipe for CPK BBQ Chicken Pizza!
When we were kids my folks always hosted the "kid" get-togethers. Almost every New Year's consisted of a ton-o-kids at the house. My Dad would transform the garage into a pingpong playroom. We even had a shuffleboard they'd set up so everyone would have something to do.
In the house there would be tons of board games. Kids in pj's and staying up most of the night. I seriously wondered how my folks put up with all the racket and craziness, but as I've gotten older I understood. Fun and laughter is music to my ears!
Meals were always easy food that would please a crowd and it HAD to be affordable. Homemade Pizza was always a favorite! Really nothing has changed, right? 😀
Are you hosting family gatherings? Is the holiday season a good time for you or is it stressful? I think my best tip is not putting too much on your plate (schedule-wise). Keep the food and drinks easy! It's ok to ask others to bring a dish and pitch in. I think that's one of the best things my folks instilled in me. Life is about the memories, not about the stuff!
Let's talk about these pizza bombs and let me show you how easy they are to make! These are so simple you can even have the kids help you!
You'll start by dicing an onion and green pepper into a small dice. Sauté it for just a few minutes to soften the vegetables. Next you'll take the biscuits and place them on a baking sheet. Flatten them out.
Add a small spoonful of sauce.
Next the sautéed vegetables.
And a bit of cheese.
Seal each one carefully and turn them over - seam-side down. Brush with butter and garlic. Into the oven they go!
See how easy these are!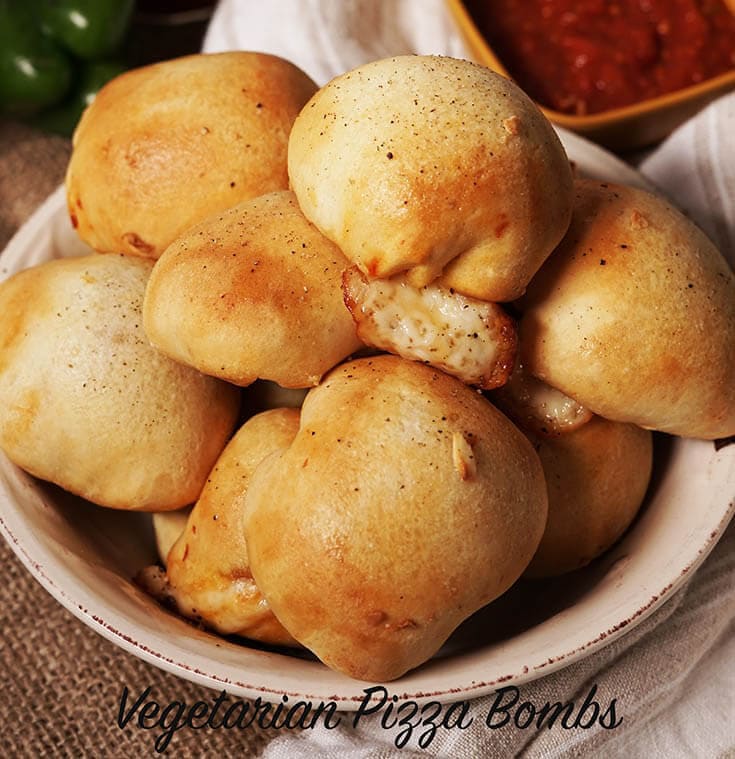 Related recipes
Pizza is always a favorite! Here are a few more ways to enjoy it!
Pizza Bomb Recipe
This little snacks are perfect for movie night!
As an Amazon Associate I earn from qualifying purchases.
Ingredients
1

12 oz. package

refrigerated biscuit dough

½

cup

marinara sauce

plus additional for dipping

½

cup

mozzarella cheese

cut into ½ inch cubes

½

yellow onion

diced

½

green pepper

diced

3

cloves

garlic

minced, separated

½

teaspoon

Italian seasoning

½

teaspoon

salt

¼

teaspoon

black pepper

2

tbsp

butter

melted

2

teaspoon

olive oil
I earn a commission from Instacart from qualifying purchases.
Instructions
Preheat oven to 375 degrees

Dice the green pepper and onion into a very small dice. Set aside.

Heat a small skillet over medium heat. Add olive oil. When hot and bubbly add the diced peppers and onions. Season with salt, pepper and Italian Seasoning.

Sauté the peppers and onions for 5 minutes. The last 30 seconds of cooking add two cloves diced garlic. Continue cooking until fragrant. Remove from stove, set aside.

Remove the biscuits from the tube and flatten out on the baking sheet

Spread each flattened biscuit with two teaspoons of marinara sauce.

Top each biscuit with ½ tablespoon of sautéed vegetables.

Sprinkle each biscuit with mozzarella cheese.

Fold the corners of each biscuit up and seal them well so the cheese and sauce do not bubble out during baking. Flip them over - seam-side down.

Melt the butter. Add the remaining garlic to the melted butter. Brush each pizza bomb with butter and garlic. Bake in the preheated oven for 15-18 minutes or until golden brown.
Nutrition
Calories:
44
kcal
|
Carbohydrates:
1
g
|
Protein:
1
g
|
Fat:
3
g
|
Saturated Fat:
1
g
|
Cholesterol:
8
mg
|
Sodium:
197
mg
|
Potassium:
55
mg
|
Vitamin A:
155
IU
|
Vitamin C:
5.3
mg
|
Calcium:
29
mg
|
Iron:
0.2
mg
Sign up for my recipes here!!
Don't worry, we'll never share your email.