Lemon spaghetti is tossed in a light creamy sauce. It's bright and flavorful and only takes 20 minutes to make!
Your favorite pasta is finished in a fresh lemony garlic sauce! It's easy to make and filled with bright, vibrant flavor. You'll have dinner on the table in just 20 minutes with this easy to make dish!
Next week be sure to try the Chicken Spaghetti Recipe - filled with a creamy sauce, it's absolutely out of this world!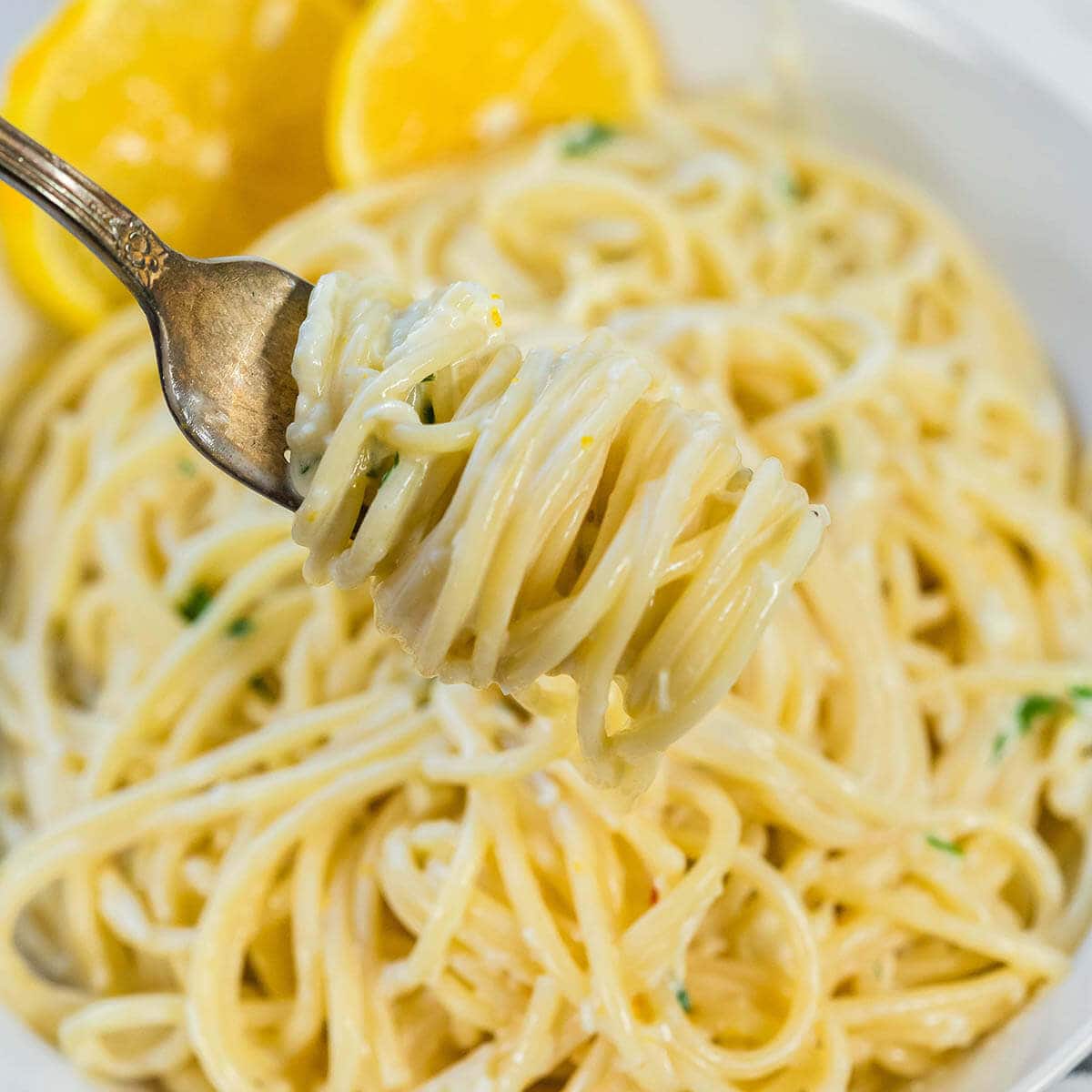 Jump to:
I've made lemon garlic pasta recipe more times than I can count! Including when my folks visited; even my Dad (who is not a pasta fan) loved it!
The flavors are bright, lemony and fresh. It's very savory and creamy enough. It only takes 20 make - this is a fantastic weeknight meal!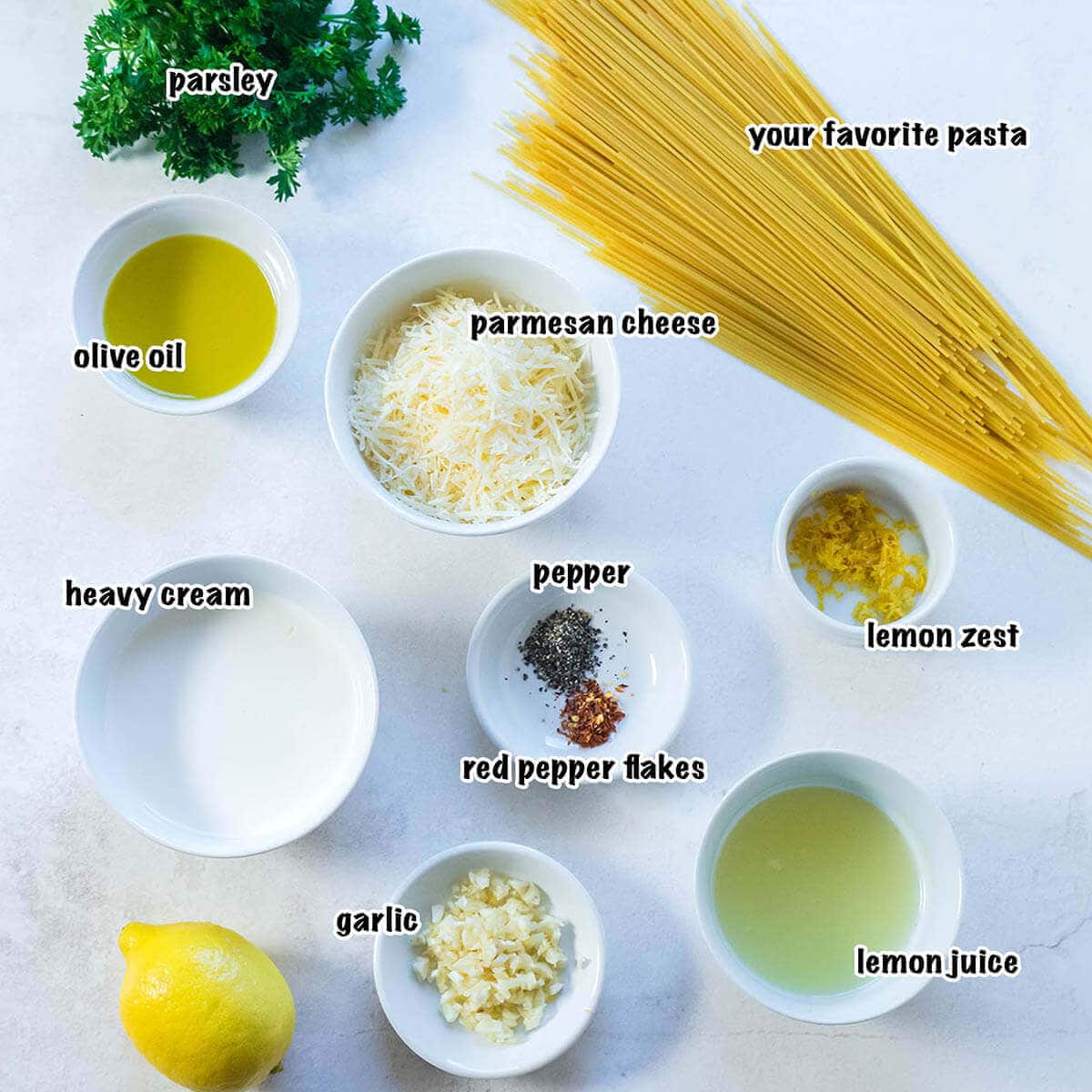 spaghetti, penne or linguine pasta - really you can use any pasta you have in the pantry. There's no hard/fast rule here.
olive oil - the oil will incorporate into the sauce, use the best you have on hand.
whipping cream, heavy cream or half and half in a pinch - a rich thick cream will be tastiest.
fresh lemon juice and zest - because the lemon is such an essential part of this dish it really needs to be fresh lemon juice.
parmesan cheese - Romano or even cream cheese would work in this recipe.
basil or parsley for garnish - if available!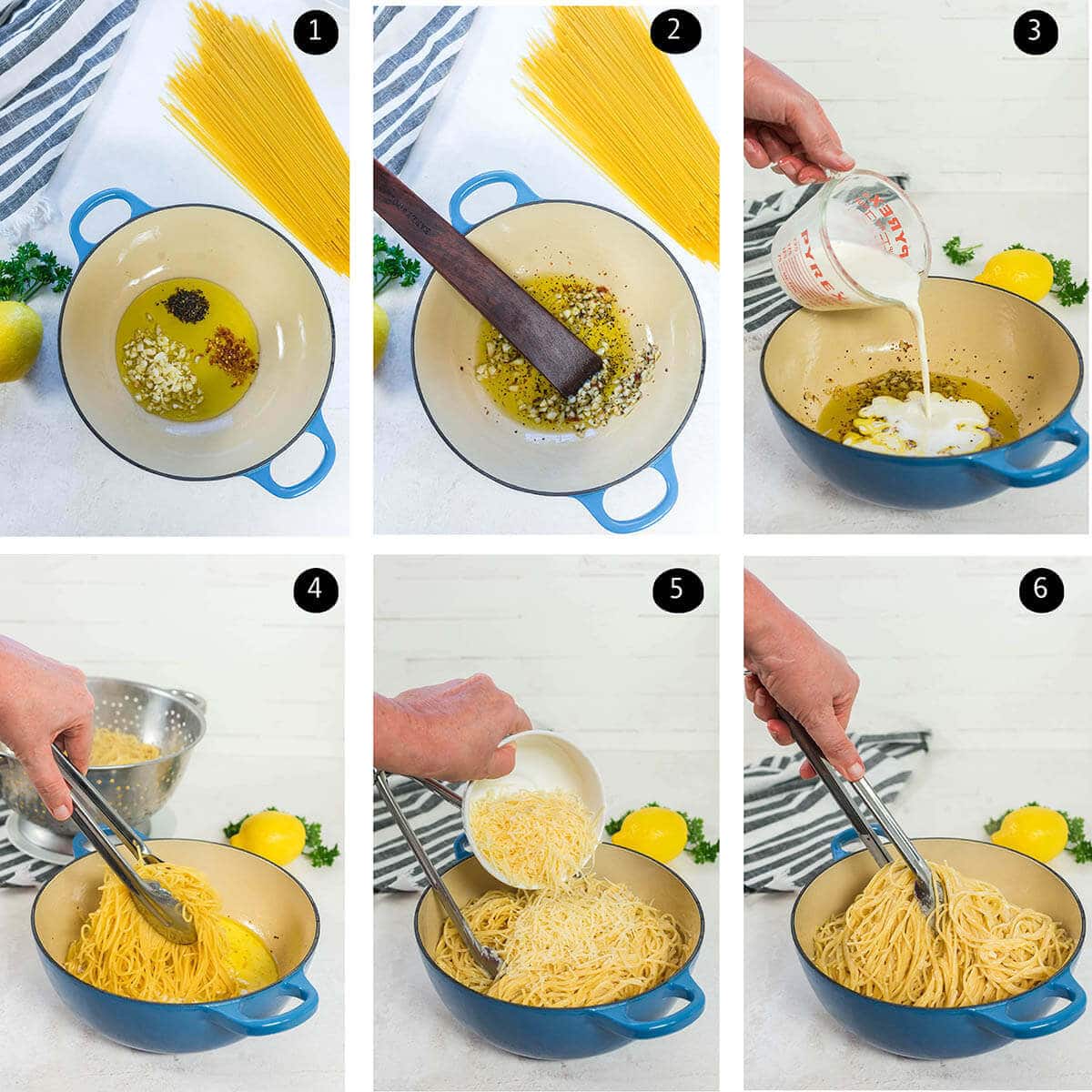 Put a large pot of salted water on the stove to boil. When boiling, drop the spaghetti in and cook to al dente. While it's cooking, add the chopped garlic, pepper and red pepper flakes to olive oil over low heat.
Slowly sauté the garlic.
Next, add the lemon zest and whipping cream. Stir to combine.
When the pasta is done, remove the sauce from the heat and add the lemon juice. Transfer the cooked noodles to the sauce mixing well to combine.

Top with shredded parmesan cheese.
Mix lemon garlic pasta really well adding reserved pasta water if needed. Garnish with chopped parsley or basil.
Can you add lemon to a cream sauce?
Obviously yes because it's part of this recipe! 😋 The addition of starch will counteract potential curdling. Add the lemon juice at the end when you're adding the pasta.
Why did my sauce curdle?
Heat can cause a sauce to curdle. Be sure the garlic is cooked on low heat. you can even pull it off the heat when you add the cream. Stir well to incorporate.
Can I fix a curdled sauce?
Yes - heat about ½ cup of heavy cream until it's reduced by half and then slow whisk the curdled sauce into the reduced heavy cream.

Of all the times I've made this it's only curdled once. And you know what? We ate it anyway. It's just not as pretty, but it really didn't effect the taste.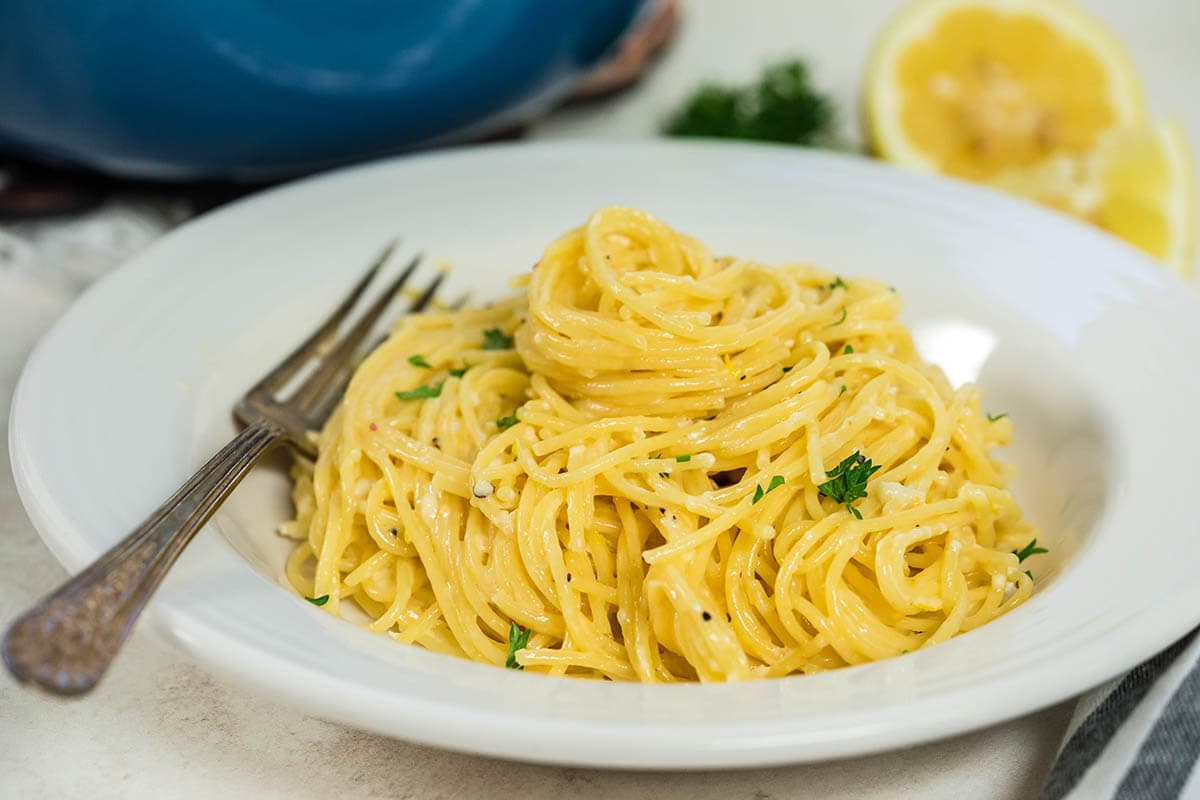 Any long pasta will work for the lemon garlic pasta recipe - I've even used penne and orecchiette!
Cook your pasta just short of al dente - the pasta will finish cooking in the sauce so you don't want to overcook it!
Salt the pasta water well - how much salt is enough? For every six cups of water add a tablespoon of salt.
When you zest the lemon include only the yellow skin, the white pith is bitter.
Garnish with basil and/or parsley - the fresh herbs give it such a bright taste. Garnishing is optional but it's something I would definitely recommend!
Expert Tip: Save your pasta cooking liquid - that starchy water is perfect for loosening up the lemon spaghetti sauce as it's tossed with the pasta.
Shrimp is a delicious addition to this recipe! Add it to the sauce and cook until it is opaque and toss with the lemon garlic pasta. So yummy!!
Leftover rotisserie chicken is another great variation if you want to up the protein in this meal.
Lemon Garlic Pasta is a great 30 minute meal, quick and easy to make for weekdays, but it's also perfect for a fancy meal with company. Really all you need to go along with this meal is a great green salad and a baguette and dinner is ready!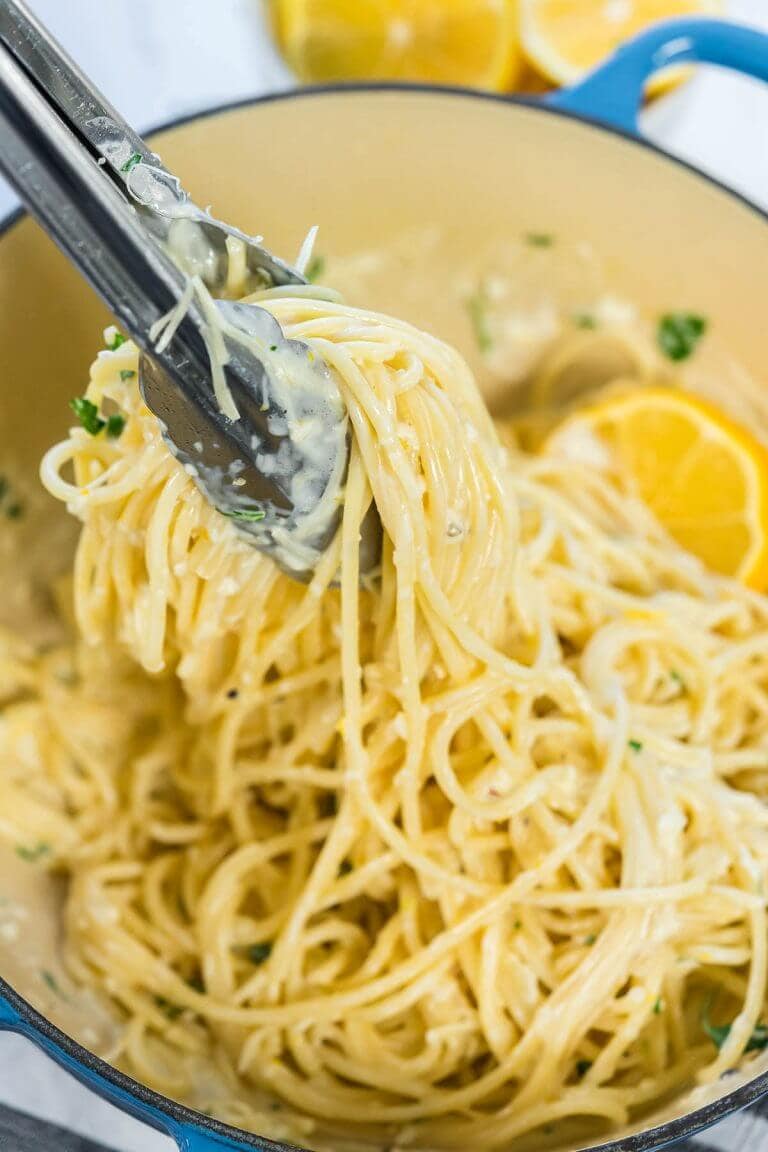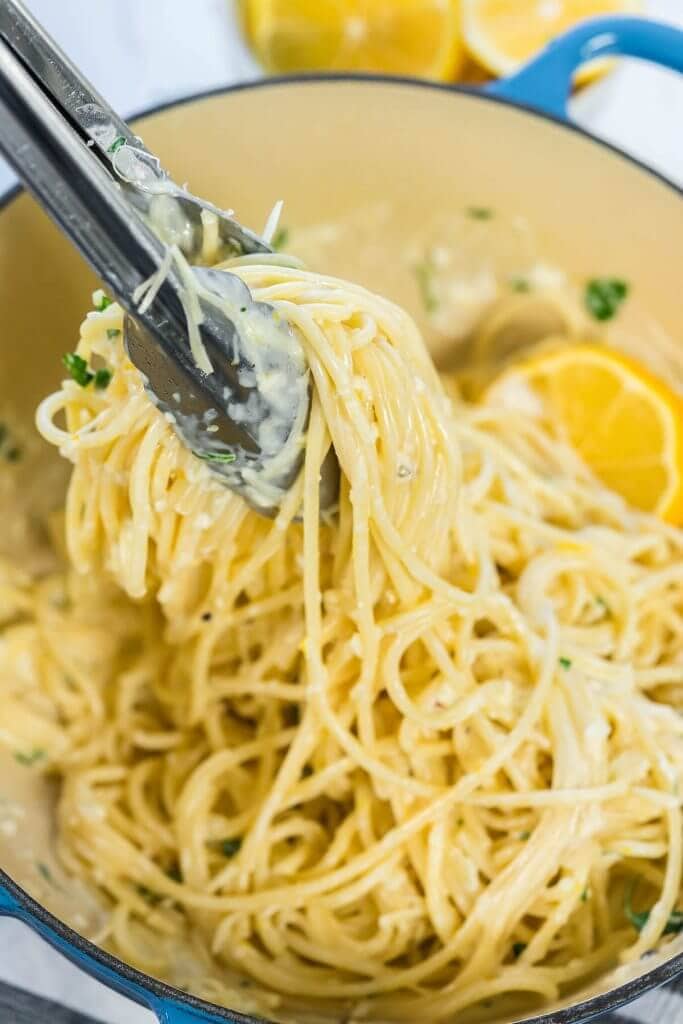 Storage
This pasta will keep 3-4 days refrigerated. Reheat in the microwave or in a pot on the stove. Adding additional water or a small amount of cream will help rehydrate the pasta so it doesn't taste dry.
This can also be frozen for up to three months. Allow the pasta to cool to room temperature, then store in a ziplock bag or freezable container.
More delicious pasta recipes
A few of my favorites from the blog are Pasta Puttanesca. This is another simple meal using pantry ingredients. It's affordable and delicious! Butternut Squash Pasta is also super yummy. It's easy to make with leftovers.
Spaghetti Carbonara is a quick and easy meal as well. It's just so tasty! Another great meal served with a salad and bread - YUM!
Love this meal? Please be sure and comment below and leave a five-star rating! If you're on Instagram I'd love it if you tag me with #bowlmeover or @bowlmeover so I get to see your delicious plate of pasta!
Lemon Garlic Pasta
Lemon spaghetti is tossed in a light creamy sauce. It's bright and flavorful and only takes 20 minutes to make!
As an Amazon Associate I earn from qualifying purchases.
Ingredients
13.5

oz

package spaghetti

¼

cup

olive oil

3

tablespoons

chopped garlic

¼

teaspoon

red pepper flakes

½

teaspoon

pepper

¾

cup

whipping cream

½

cup

fresh lemon juice

1

tablespoon

lemon zest

1

cup

parmesan cheese

basil and parsley for garnish

if desired

pasta water

add as needed
Instructions
Start by putting a large pot of salted water on the stove to boil. When it reaches a rolling boil, drop the spaghetti in and cook according to package directions to just al dente.

While the pot is heating and spaghetti is cooking continue to prepare the sauce. Chop the garlic and place in a large deep fry pan over low heat with olive oil. Don't allow the garlic to brown, this will make it bitter. Add the red pepper flakes and black pepper. Slowly sauté the garlic for about 10 minutes, along with the spices.

Next add the lemon zest and whipping cream. Continue to stir and the flavors will slowly combine and the sauce will begin to thicken.

When the pasta is done, turn the heat off from the sauce. Add in the lemon juice. Stir to combine, then begin transferring the cooked noodles to the sauce mixing well to combine. Save a cup of pasta water and if needed, add to the pasta for creaminess.

Top the noodles with the shredded parmesan cheese and mix again. Garnish with parsley & chopped basil.
Notes
Tips to make this pasta the BEST
Salt the pasta water well
Cook your pasta just short of al dente 
Cook the garlic on LOW, otherwise it will burn. You cannot hurry this process.
Save some of the pasta cooking liquid to add to the sauce
Toss the pasta really well - work the sauce through the pasta to ensure it's well distributed.
Garnish with basil and parsley 
Nutrition
Calories:
268
kcal
|
Carbohydrates:
6
g
|
Protein:
7
g
|
Fat:
24
g
|
Saturated Fat:
10
g
|
Cholesterol:
52
mg
|
Sodium:
281
mg
|
Potassium:
78
mg
|
Vitamin A:
590
IU
|
Vitamin C:
12
mg
|
Calcium:
228
mg
|
Iron:
0.4
mg
Sign up for my recipes here!!
Don't worry, we'll never share your email.
Originally Published: March 11, 2016 Last Updated: September 27, 2020 to update the instructions and images.