Skip the drive through and make your own amazing, flavorful burgers piping hot straight from the oven. Cooking frozen hamburger patties is the perfect to feed a crowd or an easy. weeknight meal!
Next time try this recipe for super easy juicy grilled turkey burgers!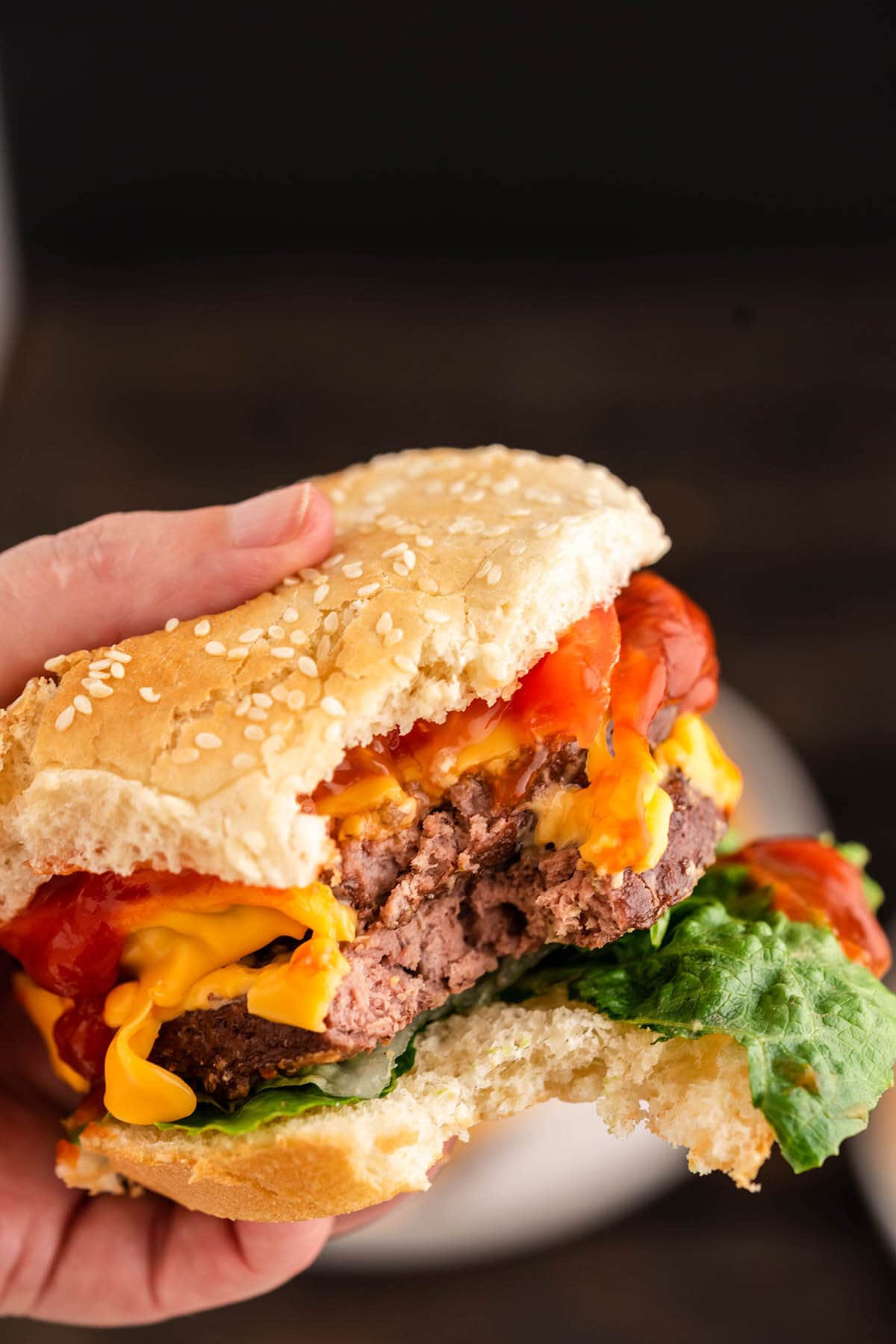 Jump to:
Why you'll love this recipe
✔️ No grill? No problem! Make tasty burgers right from your oven.
✔️ Skip the drive-through will save you money too!
✔️ No more getting the order wrong when you make your own, love that!
Ingredients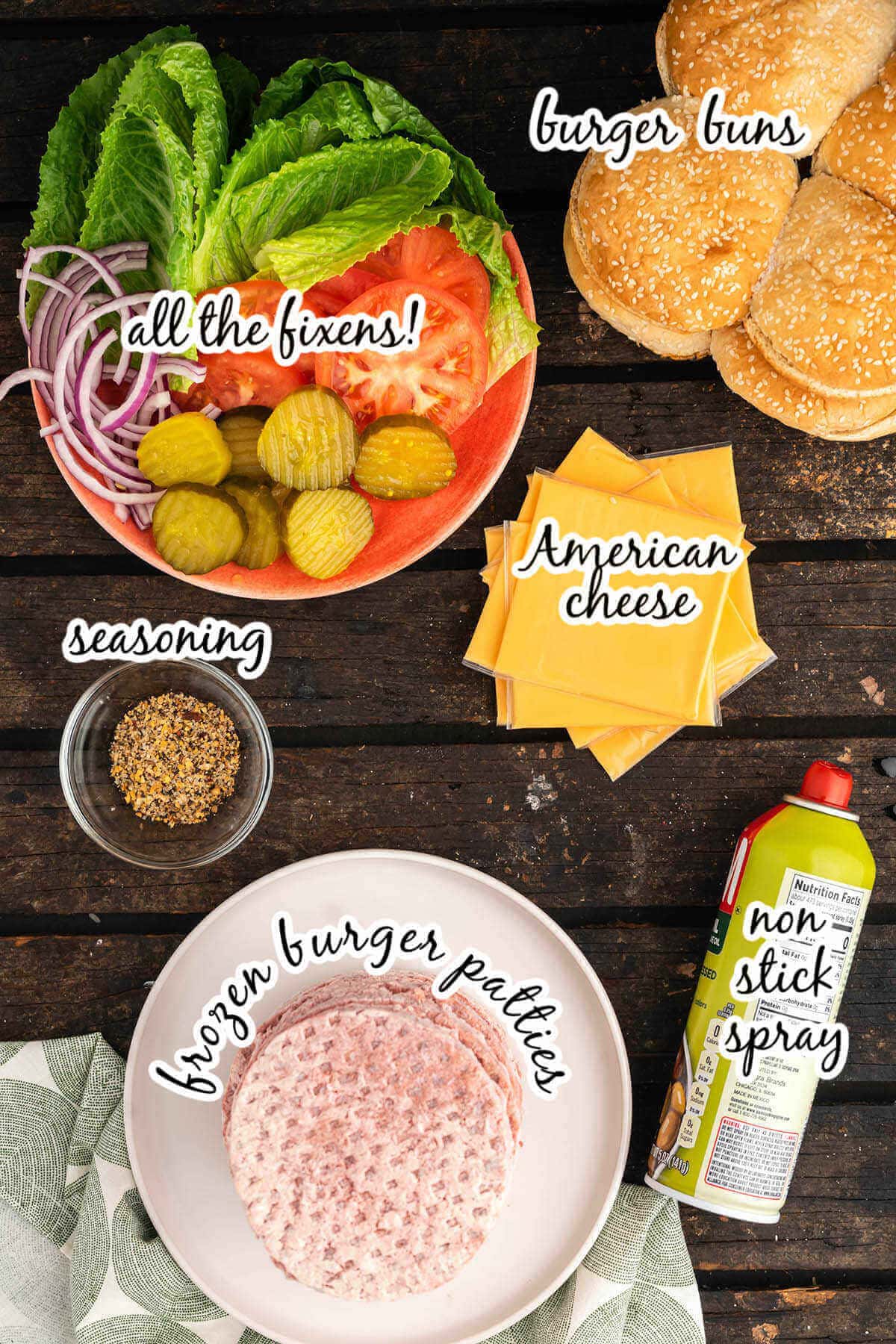 For the exact measurements, please refer to the printable recipe card at the bottom of this post.
frozen hamburger patties
melty American cheese - Monterey Jack and pepper jack are fantastic on a burger. Provolone or smoked gouda would be amazing as well.
for this I just used plain, old fashioned burger buns because it fit the size of frozen hamburgers perfectly!
Instructions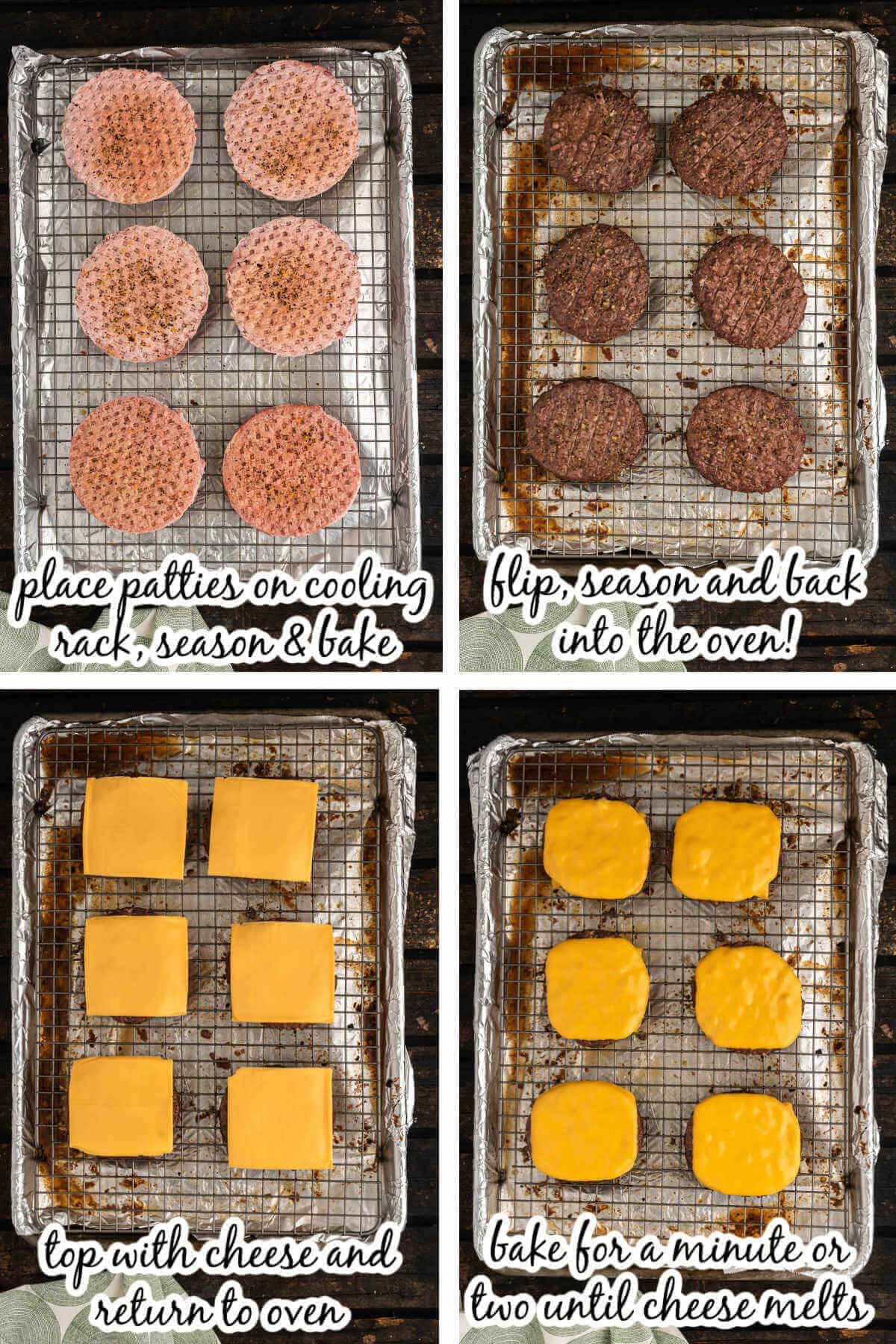 This is an overview of the instructions. For the complete detailed instructions scroll down to the bottom!
Preheat the oven to 425 degrees. Line baking sheet with foil. Spray baking rack with nonstick coating.
Remove your frozen burger patties from the plastic packaging.
Spritz with cooking spray, sprinkle with seasoning. Place frozen patties on metal wire rack.
Place rack in oven for 20 minutes. Flip halfway through cooking, season side two, return to oven.
Top with cheese for the last two minutes of cooking.
Equipment
The following are affiliate links. We are a participant in the Amazon Services LLC Associates Program, an affiliate advertising program designed to provide a means for us to earn fees by linking to Amazon.com and affiliated sites.
cookie sheet
aluminum foil
metal wire rack
metal spatula
FAQ's
How long is frozen hamburger good for?
Frozen ground beef patties should be used within 4 months.
Can you cook burgers straight from frozen?
Yes, in fact you do not want the burgers to thaw. Bake them straight from the freezer.
How do you season frozen hamburger patties?
You can add flavor to frozen hamburger with simple seasonings like salt and pepper, season-all or Montreal steak seasoning.
Can you grill frozen hamburger patties
Yes, a gas grill is the best option when grilling frozen burgers, because it cooks more evenly. You can use a charcoal grill, but test the internal temperature with an instant read thermometer to make sure it's 160 degrees.
Can they be cooked in a frying pan?
Yes but the texture is better when cooked in the oven.
How long does it take to cook burgers from frozen?
It takes about 20 minutes to cook burgers from frozen.
Do you have to flip the burgers?
For a better-tasting burger, flipping it improves the texture.
Tips
If the burgers are frozen together, use a metal spatula to split the patties apart.
For the best texture, flip the frozen patty halfway through baking to ensure both sides cook evenly.
Line the baking sheet, it will make clean up a ton easier!
Not sure if the burgers are done? Use a meat thermometer. When done, the internal temperature should be 160 degrees Fahrenheit.
If you want to add cheese, do it during the last minute of cooking for a gooey, melted cheese topping.
The cooking spray on the outside of the patties is to help the seasonings stick to your meat patties so don't skip this part.
I've found the best way to reheat the burgers is in the skillet with a little water to help keep them moist.
Serve on a bun with your favorite toppings! Lettuce, tomatoes, onions and pickles are always a great start. Try adding avocado, bacon or jalapeno peppers for extra flavor.
Pro Tip: do not allow the burgers to thaw! They are put in the oven frozen.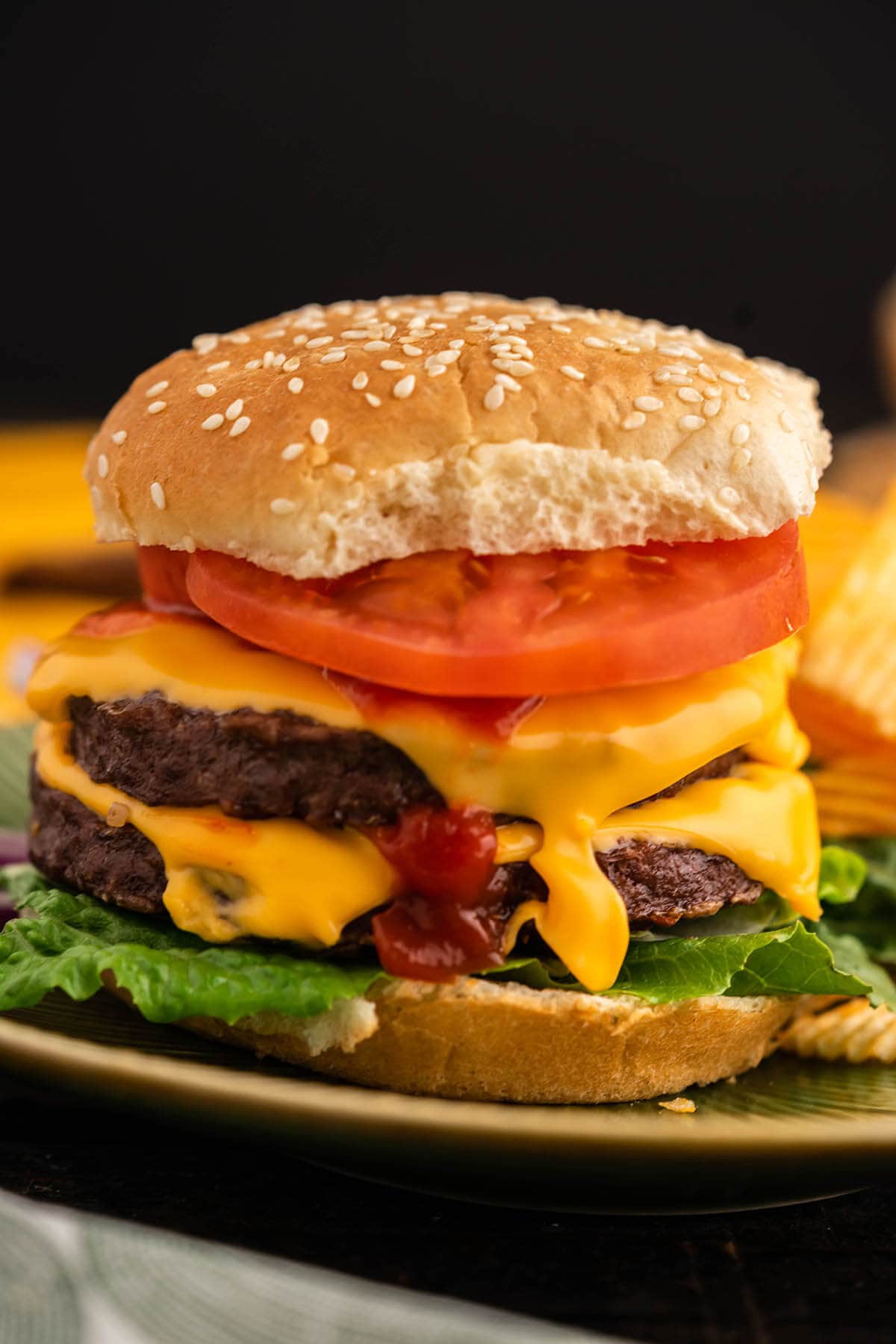 Variations
Hatch green chiles would be amazing sandwiched between a couple of patties!
Slices of crispy bacon? YUM! It does make everything better!
Add a smear of your favorite sauce, like BBQ sauce, ranch dressing or salsa.
Don't have any hamburger buns? Try wrapping your juicy burger in a large piece of lettuce for a fun and easy way to eat your burger.
Storage
Refrigeration: Cooked burgers can be stored in an airtight container in the fridge for up to three days.
Freeze: You can also freeze them for up to three months. Let the burgers thaw before reheating.
Reheating: To reheat, cook in a skillet over medium-high heat until heated through.
Related recipes
I do love a great sandwich and there are several on the blog!
Serve with
Don't forget to check out my Amazon storefront for some of my favorite products! 🛍️
If you love this recipe please leave a ⭐⭐⭐⭐⭐ rating!
How to Cook Frozen Hamburger Patties in the Oven
Perfect for a busy weeknight meal, these easy-to-make burgers are game changer for your burger-loving family!
As an Amazon Associate I earn from qualifying purchases.
Ingredients
6

frozen hamburger patties

1 ½

teaspoon

Montreal Steak Seasoning

6

slices

American cheese

6

burger buns

Your favorite fixings - burger buns, sliced tomatoes, sliced onions, lettuce, mayonnaise, ketchup or barbecue sauce.
I earn a commission from Instacart from qualifying purchases.
Instructions
Preheat the oven to 425 degrees. Line baking sheet with foil. Spray baking rack with nonstick coating.

Remove your frozen burger patties from the plastic packaging.

Using a metal spatula, split the patties apart from each other.

Place burgers on metal cooking rack. Spritz with cooking spray. Season with Montreal steak seasoning.

Place in oven for 20 minutes. Flipping patties halfway through cooking time, season side two. Return to oven.

Top the cooked hamburgers with cheese slices for the last two minutes.

Remove and build your burgers!
Nutrition
Calories:
430
kcal
|
Carbohydrates:
23
g
|
Protein:
25
g
|
Fat:
26
g
|
Saturated Fat:
11
g
|
Polyunsaturated Fat:
2
g
|
Monounsaturated Fat:
10
g
|
Trans Fat:
1
g
|
Cholesterol:
81
mg
|
Sodium:
647
mg
|
Potassium:
388
mg
|
Fiber:
1
g
|
Sugar:
4
g
|
Vitamin A:
212
IU
|
Vitamin C:
1
mg
|
Calcium:
294
mg
|
Iron:
4
mg
Sign up for my recipes here!!
Don't worry, we'll never share your email.