These are the tastiest easy dinner rolls! Rolls from frozen dough are a cinch to make and you'll enjoy fuss-free homemade rolls! Perfect for Thanksgiving Dinner or just about any meal!
Love easy shortcuts? Next time try Pull Apart Cinnamon Rolls - also made with Rhodes dough!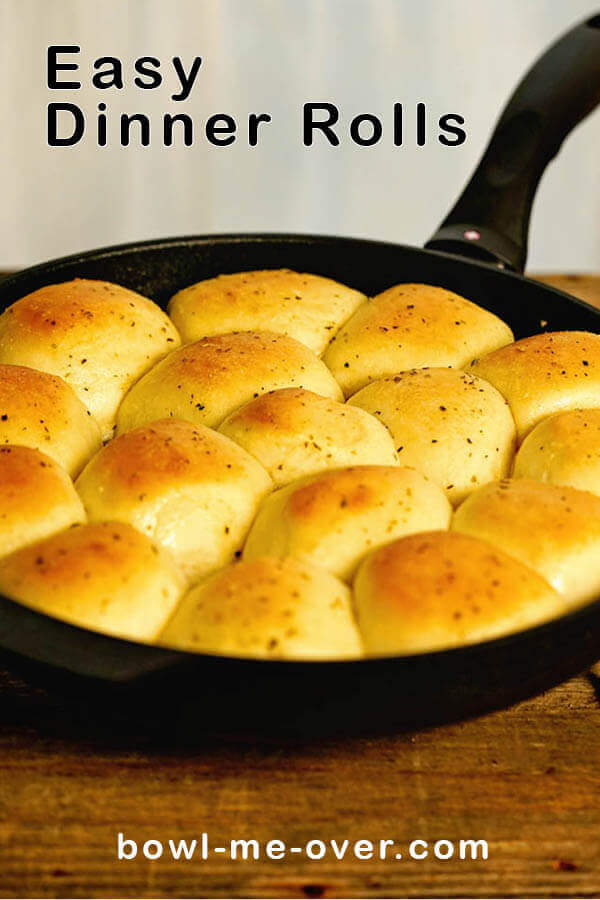 Jump to:
Why you'll love this recipe
You'll love these rolls because they are delicious, but don't take hours of work in the kitchen! The big shortcut is store-bought dough.
My Grandma made these white dinner rolls for dinner every night. They were always hot and fresh out of the oven, perfectly timed for an evening meal.
Whether we were feeding 10 or 25, she never took a shortcut by using store bought rolls... or so I thought!
It wasn't until I was in my 40's that I realized Grandma used frozen bread dough! Seriously? If it worked for my 98-year-old Grandma, then it definitely works for me!
Slathering these with Crock Pot Pumpkin Butter or Texas Roadhouse Butter? Heavenly!
Ingredients
For the exact measurements, please refer to the printable recipe card at the bottom of this post.
frozen dinner rolls
butter
garlic powder, Italian seasoning
Instructions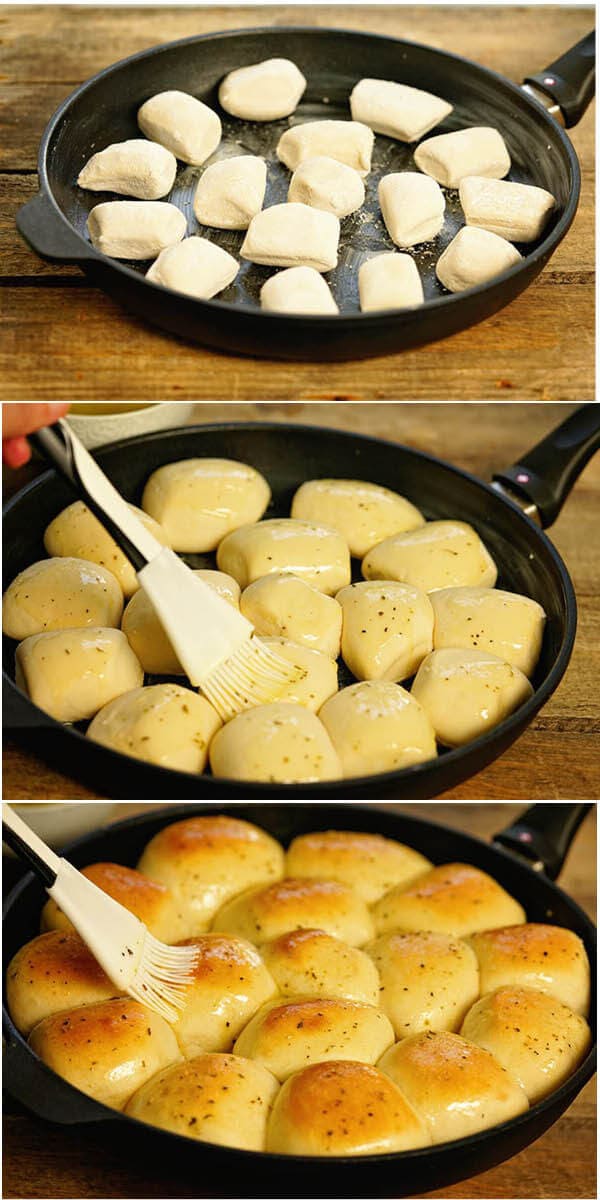 This is an overview of the instructions. For the complete directions just scroll down to the bottom!
Butter the cast iron skillet.
Place the frozen dough in the buttered skillet or on baking sheet.
Cover with plastic wrap and put in a warm place. Allow rolls to rise.
Baste thawed dough with butter prior to baking and bake until golden brown.
After removing from the oven, baste with the remaining butter.
Equipment
The following are affiliate links. We are a participant in the Amazon Services LLC Associates Program, an affiliate advertising program designed to provide a means for us to earn fees by linking to Amazon.com and affiliated sites.
I absolutely love this Cast Iron Skillet - I think you will too!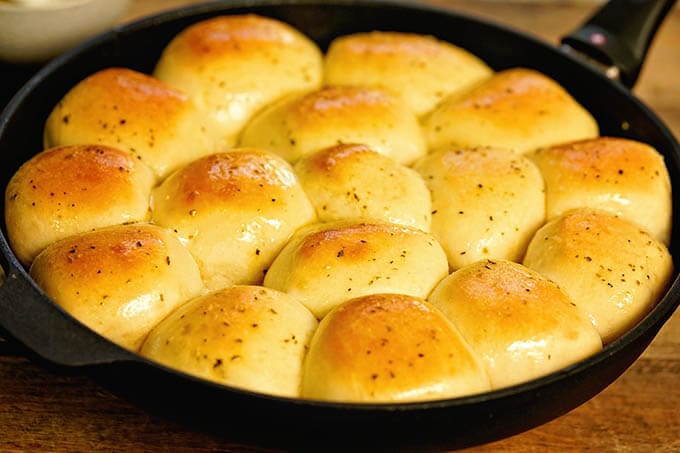 FAQ's
What does it mean to proof dough?
Proofing the dough is the final rise of the dough prior to baking. In this recipe, you'll wait for the dough to thaw and proof. This takes about three hours. The dough will double in size.
What happens if you don't proof the dough?
If you don't allow the dough to proof completely, the rolls will be tough and heavy. Allowing the rolls to rise will keep them light and fluffy!
What is the best way to proof dough?
Allow it to sit on the counter in a warm area until it doubles in size. Frozen dough can be placed in a buttered baking dish and placed in a slightly warm oven to speed up the proofing process.
Does frozen bread dough need to be kneaded?
Frozen bread dough doesn't need to be kneaded, you skip that step entirely!
Why are my rolls heavy and dense?
That will happen if you don't allow the dough to rise properly.
How long do frozen rolls need to rise?
They need to rise 3-5 hours before baking.
How do I know if the frozen rolls have risen enough?
That's easy! The dough will have doubled in size.
Tips
While the dough is proofing, cover the dough with plastic wrap. Spraying the plastic wrap with non-sticking spray will keep it from sticking.
Butter the baking dish, it adds home cooked flavor.
Brushing the rolls with garlic butter when they are just pulled out of the oven makes them absolutely delicious!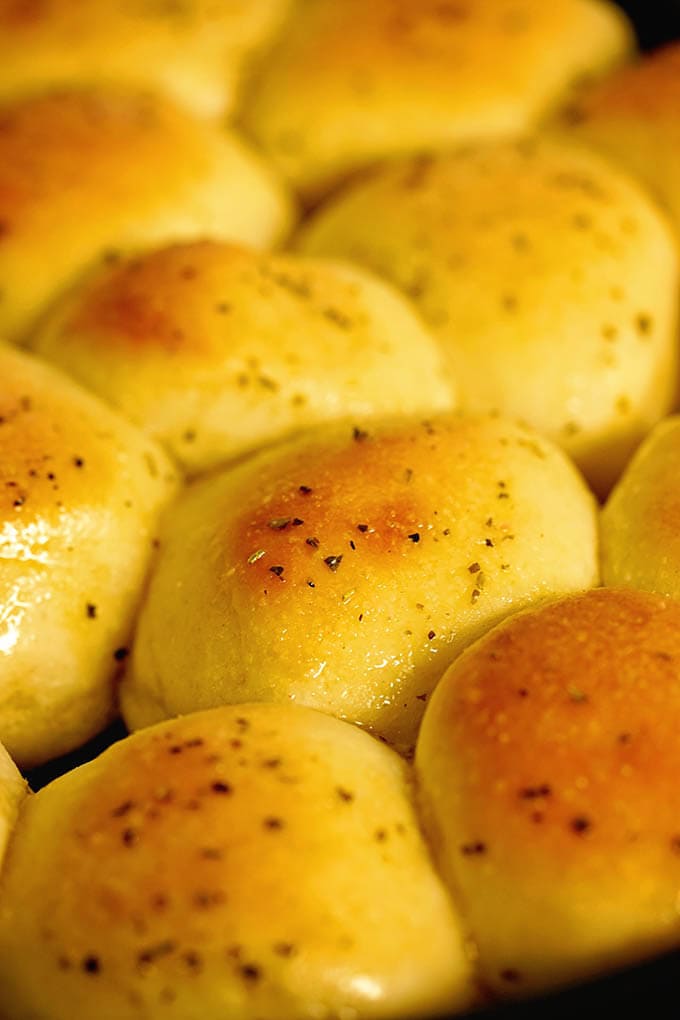 Variations
Use frozen bread dough to make garlic breadsticks! Allow the rolls to thaw, roll them into breadsticks and proof until doubled in size. Place on parchment paper and bake as directed until golden brown. As soon as you pull them out of the oven, brush will garlic butter and they will taste just like garlic breadsticks from the Olive Garden!
Sprinkle the unbaked dough with parmesan cheese for cheesy rolls.
Make Clover Rolls - Split each roll into thirds. Roll into small balls. Place three balls into a muffin tin and allow to rise. Brush with melted butter and bake according to directions.
Related recipes
Yes, you can spend hours making the dough - and for those folks that do that - hands off!
Looking for more fabulous Holiday Side Dishes? THIS is where to go next. The most amazing side dishes that are easy to make and delicious!
Serve with
If you're looking for some terrific recipes to pair with this, make some Turkey Corn Chowder, Taco Soup or Award-Winning Cheeseburger Soup - dinner rolls and soup is always the perfect combination.
These easy dinner rolls are a must have at every holiday meals, so if you're making a Holiday Turkey or Glazed Ham, be sure and pick up a bag of frozen bread rolls for Christmas morning!
I love serving rolls with pasta casseroles as well. Is it a carb overload? Absolutely, but it's the best combination!
So next time you make Chicken and Broccoli Pasta or Chicken Spaghetti be sure and make some easy dinner rolls to serve alongside.
Rolls from Frozen Bread Dough
These easy dinner rolls are simple and delicious! They are a perfect side dish at every meal!
As an Amazon Associate I earn from qualifying purchases.
Ingredients
12

frozen dinner rolls

4

tablespoons

butter

divided

½

teaspoon

Italian seasoning

⅛

teaspoon

garlic powder

¼

teaspoon

sea salt

non stick spray or extra butter for baking dish.
I earn a commission from Instacart from qualifying purchases.
Instructions
Using 1 tablespoon butter, generously butter the inside of a cast iron skillet or cookie sheet.

Place the frozen dinner rolls in the buttered skillet about 2 inches apart.

Cover with plastic wrap and place in a warm area. Let rise until doubled in size, about three to four hours.

Before baking melt butter and stir in the remaining spices. Generously brush onto the uncooked rolls.

Bake rolls according to package directions until golden brown.

When the rolls are removed from the oven, brush tops with melted butter. Serve while hot and enjoy!
Nutrition
Calories:
151
kcal
|
Carbohydrates:
19
g
|
Protein:
3
g
|
Fat:
6
g
|
Saturated Fat:
3
g
|
Cholesterol:
10
mg
|
Sodium:
307
mg
|
Potassium:
49
mg
|
Fiber:
1
g
|
Vitamin A:
120
IU
|
Calcium:
78
mg
|
Iron:
1.5
mg
Sign up for my recipes here!!
Don't worry, we'll never share your email.