Slow Cooker Pumpkin Butter Recipe - Slathered on toast, waffles or muffins it's delicious and filled with yummy fall spices. It's easy to make in your crockpot and everyone loves it!
Crockpot Pumpkin Butter Recipe - Slather this creamy, luscious butter on toast or muffins! It's so delicious and filled with yummy fall spices. It's easy to make in the slow cooker and everyone loves it!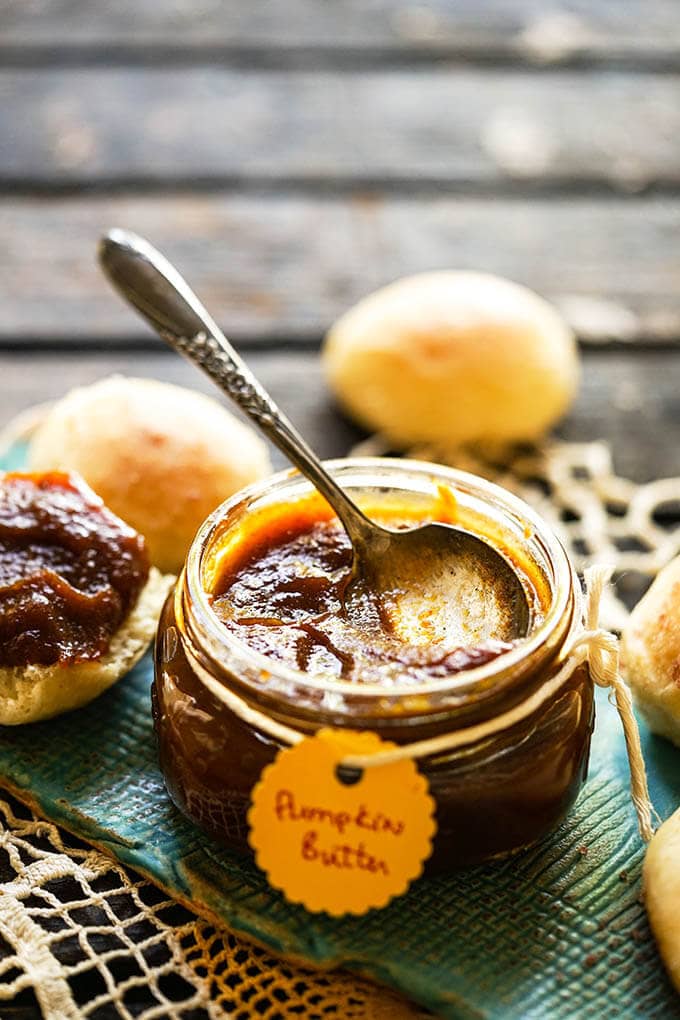 Pumpkin Butter
Welcome to another fabulous edition of Freaky Friday Recipes! That's when a number of us bloggers get together and switch blogs to share for the day!
It's my favorite event, because it's always so hard to choose which recipe to share! This go-around I was assigned Who Needs A Cape? And let me tell you, Lori and knows her way around a kitchen!
I decided since this our fall edition I definitely wanted to make something with apples or pumpkin and began pursuing her blog. I ended up on the slow cooker tab and quickly went down the rabbit hole!
Freaky Friday Blog Hop 2019
Guys, there are a TON of recipes there so be sure to stop by and visit Lori's blog and check out her little slice of the internet. In addition to having an abundance of terrific recipes, she also shares DIY tips, family and travel.
When you check out her recipe for Baked Pumpkin Oatmeal, you'll know why it was so hard for me to choose! Then there is Pumpkin Bread, which is absolutely delicious with the streusel topping, yum!! Or No-Bake Pumpkin Cheesecake Balls!
So hard to choose!
So after long deliberation, the recipe I decided upon..... drumroll please.... is a Crockpot Pumpkin Butter Recipe! And you will love it!
It's rich and luscious filled with fall spices and flavors!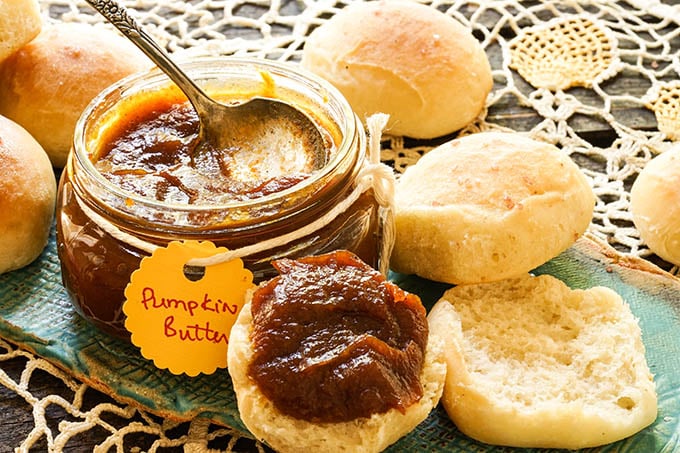 Amish Pumpkin Butter Recipe
If you're looking to cozy up to the fireplace and enjoy a great book with a delicious snack, you should definitely start here!
What is pumpkin butter made of?
Pumpkin butter is made of sugar and spice and pureed pumpkin.
Pumpkin Butter Ingredients
pumpkin puree
white and brown sugar
cinnamon
nutmeg
ginger
allspice
Can Pumpkin Butter be canned?
Home canning is not recommended for pumpkin butter because of the low acidity, even if you use a water bath.
However it can be easily preserved by freezing!
How to make Pumpkin Butter
The prep takes maybe 10 minutes (and that includes pulling out and dusting off the crockpot) and 3 to 3 ½ hours cooking time. All you need to do is stir it once an hour to avoid scorching!
Combine the ingredients in the crockpot.
Cook on low for 3 - 3 ½ hours, stirring occasionally.
Place in a container and refrigerate or freeze.
How long does Slow Cooker Pumpkin Butter Recipe last?
When it's cooled, ladle the butter into small jars and refrigerate. It will last two weeks in the fridge.
Homemade Pumpkin Butter
If you enjoy this recipe, here are more great pumpkin recipe from the blog!
Pumpkin Pancakes with Strawberry Syrup
Pumpkin pancakes - to make them extra special, they are topped with homemade strawberry syrup and they delicious, light & fluffy!
Check out this recipe
Chewy Pumpkin Chocolate Chip Cookies
This cakebox cookie recipe takes a few shortcuts, but delivers with sweet flavor!
Check out this recipe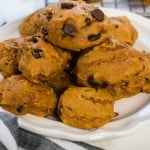 Healthy Chocolate Pumpkin Bars
Healthy Chocolate Pumpkin Bar with loads of flavorful gooey pumpkin puree and the rich-tasting cocoa powder. These bars are chewy, dense, buttery and decadently-chocolaty!
Freaky Friday Blog Hop is hands down my favorite event. My buddy Michaela from An Affair from the Heart hosts this quarterly event.
It takes a ton of coordination, I always think it's like herding cats? 🤣 But somehow she makes it happen ever time!
This time we have 16 bloggers participating. I hope you check out these blogs and find some new favorites!
Take a look at all of our Fall 2019 Freaky Friday Recipes:
An Affair from the Heart - Instant Pot Vegetable Beef Soup
A Grande Life - Easy Beer Cheddar Dip
Aunt Bee's Recipes - Three Cheese Roast Beef Sliders
Bowl Me Over - Crock Pot Pumpkin Butter Recipe
Healing Tomato - Stuffed Acorn Squash
Hostess at Heart - Caramel Apple Pie Snack Mix
House of Nash Eats - Slow Cooker Applesauce Pulled Chicken Sandwiches
LeMoine Family Kitchen - White Cheddar Broccoli Stuffed Baked Potatoes
Lemon Blossoms - Maple Oven Roasted Carrots
Life, Love & Good Food - Pasta Fagioli Soup Recipe
Mildly Meandering - Saffron Rice
Soulfully Made - Salted Dark Chocolate Orange Cookies
Take Two Tapas - Margarita Pizza Pull Apart Bread
The Speckled Palate - Halloween Peanut Butter Chocolate White Chocolate Chip Cookies
West Via Midwest - Easy Garlic Parmesan Chicken Wings
Who Needs a Cape? - Roasted Red Pepper and Artichoke Tapenade
Pumpkin Butter Recipe
Slow Cooker Pumpkin Butter Recipe
Slow Cooker Pumpkin Butter Recipe - Slathered on toast, waffles or muffins it's delicious and filled with yummy fall spices. It's easy to make in your crockpot and everyone loves it!
As an Amazon Associate I earn from qualifying purchases.
Ingredients
15-16

oz.

pumpkin puree

Be sure to use pumpkin puree, not pumpkin pie filling.

¾

cup

white sugar

¾

cup

brown sugar

1

tsp.

cinnamon

½

tsp.

nutmeg

½

tsp.

ginger

½

tsp.

all spice
Instructions
Add all of the ingredients to the crockpot, mix well.

Cover and cook on low for 3-3.5 hours. Stir once an hour to prevent scorching.

Allow to cool. The butter will thicken as it cools.

Store in the refrigerator or freeze to preserve.
Nutrition
Calories:
92
kcal
|
Carbohydrates:
24
g
|
Protein:
1
g
|
Fat:
1
g
|
Saturated Fat:
1
g
|
Sodium:
5
mg
|
Potassium:
73
mg
|
Fiber:
1
g
|
Sugar:
22
g
|
Vitamin A:
4412
IU
|
Vitamin C:
1
mg
|
Calcium:
21
mg
|
Iron:
1
mg
Sign up for my recipes here!!
Don't worry, we'll never share your email.