Sweet Mandarin Orange Jelly is delightful and flavorful! It's a bright burst of sunshine in a jar of homemade jam! It's easier to make than you think and a hundred times better than anything storebought - you'll love this jam!
Next time try the Pomegranate Jam recipe, the flavors are amazing and it's an easy recipes with step by step instructions!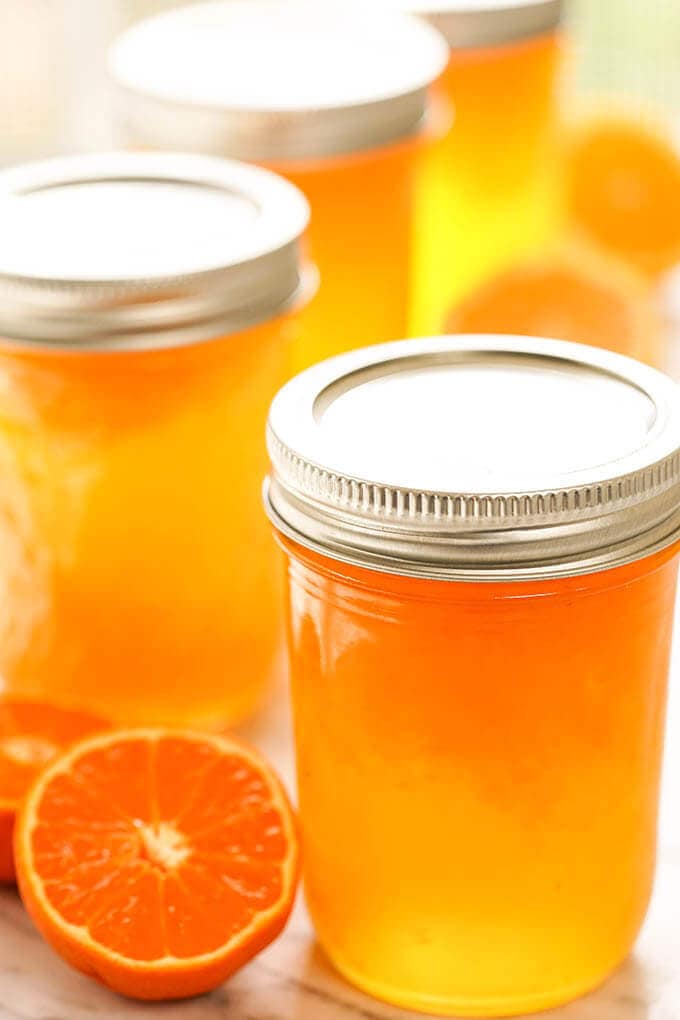 Jump to:
I always take jam and jelly home when we travel. I make sure there's enough for everyone but it always seems like there's an extra jar.
I've joked about this, but it's not unusual for my Aunt's Barb and Shirley to arm wrestle over that one extra jar of strawberry, blueberry or mango jam while the rest of us laugh, giggle and urge them on!
It's also a given that the TSA will search my suitcase when we fly. They inspect the "cargo" and 8 times out of 10 there is a jar missing (true story!). I really should be nice enough and pack some bagels or muffins to serve with the jam, don't you think?
At least I hope they don't open it up and just throw it away!!
Anyway, if you've ever enjoyed handcrafted preserves you know it's nothing like you get from the market. The flavors are amazing, real fruit with tons of flavor!
This recipe for orange jelly is one my friend Michelle shared with me many years ago. It has a sweet delicate flavor and it tastes like what I imagine is sunshine in a jar. This is one of my favorite jams!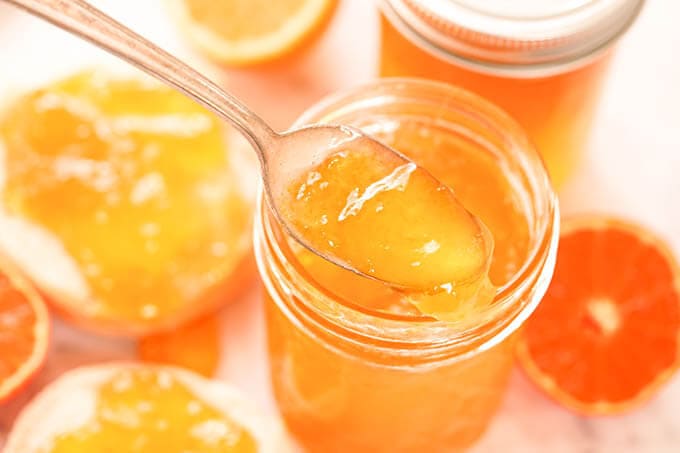 I think mandarins are my favorite winter fruit, they have such a bright fresh flavor and the natural sweetness is so delicious! Living here in the Central Valley this fruit is readily available. It's not unusual for us to go thru 40 lbs. over the wintertime. AND it makes the BEST jelly!
Ingredients for Mandarin Orange Jelly
mandarins oranges
lemons
sugar
liquid pectin
butter
Instructions
Sterilize the jars, lids and rings.
Juice the mandarins and lemons.
Add juices, sugar and butter to a large pot and bring to a boil.

Boil hard for 1 minute, stirring constantly.
Add 1 package Liquid Certo, bring back to a full boil. Boil hard for 1 minute more.
Remove from heat and immediately ladle into sterlized jars.
Add the lid and screw on tightly.
Process in a boiling water canner for ten minutes to seal completely.
Makes 7 to 8 half pint jars of jelly.
FAQ's
Is a mandarin the same as an orange?
No, they are different. Mandarins are smaller and sweeter than oranges. They have loose skin that is easy to peel.
Can I substitute Orange Juice for the Mandarin Juice?
Yes you can as long as it's fresh squeezed (I would not substitute frozen). I prefer mandarin because the flavor is more concentrated and intense, but if you don't have/can't get mandarins use fresh squeezed orange juice instead.
Is marmalade the same as jelly?
Here's the difference; jelly uses the juice of the fruit and marmalade is made from citrus with the bits of the peel suspended in the jelly.
Is orange jelly hard to make?
No, you totally got this! If you can read and follow directions you can make this jam! What you may need are some basic canning supplies. There's a link at the bottom that shows you exactly what you need. Orange jam is easy to make!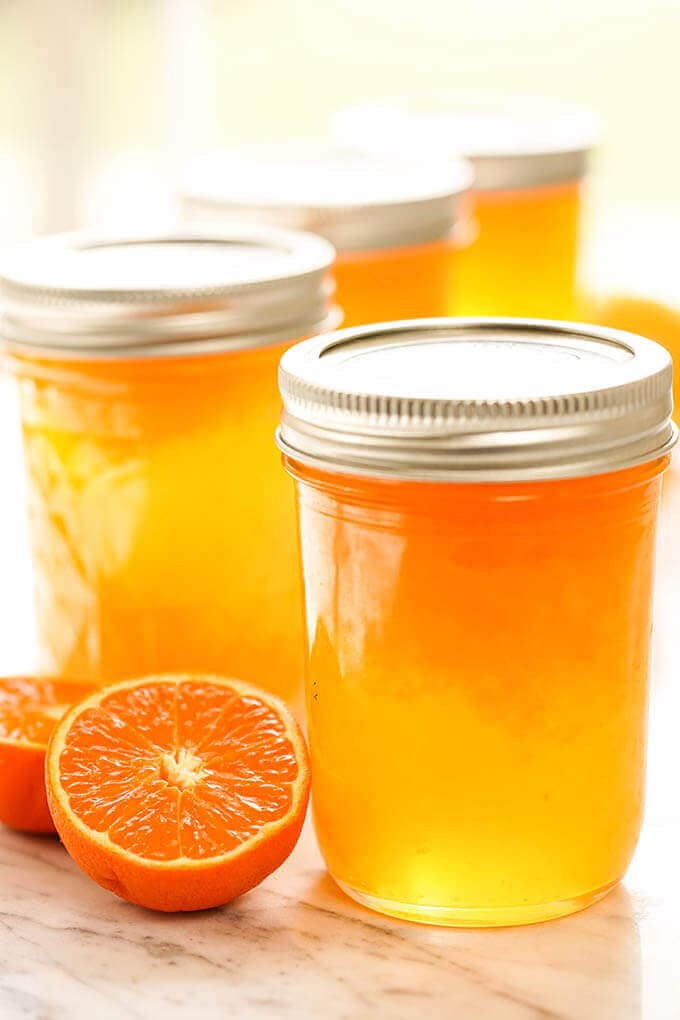 Tips to make orange jam
Follow the directions exactly. When the directions say boil for one minute, boil one minute exactly - set a timer!
Do not use an artificial sweetener, sugar substitute or eliminate the sugar, even a portion of it! This can cause the jam to not set up properly OR the jam could spoil, growing mold on the top!
When you remove the jam from the stove, it's going to smell amazing and look gorgeous! Resist the urge to stick your finger in it to test it! It's basically boiling sugar and will burn you! Ummm... speaking from experience here. 😋
The jam may seem runny at first. Allow it to completely cool to room temperature. It can take up to 3-4 days for the jam to be completely jelled.
You've seen bags of  "Cuties" in the store, right? They would be perfect for this Orange Jelly Recipe! Cuties are a specific type of mandarines known as tangerines.
Related Recipes
Mandarin Orange Jelly
Orange Jelly has all the flavors of summertime packed into a delicious jar of homemade jam! This is an easy jam to make that is full of bright citrus flavors!
As an Amazon Associate I earn from qualifying purchases.
Ingredients
4

cups

fresh mandarin juice

don't strain, just pull out seeds and big pulp pieces

7

cups

sugar

¼

cup

lemon juice

only use freshly squeezed lemon juice

1

tablespoon

butter

1

package

Liquid Certo Pectin

Pectin
I earn a commission from Instacart from qualifying purchases.
Instructions
Sterilize the jars, lids and rings to prepare for jam.

Juice the mandarins and lemons.

Measure the juices exactly. Combine orange juice, cups of sugar and butter to a large heavy bottom pan. Place over high heat. Stir until the sugar dissolves and bring to a full rolling boil. Boil hard for exactly 1 minute, stirring constantly.

Add 1 package Liquid Certo, bring to boil and boil hard for 1 minute more. Remove from heat and immediately ladle the hot jelly into sterile jars leaving ¼ inch headspace.

Using a damp, clean paper towel, wipe off the tops of the jars and then add the lid. Screw the ring on the jar and process in a hot water bath for 10 minutes to seal. 

Makes 7-8 pint jars of Orange Juice Jelly
Notes
Each box of

Liquid Certo Pectin contains two pouches. You'll use one pouch to make this jam. Save the second one for another batch of jam. Do not use powdered gelatine.
To properly sterilize canning jars, wash jars first then place them in a large sauce pan covered with boiling water. Boil for 10 minutes to completely sterilize the jars.
Measure the exact cups of sugar, do not use less sugar than the recipe calls for or your jam may not set up. Do not use artificial sweeteners.
Nutrition
Calories:
996
kcal
|
Carbohydrates:
251
g
|
Protein:
1
g
|
Fat:
2
g
|
Saturated Fat:
1
g
|
Cholesterol:
5
mg
|
Sodium:
20
mg
|
Potassium:
342
mg
|
Sugar:
246
g
|
Vitamin A:
390
IU
|
Vitamin C:
87.4
mg
|
Calcium:
23
mg
|
Iron:
0.5
mg
Sign up for my recipes here!!
Don't worry, we'll never share your email.