Homemade Strawberry Jam with sweet berries and tart lime makes the most amazing preserves! It's easier to make than you think and once you make it you'll never buy jam again!
PIN IT HERE!!!
First Published: August 1, 2018… Last Updated: April 18, 2019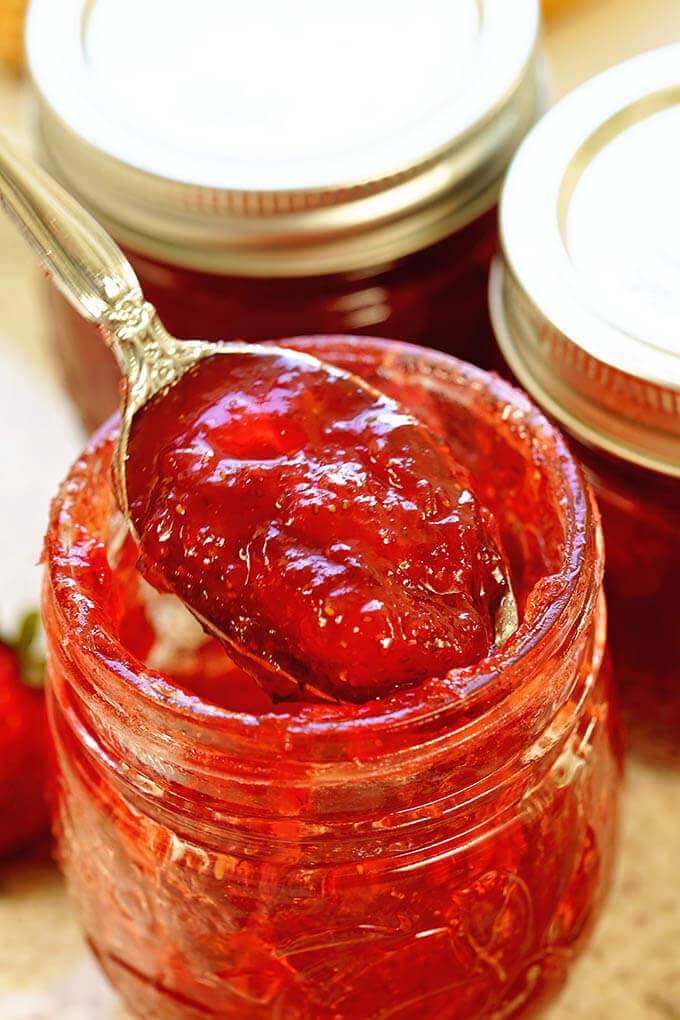 Homemade Strawberry Jam
Mix some tequila, lime and salt into strawberry jam and you have a Strawberry Margarita on toast! I am getting ready to go to the family reunion up in Oregon. That means I started making jam about six weeks ago…
Mandarin Orange Jelly, Christmas in July Pepper Jam and Blueberry Pizzaz Jam are all requested!
Everyone really loves homemade jams and jellies! My Aunts Barb and Shirley have been known to arm wrestle for it! I love that they really enjoy this treat and I never visit empty handed.
This time I developed a new recipe that I'm excited to share and let me tell you, this one already has BIG stamps of approval from the friends that I've shared it with!
Homemade Margarita Jam definitely gets two BIG thumbs up! 👍👍
Strawberry Jam Recipe
How long has it been since you've done any canning? Has it been awhile? If so, now's the time to jump back into jamming and let's start by answering a few questions.
Are preserves and jam the same thing?
Pretty much, the names are used interchangeably. In both jam and preserves you'll find pieces of fruit.
Is jelly the same as jam?
Nope, they are different! As I'd mentioned above jam contains pieces of fruit. Jelly is made from fruit juice.
Why do you put lemon juice in strawberry jam?
Lemon or lime juice is added when canning to prevent the growth of bacteria.
Is pectin necessary for jam?
Pectin doesn't preserve jelly or jam, but helps it jell so it isn't too runny.
For more information on making homemade preserves visit National Center for Home Food Preservation.
Helpful hints when making jam –
Clean the fruit by soaking it. Using 1 part vinegar to 3 parts water, add the fruit and swish around really well.
Never change the amount of sugar the recipe calls for. The sugar not only sweetens the fruit but also preserves it. If you reduce the amount of sugar, you may end up with mold on top of the jam even though you've sealed it properly.
Don't change the amount of fruit – if you put in too little, it can get too thick, like paste! Too much fruit and it may not set and will be syrupy.
Although the jars and rings are reusable, the lids are not.
How to make Homemade Strawberry Jam
I know you're absolutely going to love this recipe! Jam making isn't hard but you do have to be precise. When the recipe calls for boiling just one a minute, set a timer. Over processing can make the jam set incorrectly. And the longer it's boiled the more flavor is removed from the fruit.
Trust me, This is the closest I've ever gotten to chemistry as I (ahem…) graduated from the school of hard knocks! 🤣🤣🤣
If you like this jam, you'll definitely want to try other jam recipes on my site like; Ja Makin' Me Crazy Mango Jam (seriously delicious!) Bam Bam Pomegranate Jam (with a great POP of spice), or Low Sugar Blueberry Jam and this one is so easy my 10 year old niece made it!
More uses for preserves
Grilling chicken, pork or shrimp? Jams and jellies are a flavorful quick and easy glaze.
I use a spoonful in salad dressings to add great flavor!
What if the jam doesn't set? Label it as syrup and no one will be the wiser.
Preserves make a great hostess gift!
Step by step directions for homemade strawberry jam recipe
Clean and hull the strawberries (do not chop).
Add the strawberries to a large heavy bottom pan. Using a potato masher, mash the berries well.
Add the juice and zest of the lime and salt as called for in the recipe.
Measure 1/4 cup of sugar and mix it with the contents of the Sure-Jell. Sprinkle it into the berry mixture and set it onto the burner on high and bring to a boil, stirring constantly.
When it comes to a hard boil that you cannot stir down, add the remaining sugar.
Stirring constantly, return it to a hard boil and boil exactly one minute.
Remove from the heat and stir in the tequila.
Immediately ladle into clean, sterilized jars.
See it's not hard to make!
Amazon Disclosure: Some of the items below contain affiliate links; I am a participant in the Amazon Services LLC Associates Program, an affiliate advertising program designed to provide a means for us to earn fees by linking to Amazon.com and affiliated sites. However, I only promote things that I love and think you will love, too. For more information, please see our Disclosure Policy.
Essential Tools to make Homemade Strawberry Jam
heavy bottom pan
ladle
canning jars, lids and rings
hot pan holders
timer
funnel
lifting tongs
Try this recipe and love it? Please give me a five-star rating below, I sure would appreciate it!
If you snap a photo and share it please tag me #bowlmeover or @bowl_me_over so I get to see your photos!
Lastly, if you have any questions, don't hesitate to comment below or email me [email protected]
Print
Homemade Strawberry Jam
Sweet summertime berries, tart lime and the peppery bite of a great tequila combine to make the most delicious strawberry margarita jam!

Ingredients
5

cups

crushed strawberries

You'll need about 10 cups whole strawberries to make 5 cups crushed

1

tsp

salt

1

lime

zested and juiced

1/4

cup

tequila

use good tequila!

4

cups

sugar

1

1.75

sure-jell pectin

PINK BOX
Instructions
Clean the strawberries and remove the stems (do not chop).

Mash the berries with a potato masher. Measure out exactly 5 cups of crushed berries. Add to a large heavy bottom pot.

Add the juice and zest of the lime and one teaspoon salt




Measure 1/4 cup of sugar and mix it with the contents of the Sure-Jell. Sprinkle it into the berry mixture and set it on the burner. Turn on high and bring to a boil, stirring constantly.

When it comes to a hard boil (one that you cannot stir down) add the remaining sugar.

Return it to a hard boil and boil exactly one minute.

Remove from the heat. With hot pan holders on immediately stir in 1/4 cup tequila. It will bubble and spit a bit! Continue to stir until it is completely incorporated, about a minute.

Ladle into clean, sterilized jars.


Using a paper towel clean the top of the jar off completely.

Add the lid and screw top. Screw the lid on tightly. Process in a hot water bath for 10 minutes to seal.

Remove from the hot water bath and place on a heat-proof surface. You'll hear the jars pop and you'll know they are sealed.
Notes
This recipe makes 6 pints of jam.
Nutrition
Calories:
101
kcal
|
Carbohydrates:
25
g
|
Sodium:
67
mg
|
Potassium:
32
mg
|
Sugar:
23
g
|
Vitamin C:
12.3
mg
|
Calcium:
4
mg
|
Iron:
0.1
mg
Sign up for emails here!
Don't worry, we don't share emails!