Spring is the peak of strawberry season, and it's the best time to make this old fashioned Strawberry Preserves recipe! This low-sugar jam combines strawberries and figs. It's heavenly!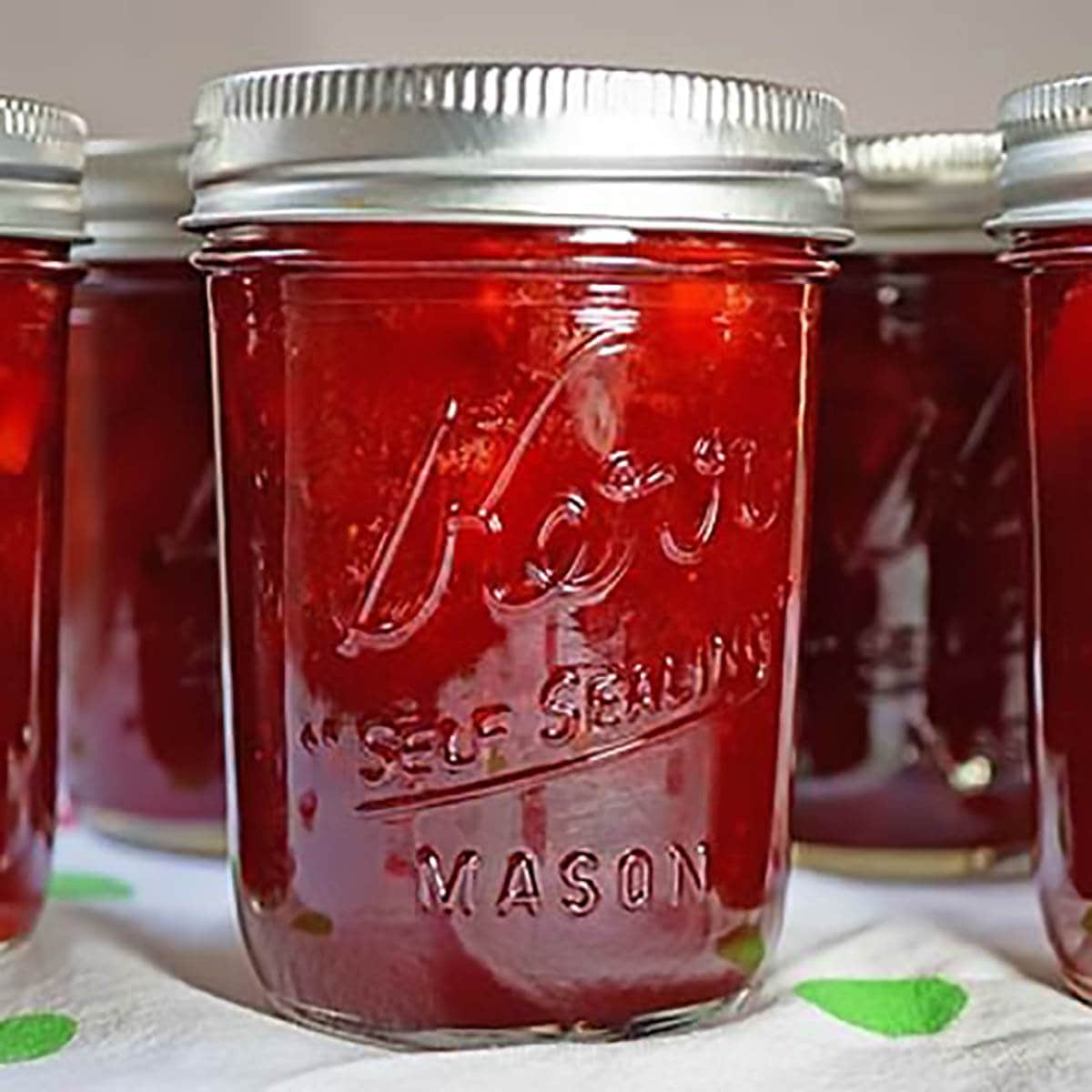 Love this jam? Then you'll definitely want to try Strawberry Rhubarb Jam next! It's sweet and tart and just so good!
Jump to:
Why you'll love this recipe
This strawberry preserves recipe is the MOST requested jam on the blog, it's everyone's favorite! The combination of strawberries and figs is exquisite, the jams is sweet and delicious.
It's a great recipe to try. If this is your first time canning or you've never made preserves. The canning process is not that hard. It uses simple ingredients This jam is absolutely delicious!
Whether you gather your berries at the u-pick farm, grocery store or farmers market the best way to enjoy them all year long is by making a batch of strawberry preserves.
Ingredients
fresh strawberries - fresh strawberries are best! When making jam, fresh fruits are best when used at their height of ripeness and flavor.
figs - dried figs are called for in this recipe.
chinese five spice - optional spice, but it really accents the sweetness of strawberries and figs.
red wine - optional also, but the wine adds depth of flavor to the preserves.
low sugar pectin - low sugar sure-jell - this is the one in the pink box.
sugar - pure cane sugar, it will set up best.
I make lots of jam every year to give my family and friends. Homemade jam is a great gift (especially during the holidays!), everyone loves homemade jam!
Instructions
This is an overview of the instructions. For complete directions for the strawberry preserves recipe scroll down to the bottom and check the recipe card.
Clean and hull the fresh berries (do not chop).
Nip the ends off the figs and chop them into small pieces.
Measure the exact amount of sugar, and set aside.
Add the whole fruit strawberries, chopped figs, and spices to a large pot. Using a potato masher, mash the fruit mixture well.
Remove ¼ cup sugar from the 4 cups of sugar and mix it with the contents of the Sure-Jell. Sprinkle it into the berry mixture, set it on the stove, and boil, stirring constantly.
When it comes to a full rolling boil (that you cannot stir down - see video for example), add the remaining cups of sugar.
Stir constantly and return to a hard boil. Boil for exactly one minute.
Remove from the heat and immediately ladle the hot preserves into sterilized glass jars.
Tap the filled jars on the counter; this will help air bubbles escape.
Clean the tops of the jars off with a clean towel. Place the metal lids on top and screw the rings on the filled jars.
Process in a boiling water bath for 10 minutes to help seal the jar.
FAQ's
How long do fruit preserves last?
If sealed correctly, preserves will last in your pantry for a year!
Are strawberry preserves the same as strawberry jam?
There is a small difference between preserves and jam. The fruit in preserves is often chopped. In jam the fruit is crushed. Because the berries are crushed, this yields more juice. In this recipe, a portion of the fruit is chopped and the remainder is crushed.
What is a rolling boil?
A rolling boil is when the mixture is boiling so hard you can't stir it down. Even though you're stirring as quickly as possible, the fruit still boil. See short video below.
Why are berries mashed instead of chopped?
Mashing the berries releases their juices and the jam will be more flavorful! If you slice or just cut up the berries the end result will be the jam isn't as flavorful.
What is a hot water bath?
A boiling-water bath is water boiling in a large pot. Jars of jam are lowered into the boiling water for 10 minutes. This will help the jars seal.
If you're new to making homemade jam and have more questions, be sure to check How to make homemade Jam - it's has all my tips and tricks and it's so helpful!
How to mash strawberries
What a rolling boil looks like
How to ladle jam into jars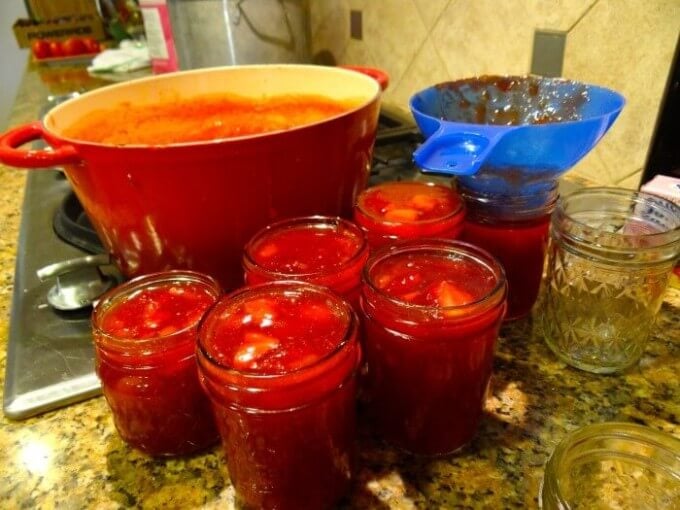 Strawberry Fig Preserves
This low sugar Strawberry Preserves Recipe is just as delicious as the high-sugar recipes!
Because many of my family members suffer from diabetes. This is a low sugar version so everyone can enjoy it without worrying about their blood sugar.
If you've ever tasted the low sugar store-bought jams and jellies, they are often more juice and less berry. This recipe is so much better!!
Combining figs and strawberries is great because the figs really give the berries a great depth of flavor as does the Chinese Five Spice or curry. I know you're going to love this - it's just fabulous!
Tips
Always wash jars in hot soapy water and sterilize them prior to canning.
Always use the exact amount of sugar. Don't use a sugar substitute either. The preserves may not set correctly or it could mold.
Use fresh berries! Fresh fruit always tastes better than old.
Great places to find fresh strawberries are your farmers' market, a u-pic farm or your local grocery store.
Want all my best tips to make homemade jams and jellies? I have a post completely dedicated to it - Homemade Jam: A Complete Guide.
Storage
Store the homemade strawberry jam in a cool dark place after the jars have sealed.
Opened or unsealed jars should be refrigerated.
Essential tools to make jam
heavy bottom pan
potato masher
wooden spoon
ladle
mason jars, half-pint jars, canning lids and rings
hot pan holders
jar lifter
timer
funnel
Related Recipes
Love homemade Jam? Next time you make jam, here are more delicious recipes to try!
Serving suggestions
Of course this is amazing for a peanut butter and jelly sandwich!
Use this yummy jam to make Strawberry Sandwich Cookies - YUM!
Warm up the jam and serve it over a scoop of vanilla ice cream.
Homemade Strawberry Preserves Recipe
Low Sugar Strawberry Jam is sweet and delicious and it's everyone's favorite homemade jam recipe.
As an Amazon Associate I earn from qualifying purchases.
Ingredients
2

cups

figs

stems removed and chopped

4

cups

fresh ripe strawberries

hulled and sliced in half

1

cup

red wine

2

Tablespoons

fresh lemon juice

2

tablespoons

Chinese five spice

1

tablespoon

yellow curry powder

4

cups

sugar

1

package

low/no sugar Sure-Jell powder

(the one the pink package)

12

4 oz

canning jars with lids and rings
I earn a commission from Instacart from qualifying purchases.
Instructions
In a heavy stock pot, combine strawberries, figs, red wine, curry, lemon juice & Chinese five spice. Using a potato masher, mash them by hand until they are crushed.

Measure ¼ cup of sugar and mix it with the contents of the Sure-Jell. Sprinkle it into the berry mixture and set it on the stove. Increase high heat and bring to a boil, stirring constantly.

When it comes to a hard boil (a hard boil is one you can't stir down with spoon) add the remaining sugar.

Continue stirring constantly and return it to a boil and when it comes back to a hard boil, continue boiling it for one full minute. (Set a timer to make sure you get it for a full minute).

Remove from the stove, and skim the pink foam from the top of the jam if desired.

Immediately ladle the strawberry mixture into sterilized, hot jars, leaving ¼ inch headspace.

Wipe off the top of the jars. Place lids on jars, screw on tightly. Wipe off the top of the jars. Place lids on jars, screw on tightly. 

Process in a boiling water canner for 10 minutes to seal the jars. Allow jars to cool to room temperature. Store unopened jars in the pantry, open jars should be refrigerated.

Makes 1 dozen 4 oz. jars.
Nutrition
Calories:
94
kcal
|
Carbohydrates:
23
g
|
Sodium:
3
mg
|
Potassium:
42
mg
|
Sugar:
21
g
|
Vitamin A:
5
IU
|
Vitamin C:
8.6
mg
|
Calcium:
7
mg
|
Iron:
0.3
mg
Sign up for my recipes here!!
Don't worry, we'll never share your email.
Recipe backstory
When my brother and I were kids, we'd pick strawberries in the summer to earn money. Don and I were probably seven and nine years old when we started picking strawberries.
We would go up to the bus stop at 5 a.m., the farm bus would pick us up and take us to the field. We'd spend all day picking. Pretty sure we whined the entire time!
Don and I weren't the most dedicated pickers (we were just kids!). Because of this, we were often stuck picking "side-by-each" because we wouldn't pick the row clean enough.
This resulted in Don tormenting and teasing me - I would cry and whine. In the end my brother would pelt me with strawberries and I would tattle on him 😀
You understand, right? It's what brothers and sisters do!
Anyway, you'd think after toiling in the berry fields for years I would hate strawberries, but it's the opposite – they are my favorite fruit! Of all the jams I make pepper jam, mango or orange jelly, still this strawberry jam recipe is the most requested jam!
First published April 24, 2018 - Updated June 26, 2021 to improve instructions