Ja Makin' Me Crazy Mango Jam - perfectly ripe mangos Caribbean spices enhance the tropical flavors. This is really, really good!
Ja Makin' Me Crazy Mango Jam is a juicy jam with packed with mangos and raspberries. The mango is tangy and tropical and the raspberries add a hint of sweetness. It's the perfect combination of lovely fruit and they combined to make a serene color. The spices combined with mango add a tropical flavor. Think Caribbean sunset with delicious island flavors!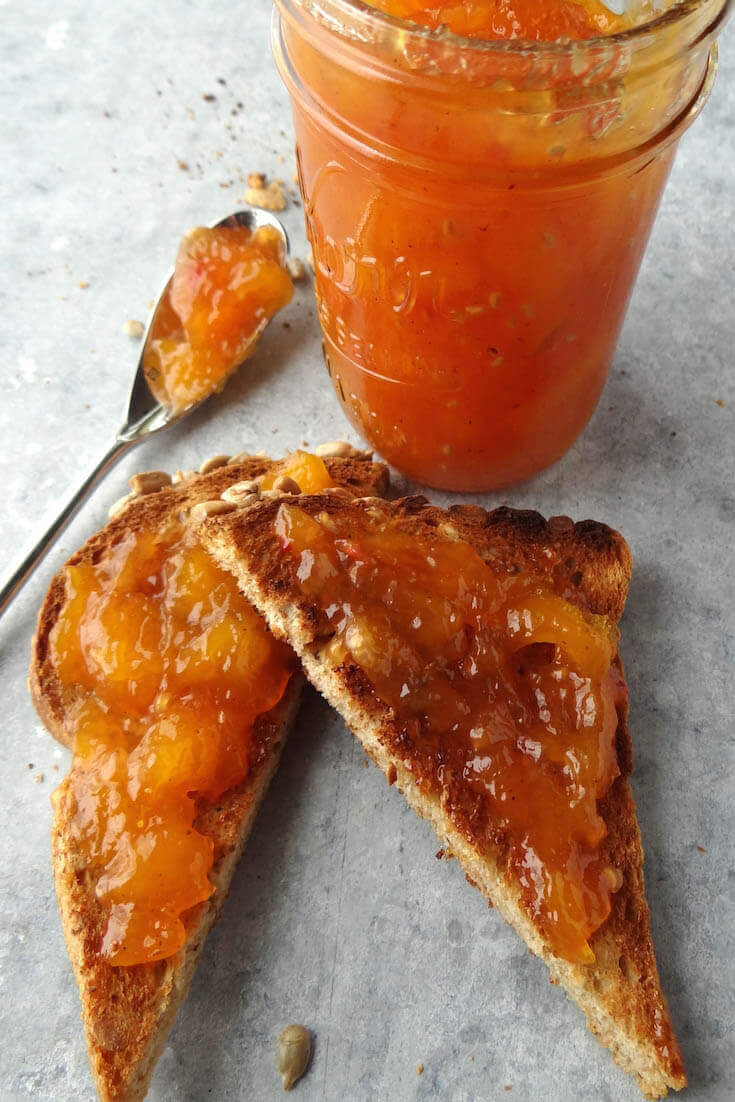 Ja Makin' Me Crazy Mango Jam
Since I shared my recipe for the Jerk Chicken Bowl with California Fig Salsa (which included mangos) I wanted to continue sharing those same bright flavors and this jam came right to mind!
But let me tell you how this jam really came to be....
I've made mango jam several times, however this time I realized I was short and needed more fruit. I wasn't about to go to the store so I opened the fridge and realized I had some raspberries - perfect!
And then thought I'd spice it up with some interesting flavors and that's how this jam was born.
The raspberries add just a bit of flavor, but really spike it with a pretty color. The Caribbean spices; nutmeg, cinnamon & ginger and infuse the jam with the best of tropical flavors!
Mango Jam Recipe
If you haven't eaten mango before, here's some great information to help you learn more about this fruit!
Is mango rich in pectin?
Actually it's not - many fruits with seeds are rich in pectin but mangos aren't one of them.
How can I tell when a mango is ripe?
similar to an avocado, when you press on a mango the flesh will be slightly soft
it will have a slightly sweet aroma
the color of the skin has nothing to do with ripeness, don't rely on the color of the skin.
How do I store mangos?
unripe mangos should be kept on the counter until they are ripe and sweet
store ripe mangos in the refrigerator for 4-5 days.
What mangos to pick for mango jam?
Pick mangos at their peak of ripeness. Overripe fruit will not produce the best jam, underripe mangos aren't juicy or sweet.
How do I stop a mango from ripening?
If your mango is ripe but you're not ready to make jam, store it in the refrigerator. Ripe mangos will keep in the refrigerator four to five days.
I make a lot of jams and jellies during the summer! Because many of my family members are diabetic, I use a low sugar jam making method using the pink box of pectin from Sure-Jell.
I've found the low sugar versions to be just as delicious, the key is using fresh fruit at it's peak of flavor. I've experimented using sugar substitutes and it changes the taste and I have not found one I'd recommend.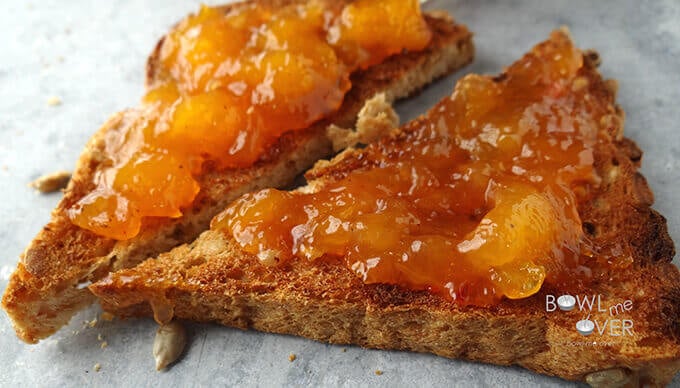 How to make Mango Jam
This is one of my favorite jams and I think you will enjoy it as much as we do! The sweet juicy mangos and raspberries pair perfectly with the spices and enhance the tropical flavors in this low-sugar jam.
I think many folks shy away from making jam, but it's and tropicalnot hard at all. It takes 30-45 minutes in the kitchen and in the time it takes to seal the jars at the end, you'll have your kitchen cleaned up and some delicious jam to enjoy or give as a gift!
Hungry for more mango madness? Here are some great recipes to try!
Summertime is the best time to make jam when fruit is fresh and in season! Making jam is easier than you think. I have several wonderful recipes on the blog and you can find a complete listing of them clicking here!
The most popular jam recipe on my blog? Christmas in July Pepper Jam! It's an easy jam to make and a great holiday gift!
Here are some helpful hints when making jam –
Clean the fruit by using 1 part vinegar to 3 parts water, add the fruit and swish around really well.
Don't change the amount of sugar the recipe calls for. The sugar not only sweetens the fruit but also preserves it. If you reduce the amount of sugar, you may end up with mold on top of the jam even though you've sealed it properly.
Don't change the amount of fruit – if you put in too little, it can get so thick, it's like paste – too much fruit it may not set and will become syrup.
Although the jars and rings are reusable, the lids are not – you'll need to purchase new ones.
Want more information on making Homemade Jam? Click here for a ton of information - all my tips and tricks for how to make jam! You'll be a Master Jammer in no time!!
More delicious Homemade Jam recipes to try!
I am a participant in the Amazon Services LLC Associates Program, an affiliate advertising program designed to provide a means for us to earn fees by linking to Amazon.com and affiliated sites.
If you post a photo, please tag me! I'd love to see your pictures! You can tag me with #bowlmeover or if you're on Instagram use @bowl_me_over I can't wait to see how yummy this turned out for you!
I would love it if you gave this recipe 🌟🌟🌟🌟🌟 stars!!
Ja Makin' Me Crazy Mango Jam
Ja Makin' Me Crazy Mango Jam - perfectly ripe mangos Caribbean spices enhance the tropical flavors. This is really, really good!
As an Amazon Associate I earn from qualifying purchases.
Ingredients
5 ½

cups

mango

diced into a small ½ inch dice

½

cup

raspberries

¼

cup

fresh lemon juice

1

teaspoon

cinnamon

½

teaspoon

ground ginger

½

teaspoon

nutmeg

1

tablespoon

butter

3

cups

sugar

1

package low sugar SureJell Fruit Pectin

(pink box)
Instructions
Clean & sterilize jars, lids and rings.

Measure 3 cups sugar into a large bowl. Remove ¼ cup sugar and in a separate bowl, mix it with the powered Sure-Jell. Set aside both mixtures; the sugar and Sure-Jell/sugar.

Peel the mangos, remove the seeds and chop into a small ½ dice. You will need 5 ½ cups chopped mango. Clean raspberries, measure ½ cup - add both to a heavy bottom stock pan on the stove. Add in the spices, lemon, butter and Sure.Jell/sugar mixture and stir thoroughly.

Place mixture over high heat and bring to a boil stirring constantly. When it comes to a hard rolling boil (one that you can't stir down) add the remaining sugar and return to a boil, again stirring constantly.

Boil hard for exactly one minute and remove from heat. Ladle into clean, sterilized jars.

Clean the tops of the jars carefully (so you get a good seal). Place lids on jars and screw on the rings.

Place the jam in a hot water bath for 10 minutes - this will help seal the jars. Remove from heat and place them on a heatproof surface (I usually use a heavy cutting board. You'll hear the jars make a popping noise as they seal. You can check to see if the jars have sealed by pressing down in the center of each jar. If it is sealed, it will not move. If it didn't seal the "button" on the top will pop up & down.
Nutrition
Calories:
505
kcal
|
Carbohydrates:
125
g
|
Protein:
1
g
|
Fat:
2
g
|
Saturated Fat:
1
g
|
Cholesterol:
5
mg
|
Sodium:
19
mg
|
Potassium:
281
mg
|
Fiber:
3
g
|
Sugar:
121
g
|
Vitamin A:
1695
IU
|
Vitamin C:
62.4
mg
|
Calcium:
25
mg
|
Iron:
0.5
mg
Sign up for my recipes here!!
Don't worry, we'll never share your email.
First Published: July 15, 2017 Last Updated: June 17, 2019