Sweet papaya, mango and freshly squeezed lime combine in an easy-to-make Papaya Jam Recipe. You'll love this jam!
Mai Tai Papaya Jam has the tropical flavors of the islands with sweet papaya and mango with freshly squeezed lime! Enjoy exotic flavors with this easy-to-make homemade jam!
How about making some Strawberry Fig Jam next? This recipe is AMAZING!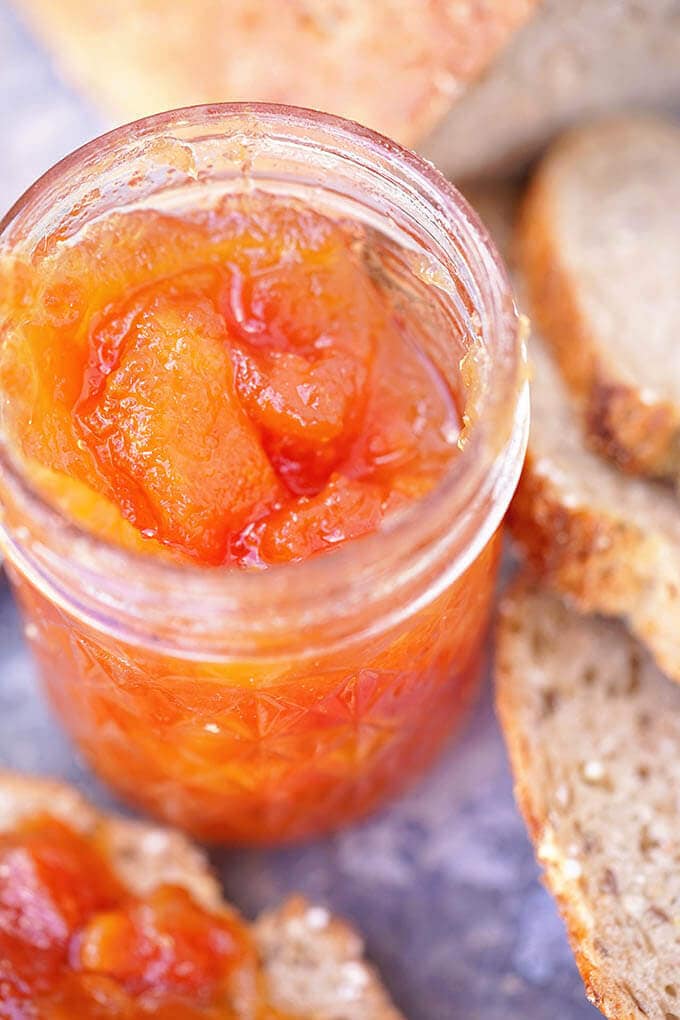 Fresh Papaya Jam
Safe to say, this ain't your Grandma's Jam, but I suppose my Grandma would have never made this jam to begin with right? But I know she would love it!
We were just up to visit family in Oregon and when we travel I always bring jam home to share. Everyone loves it!
I was really proud of myself this year as I had quite the stash of jam - I carefully packed up 24 jars. Wrapped them well and dedicated an engine suitcase just for the jam
When we got to Mom and Dad's I jokingly said, how many jars of jam do you think the TSA took this time? (When I pack jam in checked luggage, my bags are always searched.)
Mom said, that's a bet I'm not taking!
And sure enough, there was the notice. However, I was quite disappointed to see that two jars were missing and one was broken. 😔
I get it - of course, I want everyone (and myself!) to be safe, so I understand why it's inspected, but three jars? Seriously... I need to start packing croissants to go along with the jam, don't you think?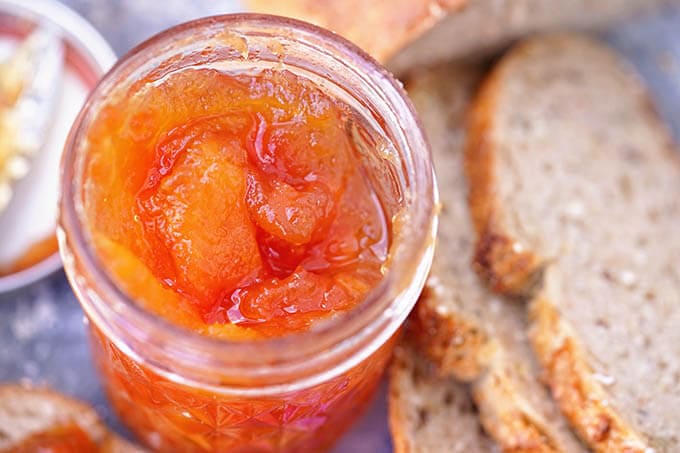 Papaya Marmalade Recipe
If you've never tried papaya, it's a tropical fruit native to Mexico and Central America. It's very sweet. The flesh is a bright, burnt orange color.
Some say the smell of papaya can be off-putting. But that can be correct by squeezing fresh lime over the top!
If you want to try papaya first, then my easy papaya breakfast bowl would be a great recipe to start with. I love this recipe and I bet you will too!!
But I'm willing to bet if you enjoy a Mai Tai you'll love this jam!
Papaya Jam Ingredients
Ingredients for Papaya Jam Recipe
papaya - look for a bright yellow mango, that means it's ripe!
mango - a ripe mango will smell sweet (click here for tips about choosing ripe mango).
lime - for tart and tangy with bright fresh flavor.
white sugar - necessary to preserve jam
brown sugar - again necessary but it also adds more intense flavor from the molasses in brown sugar.
dark rum - a twist of vanilla and molasses with a bit of fire!
low sugar pectin - to preserve the jam
Can I make the jam without the rum?
Yes, if you want to skip the alcohol, you can. It will not effect how the jam sets. However, the alcohol burns off so don't think you can't enjoy it for breakfast.
For this recipe you need 1.7 - 2 ounces of dark rum. If you don't normally buy rum, coincidently this is how much run is in the little sample bottles. Just grab one of them, it will work perfectly!
I used a rum called Jonah's Curse. A Caribbean spiced rum with vanilla and cinnamon, it's a perfect compliment for this jam. Can't find that rum? Use your favorite dark rum.
How to choose a ripe papaya?
Look for fruit that have mostly yellow skin with just a little green. It is fully ripe when it's bright yellow in color.
How do you eat a papaya?
It's actually really easy to prepare. Like a cantaloupe, you simply slice it in half, scoop out the seeds (and discard) and peel off the skin. Then dice it.
What are the benefits of papaya?
Papaya has amazing health benefits! One of which is it's high in vitamin C - no surprise, right? Just look at that bright vibrant flesh!
Because it's high in fibre, just like everything else - eat in moderation, right?!!
Love the idea of making homemade jam and jelly, but have a few more questions? Check out my Jam Making Guide for all of my tips and tricks to make the BEST preserves at home!
😋 Related Recipes
I'm such a fan of homemade jams and jellies, there are several on the blog to choose from! Mango, Pepper and Orange Jam - just to name a few! Here are more excellent homemade jellies for you to try at home!
Strawberry Rhubarb Jam Recipe
Low Sugar, easy to make Strawberry Rhubarb Jam Recipe that is tang and delicious! Juicy strawberries and tart rhubarb make a luscious jam recipe that is the BEST! T
Check out this recipe
Homemade Apricot Jam
Have you ever made jam or jelly? It's easier than you think! My recipe for Homemade Apricot Jam is simple & delish with bright pure apricot flavor!
Check out this recipe
Homemade Strawberry Jam
Sweet summertime berries, tart lime and the peppery bite of a great tequila combine to make the most delicious strawberry margarita jam!

Check out this recipe
Bam Bam Pomegranate Jam
Perfectly sweet with just a touch of heat Bam Bam Pomegranate Jam is delicious topping off bread & butter or your favorite PB&J. I use jam to make delicious homemade salad dressings too - it's so versatile!
Check out this recipe
Papaya Jam with Pectin
I am a participant in the Amazon Services LLC Associates Program, an affiliate advertising program designed to provide a means for us to earn fees by linking to Amazon.com and affiliated sites.
If you are interested in doing some jamming here are the basic must-have's!
Don't forget to check out my Amazon storefront for some of my favorite products! 🛍️
When you make this please comment below and let me know what you think! I'd love it if you tag me on Instagram @bowl_me_over or #bowlmeover - so I can see your photos!
If you love this recipe please leave a ⭐⭐⭐⭐⭐ rating!
Papaya Jam
Mai Tai Papaya Jam
Sweet papaya, mango and freshly squeezed lime combine in an easy-to-make Papaya Jam Recipe. You'll love this jam!
As an Amazon Associate I earn from qualifying purchases.
Ingredients
4

cups

papaya

fresh papaya, peeled, seeds discarded and diced.

2

cups

mango

peeled and diced

4

cups

white sugar

1

cup

brown sugar

2

limes

juiced

1.7

oz.

rum*

often referred to as a "mini bottle" or "airplane bottle" it's a small sampler you can find at any liquor store.

1

Sure-Jell Low Sugar Pectin

Make sure it's the pink box.
Instructions
Begin by washing the fruit - wash it well.

Peel the papaya - discard the seeds and dice. Measure exactly four cups. Peel the mango, discard the seed - dice the flesh - measure two cups. Add the fruit to a large heavy bottom pan.

Juice both limes, add to the fruit.

Measure ¼ cup of white sugar and mix it with the contents of the Sure-Jell. Sprinkle it into the fruit, mix well again and set it on the stove on high and bring to a boil, stirring constantly.

When it comes to a hard rolling boil (a boil you can't stir down) add the remaining sugar - both the white and brown. Continue stirring constantly and return it to a boil. Boil for exactly one minute. (Set a timer to make sure you get it for a full minute).

Remove from the stove and immediately stir in the rum. It will bubble and spit so be sure to wear a hot pad holder. Continue to stir it until the bubbles cease.

Immediately ladle into sterilized jars. Using a clean damp cloth, wipe the tops of the jars to remove any jam that may have gotten on the top of the lids. (This will keep the jars from sealing.)

Place lids on jars, followed by the rings, screw it on tightly. Process in a hot bath (boiling water) for 10 minutes to seal the jars.Makes 6 eight oz. jars.
Notes
* The rum is totally optional - if you're not a fan you can certainly leave it out. BUT! I encourage you to try it - after all that's why it's called Mai Tai! 
Nutrition
Calories:
24
kcal
|
Carbohydrates:
6
g
|
Protein:
1
g
|
Fat:
1
g
|
Saturated Fat:
1
g
|
Sodium:
1
mg
|
Potassium:
10
mg
|
Fiber:
1
g
|
Sugar:
6
g
|
Vitamin A:
47
IU
|
Vitamin C:
3
mg
|
Calcium:
2
mg
|
Iron:
1
mg
Sign up for my recipes here!!
Don't worry, we'll never share your email.