Mango Salsa Recipe - the rice wine vinegar, mint, soy sauce & sesame oil give the salsa a distinctive flavor. Mango Salsa is fresh & fantastic, enjoy!
Mango Salsa Recipe – Classic flavors and easy to make with sweet mangos, crunchy onions and bright fresh mint. These flavors combine to make bright fresh salsa! It's simple, fresh and you'll love this easy versatile recipe!
First Published: October 17, 2017… Last Updated: July 6, 2019
Easy Mango Salsa Recipe
Bright and fresh mango salsa is so delicious!
What is the best part of your weekend? I love quiet Sunday mornings, sitting on the porch and sipping coffee.
I'm an early riser and there's something about that early morning quiet time that makes it even more special! Enjoying those quiet moments and planning my week is something I cherish. It's the BEST time!
Last week Sunday morning was spent at my folks house doing that very thing, except at their house it was the porch swing, surrounded by family. Truly the best time spent, my family time is precious and I love every minute!
I'm not gonna lie, coming back and getting to work wasn't the easiest, so today I thought I'd share a simple bright delicious recipe and I know you will love it!
How do I know? Because my Ja Makin' Me Crazy Jam is one of my most popular recipes, so I know you'll love this great Mango Salsa Recipe just as much!
Mango Salsa Recipe
Making juicy mango salsa starts with ripe, juicy mangos!
How do you pick a ripe mango?
Picking a ripe mango is easy. Just like you'd pick out an avocado, lightly squeeze it. A ripe mango will give slightly, similar to how an avocado will "give" when pressing lightly.
a ripe mango will smell sweet
like avocados when mangos are ripe they will be slightly soft
heavy is good; a juicy ripe mango will be heavier.
you can't choose a mango by their color as some are green, red or orange.
What is the easiest way to cut up a mango?
Some choose to peel a mango prior to slicing and removing the pit. I remove the peel after slicing and removing the peel. Once peeled they are slippery to work with and it's easy to accidentally cut yourself.
Set the mango on the cutting board, finding the tallest line of the mango.
Slice along the tallest line, this will follow the pit
Slice around the pit.
Remove the skin from the flesh of the fruit and slice into smaller pieces
Ingredients for Easy Mango Salsa Recipe
mangos
ginger
red onion

mint
rice wine vinegar
soy sauce
sesame oil
Sriracha
BEST Mango Salsa Recipe
How do you make mango salsa recipe?
slice the mangos, remove the pit and peel – dice
dice the onion
clean the mint and mince.
mince the ginger
combine all of the ingredients and mix well
can be served cold or at room temperature
You're really going to love this salsa! It's easy to enjoy as an appetizer with chips. That salty bite of a great tortilla is really the perfect companion!
Topping grilled chicken, fish or pork is another match made in heaven! Got pizza? If you have some leftover salsa, top off your Hawaiian pizza! This salsa is bright, fresh and livens up anything it's paired with!
If you love mangos, here are more great recipes I know you'll enjoy!
Homemade Mango Salsa Recipe
More great salsa recipes from the blog!
Some of the items below contain affiliate links; I am a participant in the Amazon Services LLC Associates Program, an affiliate advertising program designed to provide a means for us to earn fees by linking to Amazon.com and affiliated sites. However, I only promote things that I love and think you will love, too. For more information, please see my Disclosure Policy.
If you post a photo, please tag me! I'd love to see your pictures! You can tag me with #bowlmeover or if you're on Instagram use @bowl_me_over I can't wait to see how yummy this turned out for you! I would love it if you gave this recipe 🌟🌟🌟🌟🌟 stars!!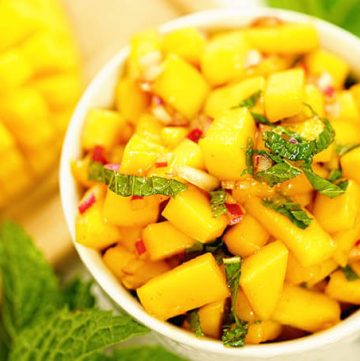 Print Recipe
Mango Salsa Recipe
Mango Salsa Recipe – the rice wine vinegar, mint, soy sauce & sesame oil give the salsa a distinctive flavor. Mango Salsa is fresh & fantastic, enjoy!
As an Amazon Associate I earn from qualifying purchases.
Ingredients
2

cups

mangos

peeled and diced into bite sized

1/2

teaspoon

ginger

finely minced or substitute with 1/4 tsp powdered ginger

1/2

cup

red onion

very finely chopped

1/4

cup

bunch mint

finely chopped

2

teaspoons

rice wine vinegar

1

teaspoon

soy sauce

1

teaspoons

sesame oil

1

teaspoon

Sriracha

optional
Instructions
Slice the mangos, remove the pit and peel, finely dice.

Dice the onion.

Clean the mint and ginger and mince.

Combine all of the ingredients and mix well.

Can be served cold or at room temperature.
Nutrition
Calories:
60
kcal
|
Carbohydrates:
12
g
|
Fat:
1
g
|
Sodium:
111
mg
|
Potassium:
138
mg
|
Fiber:
1
g
|
Sugar:
11
g
|
Vitamin A:
895
IU
|
Vitamin C:
30.8
mg
|
Calcium:
9
mg
|
Iron:
0.1
mg
Sign up for my recipes here!!
Don't worry, we'll never share your email.