You'll love these sushi bowls! Filled with perfectly seared ahi tuna, slivers of white onions, and topped with a sweet soy sauce. Then the seared tuna poke bowl is finished with thinly sliced jalapeños, cilantro and sesame seeds. It's yummy!!!
If you enjoy this recipe, try Korean Black Bean Noodles next - filled with flavor and slurpy goodness!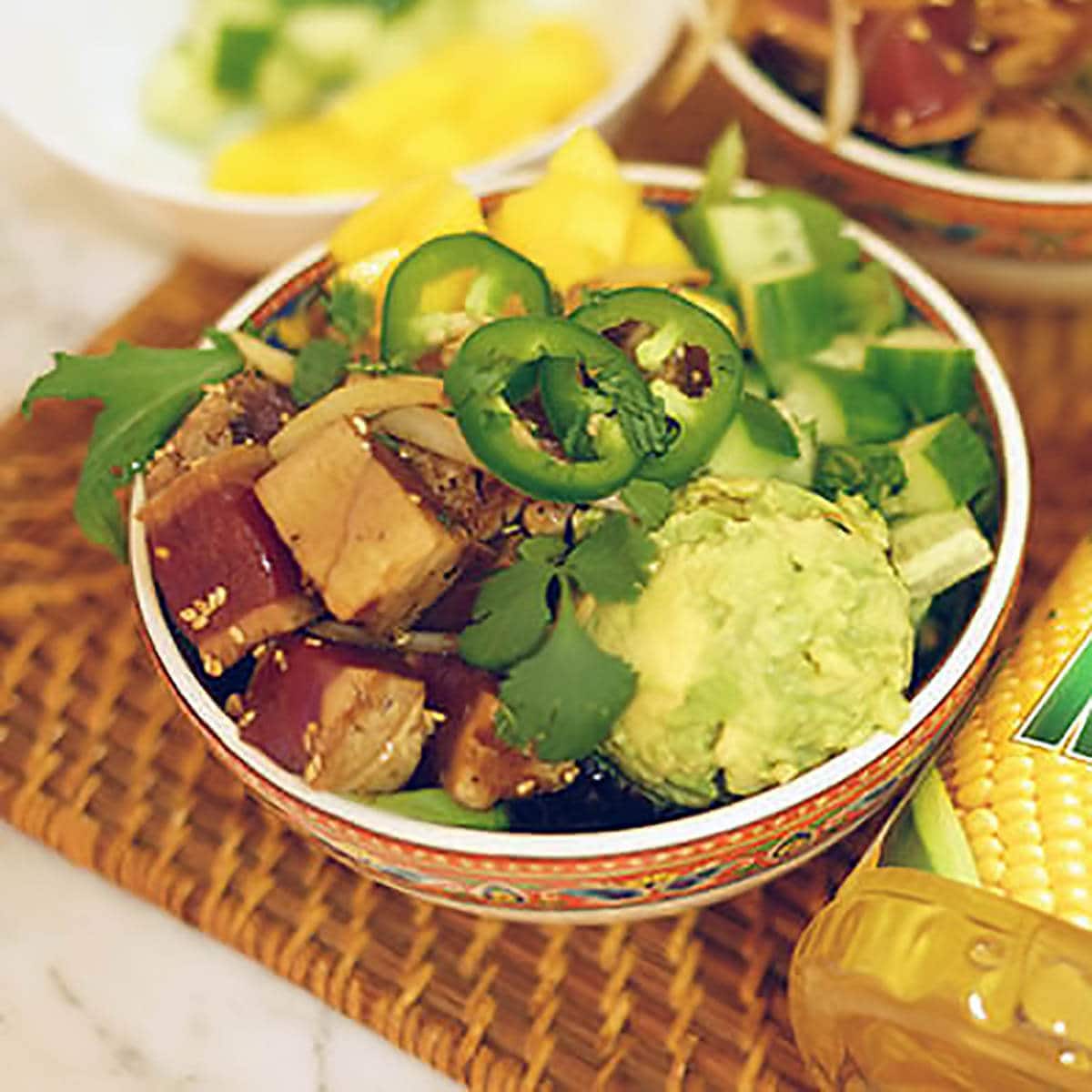 Jump to:
Why you'll love this recipe
I love ahi tuna bowls and rather than spend the ($15 and up a bowl!) plus the $$ to eat out, you can enjoy this ahi tuna recipe. Trust me, this is easy to make!
✔️ It's a great weeknight meal. Only 20 minutes to make!
✔️ Fresh ingredients, healthy and delicious!
✔️ less expensive than your favorite poke restaurants too!
In fact it's so good my non-fish-eating hubby said "I could eat this ahi tuna recipe every day of the week!" Yup, it's true!
When Dan and I first met he turned up his nose at anything "fishy". Not raised on fish or seafood, I have to say I'm proud of him for trying new bites.
Now we enjoy oysters on the half shell, grilled shrimp, fish tacos and even poke! This makes me a happy gal!
Ingredients
Here are the ingredients you'll need for the ahi poke bowl recipe!
Instructions
Poke bowls are finished with an extra drizzle of sauce, a sprinkle of sesame seeds, chopped cilantro, Sriracha, chopped nuts, wasabi, pickled ginger - really the combinations are endless!
Steps to sear tuna
For this meal, start with fresh ahi tuna steaks. I go to our local fish market and they slice it fresh. One ½ pound slice is plenty for two servings

Heat your grill pan or grill on high for five minutes, you want your grill screaming hot.

Brush the tuna steak with oil and lightly salt/pepper each side.

Place the steak(s) on the hot grill for 1 minute 30 seconds on side one, flip and grill on side two for another 1 minute 30 seconds. The steak will be perfectly seared on the outside and still pink on the inside.
Building the bowl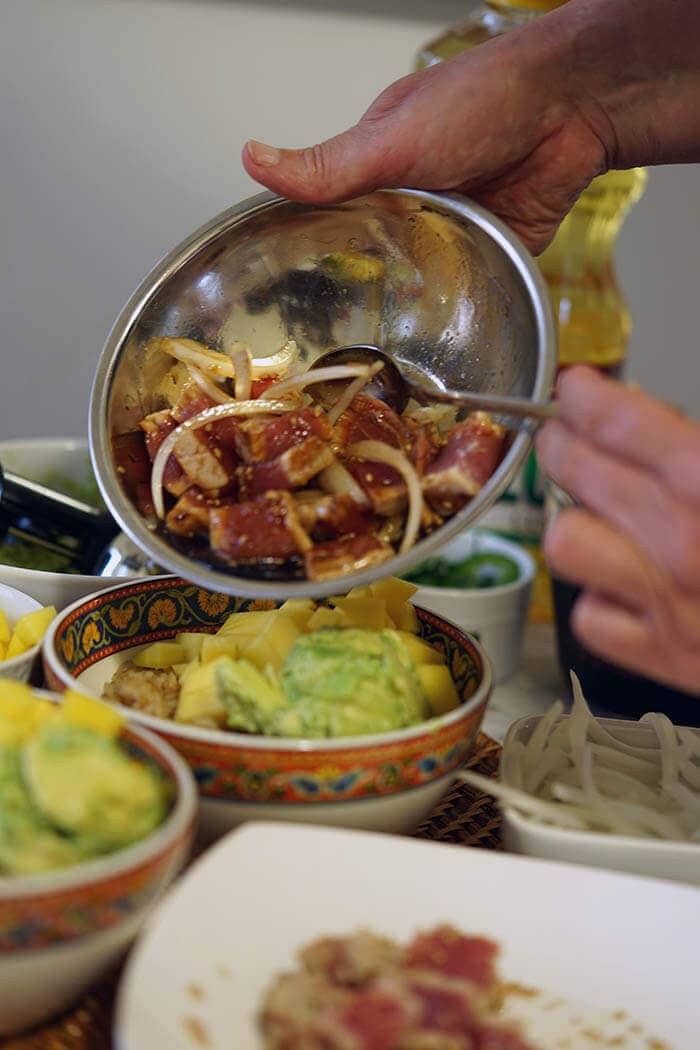 Learning how to make this ahi tuna poke bowl recipe is simple! Sear the tuna, you'll want brown or white rice and then choose your favorite topping.
Make the sweet soy sauce, set aside to cool.
Fill bowls with cooked rice.
Mash avocados, place a dollop on each bowl.
Dice seared tuna. Place in a small bowl. Add onions and two tablespoons of sauce, mix well. Pour over warm rice.
Top bowl with minced cilantro, sesame seeds and sliced jalapeños.
FAQ's
How do you pronounce Poke?
Poke (pronounced POH-keh),
What is Poke?
Poke is a Hawaiian dish. It's typically diced raw fish or cooked fish that's been marinated. It's tossed in sauce soy sauce based sauce is served over a bowl filled with rice. Optional vegetables or fruit is added and it's often drizzled with additional sauce.
What kind of seafood is used in Poke?
sushi-grade tuna, ahi or yellowtail
salmon
shrimp
crab
squid
scallops
if you're state-side you'll often see shredded white meat chicken and seared vegetables too!
Is tuna poke safe to eat?
Of course! Make sure you buy sushi grade tuna, especially if you're eating it raw.
Do you need to cook the tuna?
No, just be sure to buy sushi grade tuna so it's safe to consume if it's not cooked/fully cooked.
What type of rice can you use?
Warm sushi rice, sticky rice, white rice, brown rice, jasmine rice or even basmati rice!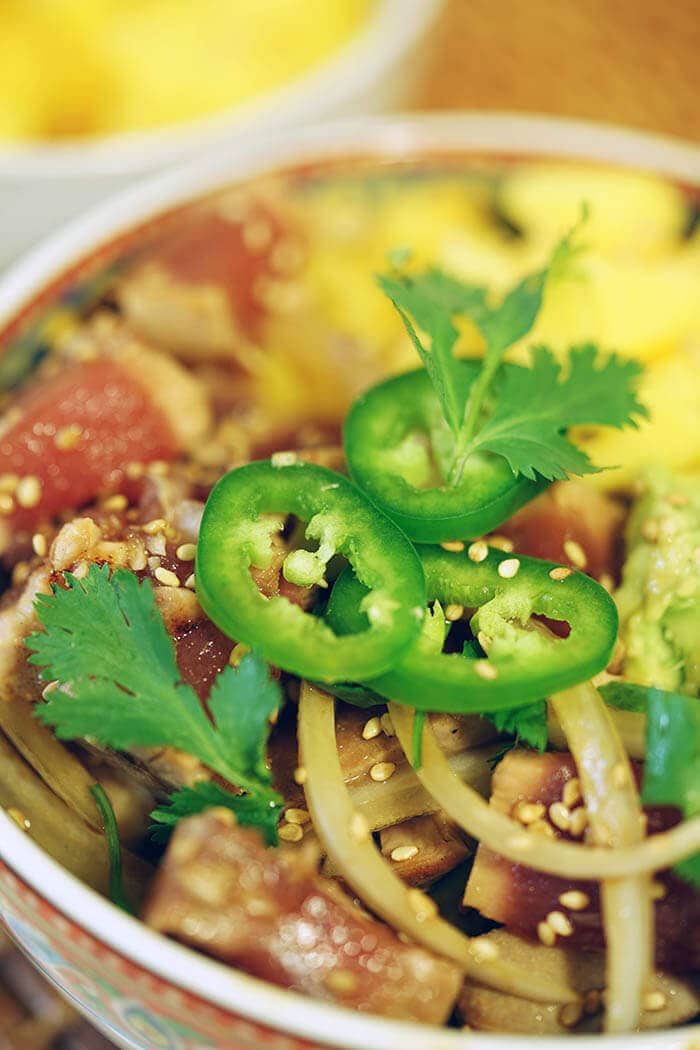 Tips
Traditional poke bowls are packed full of white rice or brown rice. Take it one step further by swapping out the rice for salad greens.
When you sear the fish, use an oil with a high smoke point. Not all cooking oils have a smoke point that, once exceeded, will negatively affect the food's flavor but also its nutritional value.
Finish the bowl with a drizzle of sauce. Often that last drizzle is a mayonnaise based sauce. Though delicious, I recommend a sweet soy sauce or ponzu sauce. It's a great swap and keeps the meal light.
A light sauce will celebrates the flavor of the seared tuna rather than mask it.
Variations
Poke can have a variety of toppings, I don't recommend doing all of these at once, that would be overwhelming! Pick two or three to top your poke bowl with. Here are some of my favorites.
If you'd prefer a spicy tuna poke bowl, finish spicy sauce like a good amount of sriracha.
Related Recipes
Serve with
A seared tuna poke bowl is easier to make than you think! Rice topped with a dollop of mashed avocado and diced mango - so simple! Mixing the tuna with slivers of white onions and sauce gives it so much flavor!
Don't forget to check out my Amazon storefront for some of my favorite products! 🛍️
If you love this recipe please leave a ⭐⭐⭐⭐⭐ rating!
Seared Ahi Tuna Poke Recipe
Seared high-quality, sushi-grade fish, thinly sliced and served over warm rice and served with your favorite toppings! You'll love this great recipe!
As an Amazon Associate I earn from qualifying purchases.
Ingredients
½

pound

fresh ahi tuna steak

sushi grade, ahi tuna recommended

1

cup

soy sauce

½

cup

brown sugar

½

cup

water

4

tablespoon

white onion

slice the onion into slivers

1

mango

peeled and diced

½

lemon

juiced

1

tablespoon

sesame seeds,

toasted plus additional teaspoon for garnish

1

tablespoon

corn or vegetable oil

1

tablespoon

sesame oil

1

star anise

1

jalapeños

sliced

2

tablespoon

cilantro

minced
I earn a commission from Instacart from qualifying purchases.
Instructions
Start by making the poke sauce. Place small heavy bottom pan over medium high heat. Combine soy sauce and the brown sugar, water and star anise. Bring to a boil and stir until the brown sugar dissolves.

Reduce heat to medium and stir occasionally. Continuing cooking for about ten minutes. It will reduce and slightly thicken.

Remove from heat, remove star anise. Add *toasted sesame seeds and sesame oil. Set aside to cool. Store it in a screw top jar in the refrigerator. This will keep for about two weeks.

Slice the avocado in half. Remove the pit. Scoop out the flesh and mash together with freshly squeezed lemon. Cover tightly with plastic wrap.

Slice jalapeños and mince cilantro.

For the seared tuna, heat your grill pan or grill on high for five minutes, you want your grill screaming hot.

Brush the tuna steak oil and lightly salt/pepper each side.

Place the steak(s) on the hot grill for 1 minute 30 seconds side one, flip and grill on side two for another 1 minute 30 seconds. The steak will be perfectly seared on the outside and still pink on the inside.

Remove from the heat and dice into cubes.

Add cooked rice and or salad greens to a bowl.

Add a scoop of avocado and diced mango to each bowl.

Mix the cubed tuna and slivered white onions with about 4-5 tablespoons of poke sauce. Split between the two bowls, pouring the excess sauce over the bowls.

Garnish each poke bowl with chopped cilantro, sliced jalapeños and sesame seeds.
Notes
* To toast sesame seeds, place a heavy fry pan (cast iron works great) over low heat.
Add the sesame seeds and roast them dry. Keep an eye on them, it only takes minutes. If you can smell them toasting they are done!
Nutrition
Calories:
660
kcal
|
Carbohydrates:
78
g
|
Protein:
40
g
|
Fat:
22
g
|
Saturated Fat:
2
g
|
Cholesterol:
43
mg
|
Sodium:
6545
mg
|
Potassium:
830
mg
|
Fiber:
4
g
|
Sugar:
68
g
|
Vitamin A:
3470
IU
|
Vitamin C:
54.1
mg
|
Calcium:
138
mg
|
Iron:
5.4
mg
Sign up for my recipes here!!
Don't worry, we'll never share your email.
First published. March 23, 2018, updated February 12, 2023 with better instructions