Do you have picky eaters but a busy schedule that requires you to make dinner fast? We've got you covered with some quick ground beef recipes that even the choosiest kids will love. From pizza casserole to burgers to sloppy joes, they're the perfect way to get a kid-friendly meal on the dinner table fast.
Like the classic Tuna Casserole Recipe, your kids will love these kid-friendly ground beef recipes any night of the week.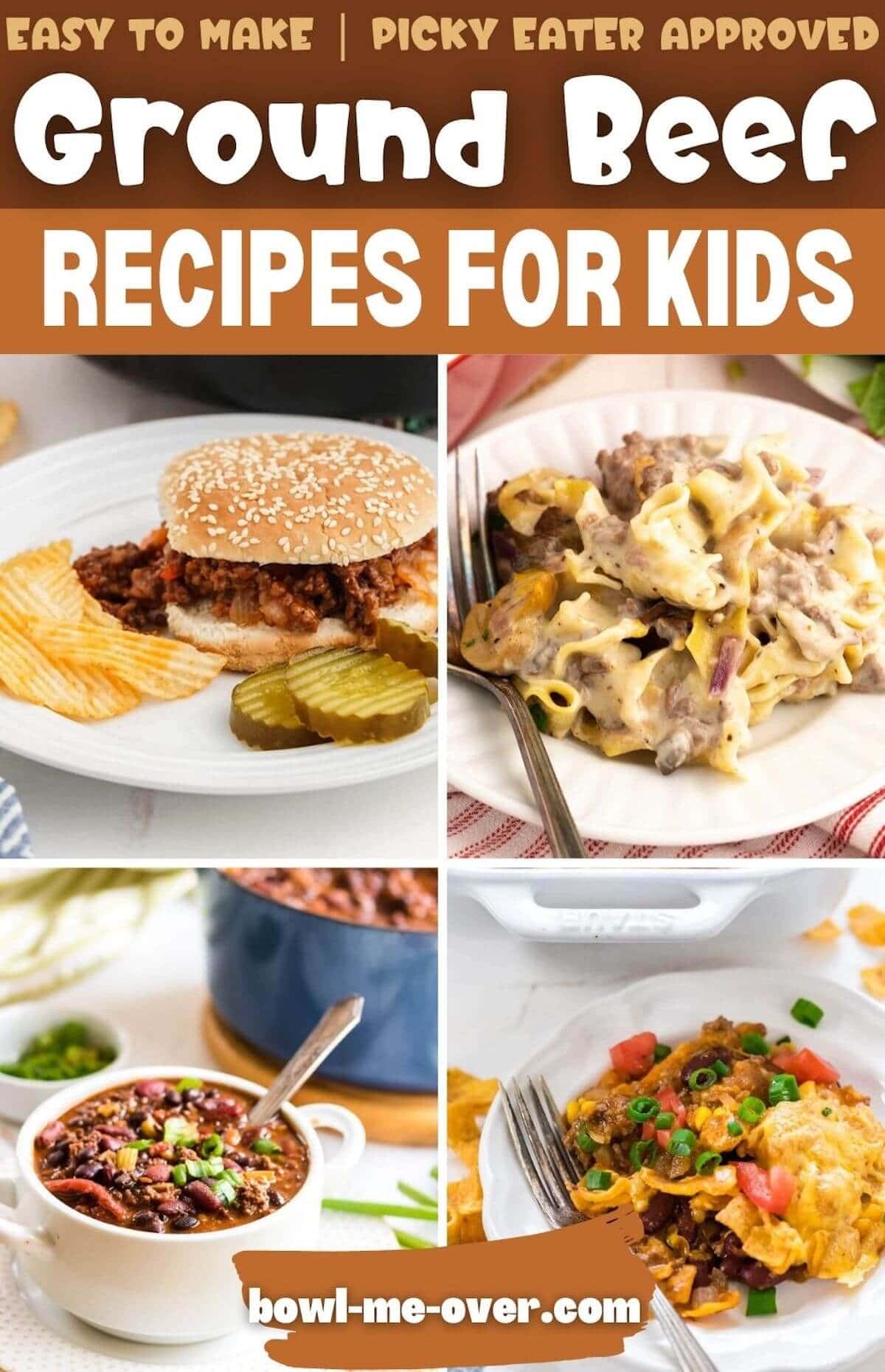 Jump to:
Easy Ground Recipes for Kids
Sure, kids can be picky eaters, but dinnertime will be so much easier with these easy recipes featuring affordable and tasty ground beef. Use lean ground beef when possible to eliminate extra fat and calories and to save yourself from having to drain the meat!
Don't have ground beef? Don't worry. You can substitute ground turkey for almost every recipe in this list!
1. Cheesy Taco Casserole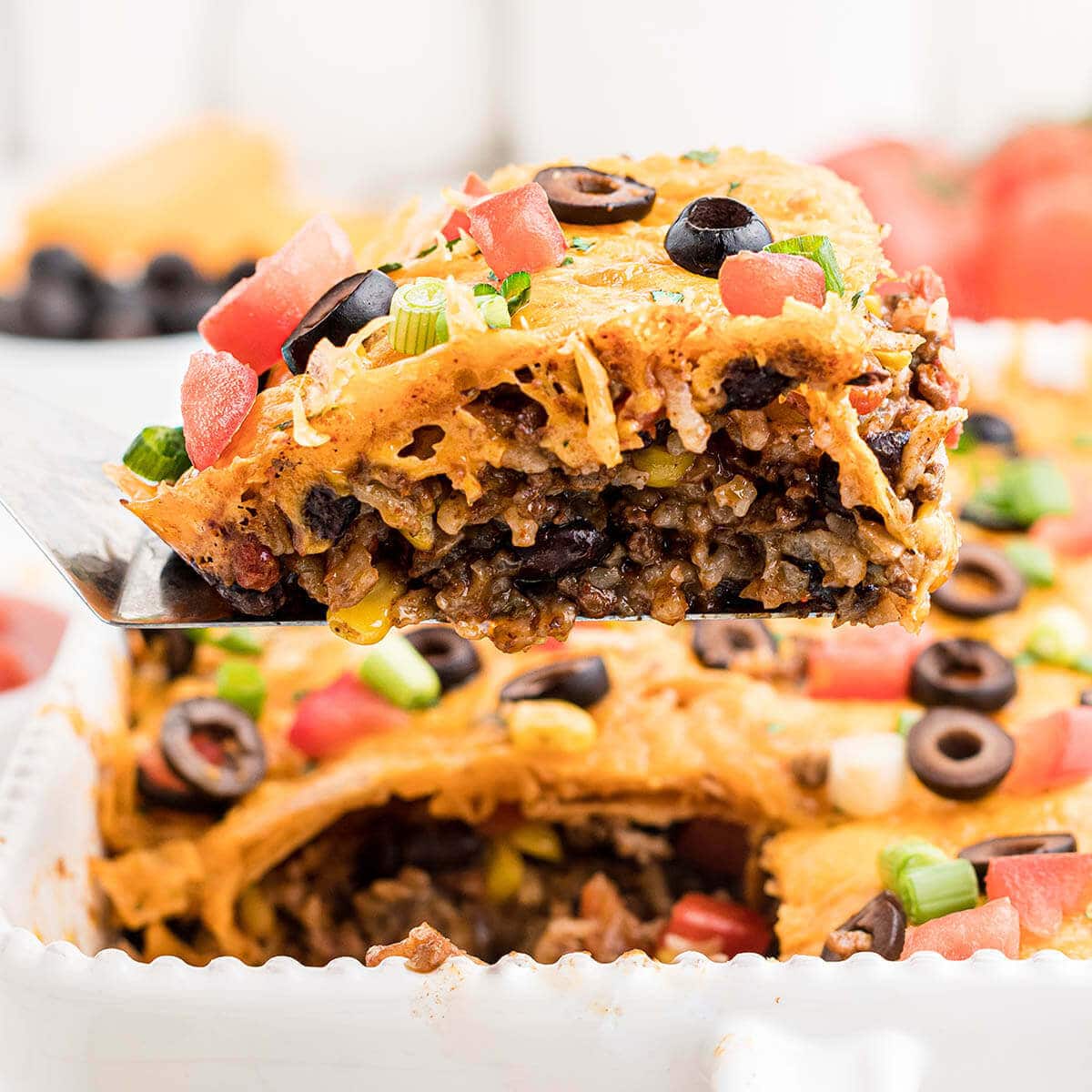 Taco Tuesday just got yummier with this easy Cheesy Taco Casserole. You can tailor it to your family's favorite taco toppings, but our casserole is filled with meat, Rotel, black beans, corn, rice, and loads of cheese. Dig in with a spoon or scoop it up with tortilla chips. It'll become a weeknight favorite!
2. Ground Beef Taco Dip
Looking for a perfect party appetizer? Try this Ground Beef Taco Dip with all the delicious taco fixings you love like beef, onions, sour cream, cheese, tomatoes, and olives. Of course, you can adjust it to your family's liking. Love jalapenos? Throw some on top of your dip!
3. Frozen Burger Patties in the Oven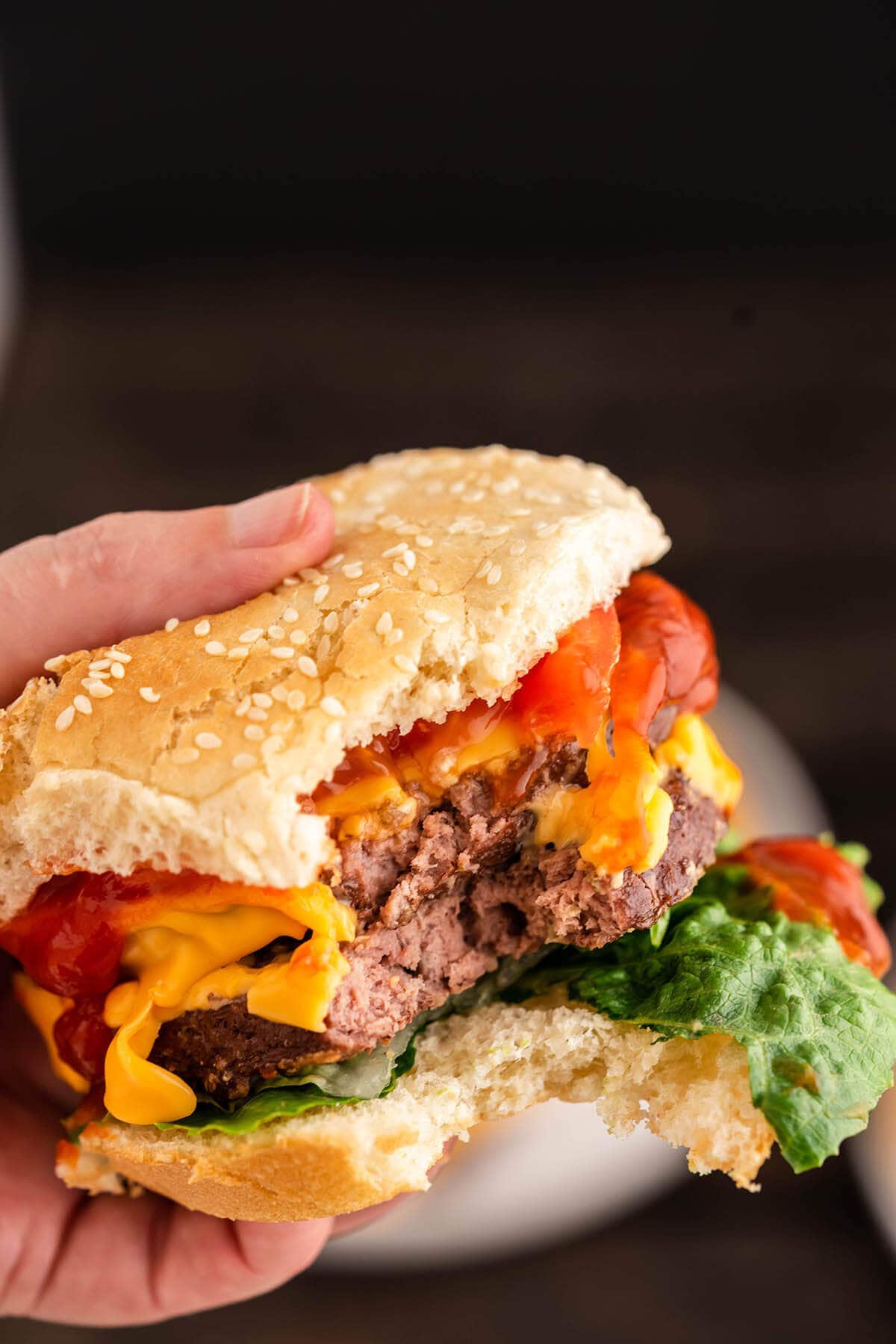 Parents, you don't have to make every meal from scratch. We show you how to cook frozen hamburger patties in the oven for a quick and delicious meal to feed the whole family on a busy weeknight or on a weekend when you want something yummy and fun.
4. Beef Stroganoff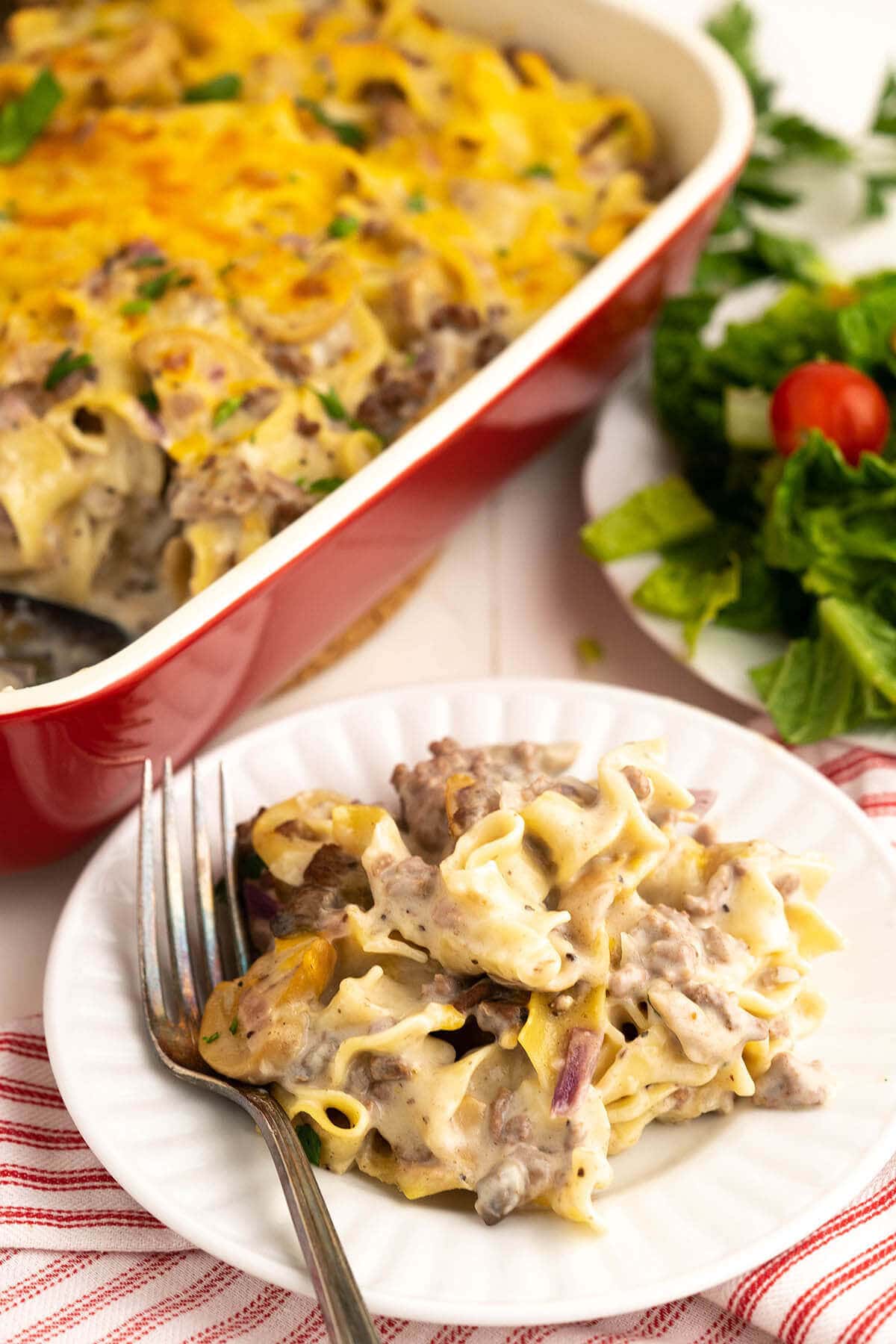 What could be more comforting than a big plate of Beef Stroganoff with Mushroom Soup? It's creamy, has delicious flavor, and is ready in a little over 30 minutes. It's made with pantry ingredients, so you probably have everything you need to whip it up anytime.
5. Sloppy Joe Tater Tot Casserole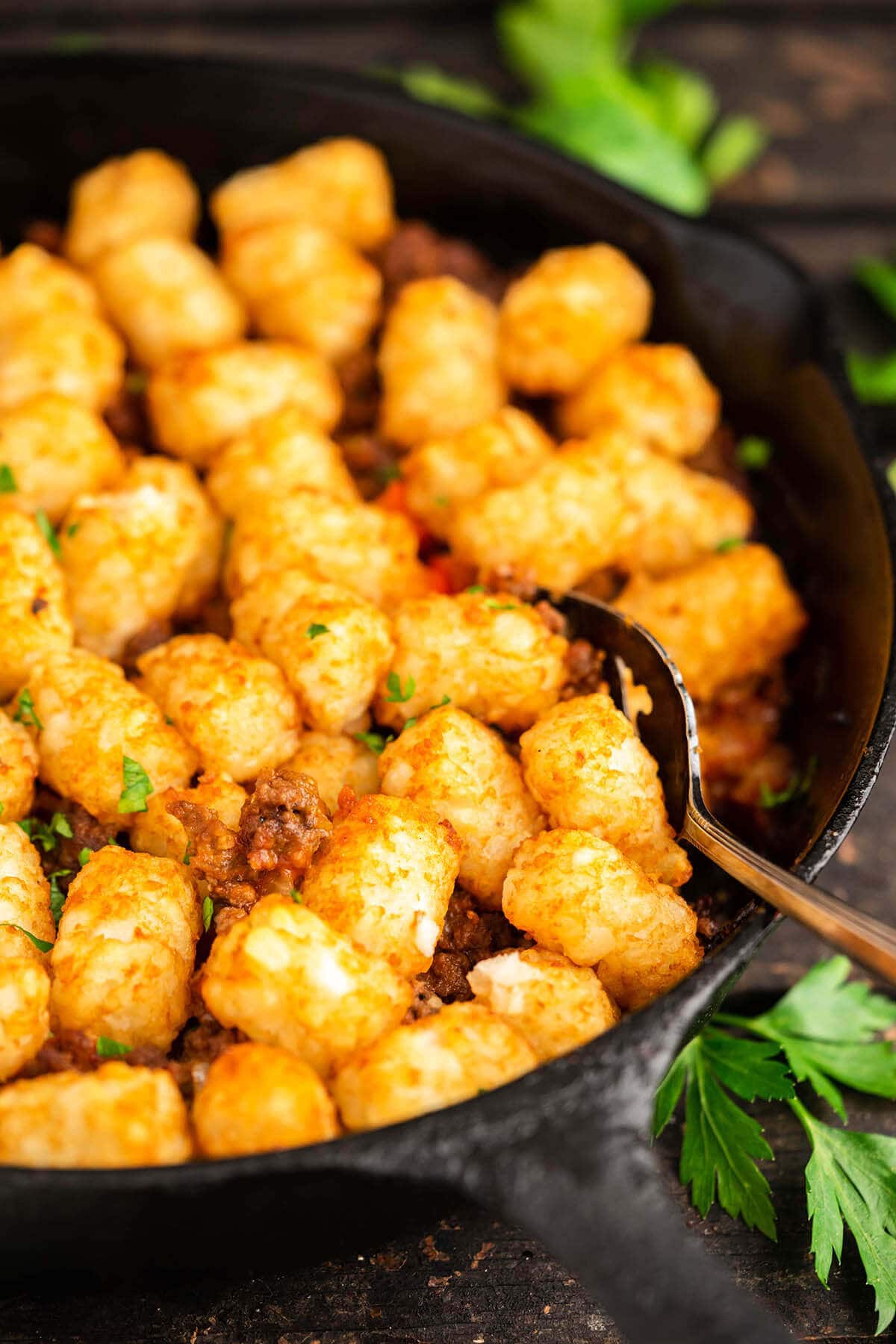 Kids love just about anything with tater tots, and so do I! This Sloppy Joe Tater Tot Casserole is a tasty new spin on the usual tater tot casserole and will have everyone asking for seconds. Ground beef, bell peppers, and onions are cooked in a sweet and tangy sauce made of catsup, brown sugar and mustard. Top with crispy tots, and you're all set with a dinner the entire family will enjoy.
6. Creamy Taco Spaghetti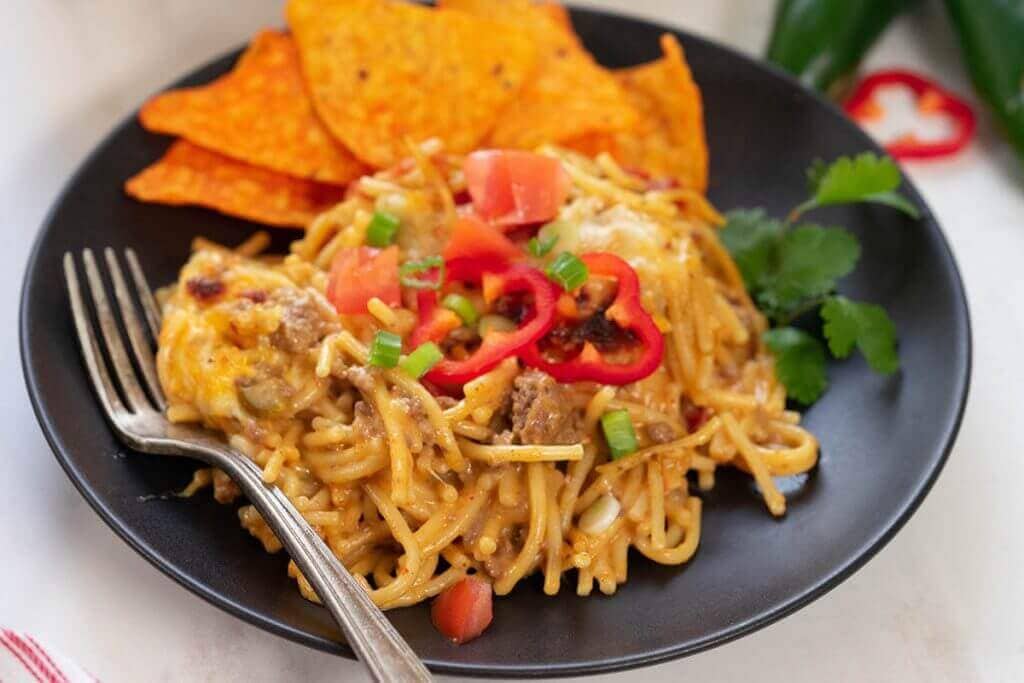 Take a break from your usual Italian spaghetti recipe to make this Creamy Taco Spaghetti instead. Even picky eaters love this easy dinner recipe! Make sure you use mild Rotel and mild taco seasoning if your kids don't care for spicy foods.
Use fire roasted tomatoes if you think the Rotel will be too much for their palates. This versatile recipe is sure to become a family favorite and a regular staple in your monthly menu plans.
7. Bacon Cheeseburger Soup
Nothing warms the soul quite like a steaming bowl of soup. Kids can sometimes be picky about soup, but they'll devour this Bacon Cheeseburger Soup. It's hot, hearty, and tastes like your favorite burger with plenty of beef, cheese, and bacon.
8. Old Fashioned Sloppy Joes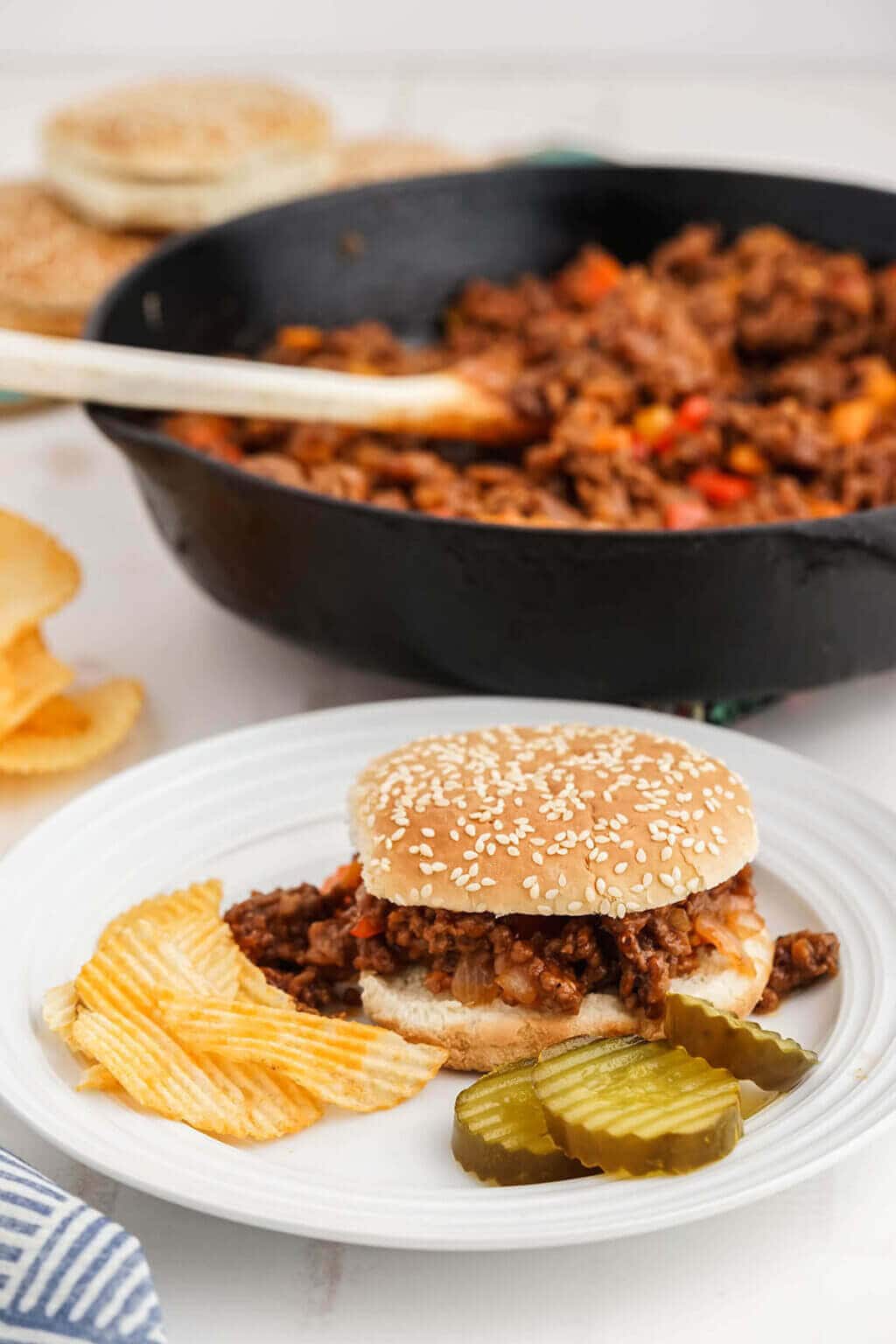 Classic ground beef recipes like this never get old. Sure, this Old Fashioned Sloppy Joe recipe is messy, but that's the fun of "sloppy" Joes, isn't it? The best part is ditching the canned stuff. You'll make it with simple ingredients like ground beef, brown sugar, ketchup, mustard, onions, and peppers.
9. Frito Pie Casserole
The kids will gobble up this easy Frito Pie Casserole stuffed with ground beef, beans, corn, salsa, and topped with cheddar cheese and crunchy chips. It's absolutely delicious, especially when you add your favorite taco toppings like tomatoes, onions, guacamole, or sour cream. What a fun family dinner!
10. Creamy Beef Noodle Casserole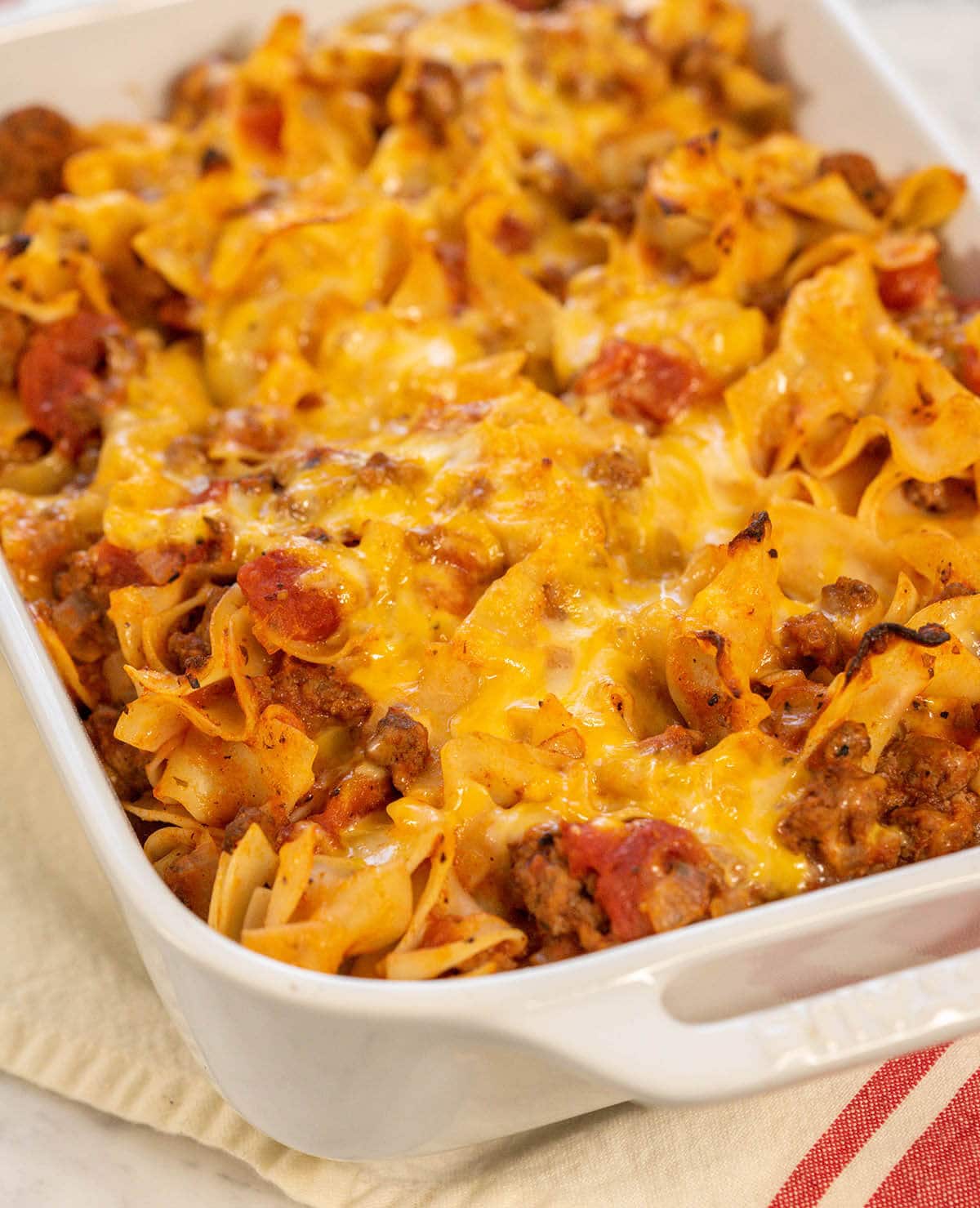 You'll want to make this Creamy Beef Noodle Casserole recipe over and over again. Tender egg noodles and seasoned ground beef are baked in a delicious homemade tomato sauce with loads of cheese in the casserole and on top.
11. Chili Mac and Cheese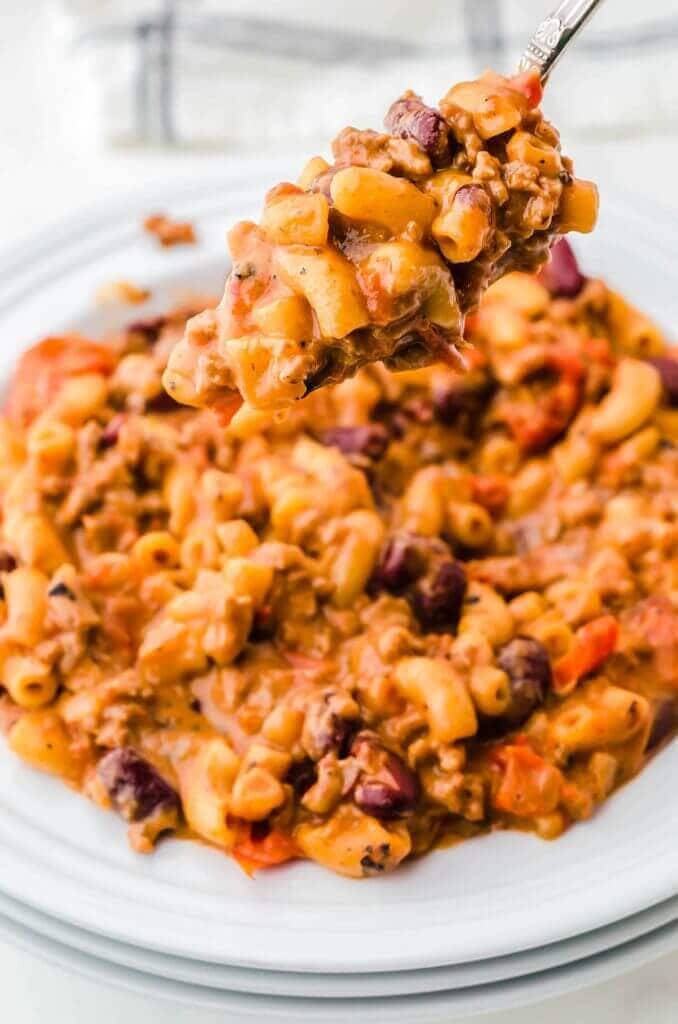 Kids who love mac and cheese may love experimenting with other flavors, like this Velveeta Chili Mac and Cheese. This pasta dish is filled with chili beans, ground beef, tomatoes, onions, peppers, and plenty of Velveeta cheese. You can sub queso for the Velveeta if you prefer or make your own homemade cheddar cheese sauce. Top the chili mac with green onions to add some fresh flavor and crunch right before serving. Yum!
12. Cowboy Tater Tot Casserole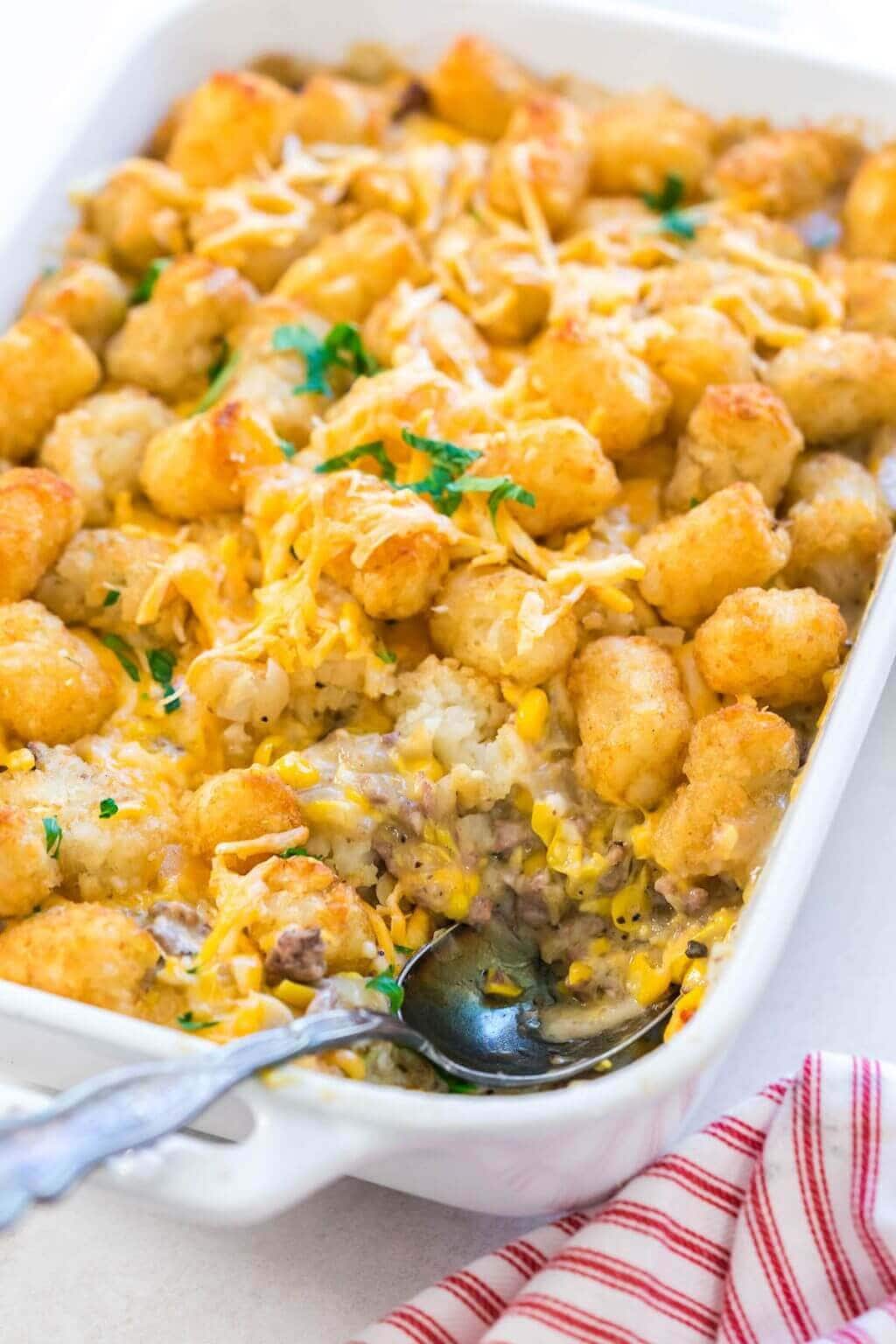 Here's another magical pairing of ground beef and tater tots! Our tasty Cowboy Tater Tot Casserole is made with tater tots, cheese, corn, cream of mushroom soup, steak seasoning, onions, and ground beef with lots of shredded cheese. While I used cream style corn (to eliminate the need for milk), you can sub canned or frozen corn plus ½ cup of heavy cream if needed. This is a fantastic freezer meal.
13. Taco Salad Casserole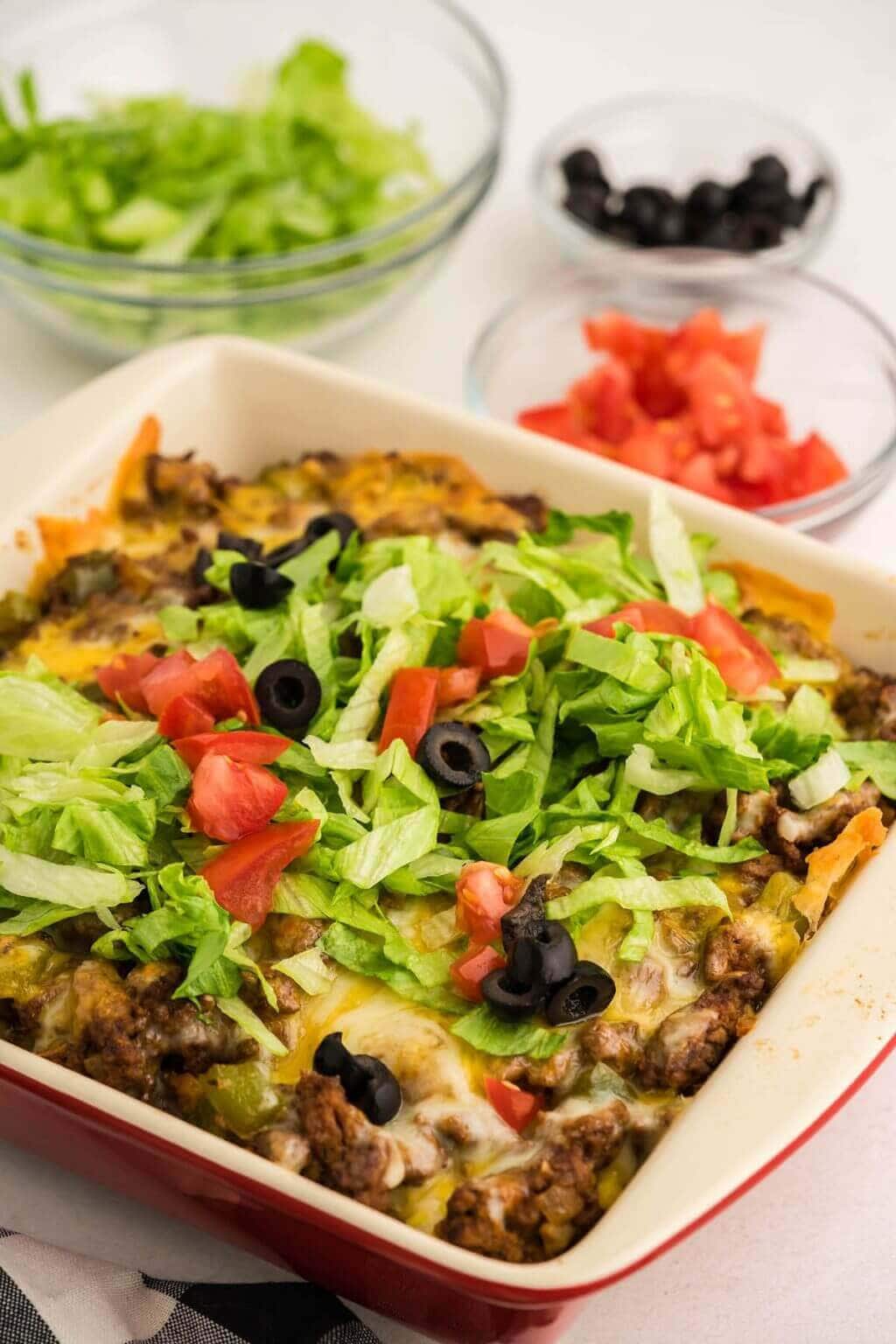 Raise your hand if taco salads are one of your favorite meals! Well, this Taco Salad Casserole Recipe is even easier to eat. Plus, you get to use Doritos instead of a taco bowl, which is a total win! Doritos add a lot of flavor. You'll also add peppers, corn, refried beans, and Mexican blend shredded cheese.
14. Salisbury Steak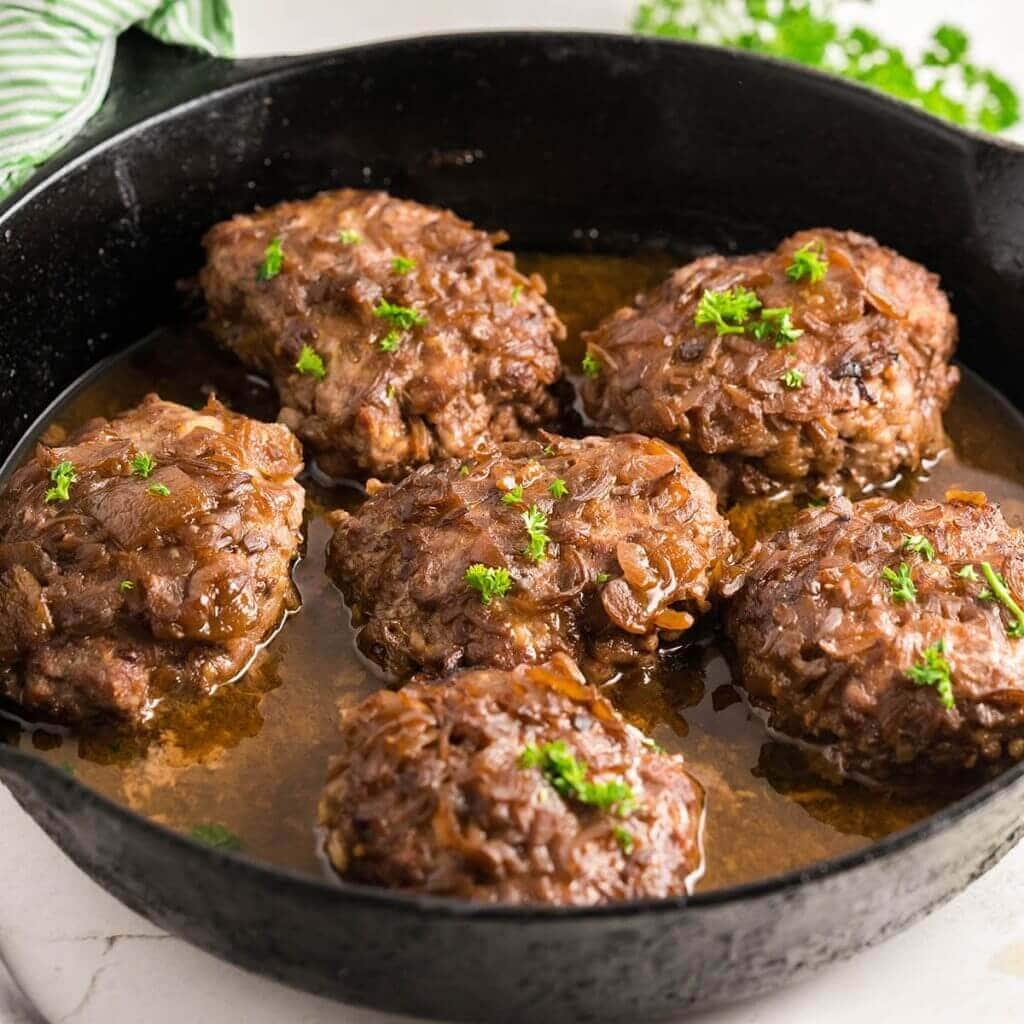 Can you believe this French Onion Soup Salisbury Steak is ready in just 30 minutes? It's true! Tender ground beef steaks are topped with a rich gravy made with French onion soup (from a can) that makes the flavor incredible. You have to serve these steaks with creamy mashed potatoes just so none of the gravy goes to waste. It's that good!
15. Instant Pot Meatloaf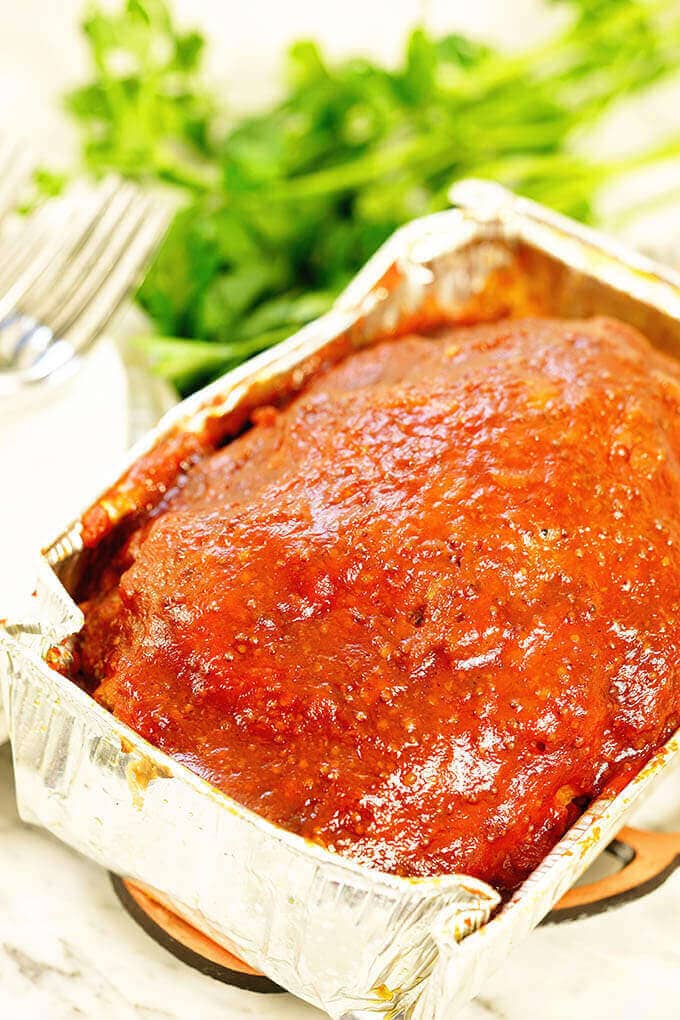 Meatloaf is comfort food at its finest, but it can take a long time to make. But this Instant Pot Meatloaf Recipe is half the time and is equally delicious. Remember to fry up a small piece of your meatloaf mixture before putting it in the oven to taste if you have enough seasonings. One reader said her "kids inhaled it," so you know it's a winner.
16. Enchilada Casserole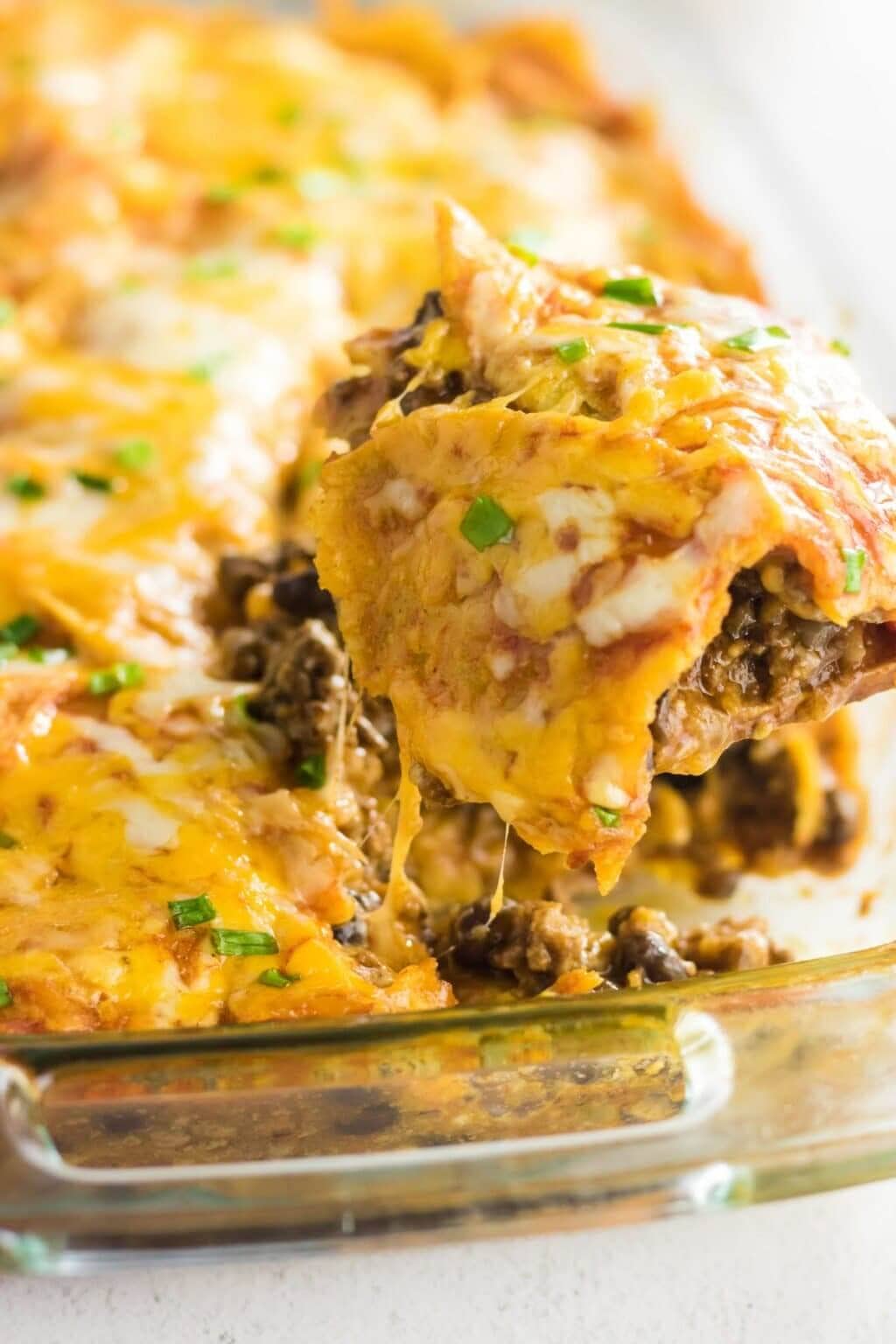 Restless Chipotle has a phenomenal Beef Enchilada Casserole with all the flavors of enchiladas in a handy casserole form that's a total hit with kids. Hearty layers of ground beef, black beans, cheese, and corn tortillas are smothered in enchilada sauce and baked until bubbly.
17. Creamy Burrito Casserole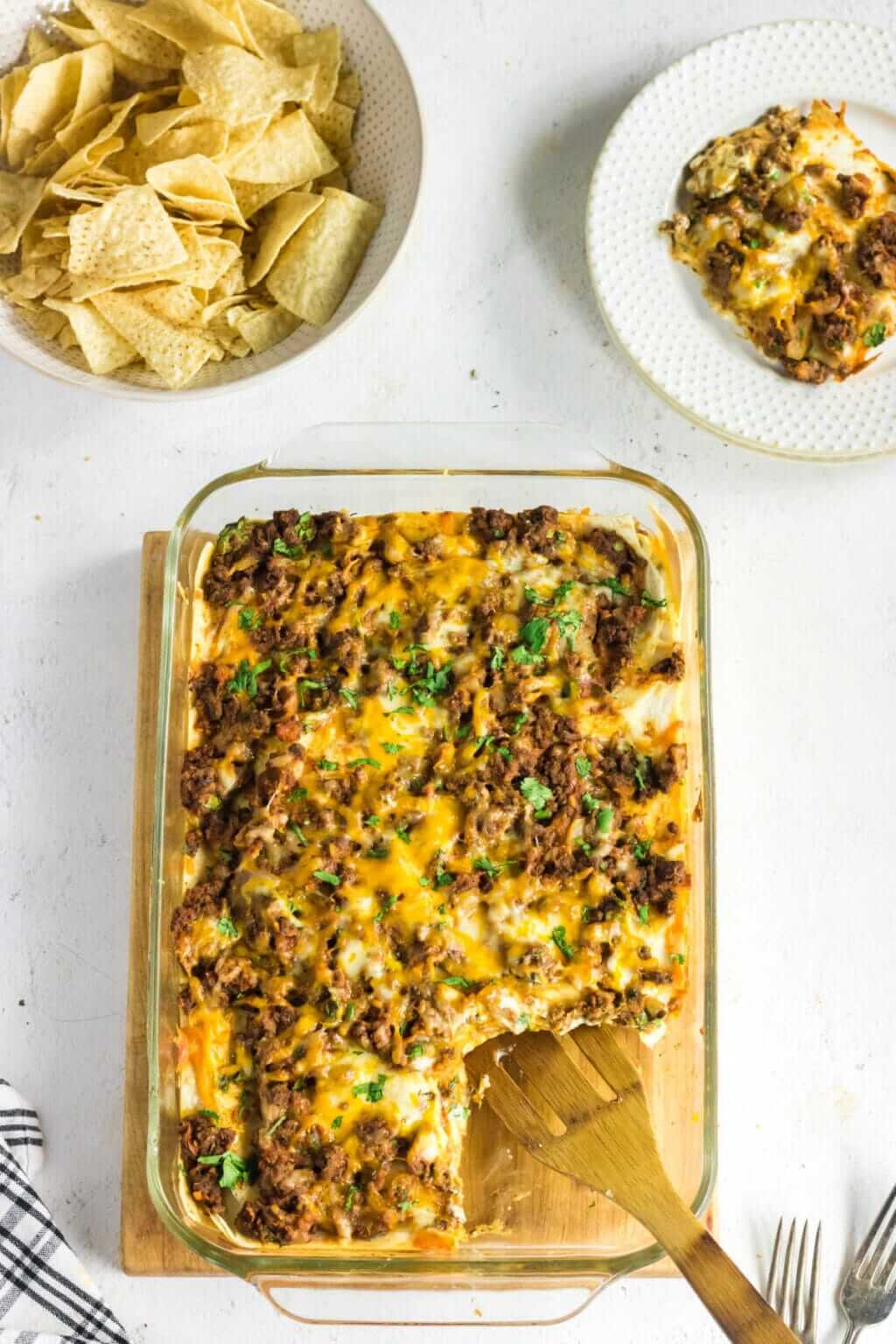 Try this 30 minute Beef Burrito Casserole Recipe the next time you need dinner in a hurry. It's a great make ahead dish, too, so there are so many ways to save time on a busy weeknight. Your family will love the Tex-Mex flavor of this filling meal.
18. Tailgate Chili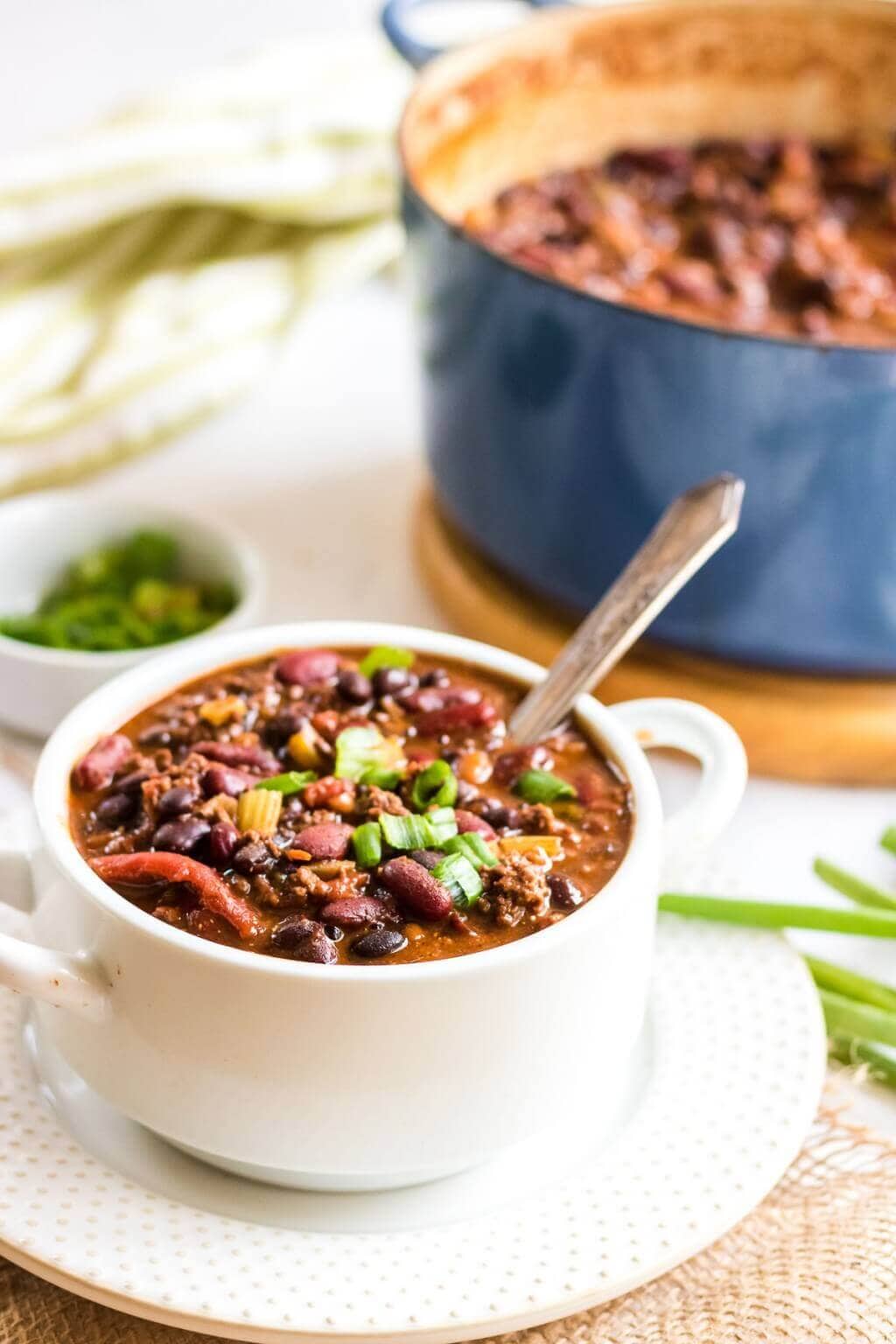 Whether you're actually tailgating at the game or watching Monday Night Football at home, this Tailgate Chili needs to be on your game day menu. It's a wonderful combination of spicy and sweet and is a favorite meal of ours! You can tone down the spices a little and leave out the jalapenos if your kids don't like spicy foods.
19. Ground Beef Taco Meat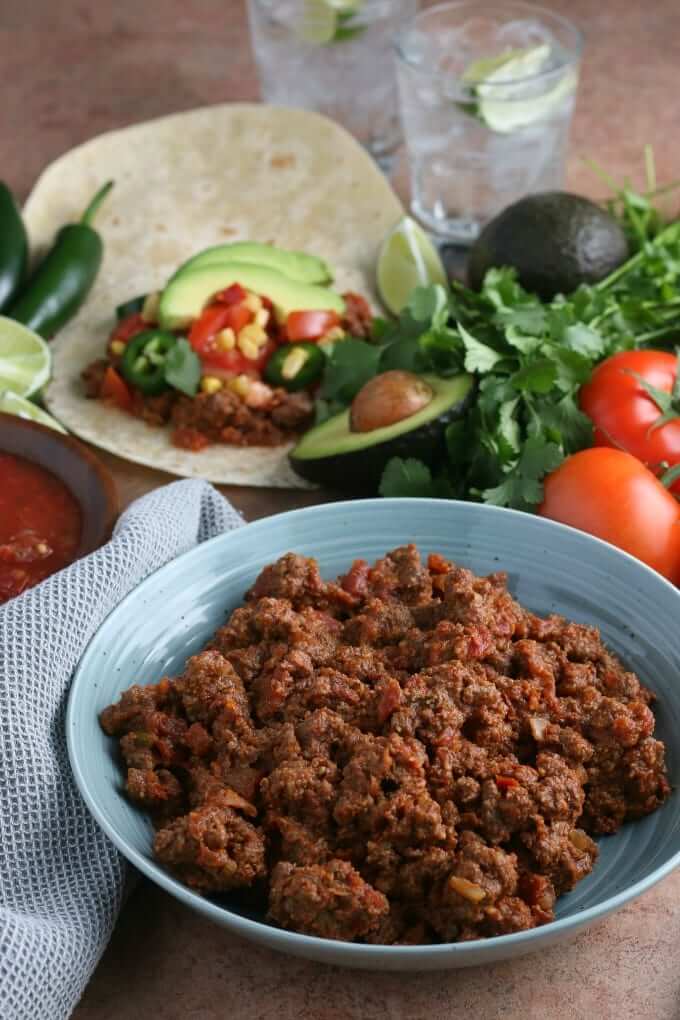 Fill your tacos with this perfectly seasoned Ground Beef Taco Meat from Juggling Act Mama. In addition to tacos, you can pile this on nachos, loaded tots, baked potatoes, or even turn them into taco-flavored sloppy joes. There are so many ways to turn this into a kid-friendly dinner.
20. Southern Baked Beans
These Southern Baked Beans from The Cagle Diaries are especially good. Smokey loaded baked beans, these are so tasty alongside your favorite burger. The kids will love these, they are so good!
21. Walking Taco Casserole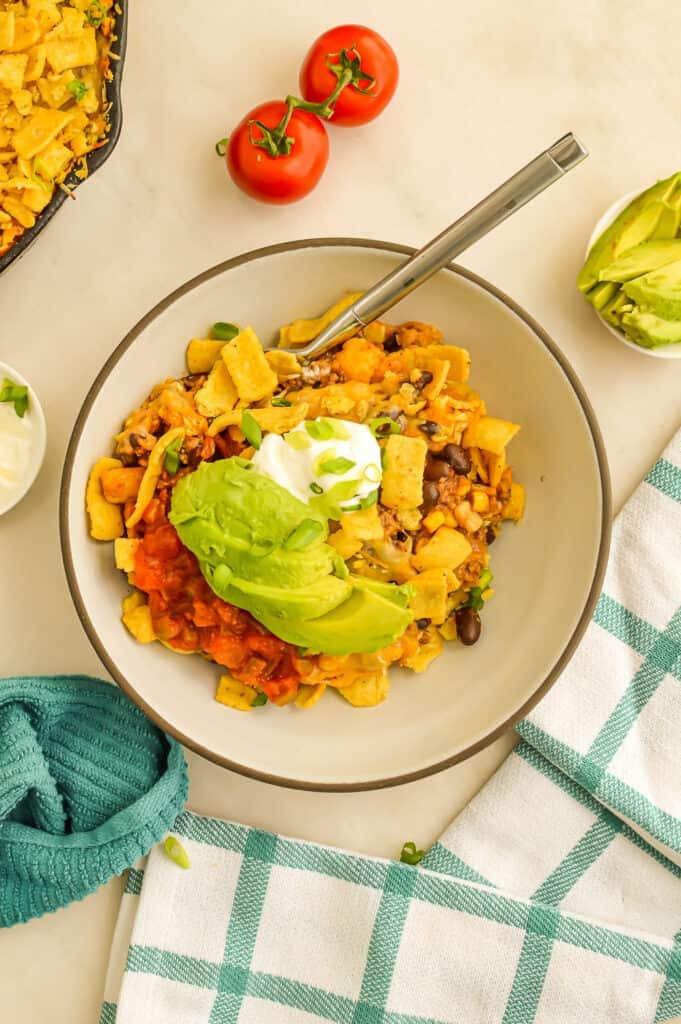 You've probably heard of walking tacos before—they're a combination of taco toppings scooped into a bag of chips and are great at parties! This Walking Taco Casserole is another version of them, this time made with corn chips instead of Doritos. It's crunchy, filling, and totally delicious.
22. Pizza Casserole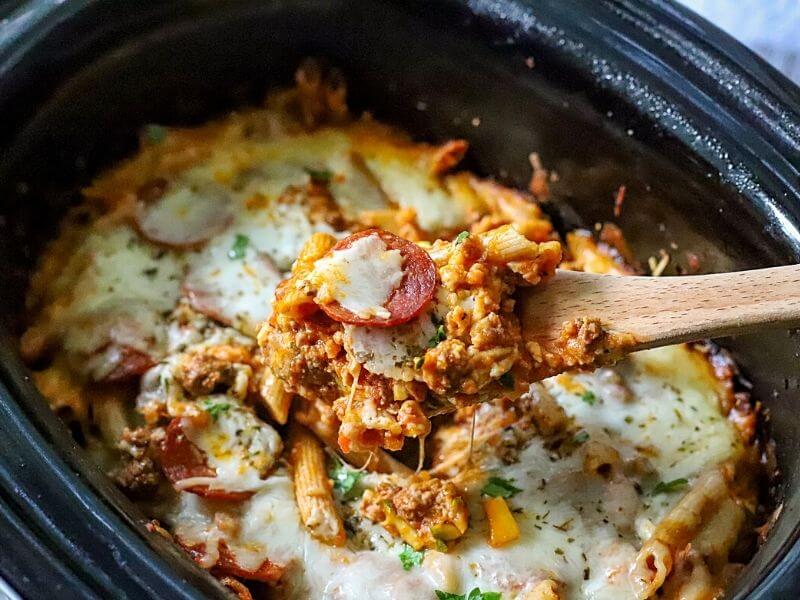 The kids will be really pumped when you tell them you're having Pizza Casserole for dinner! Tender pasta, ground beef, Italian sausage, pepperoni, and lots of ooey gooey cheese are cooked and melted together in the slow cooker. Get the recipe for this delicious casserole from Suburban Simplicity.
23. Ground Beef Kebabs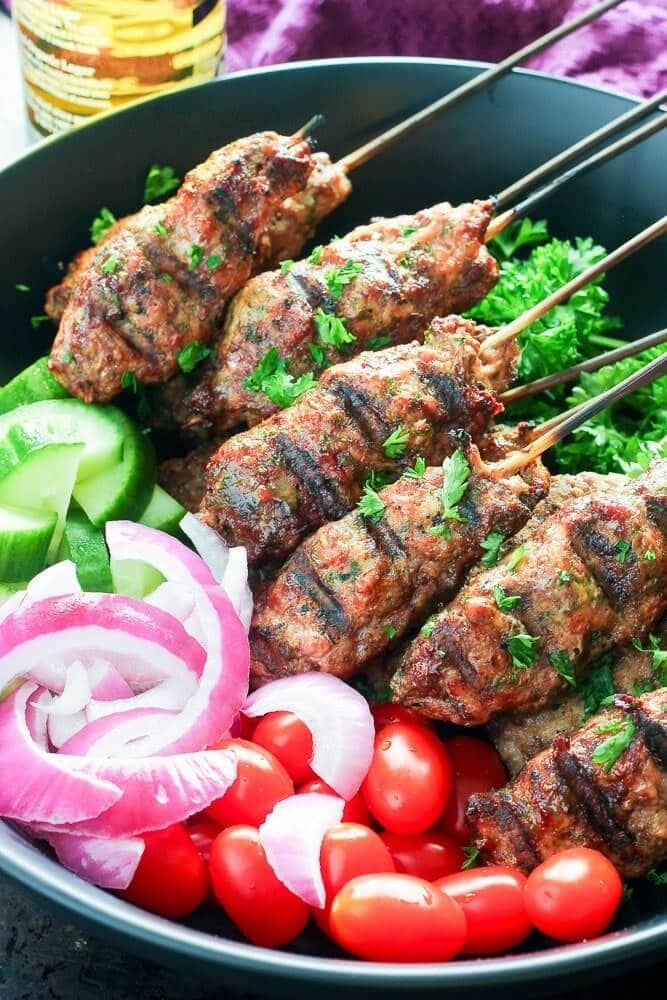 Kids can't resist food on a stick! These Ground Beef Kebabs from Delicious on a Dime are delicious hot off the grill or fresh from the oven. They're made with cheap ingredients (kind of like a meatloaf), come together quickly, and are tasty dipped in so many sauces like ketchup, BBQ sauce, or tzatziki sauce, depending on what your kids like.
24. Ground Beef Egg Rolls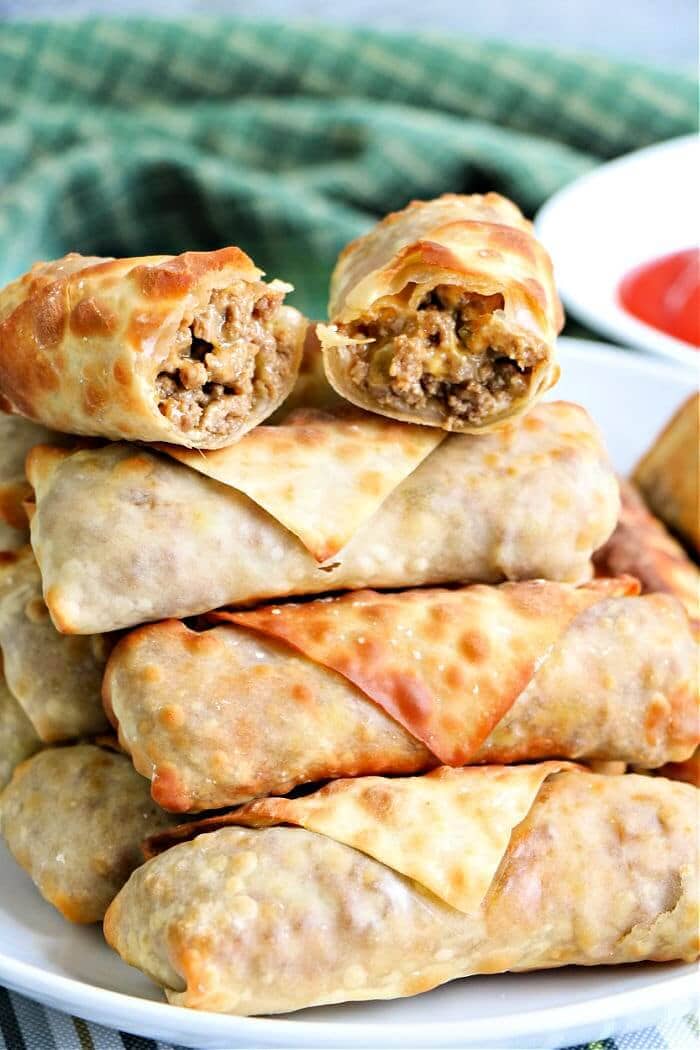 These easy, cheap Ground Beef Egg Rolls from The Typical Mom can be cooked in the air fryer or fried in a skillet. Add cheese to turn them into cheeseburger egg rolls. Kids will go crazy for them, and they make a great lunchbox food the next day, too. If your kids don't like pickles, you can skip the relish.
25. Ramen Noodle Stir Fry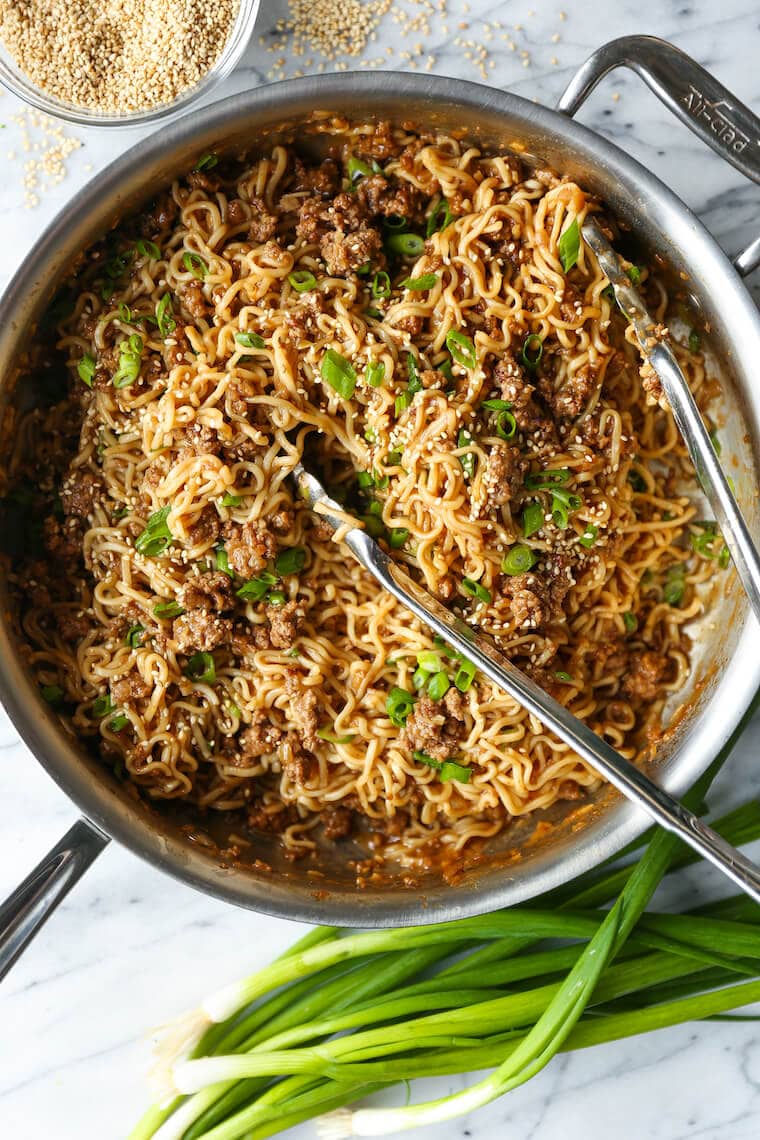 Ramen noodles are big with younger kids, but this is a great way to work some protein in their diets instead of just carb-filled noodles. This saucy Ramen Noodle Stir Fry meal from Damn Delicious is ready in just 30 minutes, so it's perfect for busy nights when you're on the run with the kids and just want to make something quick and easy.
26. Alphabet Soup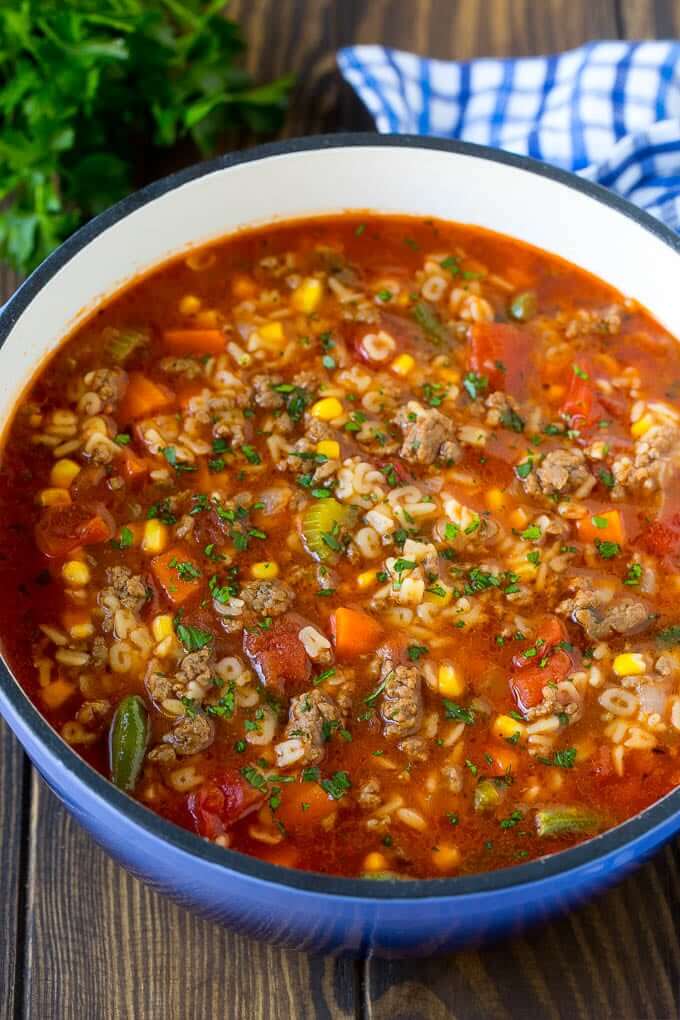 Dinner at the Zoo has a yummy-looking Alphabet Soup that you can feed to the kids without worrying about the extra preservatives in the canned stuff. Made with alphabet pasta, veggies, and ground beef in a delectable tomato broth, it's the perfect family-friendly dinner.
Isn't it surprising what you can do with a package of ground beef and some creativity in the kitchen?
27. Easy Goulash with Ground Beef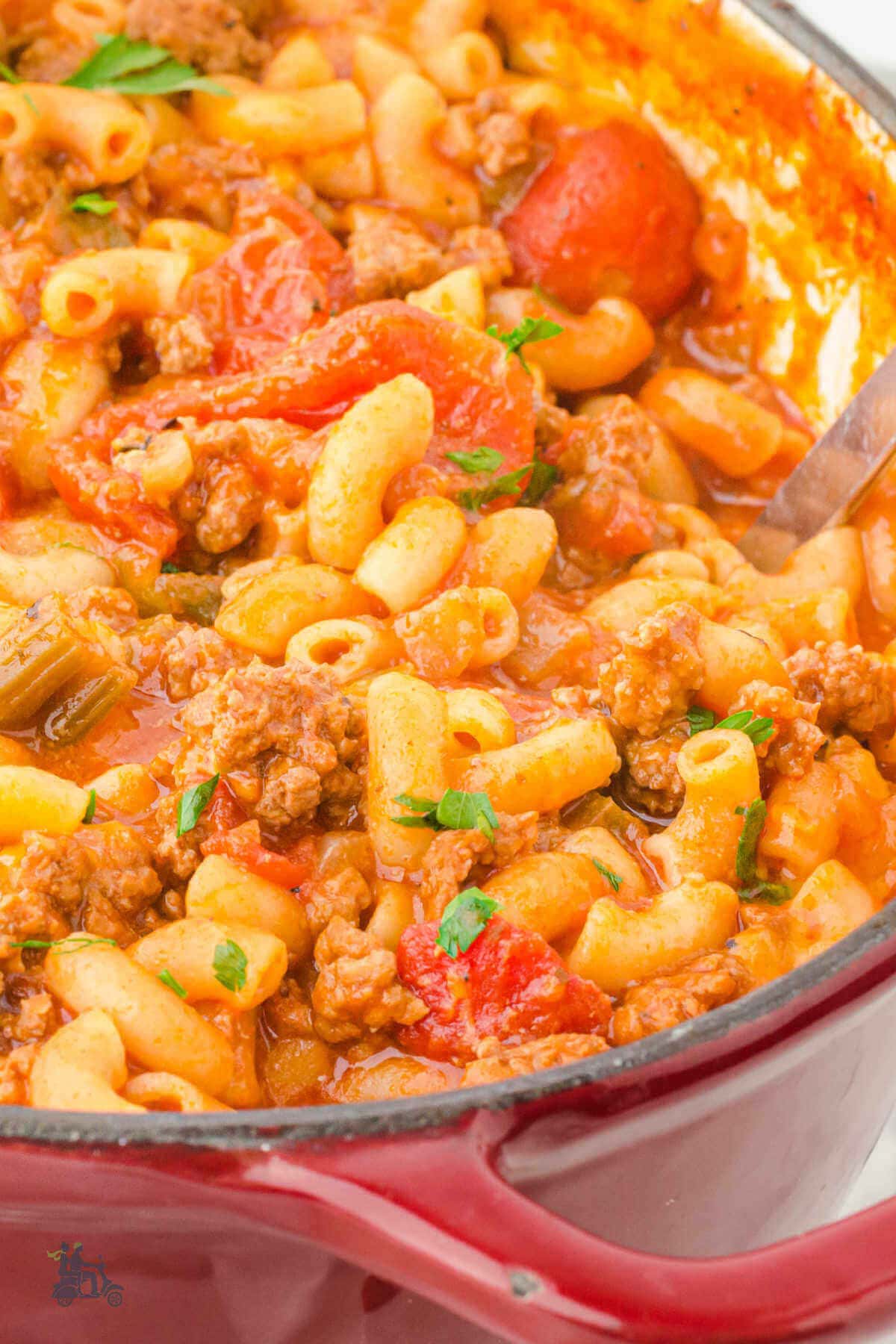 You're going to love everything about this hearty Goulash Recipe with Ground Beef. It's easy to make, super saucy and a hearty meal. It's also a great one pot wonder, so clean up is a breeze. Everyone will be lining up for seconds for this tasty dish!
28. Mummy Meatloaf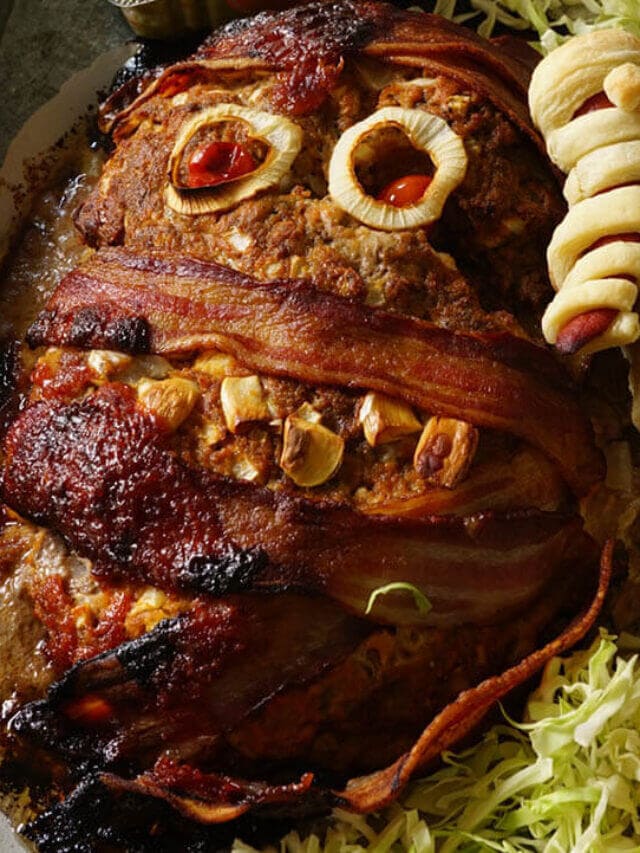 If ever there was a ground beef recipe for kids, it's this Mummy Meatloaf Recipe. It's super fun and an AMAZING meatloaf recipe! Be sure to have the kids help you decorate this handsome guy and then just bake him in the oven.
Now granted Halloween only comes around once a year, so skip the silly decorations and just lay bacon over the top and smear with glaze. This is one delicious meatloaf!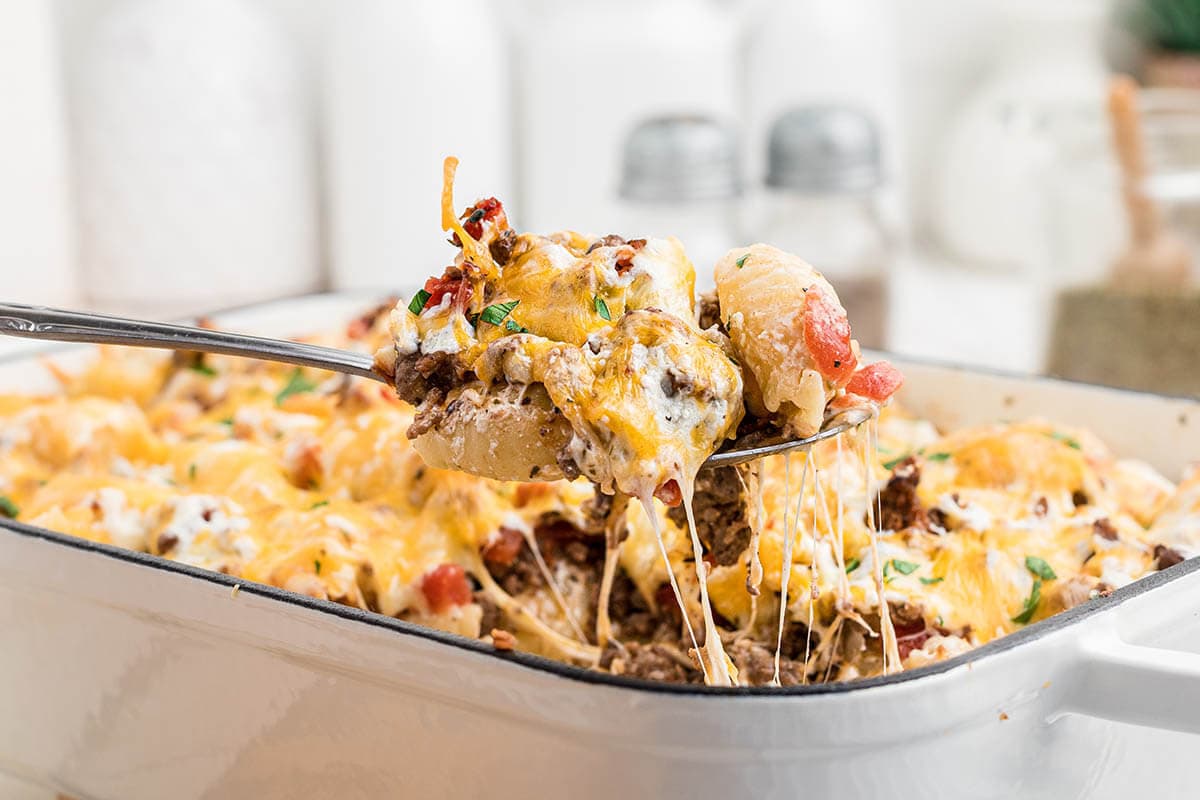 27. Hamburger Casserole
This Cheesy Hamburger Casserole is a super ground beef casserole dish kids are sure to love! You'll love it because it's a delicious budget friendly meal as well. A great weeknight or perfect for Sunday supper, everyone will be asking for seconds.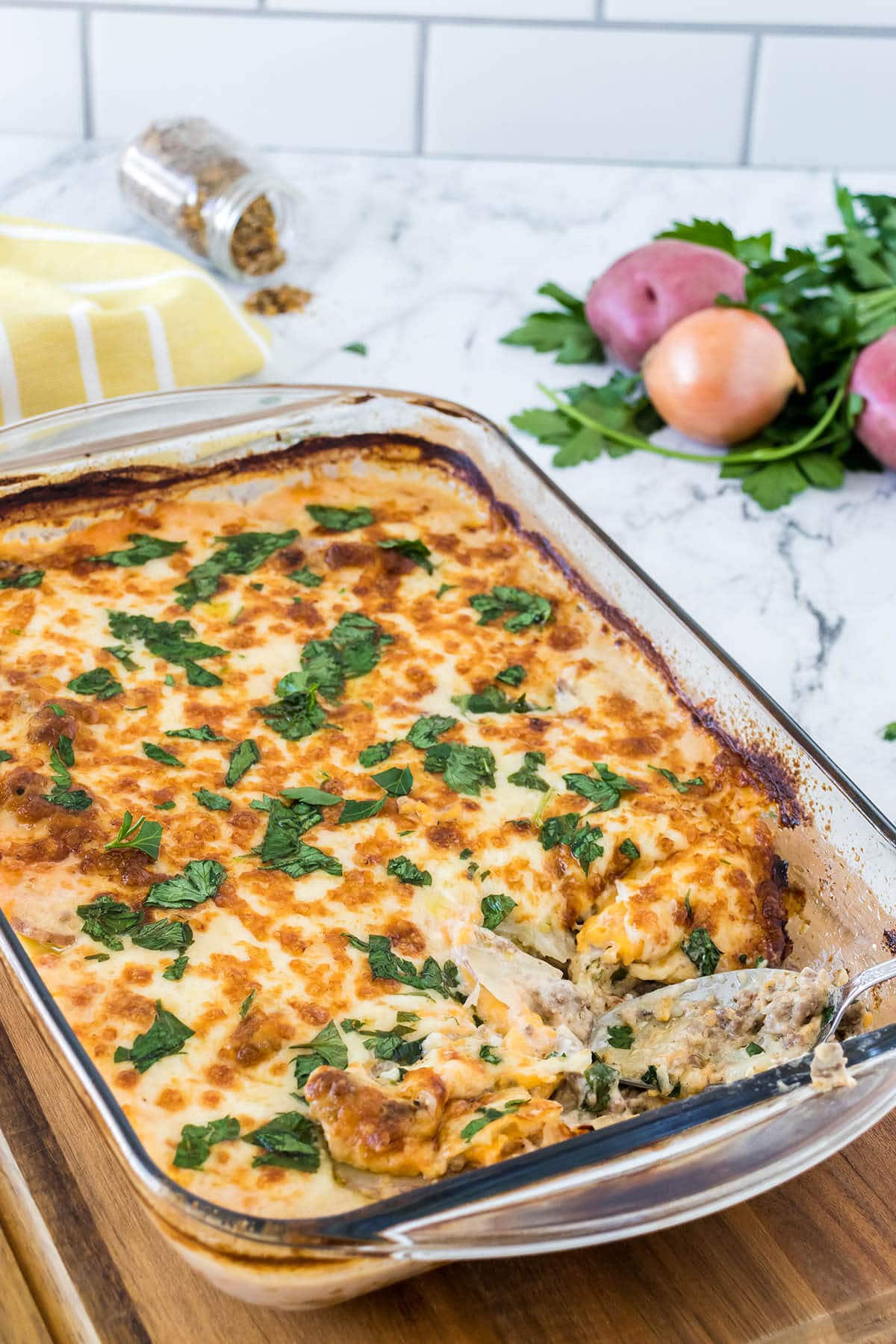 28. Hamburger Potato Casserole
This big beefy meal is sure to be a family favorite! It has everyone's favorite ingredients all wrapped in a cheesy rich sauce. Hamburger Potato Casserole - cheesy rich scalloped potatoes are always a favorite!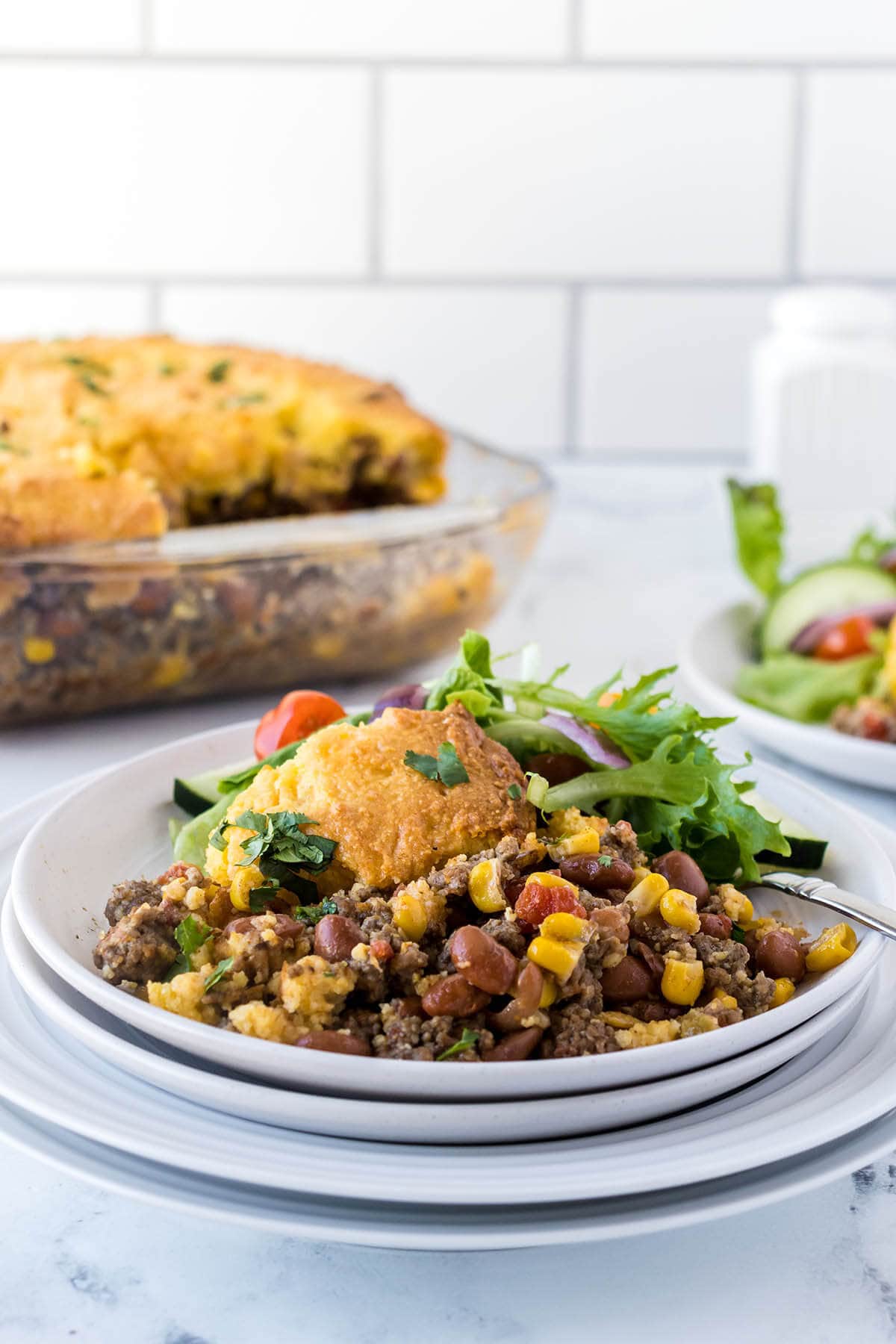 29. Cowboy Cornbread Casserole
Your picky eaters (big and small!) are going to dig into this yummy meal! Cowboy Cornbread Casserole has all your favorites. And the best part? You won't even have to make a side dish if you don't want to. It's cheesy, a little sweet and loaded with beef, beans and veggies. Enjoy!
Equipment
The following are affiliate links. We are a participant in the Amazon Services LLC Associates Program, an affiliate advertising program designed to provide a means for us to earn fees by linking to Amazon.com and affiliated sites.
We hope you've enjoyed this list of easy ground beef recipes that are perfect for feeding your kids on busy weeknights. Don't forget to pin it to come back to when you need dinner for your family in a flash!