Air fryer baked potatoes are the perfect side dish to go with so many of your family's staple meals. Plus, this method is easier, faster, and tastier than baking them in the oven. Just add your favorite toppings and get ready to enjoy the best baked potatoes of your life!
Love a great side dish? Be sure to try this easy Roasted Vegetables Recipe soon!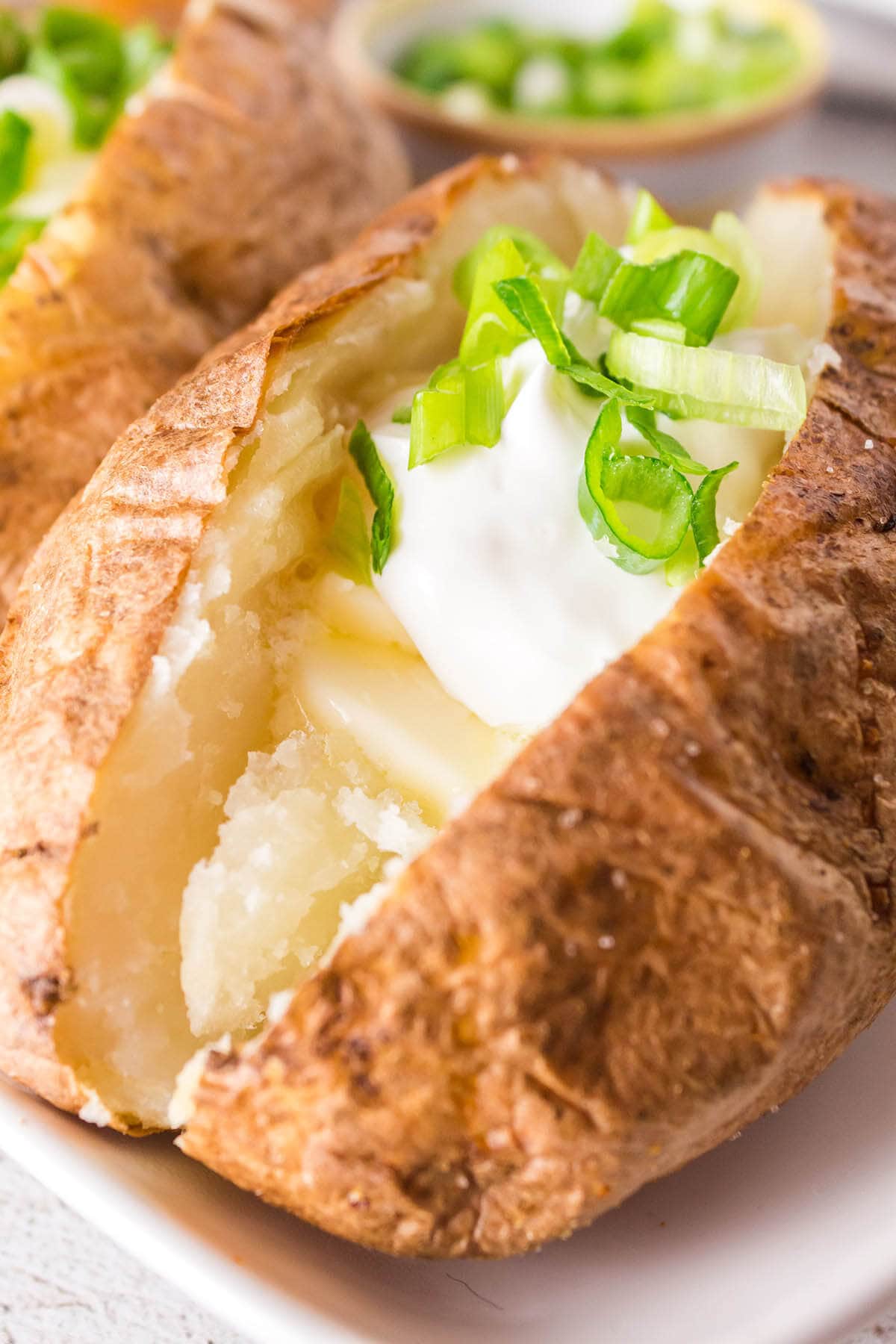 Jump to:
Why you'll love this recipe
✔️ This easy air fryer recipe takes less time than cooking potatoes in the oven.
✔️ No guesswork for perfectly crispy skin and fluffy insides.
✔️ Less messy and fewer dishes to clean up.
✔️ The perfect start when making Air Fryer Twice Baked Potatoes!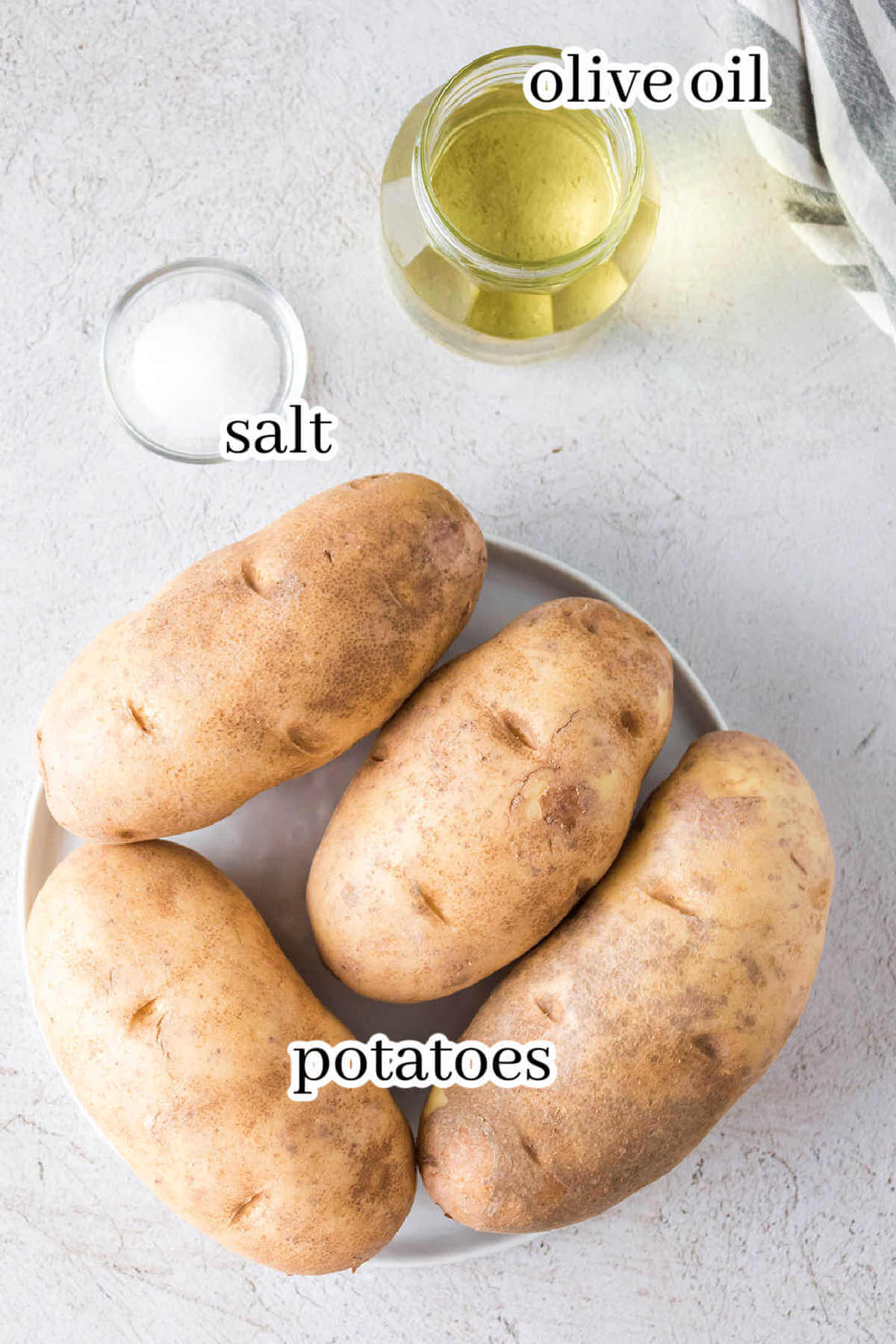 Ingredients
For the exact measurements, please refer to the printable recipe card at the bottom of this post.
baking potatoes
olive oil
salt
Instructions
This is an overview. For the specific instructions just scroll down to the bottom!
Clean the potatoes. Pat dry. Do not peel the skin.
With a fork, poke holes into each potato 3 to 4 times.
Next, coat the potatoes with oil.
Sprinkle the salt and gently pat it on the potatoes. This is how I found it easiest to evenly distribute the salt on the skin.
Place potatoes in the air fryer basket.
Set the air fryer on manual setting to 400 degrees F and cook for 20 minutes.
Flip the potatoes and cook for an additional 20-25 minutes. The potato's internal temperature when done is around 205 degrees F.
Serve with your favorite toppings.
Equipment
The following are affiliate links. We are a participant in the Amazon Services LLC Associates Program, an affiliate advertising program designed to provide a means for us to earn fees by linking to Amazon.com and affiliated sites.
Don't forget to check out my Amazon storefront for some of my favorite products! 🛍️
FAQ's
How do you clean potatoes?
Soak them in cold water for about 15 minutes to loosen the dirt. Then, rinse them under cold water, scrubbing with a brush to remove any stubborn yuckiness. Finally, dry them well using a kitchen towel.
Should you use kitchen soap to wash the potatoes?
Nope! The skin of produce can absorb chemicals, so unless you want to eat your dish detergent, it's not recommended to use kitchen soap on fruit or veggies.
Why do you coat the potatoes with oil?
Oil helps makes the skin extra crispy. It's the key to a perfect baked potato! Plus, the salt also sticks a little better to the oil than to plain potato skin.
Can I use butter instead of oil?
I don't recommend it, since butter burns quickly. I like to use oil with a high smoke point, like peanut or avocado oil. Alternatively, olive oil or a type of non-stick cooking spray (like one made of canola oil) will work. Reserve the pat of butter for topping your cooked potato, instead!
Do sweet potatoes work instead of russet?
Sure thing! Swap them into this recipe without changing anything else and get ready for the best air fryer sweet potatoes—ever! Just like with regular potatoes, different sizes of sweet potatoes will have different cook times, so temperature-check them for best results.
Things to know
When choosing potatoes, keep the size of your air fryer in mind. Of course, if your air fryer basket is on the small side, avoid larger potatoes.
Cooking time will vary among different sized potatoes. So, try to pick potatoes of a similar size and shape when making them in the air fryer so that they all cook at the same rate.
After cleaning the potatoes use a paper towel to dry them well or a kitchen towel. Damp potato skins don't crisp as much.
For the best potato ever, don't crowd the air fryer. Place the potatoes in a single layer—you want the hot air to circulate freely around each potato.
Flipping the air fryer baked potatoes halfway through the cooking process makes them evenly crisp. However, don't forget to use tongs—they'll be hot, hot, hot!
The size of the potatoes matters. Depending on the size potatoes, they may need to cook a little more or less than the recipe indicates.
An easy way (and, the best way, in my opinion) to tell if the air fryer potatoes are done is with an instant thermometer. An internal temperature of 205 degrees F means the potato is done!
Variations
Russet potatoes are usually my go-to because their skin is perfect for crisping, yet the insides stay light and fluffy. However, you can make air fryer baked potatoes out of a variety of different kinds, depending on what you're in the mood for.
For example, red potatoes and Yukon gold potatoes will taste more buttery but are slightly denser in texture. On the other hand, you can use sweet potatoes for a mild, starchy side dish!
For more flavor in every bite, sprinkle the potato skin with some onion or garlic powder when rubbing them with the oil. We also like to use good kosher salt, but you can use whatever type you have on hand—course sea salt is yummy, too.
Feel free to get creative when it comes to potato toppings. You can even set up a baked potato bar for family game night and highlight the delicious spuds as dinner's main event. We enjoy:
Sour cream and/or butter
Seasonings, like fresh cracked black pepper or chopped green onions
Raw diced red onion and jalapeno peppers
Hot sauce
Shredded cheddar cheese
Some protein, like bacon bits and/or a meaty chili
Video
Click on the image to watch this fun video and see me make this recipe from start to finish with extra tips! (Video opens in a new tab).
Storage
Refrigerate—Leftover baked potatoes can be stored in an airtight container for about three days. Some people just wrap them in aluminum foil, but I like to use a storage container to prevent the potatoes from absorbing any other fridge odors!
Freezer—Wrap cooled potatoes tightly in plastic or foil, then place them into a freezer-safe bag. The potatoes will last for about three months this way.
Reheat—If frozen, let the potatoes thaw in the fridge, first. Then, rewarm the potatoes in the air fryer at 350 degrees F for four or five minutes.
Leftovers are great made into twice-baked potatoes or as air fryer potato skins for game day. Or, serve 'em as is for an easy dinner in a fraction of the time!
More air fryer recipes
Are you new to the air fryer? Don't worry, we have all of your questions answered here - Air Fryer Tips for Beginners.
Find all of the easy air fryer recipes here!
Related recipes
Serve with
What goes better with an air fryer baked potato recipe than a quick Instant Pot Pulled Pork Butt? Nothing—the answer is nothing!
Another one of my favorite air fryer recipes, these Maple Glazed Carrots are irresistible and made with simple ingredients!
Round out your menu with this easy recipe for Cast Iron Skillet Cornbread—so delicious, it's almost like eating dessert for dinner!
Hey if you want to catch all my videos, be sure to subscribe to my YouTube Channel. You'll be notified each time I share a new video!
If you love this recipe please leave a ⭐⭐⭐⭐⭐ rating!
Air Fryer Baked Potatoes Recipe
Delicious potatoes with crispy skin and a fluffy center. It will be your favorite way to bake potatoes!
As an Amazon Associate I earn from qualifying purchases.
Ingredients
4

medium

potatoes

1

tablespoon

olive oil

or grapeseed oil or vegetable oil

1

teaspoon

coarse sea salt
I earn a commission from Instacart from qualifying purchases.
Instructions
Set the air fryer temperature to 400 degrees. Preheat for 5 minutes.

Clean the potatoes. Pat dry. Do not peel the skin.

With a fork or sharp knife, poke each potato 3 to 4 times.

Coat the potatoes with oil.

Sprinkle the salt and gently pat it on the potatoes. This is how I found out it is easier for even distribution of the salt on the skin.

Place the potatoes in a single layer in the basket of the air fryer.

Set the air fryer on manual setting to 400 degrees F and cook for 20 minutes.

Flip the potatoes and cook for an additional 20-25 minutes. The potato's internal temperature is around 205 degrees F.

Serve with your favorite toppings.
Nutrition
Calories:
199
kcal
|
Carbohydrates:
38
g
|
Protein:
5
g
|
Fat:
4
g
|
Saturated Fat:
0.3
g
|
Polyunsaturated Fat:
1
g
|
Monounsaturated Fat:
2
g
|
Trans Fat:
0.01
g
|
Sodium:
592
mg
|
Potassium:
888
mg
|
Fiber:
3
g
|
Sugar:
1
g
|
Vitamin A:
2
IU
|
Vitamin C:
12
mg
|
Calcium:
28
mg
|
Iron:
2
mg
Sign up for my recipes here!!
Don't worry, we'll never share your email.