Cast Iron Skillet Cornbread Recipe – Nothing beats warm, sweet cornbread with a crunchy, buttery crust! Baked in a cast-iron skillet and topped with melted butter and honey, this is a swoon-worthy side dish!
PIN IT HERE!!!
First Published: April 25, 2017… Last Updated: August 5, 2019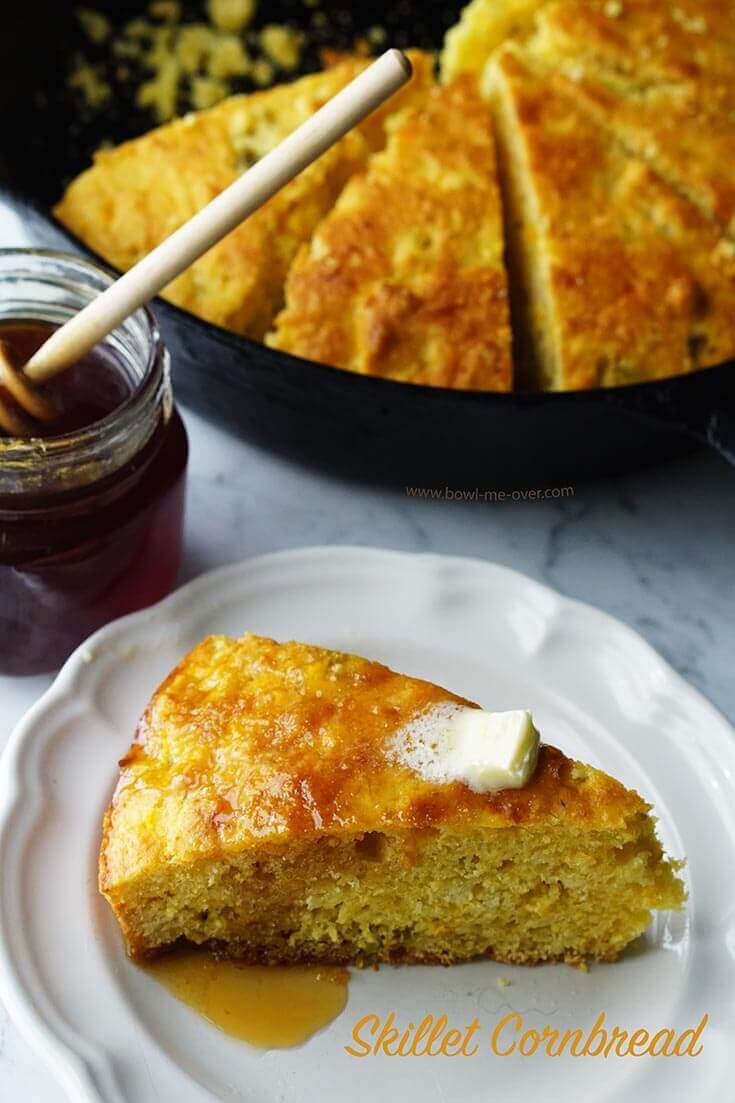 Skillet Cornbread
I've been making my skillet cornbread recipe for years. The other day when I decided to make it (it had admittedly been awhile) I dug around in the back of my pantry and found the three boxes needed to throw this together.
I love easy recipes that take a shortcut! Tomato Tart with Goat Cheese and Capers uses pre-made pastry, or Creamed Corn Muffins (uses Jiffy box mix again, yay!) or Easy Dinner Rolls with frozen dough, both super yummy and easy!!
This recipe does too. It is semi-homemade and starts with a cornbread mix.
Now I'm going to back up a bit and say I don't like to share stories of failures or icky stuff, but I wanted to share this with you because you can all learn from my mistakes.
Furthermore, how tragic is a failure in cooking? 🤣 not very and if you can't laugh at yourself, right?
Anyway… I mixed everything together and made this cornbread, but while it was cooking the house did not fill with an amazing aroma.
huh?
I didn't think a whole lot about that. Until I sliced it up to serve. Something tasted really funny. Like it was old. Ewe! After digging the box out of the recycle bin, I discovered the mix was expired. Two years earlier…
Morale of that story? Check expiration dates!
Anyway, back to the Cast Iron Skillet Cornbread Recipe! My version is semi-home and dolled up with corn, green chilies and green chilies!
Skillet Cornbread Recipe
Cornbread is one of those old-fashioned and sometimes neglected side dishes, but it shouldn't be! My recipe is moist, slightly sweet and bakes up to golden brown perfection!
Topping it with a bit of butter and a drizzle of honey and it just doesn't get much better than this!
Why does my cornbread crumble?
Most likely the cornbread was overtaxed. Stir together the ingredients until they are just combined. Over-mixing activates the glutens and results in a drier cornbread.
How do you keep the cornbread from sticking in the skillet?
Before the batter is poured into the skillet, be sure to butter the pan well or spray it liberally with non-stick coating.
Can you make cornbread without a cast iron skillet?
You bet, but the reason I recommend a cast-iron is because it makes a crusty, delicious crust on the cornbread.
What size cast iron skillet for cornbread
This recipe uses a 12′ skillet.
What can I substitute for milk?
No milk or heavy cream? No problem! You can substitute evaporated milk or mayonnaise. If you want to change it up substitute orange or pineapple juice. It will give it a whole new taste!
How to make cornbread in a cast iron skillet
Often times, cornbread is cake-like or dry. This cornbread is incredibly moist the addition of cream-style corn.
Grocery list for Cast Iron Skillet Cornbread Recipe
jiffy cornbread mix
cream style corn
canned green chilies
eggs
shredded cheese
heavy cream
sugar
Steps to make cornbread in a castiron skillet
Preheat the oven and skillet.
Mix the cornbread mix and the remaining ingredients until they are just combined. Do not over mix!
Remove the skillet from the oven. Coat with canola oil.
Pour the ingredients into the skillet.
Bake for 40-50 minutes.
What to serve with cornbread recipe
How to make ribs on the grill
Make your own fall off the bone tender ribs at home like a pro! You'll love how easy this recipe AND how delicious!
Check out this recipe
Macaroni Pasta Salad Recipe
Crunchy vegetables and salty bacon are loaded into this Easy Macaroni Pasta Salad! Topped with coleslaw salad dressing, this is SO GOOD and so easy!!

Check out this recipe
Mexican Coleslaw Recipe
Mayo-free Spicy, crunchy coleslaw with a tasty twist that's easy to make! It's the perfect tasty side dish or add some crunch to your favorite tacos, yum!!
Check out this recipe
Instant Pot Corn on the Cob
Sweet, juicy corn on the cob ready in minutes! No need to get a steamer basket or special accessories either. Follow this easy step-by-step guide to make Instant Pot Corn on the Cob.

Check out this recipe
Slow Cooker Beans
Slow Cooker Baked Beans – These beans are sweet with just a hint of spice. They are delicious and so flavorful. They also freeze great!
Check out this recipe
You really need to make this cornbread. You're going to love it as much as we do!! Now I gotta go… it's time to clean out that pantry! 😉
I am a participant in the Amazon Services LLC Associates Program, an affiliate advertising program designed to provide a means for us to earn fees by linking to Amazon.com and affiliated sites.
Don't forget to check out my Amazon storefront for some of my favorite products! 🛍️
When you make this please be sure to tag me on Instagram @bowl_me_over or #bowlmeover – I'd love to see your pictures! And if you get a chance, please comment and leave me a ⭐⭐⭐⭐⭐ rating below!
Cast Iron Skillet Cornbread Recipe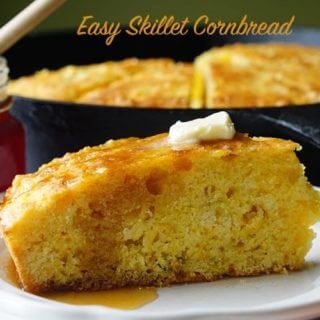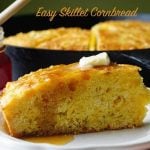 Print
Cast Iron Skillet Cornbread Recipe
Easy Skillet Cornbread – making homemade cornbread is easy. Use a box, doctor it up – delicious and makes the whole house smell amazing while it is baking!
Ingredients
3

boxes of jiffy cornbread mix

1

16 oz

can of cream style corn

1

4 oz

can of green chilies

2

eggs

1

cup

of shredded cheese

I used a mix of pepper jack and cheddar

1/4

cup

of heavy cream

2

tablespoons

sugar
Instructions
Preheat oven & skillet to 300 degrees.

In a large bowl add the cornbread mix and the remaining ingredients. Mix until just combined, a few lumps are okay!

Carefully remove the skillet from the oven. Coat the bottom & sides of the skillet evenly with canola oil.

Pour the bowl of ingredients into the skillet.

Bake for 40-50 minutes until a knife inserted comes out clean.
Nutrition
Serving:
1
slice
|
Calories:
74
kcal
|
Carbohydrates:
2
g
|
Protein:
3
g
|
Fat:
5
g
|
Saturated Fat:
3
g
|
Cholesterol:
43
mg
|
Sodium:
73
mg
|
Potassium:
23
mg
|
Sugar:
2
g
|
Vitamin A:
205
IU
|
Calcium:
75
mg
|
Iron:
0.2
mg
Sign up for emails here!
Don't worry, we don't share emails!