This delicious one pot meal takes just minutes to make and is on the table in just 30 minutes!
Skillet Chicken and Zucchini is a one pot meal. It's creamy, easy to make and delicious! It's flavorful and stuffed with zucchini and topped with cheese. Even your pickiest eaters will have a hard time saying no to this meal!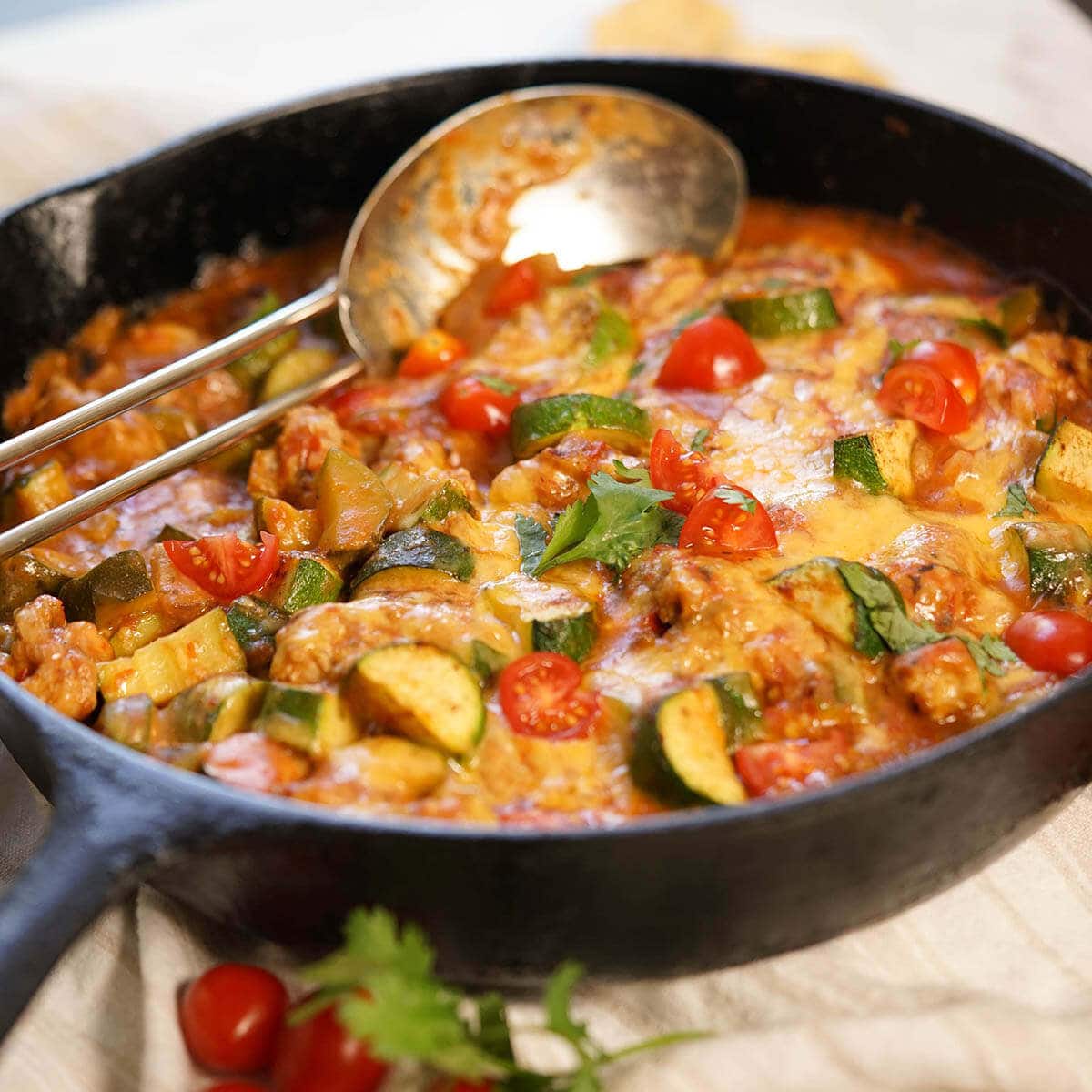 Chicken and Zucchini cooked in one skillet with onions and a melted cheese sauce on top. One pan, easy and a delicious 30 minute meal!
Double this recipe, it's unbelievably delicious! Trust me on this until you make it and then you'll know what I'm talking about. It's really simple ingredients, but combined it becomes SO GOOD!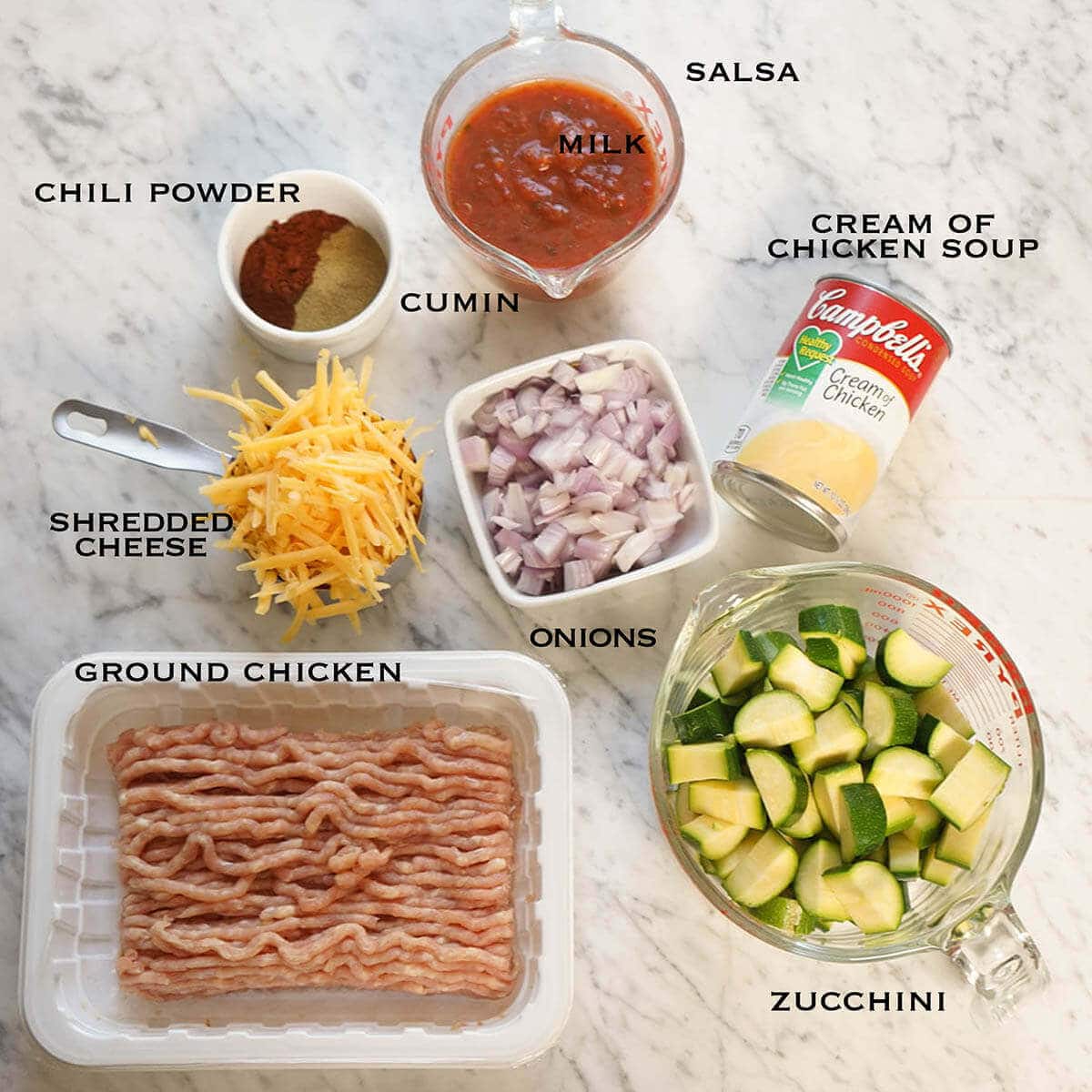 ground chicken - though you can certainly substitute ground, beef, turkey or pork.
zucchini and onions- great way to use up zucchini and onions for flavor!
shredded cheese - for cheesy goodness.
cream of chicken soup - tops this off for creamy goodness. None in the pantry? Substitute with cream of mushroom or celery.
salsa, chili powder and cumin - lots of warm spices for tons of flavor.
Chicken and Zucchini comes together super quick! Here's how easy it is to make!
Brown the chicken.
Add the onions and zucchini.
Next season with cumin and chili powder.
Whisk together the salsa and cream of chicken soup.
Pour on top of the casserole.
Top with cheese.
Bake until hot and bubbly!
Can I substitute the meat?
Absolutely, you can substitute the meat with ground, beef, turkey or pork. Additionally you can use cubed chicken.
How do I make this vegetarian?
Substitute the ground chicken with two cans of drained black beans. Use cream of celery soup in place of the chicken - delicious!
How do I know if the zucchini is good?
Fresh zucchini should be dark green in color and firm. When you slice into it the flesh will be creamy yellow or white.
How long will it last?
Zucchini's last quite a while in the fridge at least a week or two.

Don't wash it before you store it. Keep it in a plastic or paper bag unsealed so the air can circulate. Store in the vegetable drawer in the fridge.
How can you tell if it's went bad?
It will be super soft, the skin will be dull and you'll be able to see bad spots and decay. It's pretty obvious!
Does it need to be peeled?
If it has been coated in wax, it needs to be peeled but that isn't a common practice in our area. I never peel them. Of course if it's fresh zucchini from your garden or the farmers market, that's never a problem!
How do you prepare the zucchini?
Wash it well, slice off the end and the stem. Slice it lengthwise and then into half moons.
Can you freeze Chicken and Zucchini
Unfortunately zucchini doesn't freeze well. It becomes watery and looses it's texture.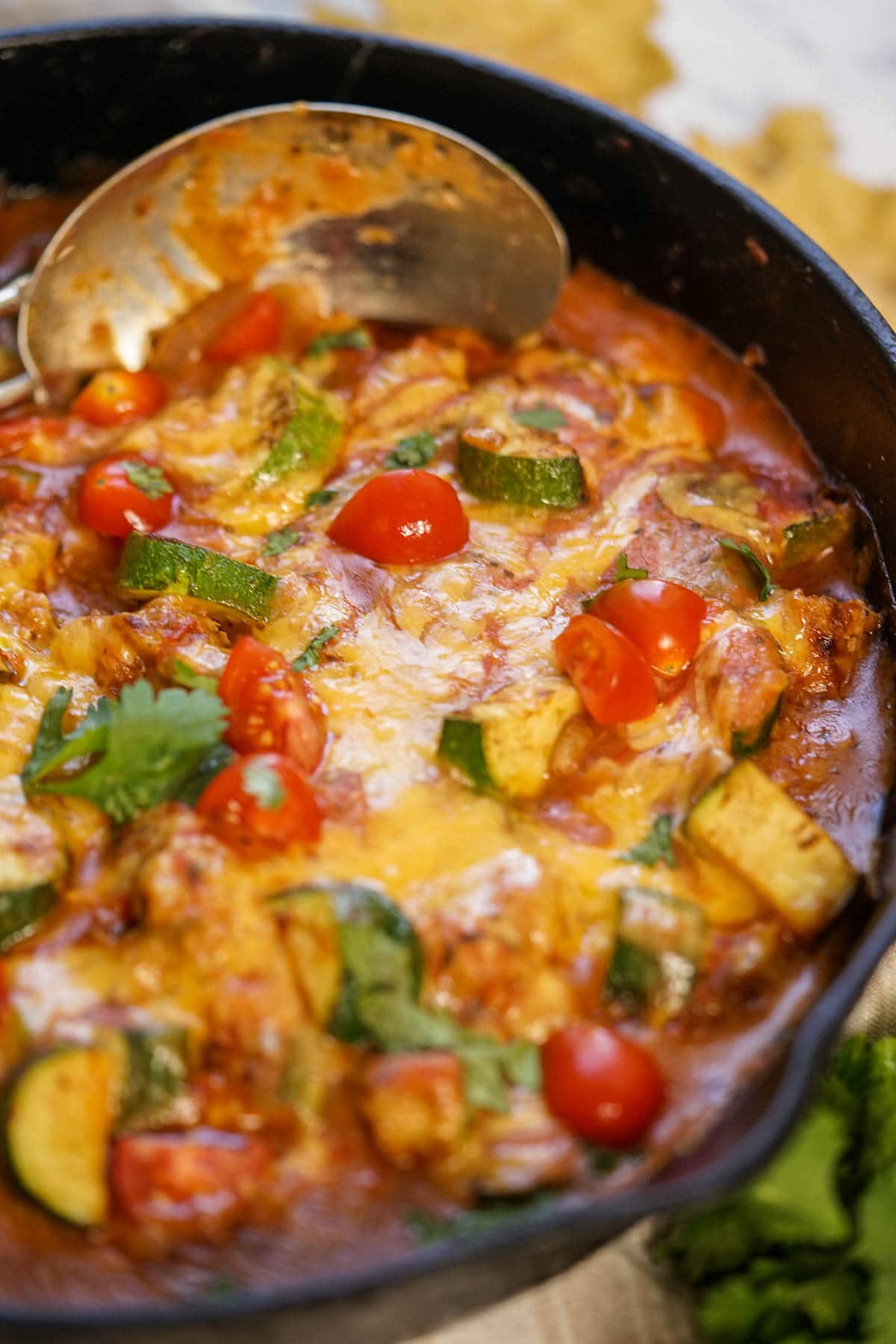 Cast iron skillet is the way to go here.
It browns the meat beautifully and holds up to baking in the oven. From there it goes right to the table for serving, just be sure you wrap the handle of the skillet.
Stretch it with....
You can easily stretch out this meal by adding additional ground chicken or canned, drained beans - I've used pinto, kidney or black beans.
Adding one cup rice to the skillet, along with two cups of water or chicken stock and you can double the servings. Just be sure to bake it long enough to cook the rice.
Side Dishes
I kept it easy and just served this easy Skillet Chicken and Zucchini with chips, but you can serve it over rice or pasta. Other side dishes I'd recommend are great Southwest Salad or this Mexican Street Corn dish both would be perfect served with this meal!
More one pot meals
I love Chili Mac and Cheese. It's always been one of my favorite meals! One Pot Lasagna Soup or Skillet Chicken and Potatoes are comfort meal classics!
Recipe
Chicken and Zucchini
This delicious one pot meal takes just minutes to make and is on the table in just 30 minutes!
As an Amazon Associate I earn from qualifying purchases.
Ingredients
1

lb.

ground chicken

can substitute ground turkey or beef.

4

zucchini

four small zucchinis sliced. You need about six cups

1

onion

diced

1

can

cream of chicken soup

1

cup

salsa

1

cup

shredded cheese

1 ½

tsp

cumin

1

tsp

chili powder
Instructions
Preheat the oven to 375 degrees.

Brown the chicken over medium heat. Cook it until it's no longer pink. Drain if necessary. While it's cooking, dice the onion and slice the zucchini.

Add the onions and zucchini to the browned meat. Season with cumin and chili powder. Cook for 6-8 minutes just until the onions begin to soften.

Remove the meat mixture from the heat. Stir the cream of chicken soup together with the salsa. Pour over the skillet. Top with shredded cheese.

Place uncovered in the oven for 15 minutes. Bake until hot and bubbly and all of the cheese melted.

If desired top with diced tomatoes and cilantro. Serve over rice or with chips - enjoy!
Notes
You can substitute ground turkey or beef for the chicken. Double the recipe if you're feeding a crowd and serve with warm tortillas 
Nutrition
Calories:
383
kcal
|
Carbohydrates:
20
g
|
Protein:
32
g
|
Fat:
21
g
|
Saturated Fat:
8
g
|
Cholesterol:
126
mg
|
Sodium:
1266
mg
|
Potassium:
1414
mg
|
Fiber:
4
g
|
Sugar:
9
g
|
Vitamin A:
1232
IU
|
Vitamin C:
38
mg
|
Calcium:
223
mg
|
Iron:
4
mg
Sign up for my recipes here!!
Don't worry, we'll never share your email.