Posole is a flavorful New Mexico stew. This posole recipe is spicy and rich; filled with tender pork, hominy and red chiles sauce – my favorite soup! Bonus? It's super easy to make!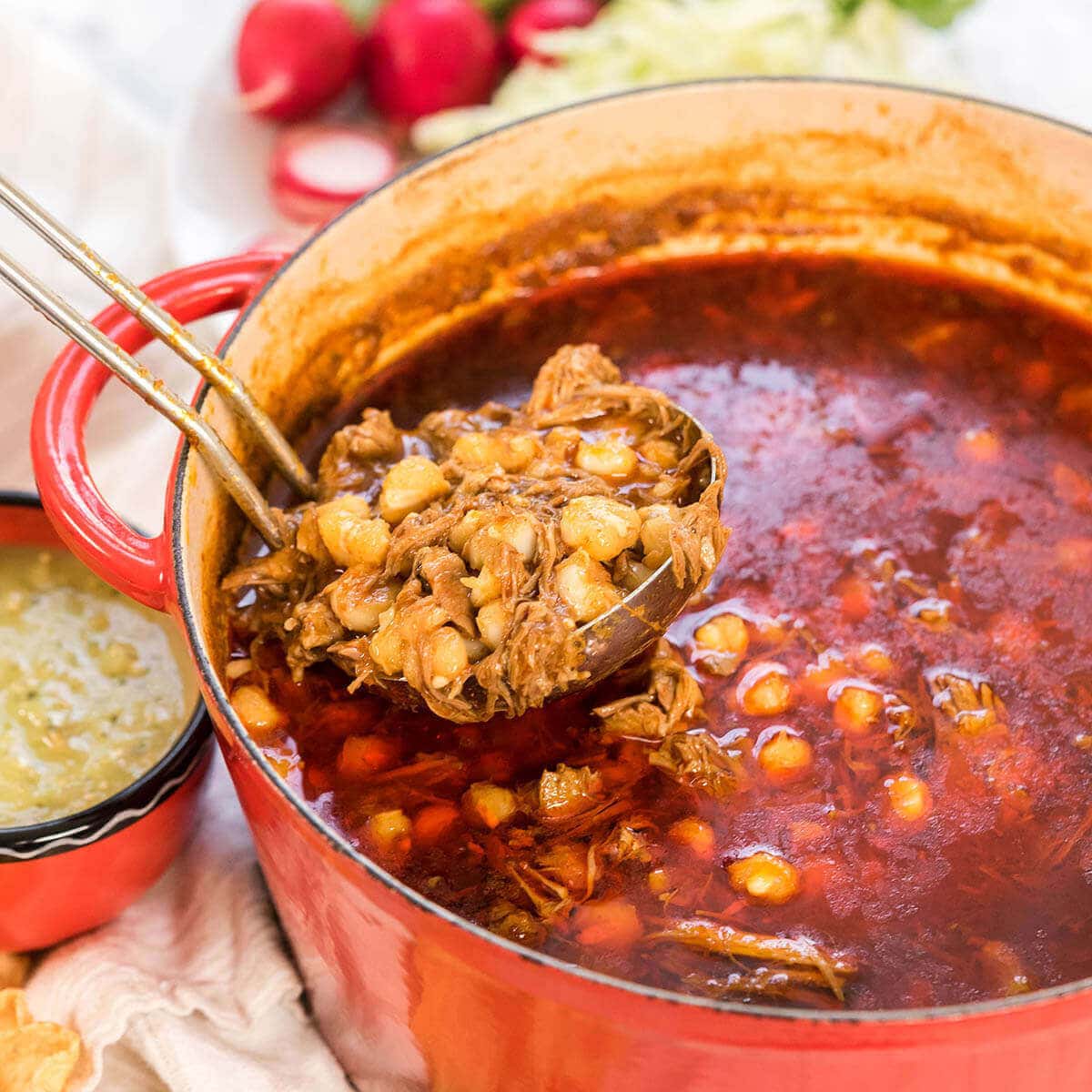 Jump to:
Why you will love this recipe
This authentic New Mexico Posole recipe is deliciously savory and flavorful. You MUST try this stew! It is truly fabulous and easy enough for anyone to make. The heat isn't overpowering. It's a perfect balance of warmth and flavor!
Pozole is a dish traditionally served on special occasions - Christmas Eve, Saints Day Feasts, New Years's gatherings, weddings or weekends. It's a special comfort food dish that simmers slowly until the pork is tender and delicious!
Ingredients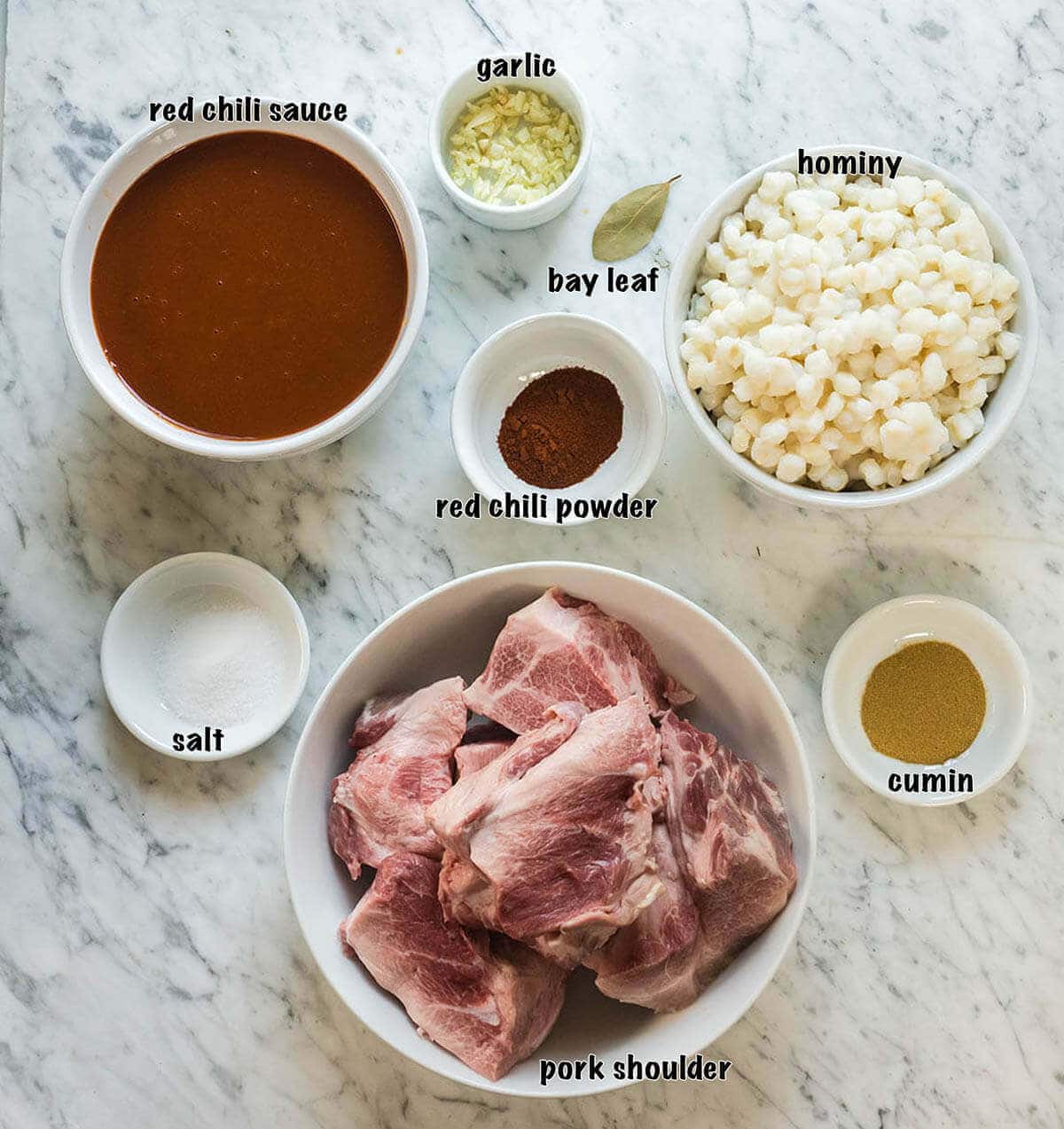 For a complete list of the ingredients, to make New Mexico Posole please refer to the bottom in the recipe card.
pork - you can use pork butt, shoulder or loin.
red chili sauce - be sure to get red chili sauce, not enchilada sauce. Las Palmas is an excellent brand and readily available in most grocery stores - this is the key ingredient!
hominy - most markets carry white hominy or yellow hominy, either will work for this recipe!
cumin, salt, red chile powder, bay leaves and cloves of garlic
optional garnishes - shredded cabbage, diced white or yellow onions and sliced radishes.
Instructions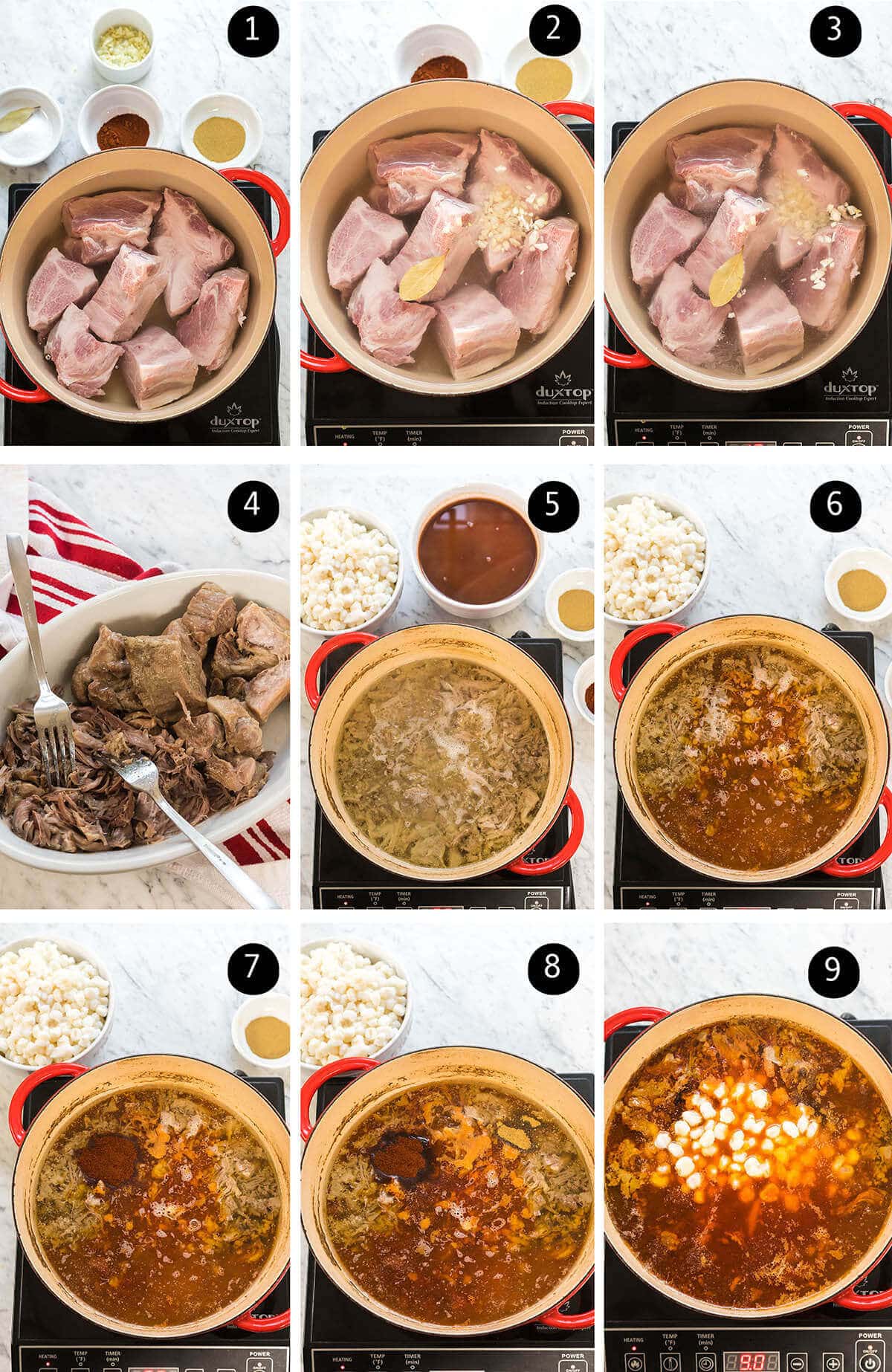 Cut the pork into chunks. Add meat to a large stock pot and add enough water to cover the pork.
Add bay leaf and garlic.
Next add the salt and bring to a boil. Cook for 3-4 hours lowering the heat to prevent the water from boiling over.

Discard the bay leaf. Remove and shred the pork.
Return the pork to the Dutch Oven.
Add the red chile sauce.
Next the chili powder.
Now add the cumin.
Finally add the hominy and cook for an additional ½ hour to 40 minutes.
Serve with lime wedges, thinly sliced cabbage, radishes and sour cream.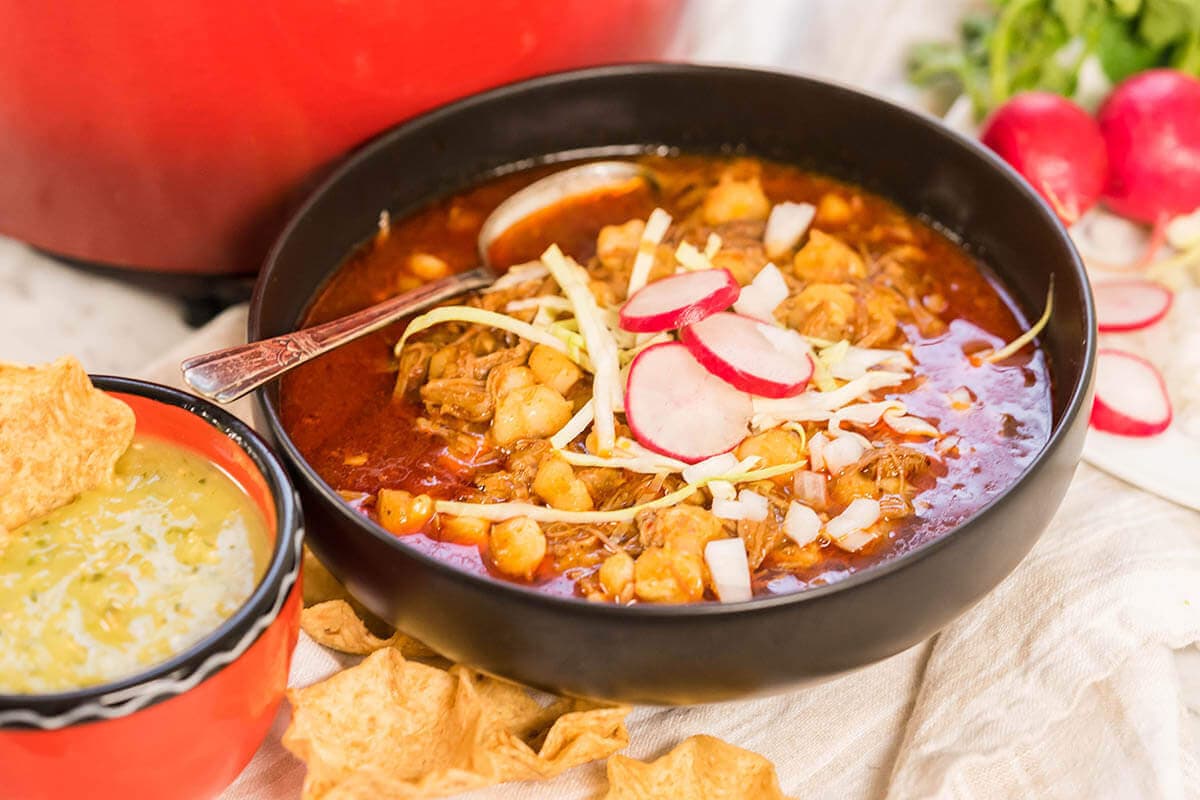 Tips
When the meat is tender, you can shred it with two forks or to cut it into small chunks. I prefer to shred the meat because then you can remove any fat in the pork.
If this is the first time you've made the soup I always remind folks to cook it as directed. You want that pork super tender!
This stew freezes great! Be sure to ladle out a quart and tuck it in the freezer so on those days you don't want to cook.... you'll have New Mexican Posole waiting for you!
Pro Tip: Too spicy for your taste? Dairy will save the day! A big dollop of sour cream will help calm the fire! No sour cream? How about a big glass of milk! Surprisingly, water will make the spice more intense!
Video
Click on the image to watch this fun video! (Video opens in a new tab).
Strolling the Santa Fe Farmer's market, one of the vendors was roasting chili and the aroma was intoxicating!
FAQ's
Is it Posole or Pozole?
Actually either works! The word Posole means hominy - so basically this is an authentic Mexican hominy stew!
What is New Mexico Posole? 
It is a traditional Mexican Stew. Posole rojo or red posole is made with pork, red chilies and hominy.
What do you drink with pozole?
If you enjoy wine a Pino gris would be crisp and fresh, if you are a beer kinda person choose an IPA it would pair well with the richness of this stew.
Can you make the NM Posole Recipe in your slow cooker?
Yes, actually you can! For the pork to get completely tender in this New Mexico Posole Recipe, it will take 12-14 hours.
How can you cool the heat from the spices?
The garnishes have more than one purpose. They are pretty, but they also cool the heat from the chili. Green cabbage, onions and a spoonful of sour cream will calm intensity of the spices.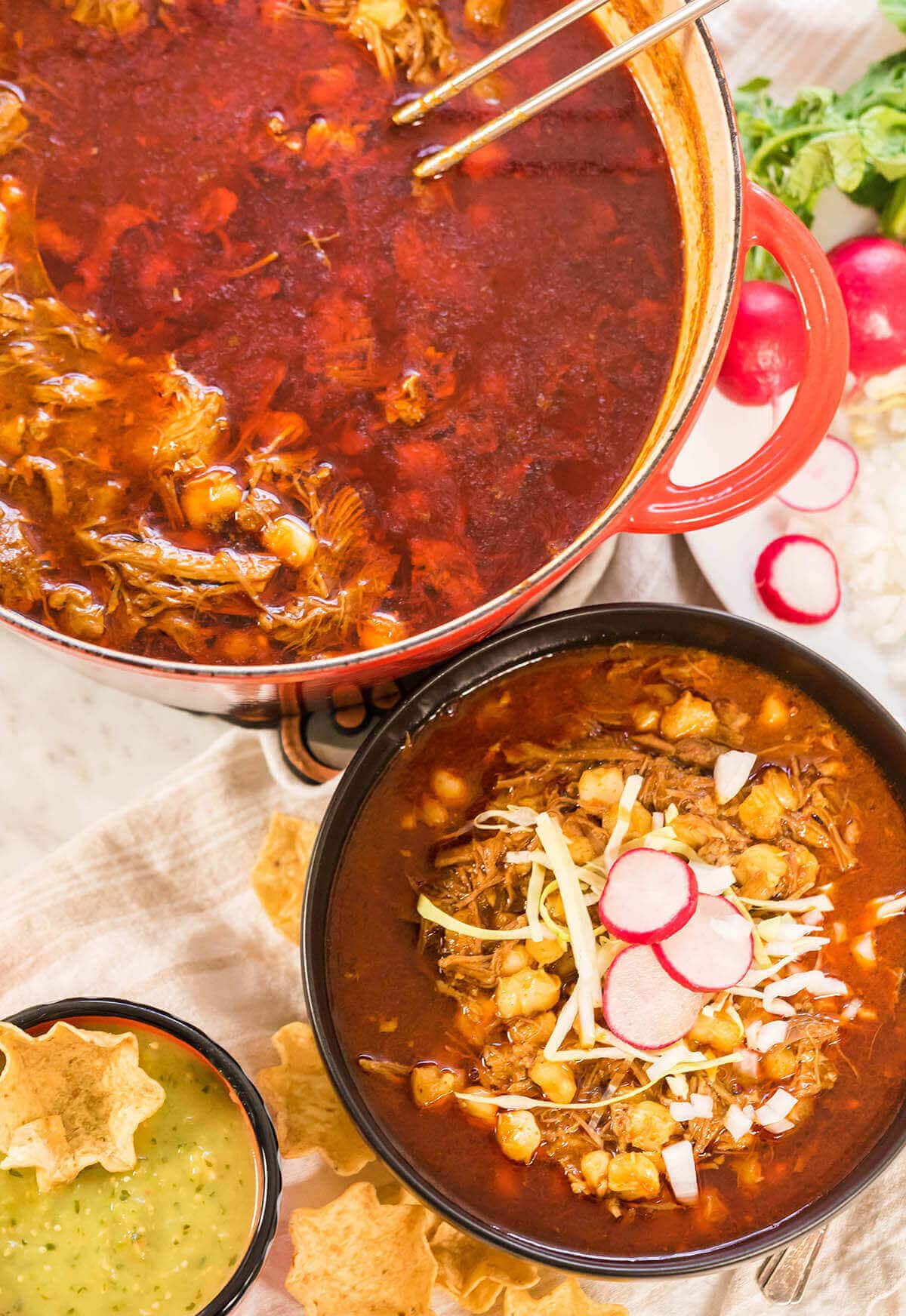 Serving suggestions
This hearty soup is so robust and rich, I usually keep it pretty simple. Tortilla chips and salsa are classic side. Cornbread would also be delicious!
A simple green salad would be terrific as well - this Southwest Salad one is truly one of my favorites and I enjoy this salad and often make a meal of it!
Are you still not sure? 50+ ideas of what to serve with posole here!
If you love New Mexican Posole - try this recipe next! Green Chili Chicken Posole - uses green chilis and chicken. This soup is super yummy too and is faster to make because it doesn't cook all day.
Looking for more soup making tips and tricks? Be sure to head over to Homemade Soup; A Complete Guide. This has everything YOU need to know to make the best soups and stews at home!
Related recipes
If you enjoy this recipe, please be sure to leave a five star rating below! This is one of my favorites stews and I hope you love it as much as we do!
Authentic New Mexico Posole Recipe
Rich and flavorful this soup is slow cooked until the hominy is soft and the pork is fall apart tender.
As an Amazon Associate I earn from qualifying purchases.
Ingredients
5-6

pound

pork shoulder

cut in large chunks

1

bay leaf

1

Tablespoon

salt

1

Tablespoon

garlic

chopped

28

oz.

red chile sauce

(Las Palmas) NOT Enchilada sauce

1

Tablespoon

red chile powder

1

teaspoon

cumin

48

ounces

canned hominy

usually comes in 24 oz cans. Drain the hominy.

optional garnishes, shredded green cabbage, sliced radishes and diced white or yellow onions
I earn a commission from Instacart from qualifying purchases.
Instructions
Add meat to a large six quart Dutch oven and fill with water leaving a couple of inches from the top. About 6 cups of water.

Add bay leaf, salt, and garlic. Bring to a boil and continue to cook for 3-4 hours lowering the heat to prevent the water from boiling over. As the soup cooks add water as it evaporates so the meat continues to be covered.

When meat is tender remove the bay leaf and discard. Do not discard the water the pork was boiled in.

When the pork is tender, you can remove the meat and shred with two forks picking out the fat as you go, or just cut the meat into chunks. Place the shredded meat back into the Dutch Oven.

Next add red chili sauce, chili powder and cumin.

Add hominy and cook for an additional ½ hour to 40 minutes.


Taste and add additional salt if needed. The garnishes are optional, but they definitely make the meal! Shredded cabbage, diced onions and radish slices.
Notes
If the spicy flavor is too hot, serve it with a dollop of sour cream. Dairy will coat your mouth and will help calm the heat! No sour cream? Then serve with a big glass of milk! Surprisingly, water will make the heat more intense!
This stew freezes great! Be sure to ladle out a quart and tuck it in the freezer so on those days you don't want to cook.... you'll be set!
Nutrition
Calories:
259
kcal
|
Protein:
33
g
|
Fat:
12
g
|
Saturated Fat:
4
g
|
Cholesterol:
115
mg
|
Sodium:
1021
mg
|
Potassium:
613
mg
|
Vitamin A:
305
IU
|
Vitamin C:
1.4
mg
|
Calcium:
30
mg
|
Iron:
2.4
mg
Sign up for my recipes here!!
Don't worry, we'll never share your email.
Recipe Backstory
Recently I joined a group of bloggers who work hard to cross-promote each other. We get to pick out a recipe on a colleagues blog to share!
Our instructions are simple - The recipe is to be followed as closely as possible. We make and photograph it and share it with our readers and it's called the Freaky Friday Blog Hop!
My assignment was to pick a recipe from TheFoodieAffair.com. I've known Sandra for sometime now and the MINUTE I was assigned her blog, I KNEW what I wanted to make.... Nana's Posole Mexican Soup!
I had first tried New Mexico Posole when we visit friends in Santa Fe a couple of years ago and it is delicious!
Sandra's recipe is spot-on, it's excellent! It's rich and robust - spicy without being over-the-top and so satisfying and filling.
On her blog she explained that she followed her Grandma's notes to get the flavor just right! I am lucky and honored to share this cherished family recipe with you! This stew is slowly simmered all day long and though you'll be tempted to cut short the cook time....don't! The meat must be be super tender!
Pleas visit Sandra's blog. It's filled with so many amazing recipes! What are you hungry for? Authentic flavors like Mexican Meatball Soup, Crab Chowder or Beef Cabbage Soup? Her recipes are easy to follow and the photography is beautiful. Like me, Sandra is a home cook that loves delicious food. She has an emphasis on low carb recipes. Yummy and guilt-free? .... sigh... I'm drooling!
Be sure to visit her blog and check out her amazing recipes!
This post has been updated in September 2020 with new photos and better directions.