Spicy, cheesy and hearty Slow Cooker Chicken Enchilada Soup is everything you want in an easy crockpot meal! Loaded with chicken, cheese, peppers, onions and spices your crockpot does all the work for you!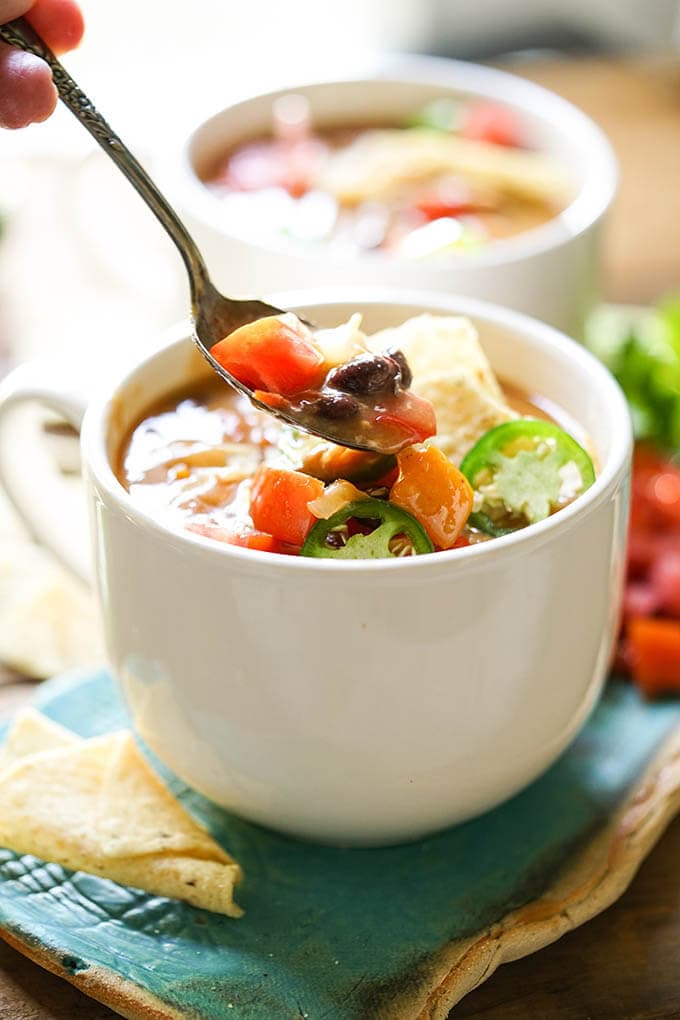 Slow Cooker Chicken Enchilada Soup
A few weeks ago my neice Christy and her daughter Chloe stopped by for a visit. The girls were so excited to meet our new puppy Jones! I've told you about Jones, right?
He's a little corgi, full of mischief and fun! Corgi's are class clowns, very busy with tons of energy. There have been several times Dan and I looked at each other and thought what were we thinking?!!!
Jones is growing up fast and we are trying to keep up with him! His shots are finally complete. We almost have potty training down and he's begun walking on a leash. Everything is exciting and new!
And the girls were really looking forward to meeting the little man and having some quality puppy time!
I was doing some recipe testing while they were here and this soup Christy declared "the best soup she's ever had in her life!"
Frankly, I have some amazing soups here on the blog – I mean Authentic Posole and Mexican Meatball Soup? YUM!!! (And if you ever thought about up'ing the flavor consider roasting green chiles in the fall, it only takes minutes and so much smokey goodness!)
Better than these? Well that's what Christy said! That's darn good high praise and after a bit more testing, I'm excited to be sharing this recipe with you!
Creamy Chicken Enchilada Soup Slow Cooker
You'll love how easy this crock pot soup is to make and it's beyond delicious!
Don't forget to check out my Amazon storefront for some of my favorite products! 🛍️
Grocery list for Chicken Enchilada Soup
boneless skinless chicken breasts
chicken stock
crushed tomatoes
green enchilada sauce
black beans
mild green chilis
red and orange bell peppers
yellow onion
cumin
chili powder
salt
butter
flour
shredded cheese
How to serve Chicken Enchilada Soup
This soup is stand-alone delicious, but if you love toppings – here are some suggestions – shredded cheese, diced avocados and tomatoes, sliced jalapenos and minced cilantro!
Steps to make Slow Cooker Chicken Enchilada Soup
Melt the butter, add the flour and spices – whisk until the flour is incorporated.
Slowly add the stock while whisking. Bring to a boil, whisking until the sauce thickens
Remove from heat, stir in the cheese and whisk until smooth.
Peel and dice the onion and bell peppers.
Next Add the chicken breast to the slow cooker, crushed tomatoes, green chilies, black beans and enchilada sauce.
Top with diced vegetables and pour the cheese sauce over. Set too low and cook for 8 hours.
When cooking is complete, remove the chicken breast and shred. Return the meat to soup and serve!
What to serve with this meal
More of my favorites soup recipes!
Looking for more slow cooker soup recipes? Check this out – 40+ recipes for you to try and enjoy!
You know soup is my jam, right? Well if you want all of my soup-making tips and tricks? Be sure to click here!
I am a participant in the Amazon Services LLC Associates Program, an affiliate advertising program designed to provide a means for us to earn fees by linking to Amazon.com and affiliated sites.
If you post a photo, please tag me! I'd love to see your pictures! You can tag me with #bowlmeover or if you're on Instagram use @bowl_me_over I can't wait to see how yummy this turned out for you!
Slow Cooker Chicken Enchilada Soup