Roasted Hatch Green Chile has the most incredible flavor, but they have such a short season. They are just beginning to arrive at the market. Consider roasting your own chiles to up the flavor in your meals! Freeze them so you can enjoy their amazing flavor all year long!
First Published: September 2, 2014... Last Updated: August 23, 2019
New Mexico Green Chilies
When you are at the grocery store, have you seen a sign advertising piles of green chiles? Or maybe they are there, but you walk on by because you're not sure what to do.
Here in the Central Valley of California fresh Hatch New Mexico Green Chiles are abundant right now and they are delicious! You can enjoy their flavor all year long by roasting them!
Last week I bought about six pounds and brought them home, at .99 cents a pound, it's affordable too. It really can't be easier than this.
Should they be roasted indoors or outside?
Although they can be roasted indoors, I recommend outside. Sometimes when you are roasting large amounts of chilies indoors, the spicy aroma can be quite pungent - speaking from experience here!
Steps to Roasting Green Chile
How to choose the best chile
When you are buying the green chile be sure to choose ones that are bright green and glossy. Long and heavy also. You want them to lay flat on the grill when roasting.
Choosing heavy chiles will mean they are freshly picked and full of moisture.
How to roast hatch green chile
Light your grill - charcoal or gas.
When the grill is hot lay the chiles directly on the grill.
When they are blistered and charred, flip them over and grill both sides.
Remove and cool when both sides of the chili are cooked.
Roasted Hatch Chiles: FAQ
Do you have to roast Hatch chiles?
No you can slice and dice them and use them that way, but roasting the peppers gives them a wonderful charred flavor. It's the most delicious way to enjoy this vegetable!
Should roasted green chiles be refrigerated?
Yes, after cooling they peppers should be refrigerated or frozen.
Is Hatch green chile hot?
They can be hot yes - if you don't have access to them at your local grocer they can be order and you can choose mild, medium or hot!
How do you freeze green chiles?
After cooking, freeze the chiles whole in double-wrapped ziplock bags. No need to remove the charred skin! The chiles will keep better with the skin on. They keep well in the freezer up to six months.
Can you freeze Hatch peppers raw?
You can, but after thawing the vegetables becomes watery. It's best to roast them first.
Are Hatch chiles the same as Anaheim?
Actually they are the same pepper, but the flavor is just a bit different! Never tried them? Buy some at the store and give this a try - they have a unique, delicious flavor!
How do you peel frozen green chiles?
Allow the chiles to completely thaw. Lay the pepper on a board and using a knife, scrape off the blackened skin.

You can also easily remove the skin by running it under cold water.

Remove the stem and carefully open the chili and scrape out the seeds and membrane. That's where the majority of the heat is!

Don't be terribly concerned about removing every bit of char, a little bit adds great flavor to your meal!
Should you use gloves when working with the chiles?
I do not worry about it when I am grilling them because most of the time I'm using tongs.

When I am removing the skin and seeds I often do. Why? Because I wear contacts and sometimes if you get one that's terribly hot the heat lingers on your hands (even if you wash them well!) and will transfer.

Hoping you can learn from my mistakes! 😎
Hatch Chile
Grill them outside, using either a gas grill or with briquettes. Start the grill. You'll want it to be quite hot.
Simply place them directly on the grill. No oil, just grill them on all sides until the skin becomes blistered and bubbly. It takes about three to four minutes each side
Keep a cookie sheet nearby and lay them flat on the cookie sheet. That's it, they are done! Don't remove the top or worry about peeling off the skin. They actually are fresher when frozen intact
Hatch Green Chile
When you've roasted all the chilies, pack them into ziplock bags, (again, don't peel them) put about 4-5 per bag. Double-bag by adding the individual bags into a gallon ziplock bag and freeze.
What are hatch chiles used for?
They will keep for up to six months in the freezer when they are well packed! Packing them individually makes them easy to use.
When you are ready to use them, in chili, scrambled eggs or perhaps topping a burger, simply remove them from the freezer and allow them to thaw. Remove the stem, split them open and scrape out the seeds and membranes.
So much flavor, minimal effort and you can enjoy them all summer long. I hope you give this a try!
Favorite Roasted Hatch Green Chile Recipes!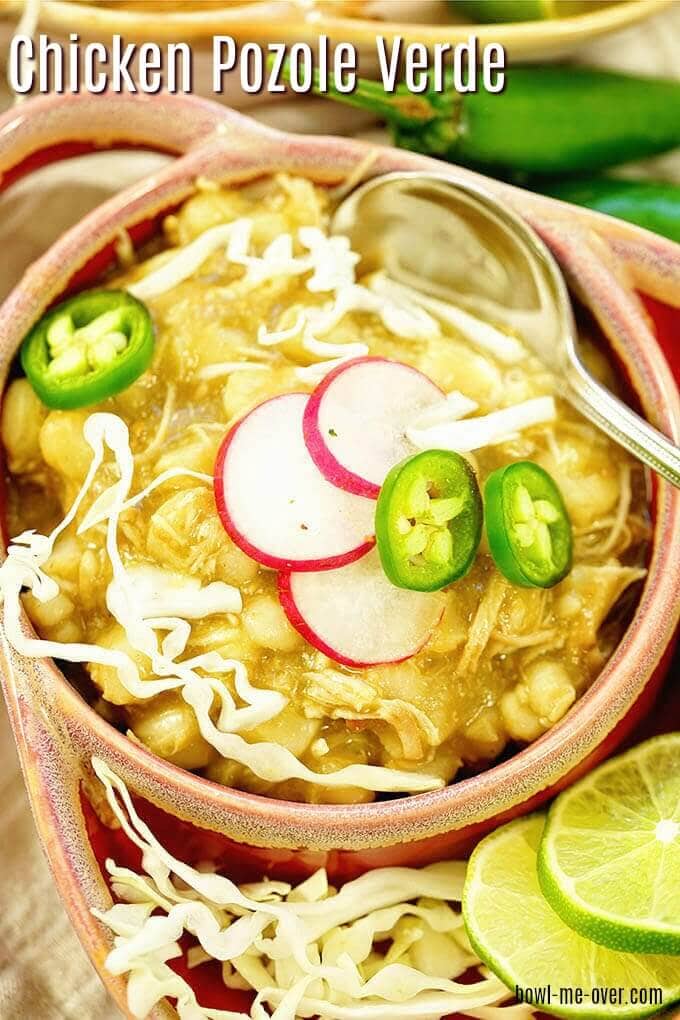 Roasted Salsa Verde Recipe
Roasted Salsa Verde Recipe - Fresh tomatillos, chilis and jalapenos roasted until charred and flavorful! Serve with your favorite chips!
Check out this recipe
Green Chili Chicken Posole
Hearty Mexican Chicken Stew filled with warm spices and tender chicken. You'll love this great recipe!
Check out this recipe
White Bean Turkey Chili
White Bean Turkey Chili is a hearty, delicious version of traditional chili! It's easy to make with just the right amount of spice!
Check out this recipe
Cast Iron Skillet Cornbread Recipe
Easy Skillet Cornbread - making homemade cornbread is easy. Use a box, doctor it up - delicious and makes the whole house smell amazing while it is baking!
Check out this recipe