Great lunch or an easy salad that's wonderful for a cookout on a hot summer's day. Rainbow fruit salad combines fresh fruit & veggies for a real treat!
Mexican Fruit Salad Recipe with sweet cantaloupe, watermelon and pineapple. With cucumber and jicama and finished with lime and chili powder. Whether you're making a meal or a great salad to serve with your favorite grilled meal!
First Published: September 6, 2015… Last Updated: June 23, 2019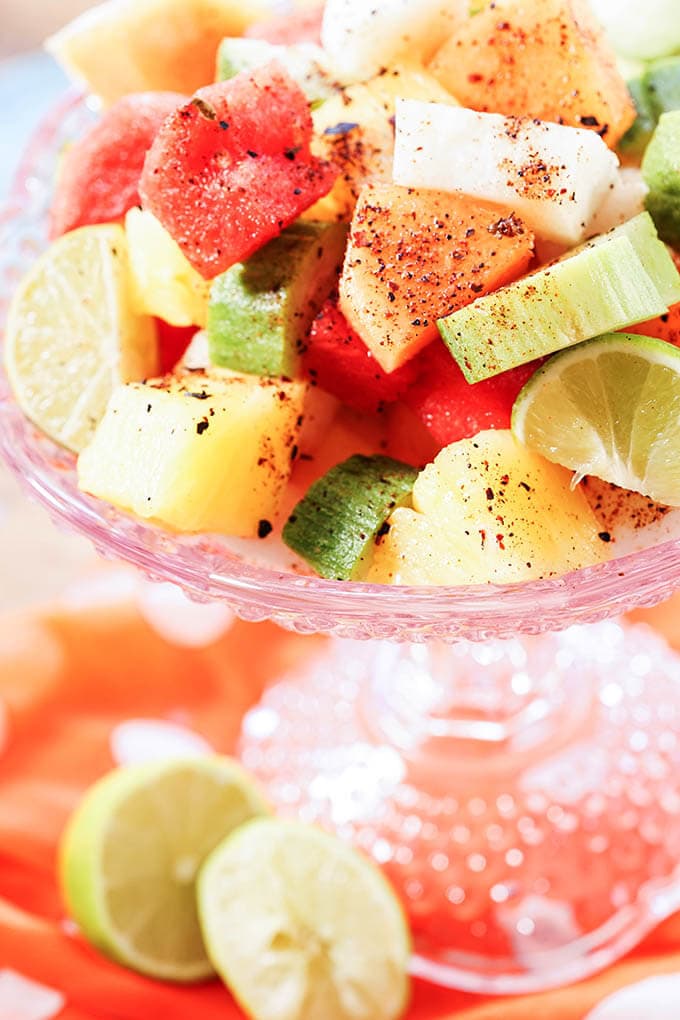 Mexican Fruit Salad Recipe
My BFF Jessica lives in Sacramento, my old stomping grounds. She's my running buddy and together we've ran half and full marathons.
Jessica is 13 years younger than me and she is a serious ball of energy! She lives a gluten free, vegan lifestyle.
One day we were on a quest for something (heaven knows what?) – Jessica was driving like a crazy gal (as always!) and all of the sudden she cuts across three lanes and swerves into the Walmart parking lot and parks beside a pushcart with a large rainbow umbrella.
Time for lunch she announces! Ok…I'm looking around thinking…. where… what? Well, there's a pushcart with piles of fruit and a woman with a very large machete is peeling pineapple, watermelon, cantaloupe, mangos, oranges, cucumber and jicama.
That girl had serious knife skills! When she was done, she piled the fruit and vegetables into a large plastic glass. She sprinkled it with chili powder and drizzled with half a lime.
It was the perfect lunch! From now on, I brake for rainbow umbrellas!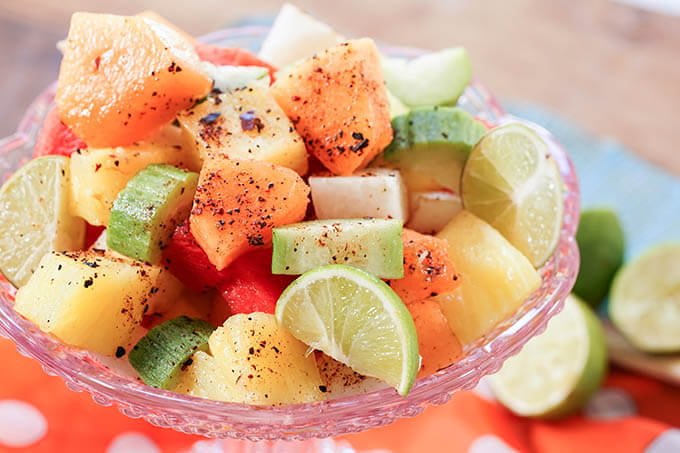 Mexican Fruit Salad
What fruits are good with Tajin?
Tajin is a classic chili lime seasoning. Used as a traditional topping for Mexican Fruit Salad, it's a great spice mix. Depending on where you live, it's available in the Mexican food section at the grocery store.
Tajin is great on watermelon, mango, cantaloupe, really any sweet fruit! It's also delicious on vegetables like avocados, roasted corn and jicama. It's tasty on popcorn or potato chips too!
What can I use instead of Tajin?
I've tried some delicious spice blends, but what we do and enjoy is simply chili powder and a squeeze of lime.
Grocery list for fruit salad
watermelon
cantaloupe
honeydew
pineapple
mangos
oranges
cucumbers
jicama
chili powder
limes
salt
Really this is a suggestion. I've made this with just watermelon, cantaloupe and pineapple for the fruit. I always add cucumbers and jicama. I know it may sound a little different, but it's a great combination and tastes delicious!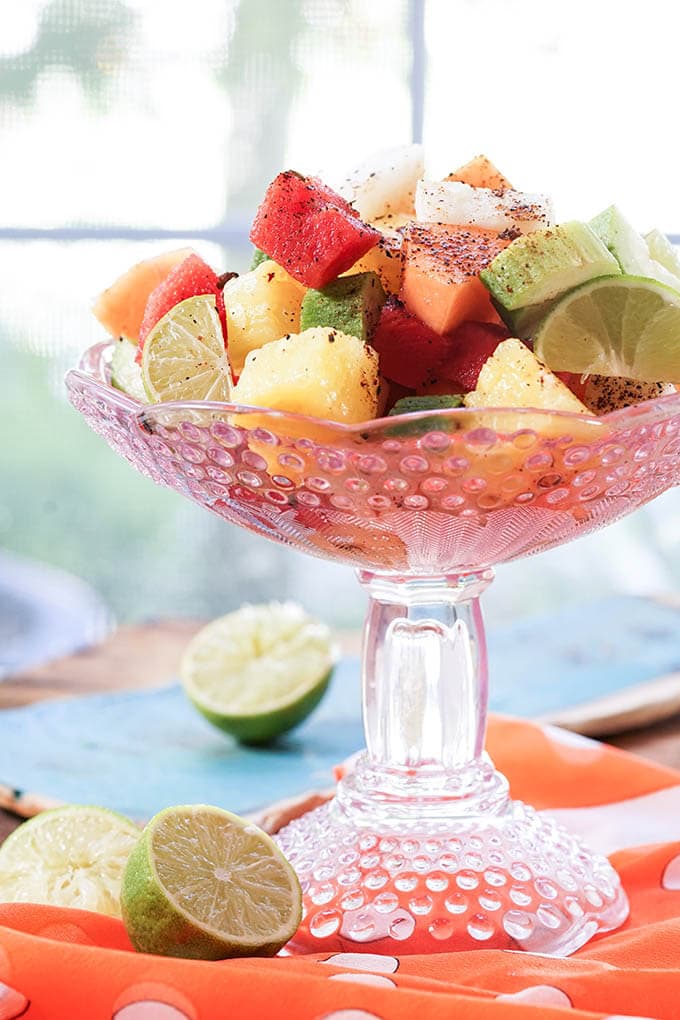 Mexican Fruit Cocktail
Steps to make Mexican Fruit Salad Recipe
Cut up the fruit and vegetables.
Sprinkle them liberally with chili powder.
Squeeze with lime.
Sprinkle with a pinch of salt.
Don't let the heat of the chili scare you. The sweetness of the fruit balances it. Squeeze a couple of fresh limes right over the top and sprinkle with a pinch of salt.
Perfect lunch – truly doesn't get much better than this and if you're going to a bbq, this is a great salad to share.
More of my favorite fruit salads
I am a participant in the Amazon Services LLC Associates Program, an affiliate advertising program designed to provide a means for us to earn fees by linking to Amazon.com and affiliated sites.
If you post a photo, please tag me! I'd love to see your pictures! You can tag me with #bowlmeover or if you're on Instagram use @bowl_me_over I can't wait to see how yummy this turned out for you!
I would love it if you gave this recipe 🌟🌟🌟🌟🌟 stars!!
Rainbow Fruit Salad
Great lunch or an easy salad that's wonderful for a cookout on a hot summer's day. Rainbow fruit salad combines fresh fruit & veggies for a real treat!
As an Amazon Associate I earn from qualifying purchases.
Ingredients
½

watermelon

seedless, peeled and chopped

1

cantaloupe

peeled and chopped

1

honeydew melon

peeled and chopped

2-3

mangos

peeled and chopped

2

oranges

peeled and segmented

2

cups

pineapple

fresh, cut into chunks

1-2

cucumbers

peeled (if desired) and chopped

1

jimica

peeled and chopped

chili powder

for sprinkling

2

limes

depending how juicy, you may want an additional lime

½

teaspoon

salt
Instructions
Peel and chop all fruit into large chunks.

Peel the jicama and dice, cut the cucumbers into chunks.

Add the fruit and vegetables to a large bowl.

Squeeze 2-3 limes over top and sprinkle liberally with chili powder as shown above.

Finish by sprinkling a touch of salt about ½ teaspoon over the salad.
Nutrition
Calories:
197
kcal
|
Carbohydrates:
49
g
|
Protein:
3
g
|
Sodium:
154
mg
|
Potassium:
947
mg
|
Fiber:
7
g
|
Sugar:
37
g
|
Vitamin A:
3670
IU
|
Vitamin C:
105.7
mg
|
Calcium:
59
mg
|
Iron:
1.5
mg
Sign up for my recipes here!!
Don't worry, we'll never share your email.