This easy Apricot Jam Recipe highlights the sweetness of perfectly ripe fruit! It's easy to make and a preserve that everyone loves! Follow these easy directions to learn How to make Apricot Jam and you'll love this delicious jelly!
Still have apricots? Next time try Apricot Pineapple Jam - it's amazing!
Jump to:
❤️ Why you'll love this recipe
There's nothing better than preserving the taste of fresh fruit all year long!
Apricots make the best fruity preserves with a zing of tartness. It's the perfect balance of tart and sweet.
This classic recipe is an excellent jam to make if this is the first time you've tried canning or an old hat at making jelly. Just follow the step-by-step instructions and enjoy this delicious jam!
Ingredients
You'll only need a handful of simple ingredients. For the exact measurements for the Apricot Jam Recipe, please refer to the recipe card at the bottom of this post.
fresh apricots
sugar
Low sugar Sure Jell - be sure to use the pink box
fresh lime juice or fresh lemon juice
salt
fruit fresh (optional)
canning jars, lids and rings
Instructions
This is an overview of the instructions. For the complete directions just scroll down to the bottom!
Clean the stone fruit, remove the pit and chop into small pieces. Measure exactly 6 cups.
Clean jars - Wash the jars in hot soapy water, rinse well. Then place jars, rings, and lids into a pan, cover with water and boil for three minutes to sterilize, keep warm.
Combine apricots, lime juice, salt and fruit fresh in a large heavy-bottomed pot, mix well.
Measure ¼ cup of sugar and combine it with the Sure-Jell. Sprinkle it into the apricots, mix again and set it on the stovetop on high and bring to a boil, stirring constantly.
When it comes to a hard boil add the remaining cups of sugar. Stir vigorously until the sugar dissolves and continue stirring the entire time.
Return it to a hard boil. Boil it for exactly one minute.
Remove from the stove & immediately ladle the hot jam into sterilized jars.
Wipe off the top of the jars to remove any jam. Place lids on the jars and screw them on tightly. Process in a hot bath (boiling water aka water bath canning) for 10 minutes to seal the jars.
Equipment
The following are affiliate links. We are a participant in the Amazon Services LLC Associates Program, an affiliate advertising program designed to provide a means for us to earn fees by linking to Amazon.com and affiliated sites.
Is apricot jam good for you?
Apricots are high in vitamin c and potassium. This recipe uses less sugar than the full-sugar version.
How do you keep apricot jam from turning brown?
Using lemon or lime juice will help keep it from turning brown. Additionally fruit fresh (link below) will help the jam from changing color.
Do you need to mash the apricots?
Though some use a potato masher to further mash the fruit, it's really not necessary with apricots.
How long does apricot jam last?
If the jars are properly sealed, apricot jam will last for a year or longer in the pantry.
Does jam go bad if not refrigerated?
No, the sugar in the jam preserves it. So if you forget to refrigerate the jam overnight don't worry! It wouldn't go bad. Refrigerated in the jam will last up to six months!
Why didn't my jam set up?
There are a number of reasons jam doesn't set and it's usually operator error.... meaning...

✔️there wasn't the exact amount of fruit the recipe called for
✔️the amount of sugar was reduced
✔️it didn't boil for exactly one minute after the second addition of sugar
✔️lastly, check the use-by date of the pectin - if it's past the date the pectin won't be as effective.

It can take up to a week for the jam to be completely set. Don't get too excited if it seems a little runny at first. Allow it to cool completely and check it in a week.
Is it necessary to use a candy thermometer?
No, there's no need to use a candy thermometer. Follow the instructions and the apricot preserves will set up perfectly and be absolutely delicious!
FAQ's
Still have questions about jam making? I have a post dedicated to making jams and jellies. It's titled How to make Jam. It's a is a great resource!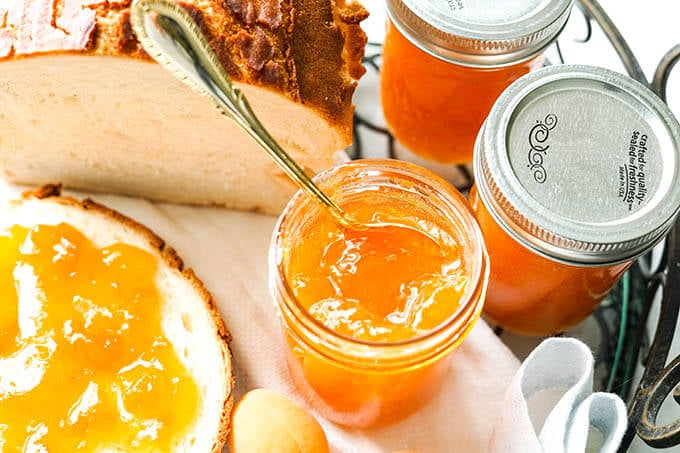 Tips
Clean the fruit by using 1 part vinegar to 3 parts water, add the fruit and swish around really well.
Don't change the amount of sugar the recipe calls for. The sugar not only sweetens the fruit but also preserves it. If you reduce the amount of sugar, you may end up with mold on top of the jam even though you've sealed it properly.
Make sure you have enough apricots. Don't change the amount of fruit - if you put in too little, it can get so thick, it's like paste - too much fruit it may not set and will become syrup.
Although the jars and rings are reusable, the lids are not - you'll need to purchase new ones.
Stir the jam with a wooden spoon. A metal spoon will get hot and be hard to handle, a wooden spoon won't!
Allow the jam to sit on the counter until the next day until it's completely cooled and set.
To get all the answers and learn how to make homemade jams and jellies be sure to read through this post. You'll be jamming like a pro!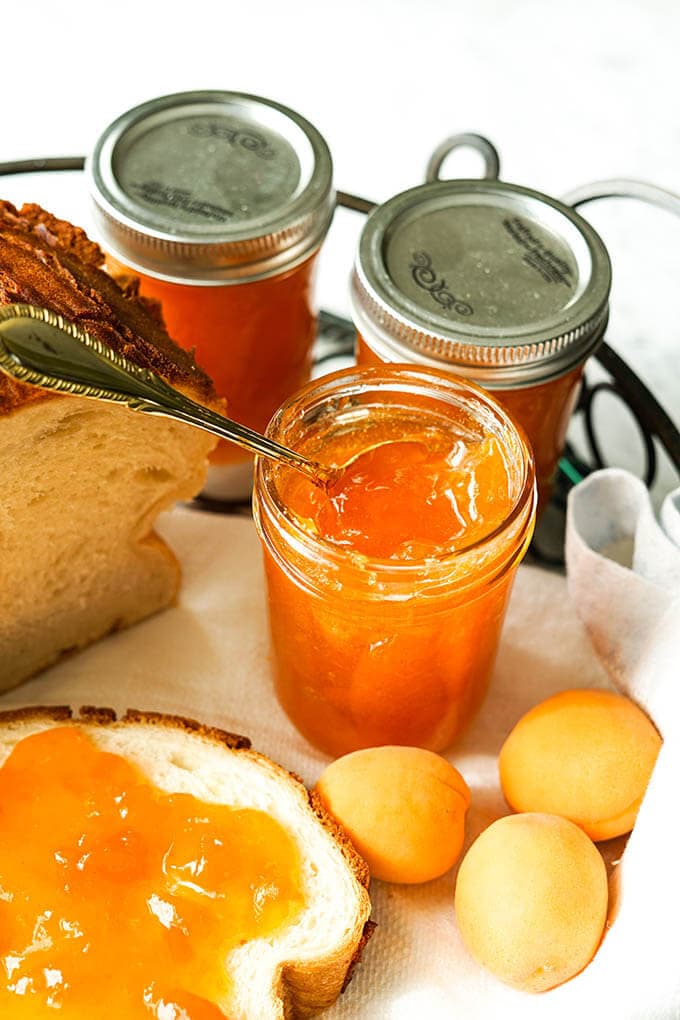 Storage
Allow the jars to cool completely. Store the jars in a cool place and enjoy this tasty jam!
Serving suggestions
Of course Dan would say, just eat it with a spoon! But seriously homemade jam is one of the best things ever.
use it to make homemade salad dressing
make a PB&J or top a toasted English muffin.
it's amazing in this Apricot Chicken Casserole.
pair with your favorite cheese for a fabulous grilled cheese sandwich!
warm in the microwave and serve over ice cream.
Related Recipes
I know you'll love this recipe, I make it ever year! Here are more fruit preserves to try!
Love it? I knew you would!! Please share your comments below along with a five-star rating, you'll make my day!
Be sure to tag me on Instagram @bowl_me_over or #bowlmeover – so I get to see all of your great pictures!!
Apricot Preserves Recipe
Homemade jam and jelly is easier than you think using tried and true Sure Jell Recipes! This recipe for Homemade Apricot preserves is a traditional recipe with bright pure apricot flavor!
As an Amazon Associate I earn from qualifying purchases.
Equipment
Sure-Jell low sugar pectin
Ingredients
6

cups

ripe apricots

cleaned and chopped into small pieces

4 ½

cups

sugar

1

box

Low sugar Sure Jell

be sure to use the PINK box

2

tablespoon

lime juice

¼

teaspoon

salt

1

tablespoon

fruit fresh

optional*
I earn a commission from Instacart from qualifying purchases.
Instructions
Chop the apricots into small pieces. Measure out exactly 6 cups.

Place jars, rings and lids into a pan, cover with water, bring to a boil and boil for three minutes to sterilize. Remove from heat keep in the hot water while you finish the jam process.

In a large pot, place the chopped apricots lime juice, salt and fruit fresh (if using). Mix well.

Measure ¼ cup of sugar and mix it with the contents of the Sure-Jell. Sprinkle it into the apricots, mix well again with a wooden spoon and set it on the stove on high and bring to a boil, stirring constantly.

When it comes to a full rolling boil (a boil that you can't stir down with spoon) add the remaining sugar.

Continue stirring constantly and return it to a boil and when it comes back to a hard boil, continue boiling it for exactly one minute. (Set a timer to make sure you get it for a full minute).


Remove from the stove & immediately ladle apricot mixture into sterilized hot jars. 

Use a damp cloth and clean jar. Wipe rims of jars to remove any jam (this will keep the lids from sealing). Place lids on jars and screw bands on tightly. Process in a boiling water bath for 10 minutes to seal the jars.

Makes 6 eight ounce jars, 3 pint jars.
Notes
Fruit fresh is an ingredient that prevents fruit from browning during the cooking/canning process. Though not required, it makes your end product look pretty. If you choose, you can omit this ingredient.
Allow the jars to cool to room temperature. Store sealed jars in the pantry. Once they've been opened, refrigerate. It will last about week in the refrigerator once opened. 
Nutrition
Calories:
342
kcal
|
Carbohydrates:
87
g
|
Protein:
1
g
|
Sodium:
58
mg
|
Potassium:
200
mg
|
Fiber:
1
g
|
Sugar:
82
g
|
Vitamin A:
1495
IU
|
Vitamin C:
8.5
mg
|
Calcium:
10
mg
|
Iron:
0.5
mg
Sign up for my recipes here!!
Don't worry, we'll never share your email.
Recipe backstory
I have a confession to make... I played hooky yesterday. Dan and I had hoped to head up to Yosemite National Park last weekend and didn't make it. So... Dan took the day off yesterday and we made a day of it!
The drought is over here in California and with the massive amount of rain we received, we have been rewarded with a significant snowpack. Which means a HUGE spring runoff. The waterfalls at Yosemite are spectacular this year.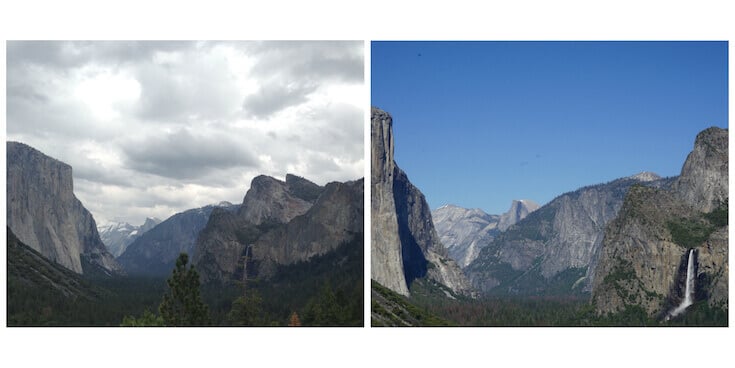 The picture on the left was taken 2 years ago in the spring. If you look closely, you can just make out the waterfall - the picture on the right taken yesterday. Just look at the difference!
Yosemite is home to many beautiful waterfalls and in my opinion, the crowning jewel is Yosemite Falls. Though it is not the tallest waterfall in North America, Yosemite Falls is breathtaking, powerful and drops 2,425 feet to the valley floor.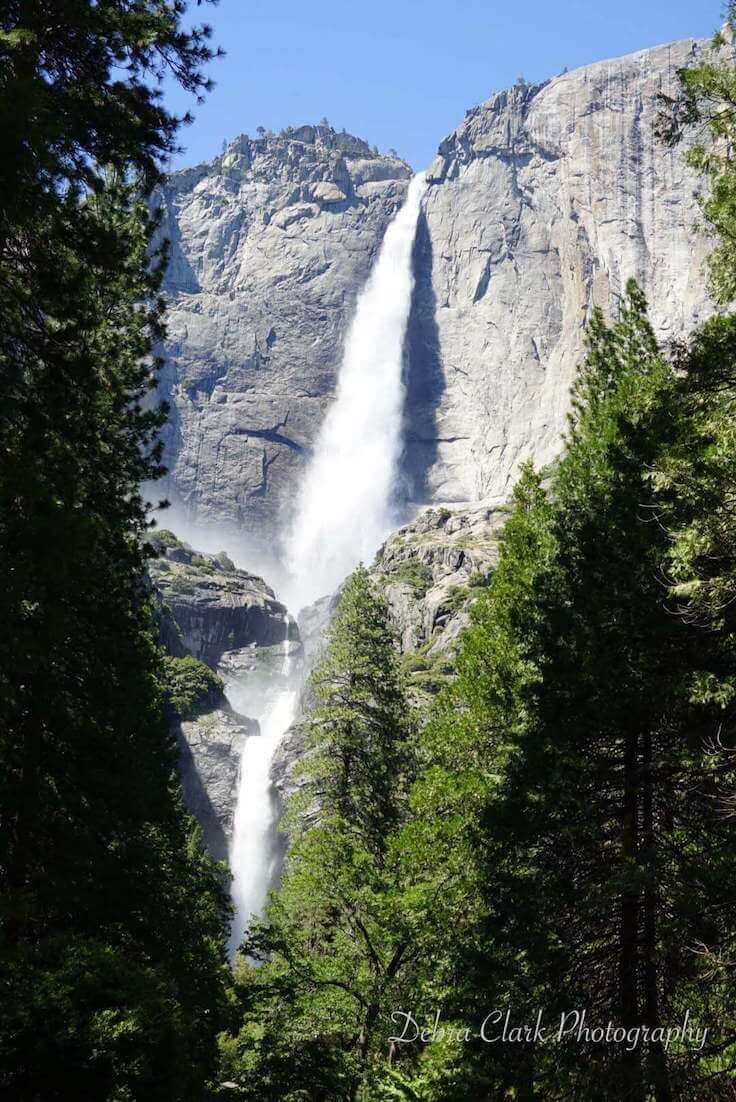 Amazing right? Most definitely!
One of the things we always do is take a picnic lunch - often times it's a PB & J sandwich because I always have delicious jams and jellies on hand! Orange Jelly, Homemade Strawberry Jam, or Blueberry Jam, there's nothing better on a sandwich!
Along with the spring runoff comes the beginning of fruit season in the valley. One of our trips every year includes visiting Two Sisters Apricot Farm where we get buckets of fruit picked fresh right off the apricot tree!
One of the first things I make is this delicious low sugar homemade apricot jam recipe!
First published July 10, 2017 - Last updated May 23, 2021