Homemade jam and jelly is easier to make than you think and tastes 💯 times better than store bought jam! If you've never made preserves or perhaps you need a refresher on a couple of things? Here is everything you need to know about how to make jam at home!
Jump to:
Why you'll love to make your own jam
It tastes 100 times better than store bought!
It's the best way to enjoy delicious fruit flavor all year round.
It makes wonderful hostess gifts - everyone loves homemade jam!
It's easier than you think.
Equipment
The following are affiliate links. We are a participant in the Amazon Services LLC Associates Program, an affiliate advertising program designed to provide a means for us to earn fees by linking to Amazon.com and affiliated sites.
You can find much of the equipment you need at the grocery store, however not all stores carry what you need.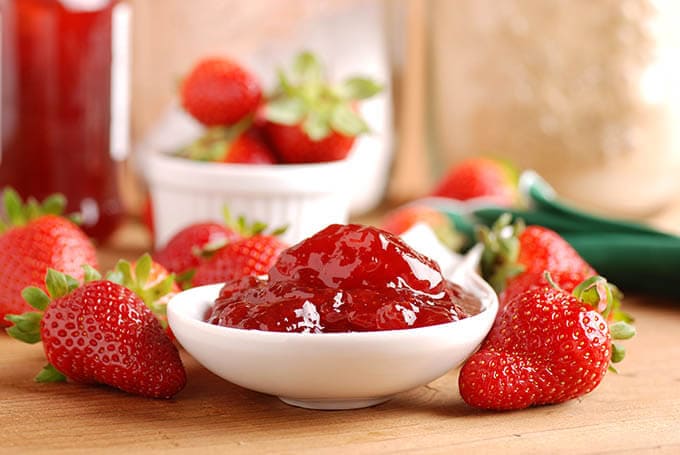 FAQ's
What does lemon juice do in jam making?
Lemon juice provides two benefits; it helps preserve the color of the fruit - for instance, it helps keeps peaches yellow as opposed to turning brown when it cooks.

Additionally, it works together with the pectin to help thicken the preserves because a sufficient amount of acid must be present to make the fruit set.
Do you need pectin to make jam?
No, you can make jam without pectin. Pectin does not preserve jam, but assists in the jelling process.
How can I thicken jam without pectin?
Cook it low and slow - removing the moisture in the berries will thicken them.
Chia seeds will thicken preserves without pectin.
How long will homemade jam last?
Properly preserved the shelf life of jam is up to two years. Store it in a cool dry dark place like your pantry. Once opened, it will last in your refrigerator for about three months.
How do you fix overcooked jam?
Overcooked jam will be super thick and leathery. To make it spreadable, heat it in the microwave for a few seconds.
How do you fix jam that is too runny?
If your jam is too runny, open the jam jars and pour it back into a large pot.

Repeat the cooking process. Add another package of pectin and bring the preserves to a boil. Boil EXACTLY one minute, remove from heat and ladle back into clean sterilized jars and seal.
Can I add pectin after jam is made?
Yes, if you need to fix runny jam follow the directions as stated above.
What is difference between jam, jelly and preserves?
There is a small difference between jam and preserves. The fruit in Jam is often crushed - not chopped. With preserves, the fruit is generally chopped. Jelly is made from fruit juice.
Is mold on jam dangerous?
Yes, if there is mold on the jam, jelly or preserves discard the entire jar.
How do you know if homemade jam is bad?
The jam may have changed color, have mold on top, or perhaps there's a change in the smell of the jam. Properly sealed, jam will last about two years! Discard any jam that is questionable.
Can I eat the jam if the jar didn't seal?
It may look good and smell good but botulism can't be detected by sight or smell. Don't take any chances, discard the jar if has not been refrigerated.
Does the type of sugar matter?
YES!! When making jam, be sure and use pure cane sugar. The off-brands often are made with beet sugar.
Can I use fruit right out of the refrigerator?
For best results, allow the fruit to come to room temperature. If it's super cold it could throw off the cooking time.
Can I use frozen fruit?
As long as the fruit doesn't have added sugar, using store bought frozen fruit works! Just be sure to measure it exactly as called for. Allow it to thaw and come to room temperature.
Can I use over ripe fruit?
No, if the fruit is past it's expiration, intensifying the flavor by boiling will not result in tasty jam. Use fresh berries and sweet fruit.
How can I make jam thicker?
Your jam didn't thicken up? Remove the jam from the jars and re-process it by adding an additional package of pectin. You will not need to add additional sugar. Remember you'll need to bring it to a hard rolling boil just as the original recipe dictated. Remove from heat and ladle into clean, sterilized, hot jars.
Can I substitute artificial sweetener?
No, not unless the recipe calls for it. Substituting artificial sugar could cause the jam to not set up or not preserve correctly.
Do I need to use a candy thermometer?
Only if the recipe calls for it.
Can I substitute powdered pectin for liquid pectin?
Again, only if the recipe calls for it. Nor can you sub low sugar pectin for full sugar. Use a different recipe.
Can you reuse the jars, lids and rings?
You can reuse jars and the rings that you screw on, however you need to use new lids to ensure the jars seal correctly.
How do I know if a jar of jam has sealed?
Check that jam is sealed by pressing down on the button on the lid. It should not pop up. If it did not seal, unscrew the ring and remove the lid. Clean the top of the jar then add a new lid, screw down tightly and process in boiling water bath to reseal.
Helpful tips for making jam, jelly and preserves
Do not reuse metal lids, use new lids.
Canning rings are reusable as long as they are not rusted or dented.
Have good heavy potholders available!
Do not use a food processor to mash the berries. It will introduce air into the berries making the jam frothy. Use a potato masher.
Fresh jam is gorgeous! It smells heavenly and looks gorgeous. The first thing you'll want to do is stick your finger in it to taste - DON'T do that as in reality this is boiling sugar!
Don't skimp on the amount of sugar, fruit or add extra pectin to a recipe. This is worth repeating! Do not add less sugar or more fruit or less pectin than the recipe calls for. If you do the jam may not set or it could be too firm. Canning is one part cooking, one part science!
Lastly....if you make jam or jelly and it doesn't set. Label it syrup - your family will never know the difference! 😉
EXPERT TIP - WAIT one week before deciding the jam isn't setting up! Many jams like this Christmas in July Pepper Jam recipe can take several days to set up, just be patient!
What if you don't have quite enough fruit, do you make the jam with less?
No, don't skimp on the required amount of fruit in a recipe. If needed add water or juice to ensure it measures correctly.
Learning how to make delicious jam and jelly is really a simple process. Just be sure you read and follow the instructions carefully.
Steps to make Homemade Jam
Start by cleaning the fruit well. Using a solution of 1 part vinegar, two parts water soak the berries or fruit and rinse them well.
Next mash the berries, rather than chop them. This old fashioned method takes a little time, but will make the jam juicy and fruity.
Measure the exact amount of fruit the recipe calls for. Too much fruit and the jam Mary turn out runny or not set. Not enough and it could be too thick and the texture will be off.
Measure the exact amount of sugar the recipe calls for and process it according to the directions.
Cook fruit quickly. Bring it to a rolling boil. A rolling boil is a boil that can't be stirred down.
Here's what a rolling boil looks like.
When the jam has been at a hard boil for exactly one minute, remove from the heat and immediately ladle the hot jam into clean sterilized jars.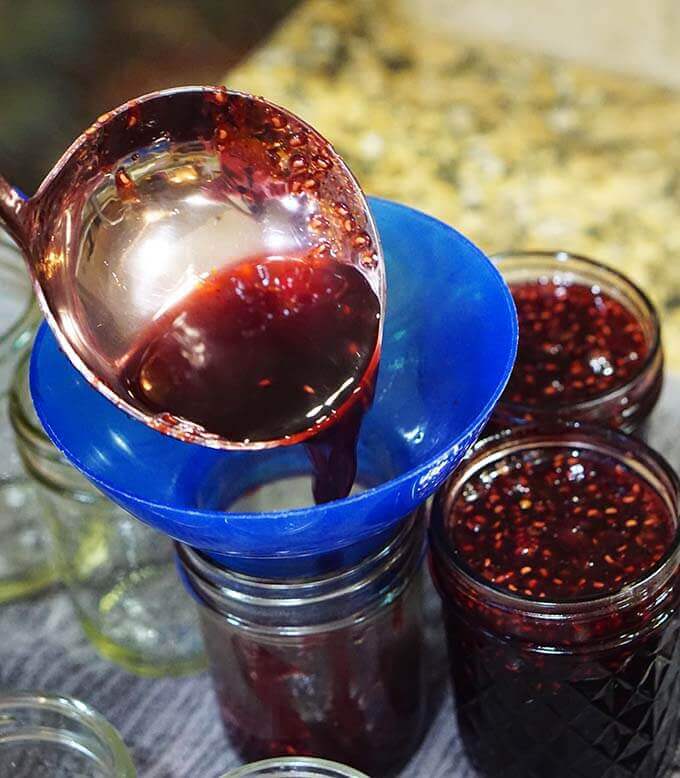 Before securing the lid on the jars with rings be sure to clean the tops of the jars, removing any residue so the lids get a good seal.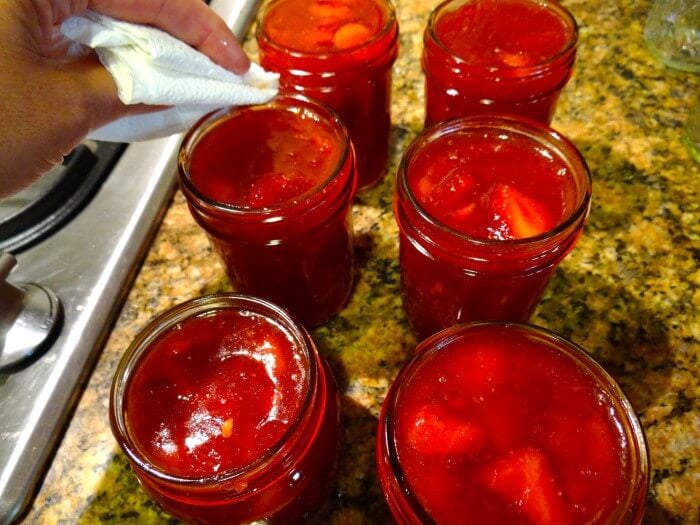 8. Next screw on the rings and process in a hot water bath to seal the jars.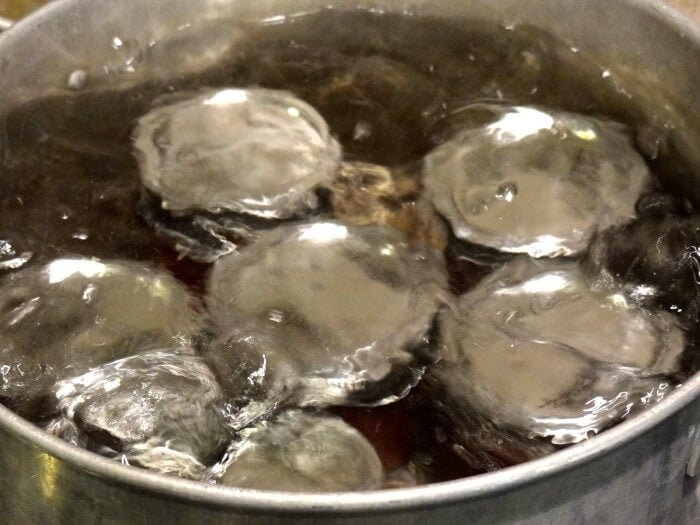 Jam Recipes for Canning
Without a double Strawberry Jam is the most requested jam. I have several versions of strawberry jam on the blog, including the freezer version below. Here are a few more!
Berry jams and jellies recipes
Stone fruit jam recipes
More jam recipes -You bet! Just click here!
Recipes that use jelly and preserves
Click here for all of our delicious homemade jams and jelly recipes.
Note from Deb
Whenever I go home, I always bring several jars of preserves. I wrap them carefully and label each jar. And when we get to Mom and Dad's I always find an inspection tag from the TSA.
You'll love it I promise!
And usually, a jar disappears! I swear I need to pack scones so the agents at TSA have something to spread those preserves on! 😋
I know my family members really appreciate the treat. Aunts Barb and Shirley have been known to arm wrestle or even steal a jar when the other isn't looking.
But it's all in good fun!
Have you ever made your own? It's so much easier to make than you think and tastes SO MUCH better than what you buy at the grocery stores! Especially these Gourmet Jam and Jelly Recipes - truly amazing!
If you have any additional questions about how to make jam and jelly, please comment below or email your question to: [email protected] - I'd love to hear from you!