Delicious and figgy, filled with all the flavors of your favorite Christmas Cookie! This fig jam recipe has hints of cinnamon, vanilla and allspice. It's sweet and delicate, packed with fall flavors! Each bite will have you begging for more. Learn how to make fig jam with these easy, step by step directions.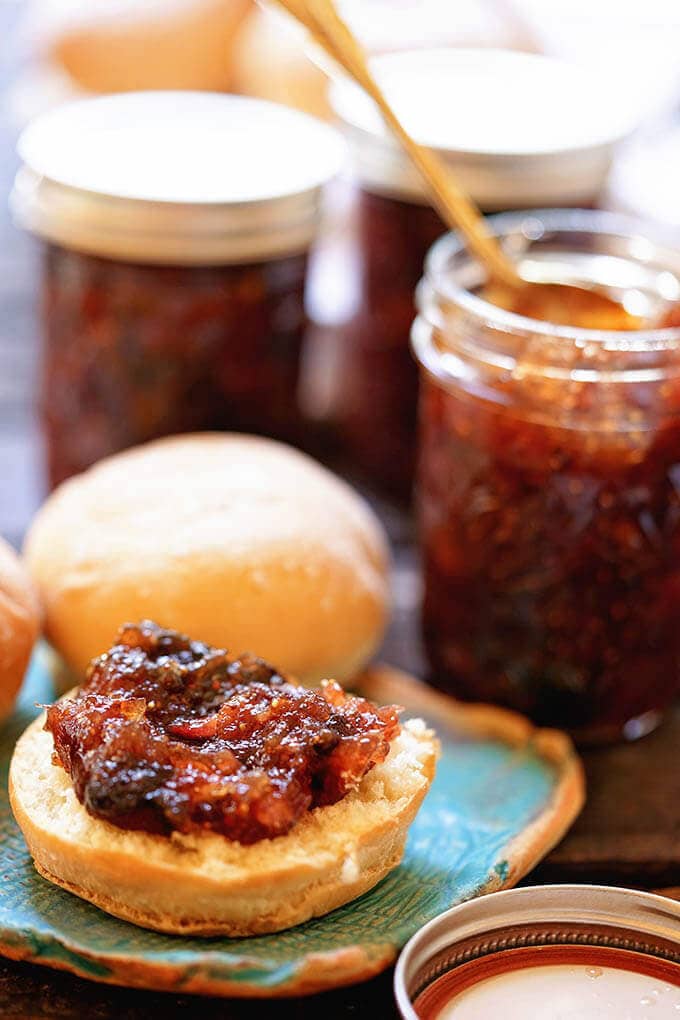 Fresh Fig Jam Recipe
A few years back Dan and I wanted to take a spur of the moment fall vacation, but we wanted to do affordable. I kid you not, I went to the grocery store and grabbed:
a 2 foot sub sandwich (that I sliced into 8 servings and wrapped individually)
bag of everything bagels and cream cheese
water, wine and beer
When I packed the ice chest I tossed in a jar of fig jam from my buddy Michelle and off we went to explore the Eastern Sierras!
Breakfast was a bagel with a smear of cream cheese, topped with jam and it was heavenly! Lunches were tucked in our backpacks and off we'd go to explore.
It's still one of my fondest vacation memories and hence, one of my favorite jam flavors!
Now in my experience, either you're a fan of figs or you're not, I've never met anyone that falls in-between. I'm definitely on the I ❤️ fig team!
Fresh figs are heavenly! They give you a burst of honey-sweet fresh fruit flavor when you bite into them. When transformed into jam they become rich and flavorful.
We start seeing figs in late summer and early fall. And although you can pop whole figs right into the freezer (just wash them first), I love making them into jam to preserve the flavor all year long!
If you love fig newtons or mincemeat pie, let me tell you – this jam will WOW you! It has all the same flavors packed into an easy-to-make preserve!
All you need are fresh figs. They have a short shelf life, but figs are such a special fruit.
Have I talked you into trying this yet? I hope so!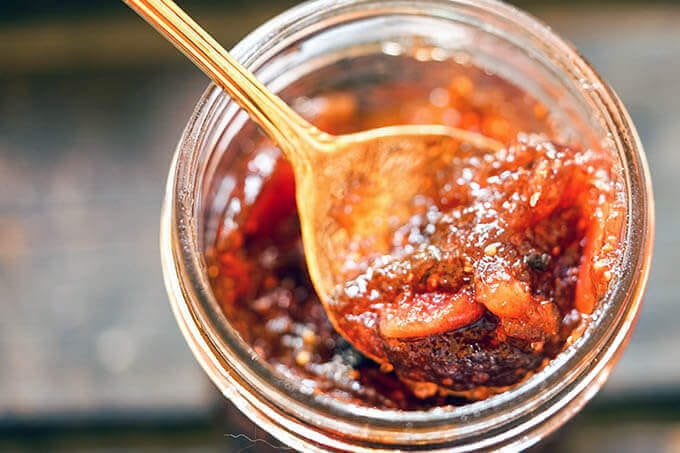 Let me answer all of your fig questions!
Figs fruit is grown on a tree, there are several different varieties of figs. Here in the San Joaquin Valley we have Black Mission, Black Turkey and Calimyrna figs, just to name a few. All are sweet and delicious, I eat them like candy!
When you bring them home, wash them well and refrigerate. Plan on using or eating them within a few days.
If you're not going to eat/use them right away, rinse them well and pat dry. Place them on a small tray and pop them in the freezer. When they are completely frozen, put them in a ziplock bag and back in the freezer they go. Freeze for up to a month.
You can eat them right from the freezer, almost like a popsicle . They are delicious!
Is fig jam good for you?
Actually, figs are really good for you! Packed with fiber, calcium, iron, magnesium, potassium, vitamins B and K – as far as fruits go, they are a winner!
How long does Fig Jam last?
Homemade jam will last 6 months to year. I say that roughly though, because those jars disappear quickly around here!
What goes with fig jam?
Like Pepper Jam – fig jam recipe is very versatile! It goes well with sweet and savory dishes.
slather a bagel with cream cheese and top it with jam, perfect breakfast!
crostini with a slice of blue cheese topped with fig jam and a drizzle of honey is glorious!
every cheese platter benefits with a jar of jam!
a wheel of brie topped with fig jam and baked – unbelievable!
How to make Fig Jam
It's really not hard to learn how to make fig jam. Let me get you started first with the ingredients.
Ingredients for Fig Jam Recipe
fresh figs
pure cane granulated sugar and brown sugar
lemon juice
cinnamon
allspice
vanilla
butter
What is a rolling boil?
It's hard to describe what a "rolling boil" looks like, so instead I'll show you. Watch this quick video (only 14 seconds!) a rolling boil is one that you cannot stir down.
Steps to make jam recipe
Clean and prepare the fruit, add to a heavy bottom pot.
Add the lemon, cinnamon, nutmeg and butter to the pot.
Measure 1/4 cup of the sugar and mix it with the pectin. Sprinkle it into the fig mixture, mix well and set it on the burner.
Turn stove on high and bring to a boil, stirring constantly.
When it comes to a hard boil add the remaining sugar.
Return it to a hard boil and boil one minute, remove from the heat.
Immediately stir in the vanilla. Stir until it is completely incorporated, about a minute.
Ladle into clean, sterilized jars.
Clean the tops of the jars, add the lid and screw top. Screw the lid on tightly.
Process in a hot water bath for 10 minutes to seal. Remove from the hot water bath and place on a heat-proof surface.
When you hear the jars pop and you'll know they are sealed
Sealed jars to into the pantry. If a jar doesn't seal you have a couple of options:
Remove the jar from the jars. Reprocess the jam, ladling it back into clean sterilized jars and again place in a hot water bath for 10 minutes.
Or simply refrigerate any jars that did not seal. They will last in the refrigerator up to 3 weeks.
As long as I take a moment and clean the jars off with a wet paper towel prior to adding the lids I rarely have any jars not seal. Literally once in a blue moon.
If you take this step, I'm sure you'll have the same results!
Love the idea of making homemade jam and jelly, but have a few more questions? Check out my Jam Making Guide for all of my tips and tricks to make the BEST preserves at home!
More delicious jam and jelly recipes!
I am a participant in the Amazon Services LLC Associates Program, an affiliate advertising program designed to provide a means for us to earn fees by linking to Amazon.com and affiliated sites.
If you post a photo, please tag me! I'd love to see your pictures! You can tag me with #bowlmeover or if you're on Instagram use @bowl_me_over I can't wait to see how yummy this turned out for you! I would love it if you gave this recipe 🌟🌟🌟🌟🌟 stars!!
Fig Jam Recipe