Do you like making homemade jam? Perhaps you've always wanted to try it but haven't yet because it seems too hard. I'm here to tell you that it's way easier than you think. Really! And I'll walk you through it with some of my top homemade gourmet jam recipes.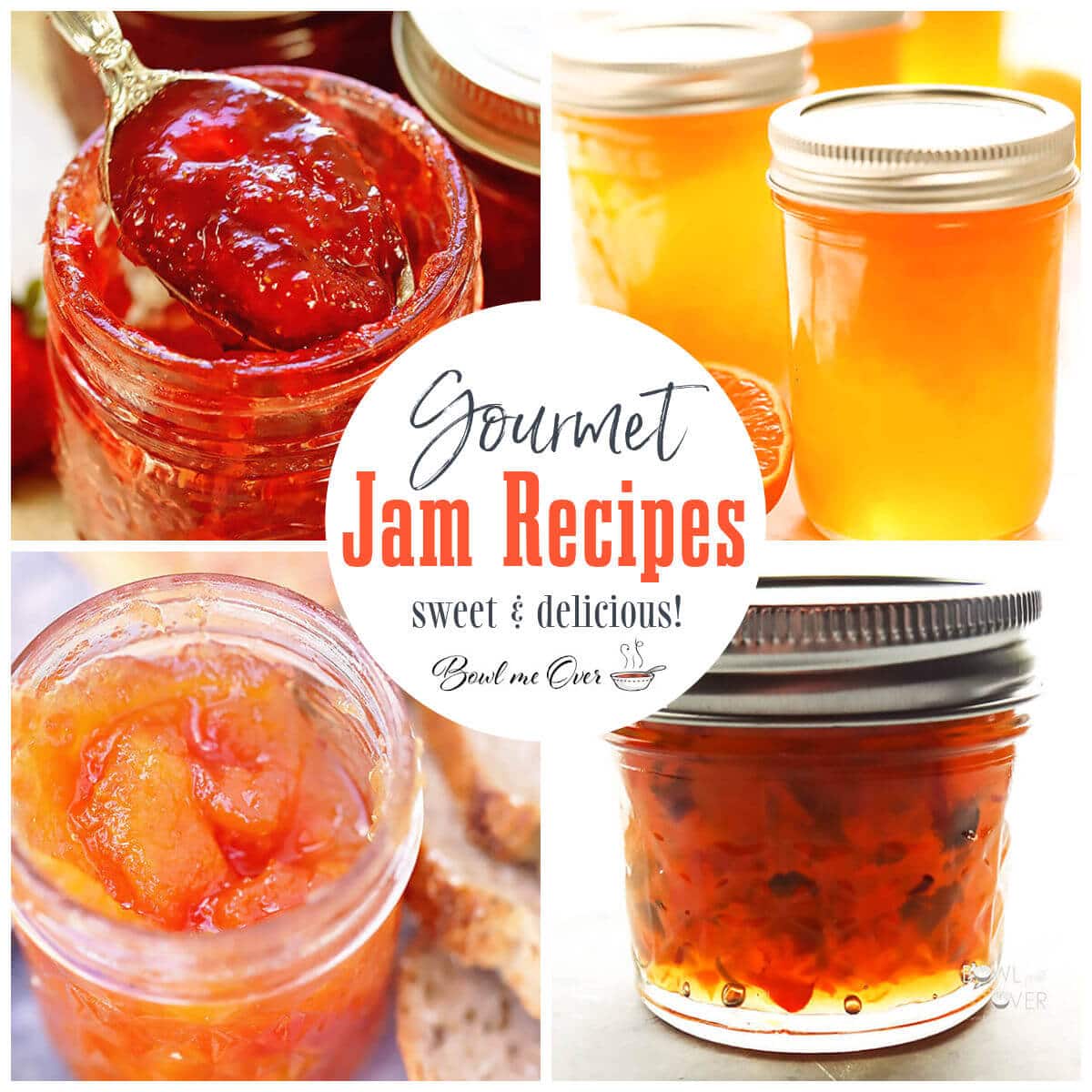 Jam requires a little cooking and a little science to get it just right, but when you get the hang of it, you'll never go back to the store-bought versions again.
If you follow the directions precisely (especially regarding the amount of fresh fruit, the amount of sugar, and the time for boiling), you'll be a jam-making pro in no time.
And don't worry if your jam doesn't set up immediately—it can sometimes take up to a week. But if it doesn't, you'll have a deliciously tasty syrup to add to your pancakes, top your ice cream or desserts, or to use in salad dressings. It's a win-win situation, really!
Ready to get started with these homemade jams and jellies? Let's kick things off with one of my favorites!
Delicious Gourmet Jam Recipes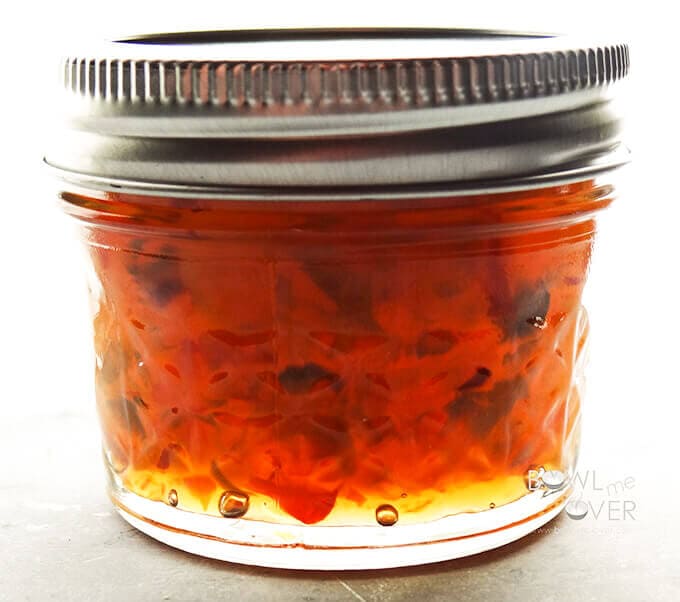 This sweet and spicy Pepper Jam is made with bell peppers, jalapenos, red pepper flakes, cider vinegar, and sugar. It makes a fantastic glaze for chicken, pork, or fish, but it's yummy on toasted bagels, crackers with cream cheese, and even in salad dressings.
You'll find so many ways to use this sweet-spicy flavorful jam to give your ordinary recipes a little extra oomph.
This delightful jam makes a wonderful homemade gift for Christmas or a lovely hostess gift for a barbecue. It's the perfect combination of sweet and heat!
Stone fruit recipes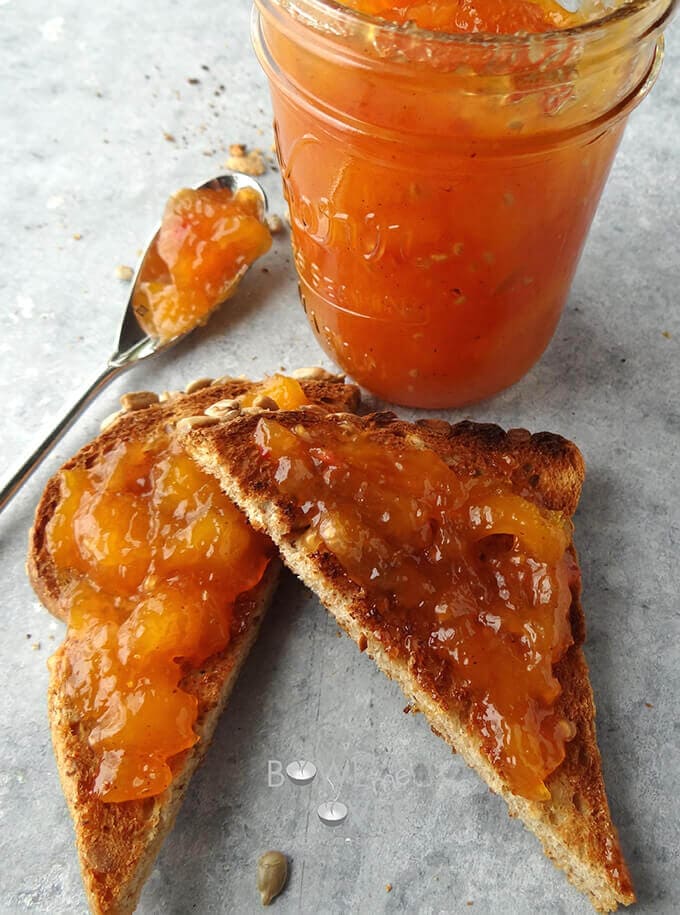 You'll love this juicy Mango Jam made with mangoes and raspberries. It's tangy and tropical with a hint of sweetness from the raspberries.
The Caribbean spices—nutmeg, cinnamon, and ginger—help up the ante with their tropical flavors. This low-sugar version is made possible by using fruit at the peak of ripeness and flavor.
It's also fantastic with peppers if you like your jam to have a kick of heat.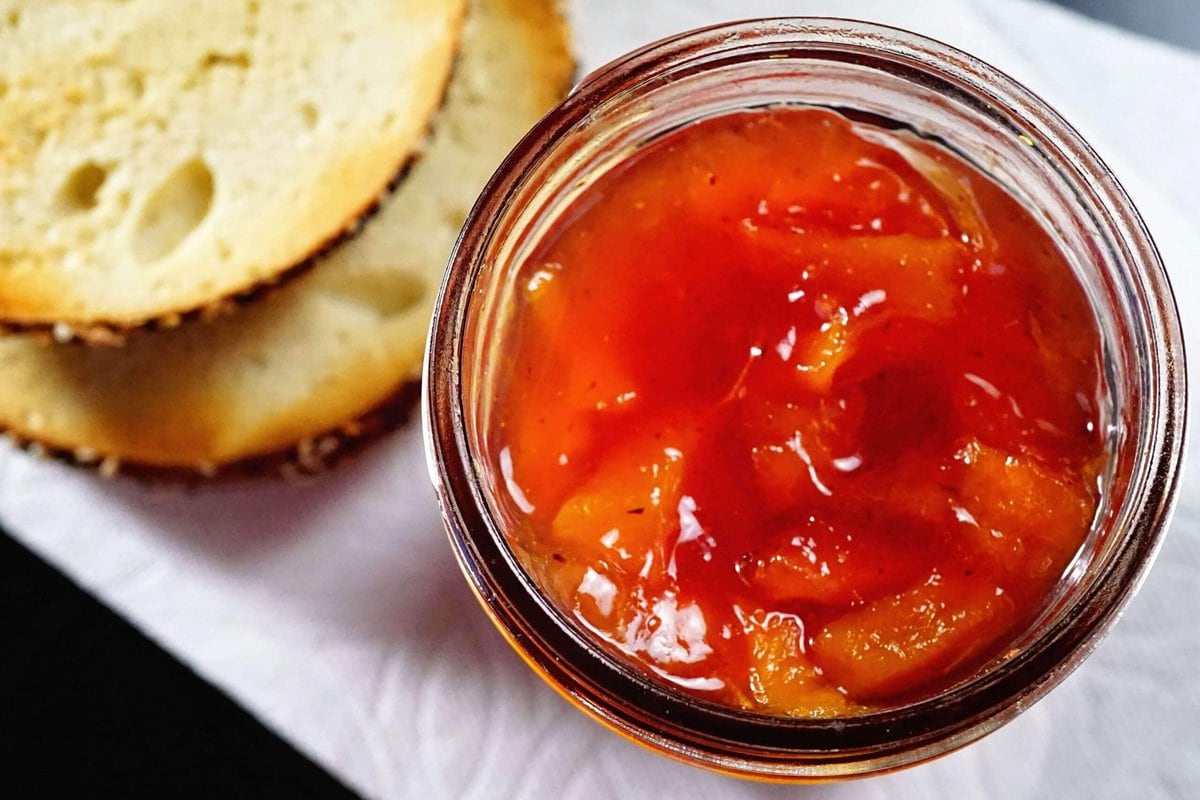 Our peach jam is lightly flavored with ground ginger and a dash of curry powder to bring out the flavor of the fresh peaches.
The spices don't overpower the peaches; it intensifies the taste for a very fruit-forward jam recipe.
It's a great way to enjoy those fresh, end-of-summer peaches all year long (if your jars of jam last that long—we gobble ours up long before that).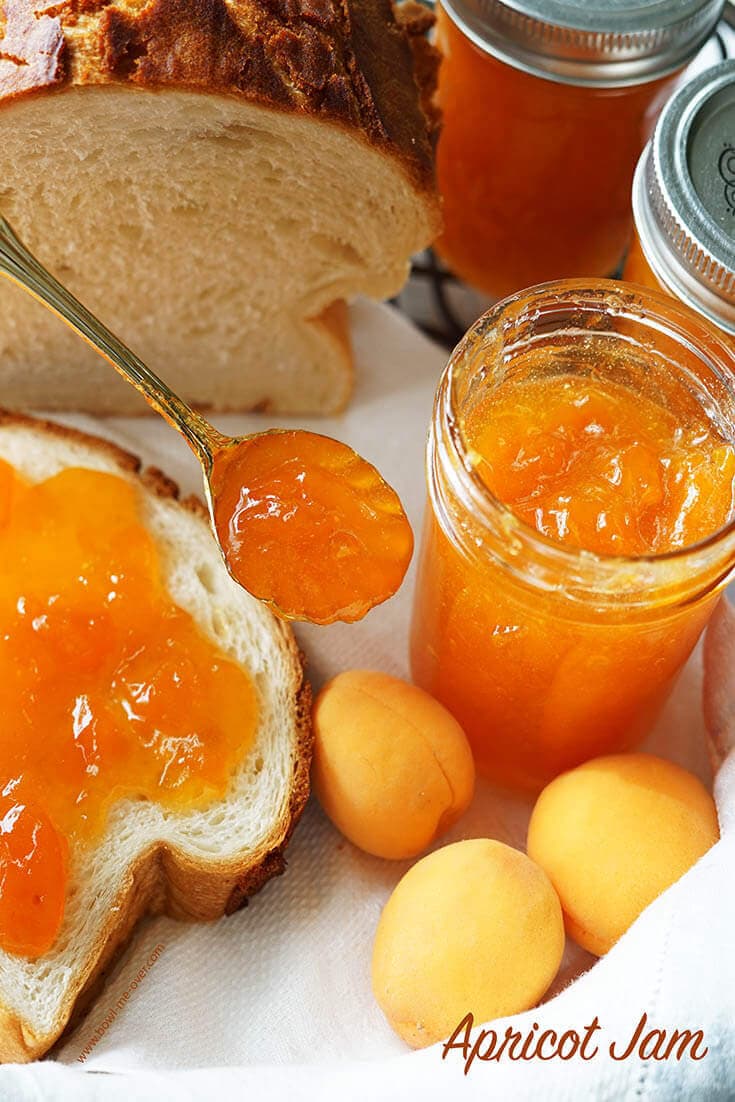 Are you obsessed with apricots? The bright flavor of this sweet stone fruit makes the perfect jam or jelly. It's easy to make, and it's a flavor that almost everyone loves.
Slather it on thick homemade bread, on fluffy biscuits, on a toasted bagel, or any place you'd like to add a touch of sweetness and fruity flavor.
This particular recipe is a low-sugar version, using less sugar than regular apricot jam, but it's just as delicious.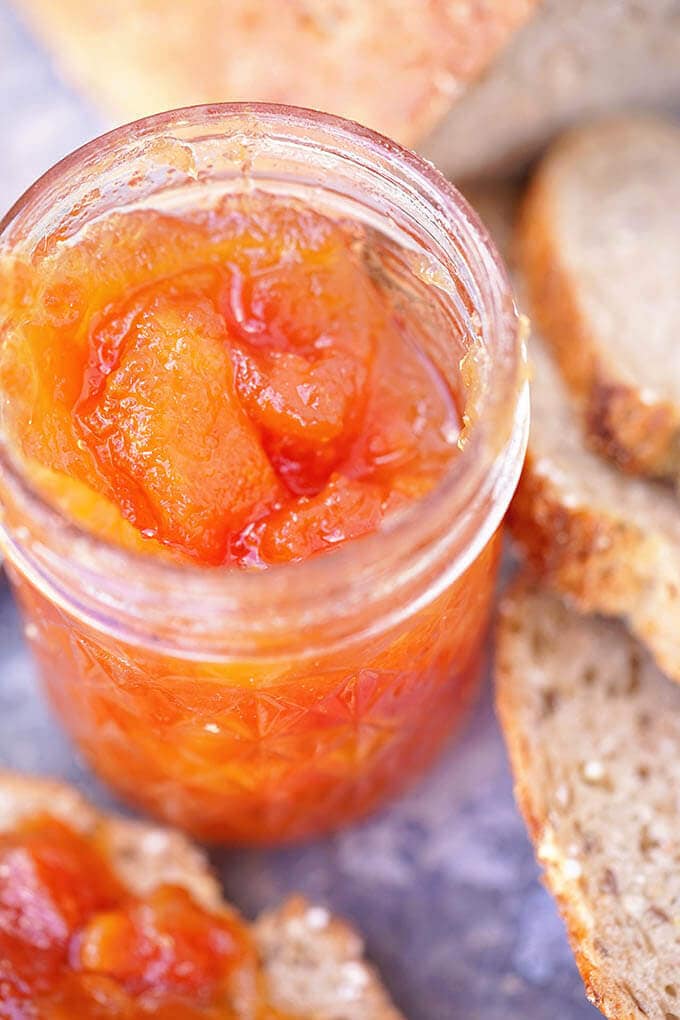 Indulge in the flavors of the tropics with this bright, beautiful fruit spread! This jam is made with sweet papaya, mango, and freshly-squeezed lime juice for an easy-to-make recipe with exotic flavors.
The dark rum adds a twist of vanilla and molasses with a bit of fire. Don't worry; it cooks off! But if you prefer, you can leave it out without affecting how the jam sets.
Enjoy the papaya jam on a PB&J with a tropical spin. Smear some on a freshly baked croissant. The sweet taste is amazing, it will be your new favorite recipe!
Fruit jam and berry recipes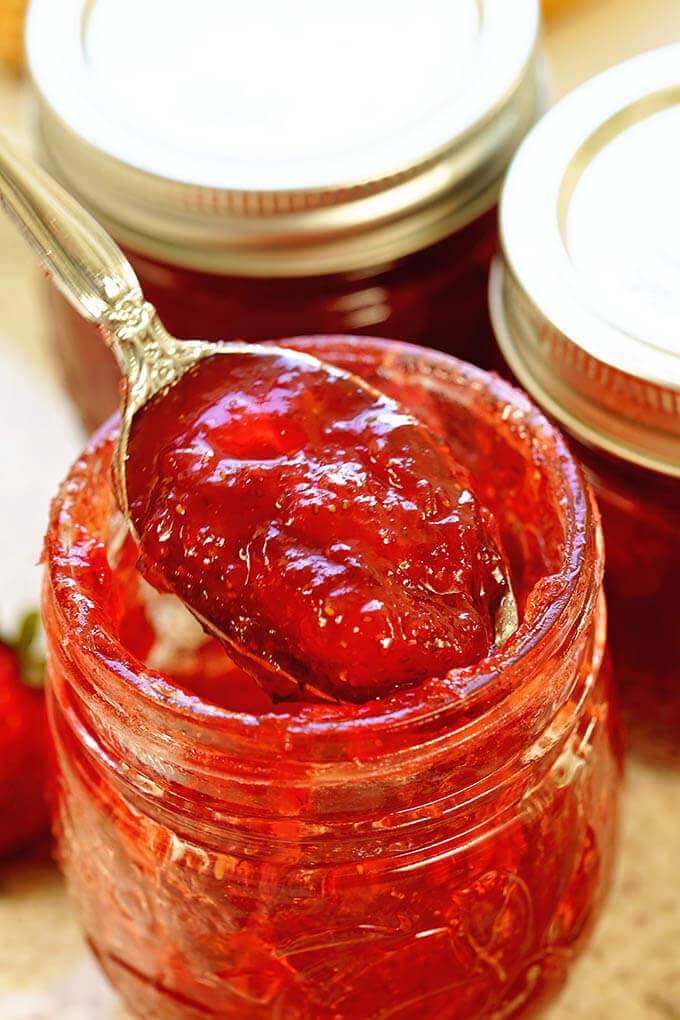 Enjoy the delicious flavor of strawberries anytime you want. We have an amazing Strawberry Freezer Jam recipe that's perfect for topping pancakes, slathering on English muffins, or smearing across homemade bread.
Freezer jam lasts for months, and we can certainly eat it all within that amount of time. Remember, don't use glass containers if you're putting this in the freezer.
You'll need plastic containers, leaving about ½ inch of room from the top to allow for expansion.
Anytime you'd like to enjoy some delicious jam, take it out of the freezer and put it in the fridge to defrost.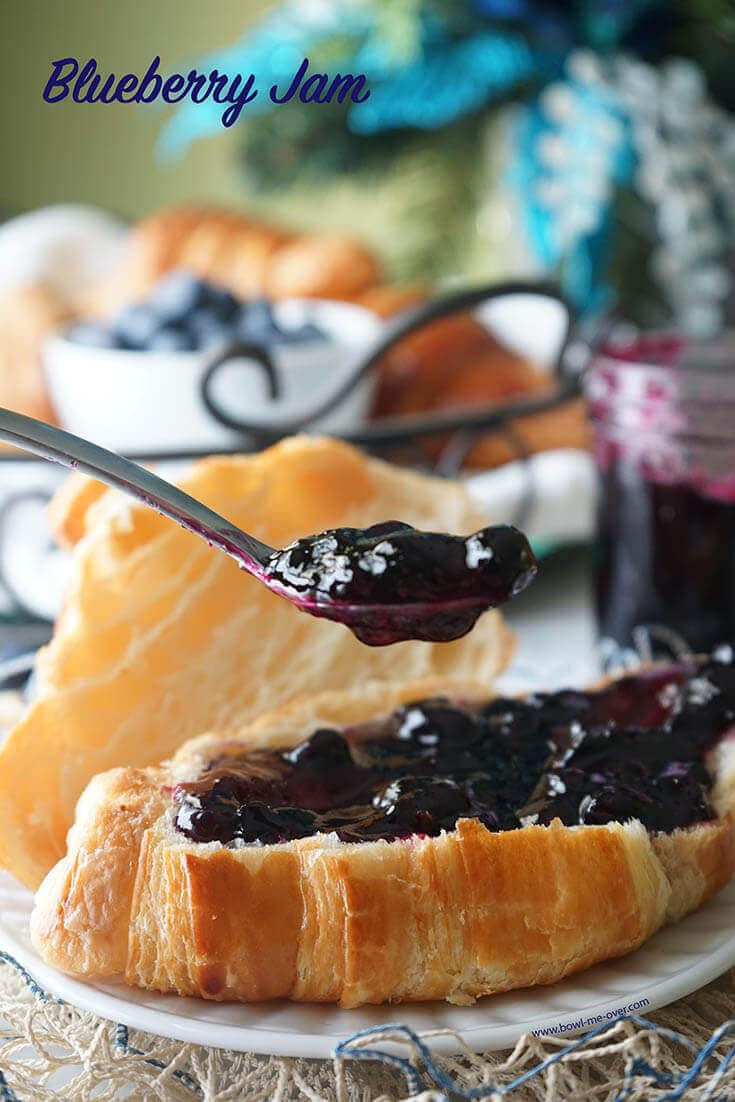 Get tons of flavor and pizzazz in our tasty Blueberry Jam. Citrus, spices, and blueberries combine to make a delicate, delicious jam that's super easy to make.
What a fantastic way to preserve the sweet flavor of these summer berries!
This is the best jam - super spreadable, so it's a perfect topping for pancakes, French toast, biscuits, or a little goat cheese on croissant with a spoonful of fig jam? Heaven!
A few more berries recipes to try;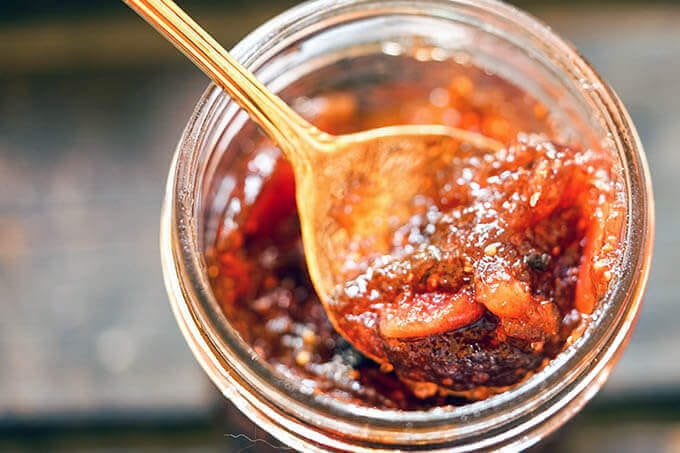 Want to enjoy the sweet, magical flavors of Christmas year-round? You'll love this Christmas Cookie Fig Jam Recipe with hints of cinnamon, vanilla, and allspice.
Fresh figs are sweet as honey and become so flavorful when turned into jam. Anyone who loves fig newtons will be a big fan of this jam recipe; it's all the same flavors packed into an easy-to-spread jam.
Fig jam can be used in sweet or savory dishes, on cheese platters, on your breakfast bagel, or on a fresh roll.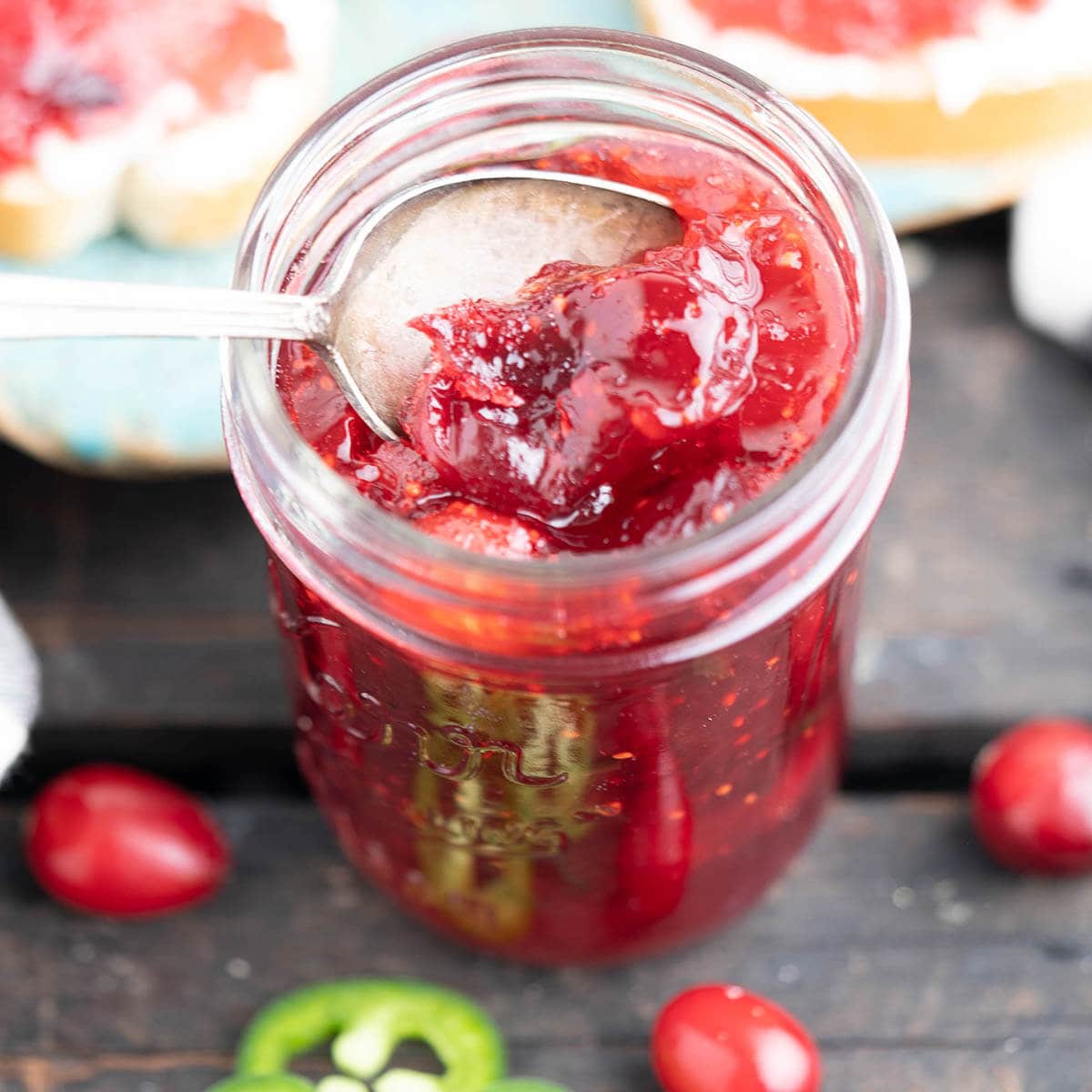 This delicious combination is sweet and tart. Cranberry Jalapeños Jelly is terrific over cream cheese with toast points for an appetizer.
It's also amazing on a ham or turkey sandwich. Use it as a glaze for pork, chicken or shrimp and warmed up, it's a terrific dipper for chicken wings. Give it as a hostess gift during the holidays. This jam is a winner!
Citrus fruit and juice recipes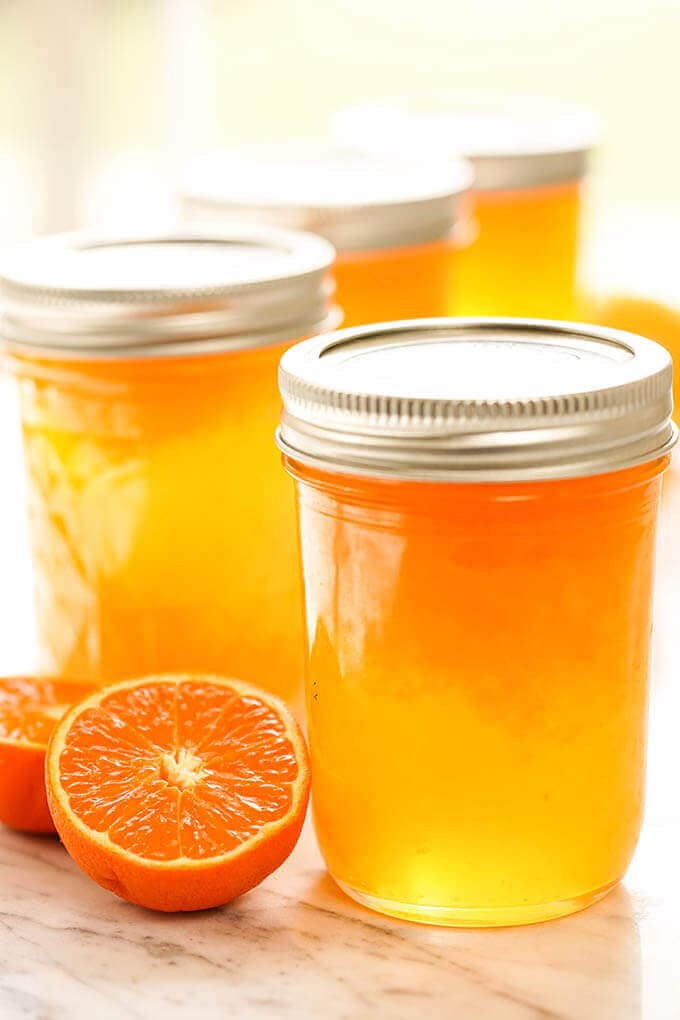 I call this Orange Jelly sunshine in a jar! This sweet citrus jelly is delicious, flavorful, and tastes better than anything you can get from the grocery store.
With fresh orange juice, fresh lemon juice and tons of flavor, it goes great with muffins and bagels.
It's made with mandarin oranges, which are smaller and sweeter than regular oranges, and you'll love that the skin is easier to peel, too.
There's a lovely orange marmalade recipe on the blog as well!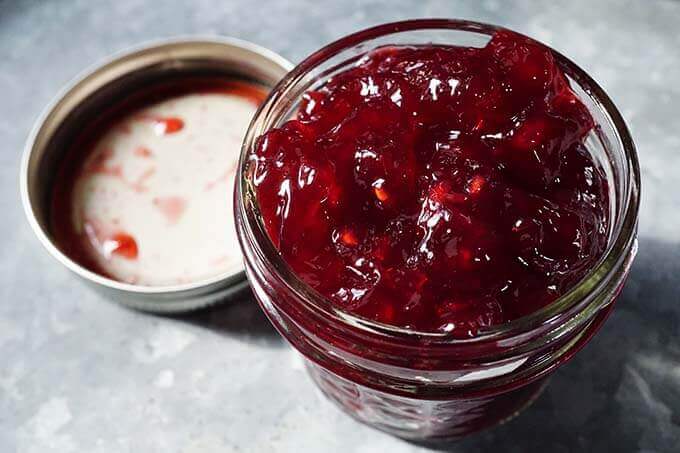 You'll find several ways to up the ante in your favorite recipes with a bit of this Pomegranate Jam, it's one of my favorite gourmet jam recipes!
I use jam in homemade salad dressings and on my PB&Js to make them more interesting. Of course, I also slather it all over bread, muffins, and other snacks too!!
This sweet fruit gets a nice little kick of heat from chili powder and chili flakes. The spices help perfectly balance the flavors. It's not spicy or hot; it's just warm and lovely.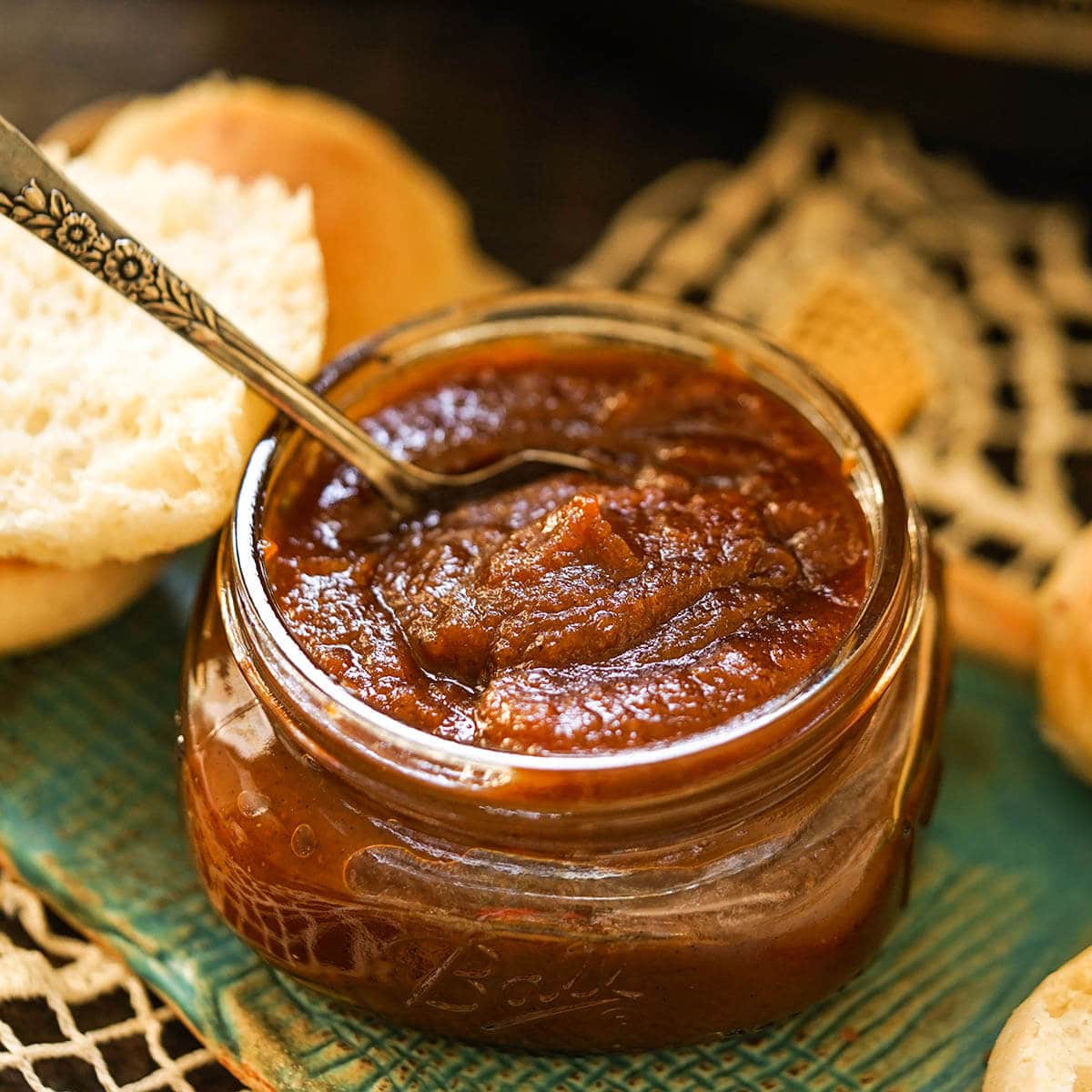 Okay, so Pumpkin Butter isn't jam, exactly, but it is jam-like in that it's a deliciously sweet spread that you'll want to slather over all kinds of foods in the fall. It's one of my favorite fruit butters!
Put it on pumpkin muffins, zucchini bread, banana pancakes, freshly baked rolls, and more! It's rich, luscious, and full of your favorite fall spices like cinnamon, nutmeg, ginger, and allspice.
The natural pectin helps it to thicken as it cooks in your slow cooker. It tastes like pumpkin pie in a jar!
It makes a great hostess gift for Thanksgiving, and you'll want to make extra for yourself as well. It lasts up to two weeks in the fridge.
Not ready to cook just yet? Pin this list of gourmet jam recipes to save it for later!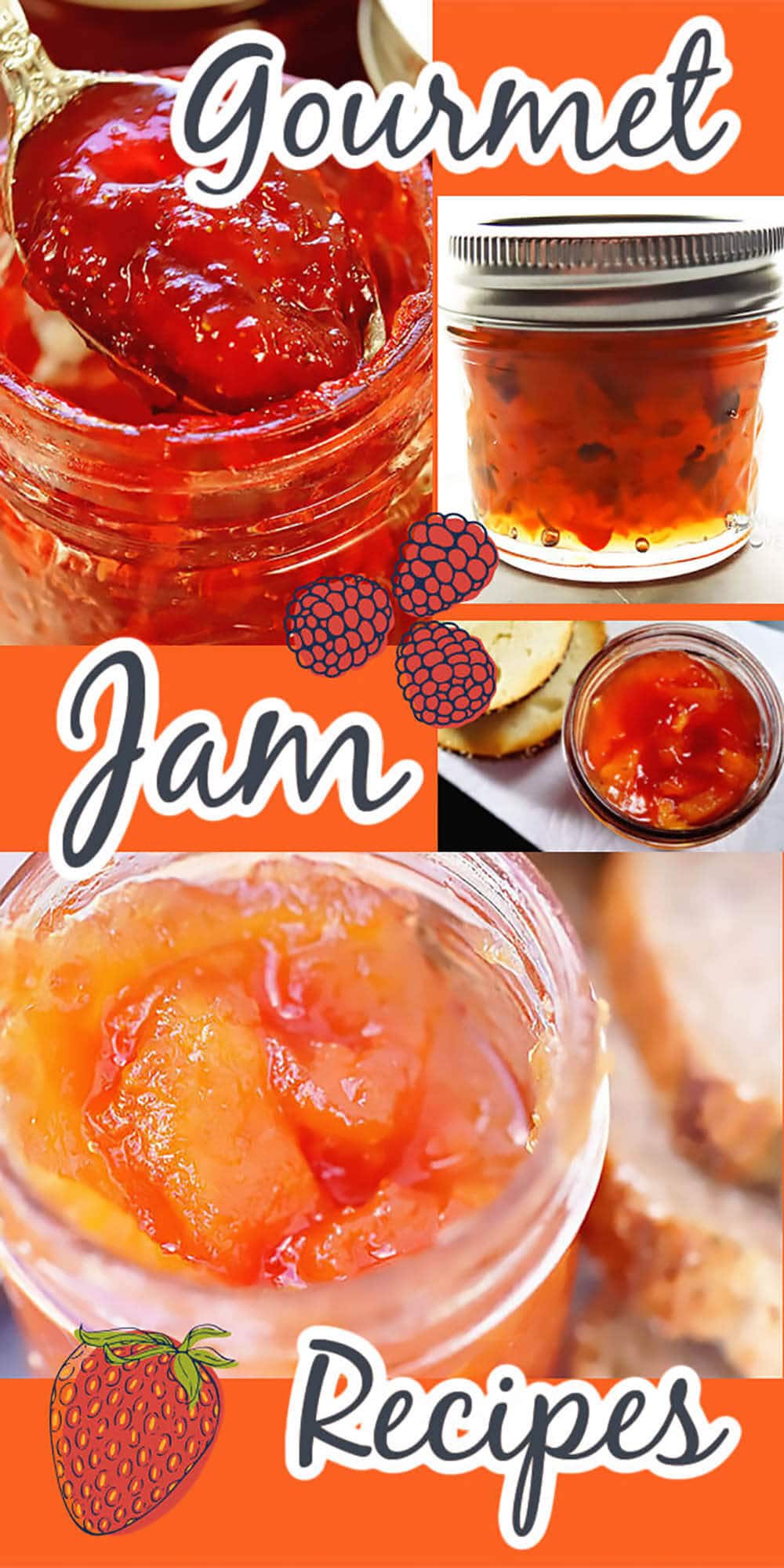 FAQ's
Where is the best place to store jam?
Jam should be stored in a cool, dark place - your pantry it perfect!
Do I need to refrigerate jam if it's sealed?
As long as it's sealed, there's no need to refrigerate the jam until it's open.
Do I really need to use all that sugar?
Yes, don't change the amount of sugar, fruit or use less pectin than the recipe calls for or your jam may not set up.
Want to take your jam making to the next level? Click here to learn how to make homemade jellies and jam. It has all my best tips. You'll be a jam making pro in no time!