This easy to make Christmas Pepper Jam Recipe combines bell peppers, jalapeños and red pepper flakes with cider vinegar and sugar. Resulting in a sweet and spicy jam that is so delicious!
Homemade Jam is easier to make than you think and it makes a great gift! Make it today, you'll love this jam! Another all time favorite is the Orange Jelly - it's sunshine in a jar!
Another great holiday gift, especially for teachers and scout leaders is the Snowman Soup, it's so fun and festive!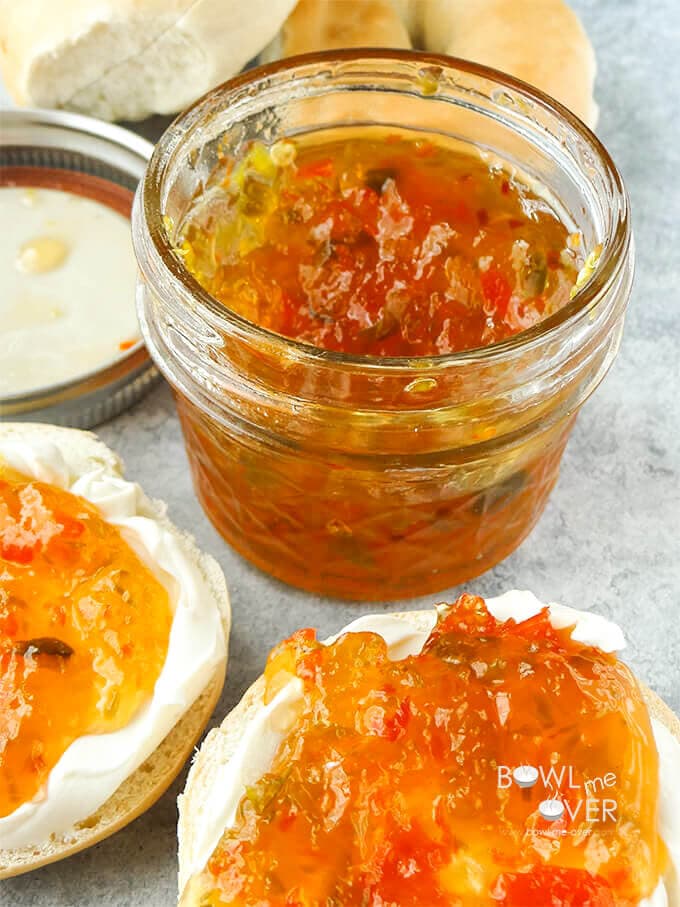 Jump to:
Why you'll love this recipe
The jam combines red, green & yellow bell peppers, jalapenos peppers, and red pepper flakes - along with cider vinegar and sugar.
✔️ It's sweet and spicy.
✔️ Delicious on a bagel with cream cheese. Terrific over a block of cream cheese for an appetizer. As a glaze over bbq chicken or pork, this is a great recipe!
✔️ It makes great gifts! Perfect for homemade Christmas gifts.
Ingredients
This is an overview of the instructions. For the complete directions just scroll down to the bottom! It's a combination of spicy and sweet peppers.
green bell peppers
sweet red peppers
yellow bell pepper
jalepeno peppers, fresno peppers, really any hot peppers
red pepper flakes
teaspoon salt
apple cider vinegar
pure cane sugar
low sugar Sure-Jell pectin pink package
Instructions
Even if this is the first time you've made jam, as long as you follow the instructions, you can do this!
Step one - Most of the work is done by the food processor. Chop peppers, remove the membranes and seeds and put into your food processor and pulse to chop thoroughly. You may have to do this in a couple of batches.
When you're finished you'll want the peppers completely chopped. If there are any large pieces, remove them and save for a salad or chop them by hand and toss them back in the pot.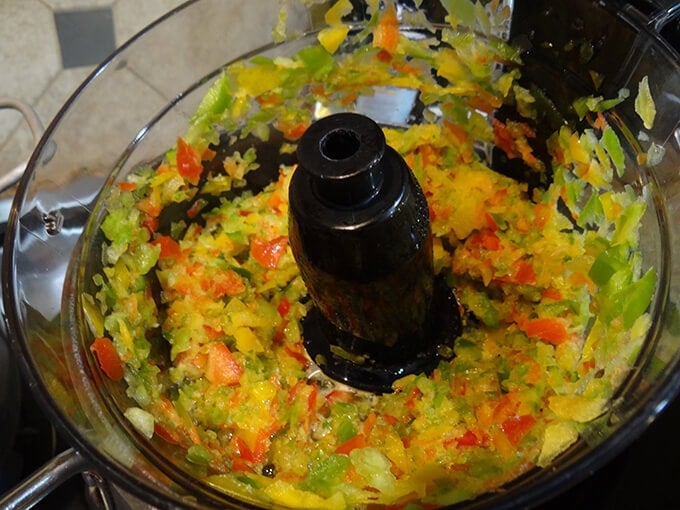 Step two - Then add the cider vinegar and sugar to the pepper mixture, (check the recipe for complete directions) and stir to bring to a boil.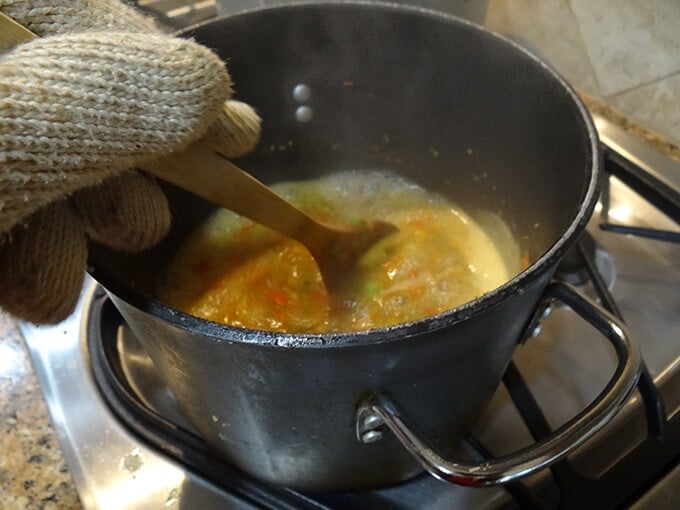 Step three - Just follow the directions and after the jam is completely cooked, you will ladle it into jars within a ¼ inch of the top.
Before putting the lids on the jars wipe the top of the jars. This will ensure you get a good seal and takes just a moment.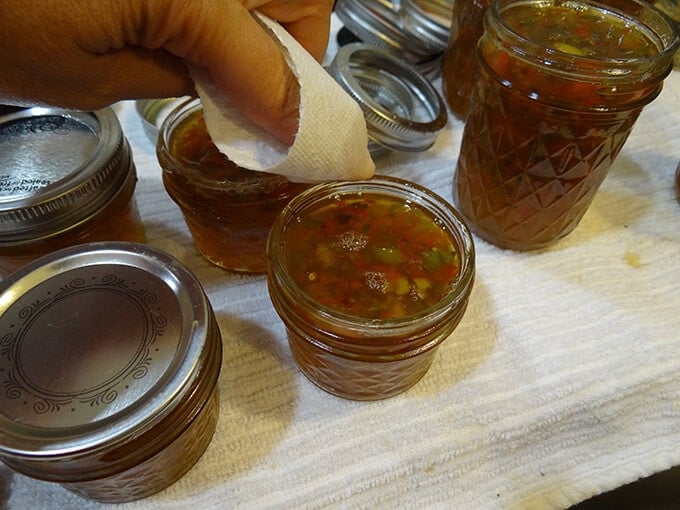 Step four - Then the jars are processed in a hot water bath or water bath canner for 10 minutes. When you are finished, carefully remove the jars from the water and allow them to cool.
With this jam, I go a step further and every 20-30 minutes or so, flip the jars. This ensures the pieces of pepper will distribute evenly thru-out the jam. If you don't, they will all float to the top. Now there's nothing wrong with that, it's just an extra step that makes the jam look a little prettier when it's done.
This recipe makes six 8 ounce jars pepper jam.
Equipment
The following are affiliate links. We are a participant in the Amazon Services LLC Associates Program, an affiliate advertising program designed to provide a means for us to earn fees by linking to Amazon.com and affiliated sites.
Canning Essentials Kit – this contains the basic thing you'll need to make this jelly!
FAQ's
What happens when your jam doesn't set?
Don't be over-anxious, this jam can take up to a week to set completely, be patient!
You can remove it from the jars, pour it back in a pan and boil it again, adding another packet of pectin and bring it back to a boil, boiling for exactly one minute.
Ladle into jars.Lable it as a glaze and enjoy!
Do you refrigerate the jam?
Yes after opening/unsealing the jam it should be refrigerated. If the jam is properly sealed it does not need to be refrigerated. Store in a cool dry place like your pantry.
How do you keep peppers from floating in the jelly?
The flakes of peppers will automatically float to the top as the jam cools and jells. Though controversial I will flip the jam every half hour or so while it cools - upside-down, then right-side up.

This is controversial because some people say it will affect how the lids seal the jar. Frankly you can easily test if the jars are sealed by pressing on the lid.

I like how looks, plus the flavor is evenly distrusted thru the whole jar, which makes it that much better!
Is jam and jelly hard to make?
No, if you can read and follow directions, you got this!
Why didn't the jars seal?
After all that work the jars didn't seal! Why not? Because you didn't clean the tops of the jars well. If the jars aren't clean and the lids aren't hot it will not seal.
Tips
Now this is not a terribly spicy jam, but fair warning, the last thing you'll want to do as this is coming to a boil is stick your face into all of that steam! Especially if you're wearing contacts. The contacts can easily absorb heat and spices and will make your eyes really sting!
Don't use less sugar than the recipe calls for.
Don't use less fruit than the recipe calls for.
Use the brand of pectin the recipe calls for.
when it says boil exactly one minute, set a timer and boil exactly one minute!
I know.... lots of do's and don't's but follow the recipe and you'll be set!
Be sure to check out this post - How to make Jam. It contains all my best tips and tricks to make homemade jam. Think of it as everything you wanted to know.... but we're afraid to ask!
Variations
Some people use just green peppers and add green food coloring to the jam, but I prefer to use different types of peppers and omit food coloring.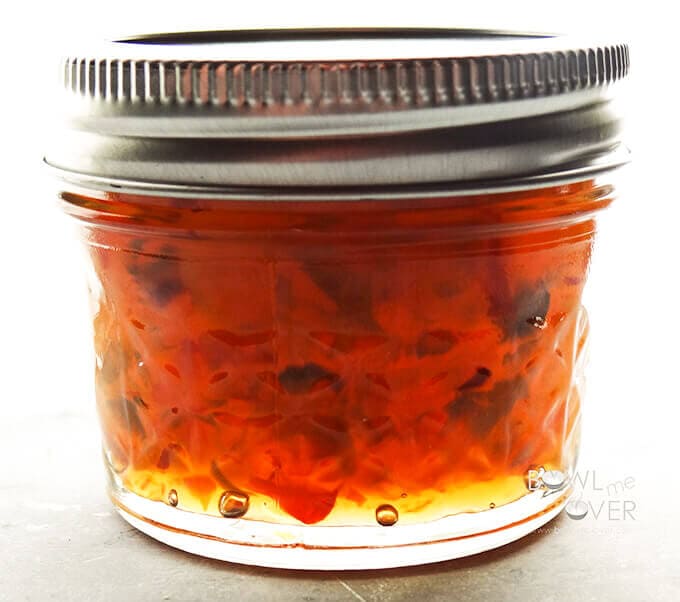 Click through for the most amazing Gourmet Jam Recipes!
The last word
Again, don't let all the instructions keep you from making this jam - you will love it I promise!
This jam is AMAZING. On a toasted bagel with some cream cheese and a spoonful of jam...delish! It also makes a terrific glaze on pork or chicken and you can also use it to spice up your homemade salad dressing!
The best time is now to start making jams and jellies! They are such terrific gifts during the holidays - who wouldn't love some homemade jam?
Related recipes
Serve with
As an appetizer on a charcuterie board - spoon the hot pepper jelly recipe over a block of cream cheese and serve with crackers.
Breakfast - toasted bagels topped with cream cheese, smoked salmon and jelly.
A spoonful in homemade salad dressing adds so much flavor!
Use as a glaze for grilled pork, chicken - this is a terrific glaze on shrimp or salmon also!!
Any questions about making jam please comment below or email me at debra@bowl-me-over.com. I'd love to hear from you!
Jalapeno Jelly Recipe
Homemade jam is versatile and delicious. It's perfect for homemade gifts and hostess gifts! This jelly is terrific all year long.
As an Amazon Associate I earn from qualifying purchases.
Ingredients
2

green peppers

2

red bell peppers

1

yellow bell pepper

4

jalapeño peppers

or use a combination of fresno and jalapeno pepper.

½

teaspoon

red pepper flakes

¼

teaspoon

salt

½

cup

water

½

cup

cider vinegar

3

cups

sugar

1

package

low sugar Sure-Jell pectin

PINK PACKAGE
I earn a commission from Instacart from qualifying purchases.
Instructions
Measure 3 cups sugar into a large bowl. Remove ¼ cup sugar and in a separate bowl, mix it with the powered Sure-Jell. Set aside both mixtures; the sugar and Sure-Jell/sugar.

Roughly chop all of the peppers. Carefully remove seeds and membranes. Add them all to the food processor and pulse until they are well chopped, not pulp, but chopped. You may need to do this in a couple of batches.

Place the chopped peppers, red pepper flakes and salt in a heavy bottom pan. Add cider vinegar and water. Add the Sure-Jell/sugar mixture and stir thoroughly. Place mixture over high heat and bring to a boil stirring constantly. When it comes to a full rolling boil (one that you can't stir down add the remaining sugar and return to a boil, again stirring constantly.

Bring to a hard boil and boil hard for exactly one minute and remove from heat. Using a ladle and while it is hot, pour jelly into hot sterile jars.

Clean the tops of the jars carefully (so you get a good seal). Place lids on jars and screw bands on jars.

Place jars in boiling water bath for 10 minutes - this will help seal the jars. Make sure the entire jar is submerged.

Remove from heat and place them on a heatproof surface (I usually use a heavy cutting board. You'll hear the jars make a popping noise as they seal. You can check to see if the jars have sealed by pressing down in the center of each jar. If it is sealed, it will not move. If it didn't seal the "button" on the top will pop up & down.

If desired, you may want to flip the jars over ever 20 minutes or so for the first hour. This ensures the pieces of pepper will distribute evenly thru-out the jam. If you don't, they will all float to the top. Now there's nothing wrong with that, it's just an extra step that makes the jam look a little prettier when it's done.
Notes
Be sure you choose the pink package, not the yellow. This is the low sugar version. If you use a different pectin the ratios of sugar/berries, etc., will be different.
You can enjoy the jam as soon as it sets up!
Store sealed jars of jam in your pantry. It will last 3-6 months. 
This jam makes six 8 ounce jars pepper jam.
Nutrition
Calories:
252
kcal
|
Carbohydrates:
63
g
|
Sodium:
63
mg
|
Potassium:
139
mg
|
Fiber:
1
g
|
Sugar:
61
g
|
Vitamin A:
945
IU
|
Vitamin C:
78
mg
|
Calcium:
5
mg
|
Iron:
0.3
mg
Sign up for my recipes here!!
Don't worry, we'll never share your email.
Recipe backstory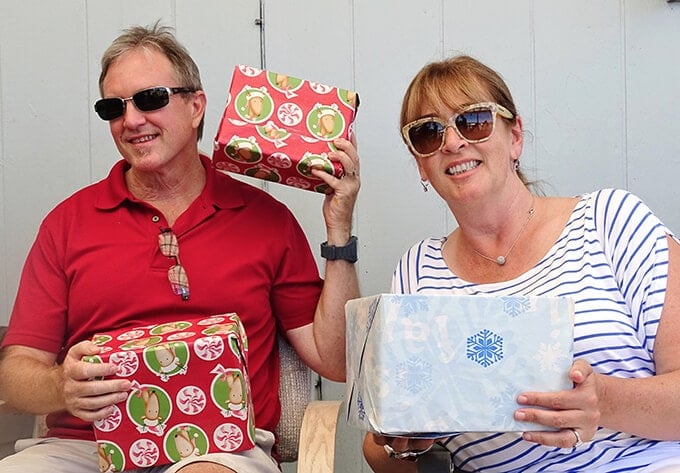 In 2015 the theme for our family reunion was Christmas in July. It was held in a little town near the Oregon Coast called Siletz. My Uncle Bill and Aunt June hosted and we had about 35 in attendance!
They did it up right too with a Christmas Tree - filled with presents - two wrapped presents for everyone, Christmas cookies and tons and tons of GREAT food!
There were plenty of laughs, giggles and stories, lots of laughter and fun to share. Family is the best, wouldn't you agree?
We got into a bit of a Facebook exchange before the reunion. We were all supposed to dress up in Christmas attire (unfortunately I forgot mine...) One of the suggestions was that I was supposed to make eggnog.
Well knowing the forecast, I was pretty sure the weather was going to be hot, hot, hot and so instead I decided to make something at home that I could bring.
And since the theme was Christmas....I decided to bring a rainbow of jams for everyone - Peach Jam, Homemade Strawberry Jam, Orange Jelly; Sunshine in a Jar! and my newest Sweet and Spicy Christmas Pepper Jam!