Old Fashioned Apricot Pineapple Jam – sweet and mellow with bright fruit flavors and just a hint of almonds. Low sugar apricot pineapple preserves are so good, you'll be enjoying it long after the apricots are gone! Delicious on an english muffin for breakfast or perfect for your PB&J sandwich for lunch!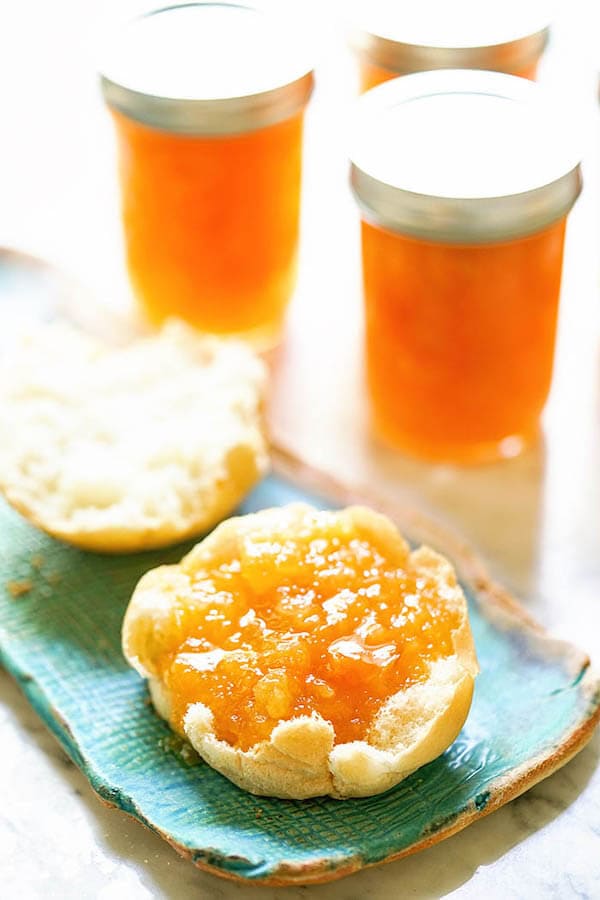 Apricot Pineapple Preserves Recipe
Every year in the spring, Dan and I visit a u-pick apricot farm just south of Fresno and pick our fill of the fruit. Usually about 30 pounds and not one will ever go to waste! (only to waist if you know what I mean! 🤣)
I made several batches of Apricot Jam this year. We've had lunches filled with PB&J's all summer long. But I have another jam and all of our lunches are filled with fresh fruit for the next month. It's such a treat!
The recipe I'm sharing today combines fresh apricots and canned crushed pineapple. It's an old-fashioned recipe that I've adapted from my friend Michelle.
My buddy Michelle is a Master when it comes to making jams and jellies. She makes hundreds of jars each year, gifting many. If you're lucky enough to receive one you know it's a jar of love!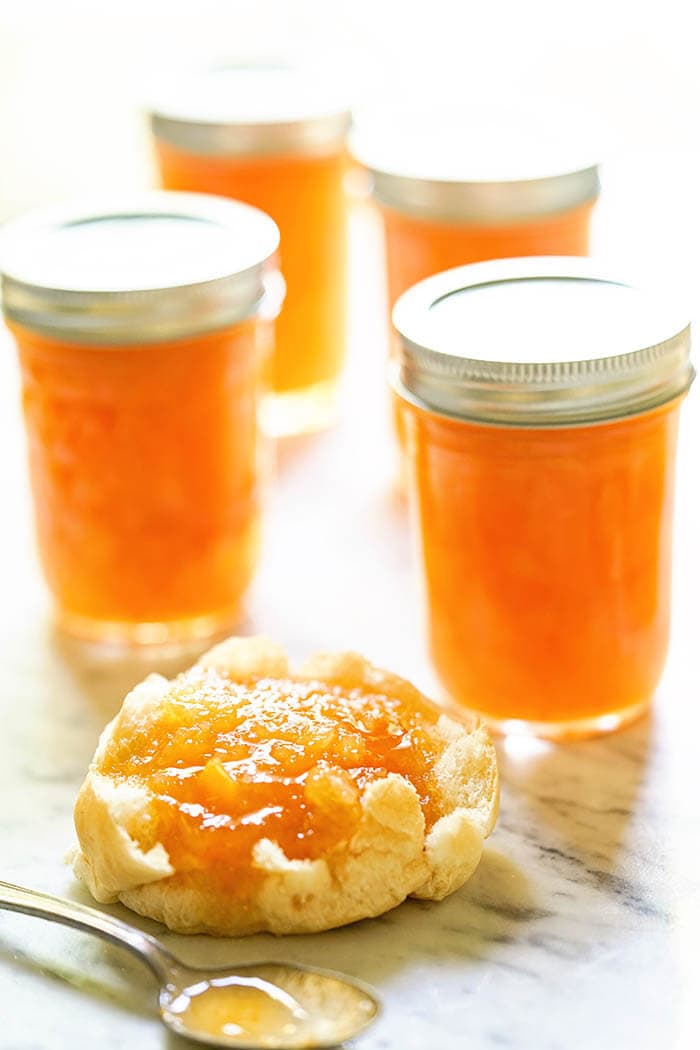 Apricot Pineapple Marmalade Recipe
Jams and jellies are easier to make than you think, so don't be intimidated – you got this! Here I share all my tips and tricks, answering any question you may have about how to make jam . You'll have the confidence you will need to make this recipe!
Fruit jam and jelly is a fairly easy-to-prepare for the beginning canner and may be made at home without a whole lot of special equipment!
Ingredient list for Pineapple Apricot Jam
apricots
canned crushed pineapple
sugar
lemon juice
almond extract
one box low-sugar sure-jell pectin
Frequently asked questions:
Do the apricots need to be peeled?
No, I wouldn't do that to you, I promise! There's no need to peel the apricots. You'll simply slice them in half and remove the stone. Then give them a good rough chop.
How long does apricot jam last?
Properly sealed and processed, this jam will last six months to a year. Now I'm here to tell you that it won't last that long in your pantry at all because it will be gobbled up so quickly!
Everyone loves homemade jam!
Does jam go bad if left out?
Once you've opened the jar and broken the seal it should be refrigerated. If you leave it on the counter (after opening) it will only last about two weeks. Pop it in the fridge after opening.
How can you tell if jam or jelly has went bad?
If there is mold on top of the jam or an odor, it's obviously spoiled. It's best to discard the jar.
How to make Apricot Pineapple Jam
Steps to make Apricot Pineapple Preserves
Slice the apricots in half and remove the stone. Roughly chop. Measure 4 cups.
Sterilize jars, rings and lids. In a heavy stock pot, place the chopped apricots, crushed pineapple, lemon juice and almond extract.
Measure 4 cups of sugar. Removing ¼ cup of sugar and mix it with the contents of the Sure-Jell. Sprinkle it into the apricots, mix well again and set it on the stove on high and bring to a boil, stirring constantly.
When it comes to a hard boil add the remaining sugar. Continue stirring constantly and return it to a boil.
When it comes back to a hard boil, continue boiling it for exactly one minute.
Remove from the stove & immediately ladle into sterilized jars. 
Use a damp cloth and wipe off the top of the jars to remove any jam that may have spilled on the top.
Place lids on jars and screw them on tightly.
Process in a hot bath (boiling water) for 10 minutes to seal the jars. Makes 8 eight oz. jars.
More of the most popular jam recipes!
These jam and jelly recipes are the most popular on my blog. They are tried and true recipes that I know you'll really enjoy!
I am a participant in the Amazon Services LLC Associates Program, an affiliate advertising program designed to provide a means for us to earn fees by linking to Amazon.com and affiliated sites.
When you make this please be sure to tag me on Instagram @bowl_me_over or #bowlmeover – I'd love to see your pictures! And if you get a chance, please comment and leave me a ⭐⭐⭐⭐⭐ rating below!
Apricot Pineapple Jam