What is easier than a meal you put together, tuck in the fridge in the morning & into the oven when you get home? Baked French Toast with Strawberry Jam
Baked French Toast with Strawberry Jam
Pretty excited about this and I think you will be too! What can be easier than an super simple brunch, or a meal you can put together, tuck in the fridge before you head off for work and tuck in the oven when you get home? Since I'm such a big fan of breakfast for dinner - this is a total winner in our family!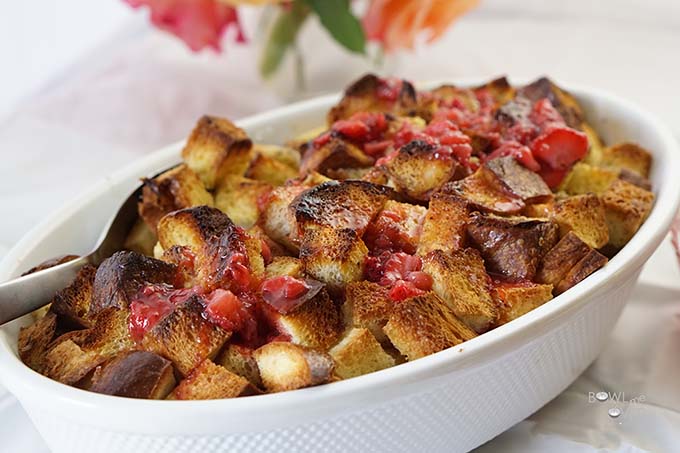 Using brioche bread, eggs, milk and a few spices it's such a simple thing to put together. The french toast is sweet, made even sweeter by the delicious (and easy) homemade jam. This meal screams spring and with all of the beautiful flowers popping up (like these roses in the background) it's definitely time to celebrate the season!
After baking, simple drizzle the jam all on top. The jam takes just 5 minutes on the stove so you make it while the French Toast is baking and while everything is warm, just pour it over this beauty and you will be ready to eat. And since those delicious fresh strawberries are beginning to show up in the markets, it's a wonderful opportunity to showcase them in the amazing spring meal!
More great breakfast and brunch recipes!
Baked French Toast with Strawberry Jam
What is easier than a meal you put together, tuck in the fridge in the morning & into the oven when you get home? Baked French Toast with Strawberry Jam
As an Amazon Associate I earn from qualifying purchases.
Ingredients
10

cups

cubed bread

10

eggs

1

cup

half and half

1

teaspoon

vanilla

1

teaspoon

cinnamon

½

teaspoon

allspice - can substitute ¼ teaspoon nutmeg

¼

teaspoon

salt

2

cups

sliced strawberries

1

cup

sugar

2

tablespoons

water
I earn a commission from Instacart from qualifying purchases.
Instructions
Spray your casserole dish with non-stick spray.

Slice and dice the bread into 1 inch cubes- you'll need about 10-12 cups, enough to fill your casserole dish.

Next in a large bowl, goes eggs, half & half, cinnamon, allspice and vanilla - whisk this together really well and then simply pour it over the bread. Seal it tightly with foil and tuck it into the fridge overnight.

The next morning, remove it from the fridge - preheat your oven to 375 degrees and allow the casserole dish to come to room temperature (about 20 minutes) before putting it in the oven. Bake for 40 minutes covered, remove the cover and bake another 10 minutes until the crust is golden and a knife inserted into the middle comes out clean.

While the French Toast is baking, slice the strawberries and put the strawberries, sugar and water in a pan on the stove over medium heat. Stir constantly until the sugar is melted. When it begins to bubble, reduce the heat to low & mash the berries with a potato masher. Continue to cook for another five minutes. Remove from the heat & set aside.

When the French Toast is done, remove it from the oven, top it with the strawberry jam and serve - you want it to be super indulgent? Top it with a dusting of powdered sugar and a dollop of whipped cream - YUM!!!
Nutrition
Calories:
430
kcal
|
Carbohydrates:
62
g
|
Protein:
15
g
|
Fat:
13
g
|
Saturated Fat:
5
g
|
Cholesterol:
287
mg
|
Sodium:
461
mg
|
Potassium:
312
mg
|
Fiber:
3
g
|
Sugar:
38
g
|
Vitamin A:
540
IU
|
Vitamin C:
28.6
mg
|
Calcium:
159
mg
|
Iron:
3.1
mg
Sign up for my recipes here!!
Don't worry, we'll never share your email.