Tangy and rich, homemade salad dressing is easy to make and 100 times better than store bought!
Homemade salad dressing is 100 times better than store bought, cheaper too! With all the flavor, why not make your own? Follow these easy step-by-step directions - How to make Balsamic Vinegar Dressing and you'll love the result!
Whether you're making a great Steakhouse Salad or a pasta salad homemade salad dressing from scratch makes all the difference in flavor and taste!
First Published: March 12, 2018... Last Updated: June 4, 2019
How to make balsamic vinaigrette
Have you ever made your own salad dressing? I admit it, sometimes I cheat and use storebought. But then I shake my head, because it tastes so much better when you make it yourself!
This salad dressing is one of my favorites. It's easy to make - takes just a minute and no chopping, muss or fuss!
My favorite way to mix a vinaigrette is by simply using a mason jar. Add everything in the jar and shake, shake, shake! The salad dressing is done AND leftovers are easily stored!

Deb Clark
Choosing the right ingredients
Balsamic Vinegar - a good aged balsamic vinegar ranges in prices from a few bucks to over a hundred dollars - eek! The moral of the story? Buy the best you can afford without breaking the budget!
Olive Oil - good olive makes all the difference! Extra Virgin Olive Oil is my first choice and they vary in flavor from fruity to peppery - choose the flavor you enjoy most!
Soy Sauce - I often choose soy sauce over salt because I like the depth of extra flavor it offers.
Dijon Mustard - I use Grey Poupon often or a grainy mustard. Again, just make sure you like the flavor before adding it to your dressing. Most people consider this ingredient optional in balsamic vinaigrette, but I always add it as it really enhances the flavor and also helps the emulsion process.
Brown Sugar, Honey, Agave or White Sugar - honestly if you use a good aged balsamic you really won't need to sweeten it, but unless you're spending big bucks on the vinegar, a little sweetener will only make it taste better!
Pepper - love that peppery bite!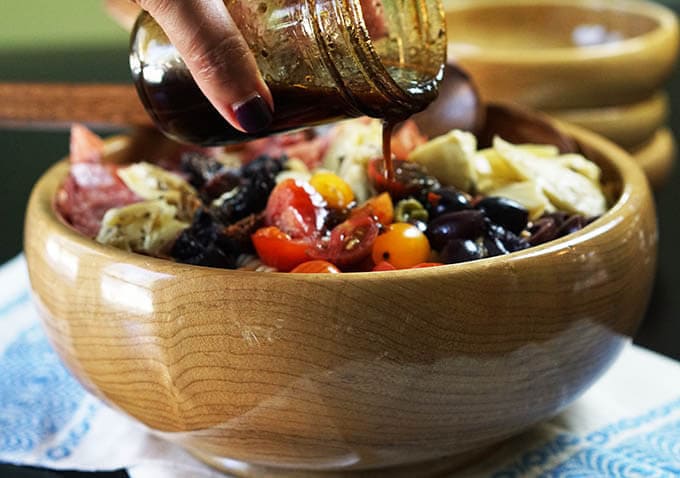 Best Balsamic Vinegar Dressing
Grocery list for Salad Dressing
balsamic vinegar
olive oil
soy sauce
dijon mustard
brown sugar
pepper
Easy enough, right? In fact you'll probably have all of these ingredients in your refrigerator and pantry!
What is balsamic vinegar used for?
There are several uses for good balsamic vinegar! In addition to your favorite salad dressing, it's perfect for finish a stew or to add a drizzle to your homemade pasta sauce.
What salads taste good with Balsamic Vinegar Dressing?
Does balsamic vinaigrette need to be refrigerated?
I refrigerate leftover salad dressing.
How long will this dressing keep in the refrigerator?
It will last about two weeks.
More delicious Homemade Salad Dressings!
I am a participant in the Amazon Services LLC Associates Program, an affiliate advertising program designed to provide a means for us to earn fees by linking to Amazon.com and affiliated sites.
Here are a few must have's for making your own salad dressing!
If you post a photo, please tag me! I'd love to see your pictures! You can tag me with #bowlmeover or if you're on Instagram use @bowl_me_over I can't wait to see how yummy this turned out for you!
I would love it if you gave this recipe 🌟🌟🌟🌟🌟 stars!!
How to make Balsamic Vinegar Dressing
Tangy and rich, homemade salad dressing is easy to make and 100 times better than store bought!
As an Amazon Associate I earn from qualifying purchases.
Ingredients
3

tbsp

balsamic vinegar

1

tbsp

soy sauce

1

tsp

dijon mustard

1

tsp

brown sugar

¼

tsp

pepper

½

cup

olive oil
Instructions
Add all of the ingredients to a screw top jar - shake vigorously.
Nutrition
Calories:
171
kcal
|
Carbohydrates:
2
g
|
Protein:
1
g
|
Fat:
18
g
|
Saturated Fat:
2
g
|
Sodium:
179
mg
|
Potassium:
15
mg
|
Sugar:
2
g
|
Calcium:
2
mg
|
Iron:
0.2
mg
Sign up for my recipes here!!
Don't worry, we'll never share your email.