Instant Pot Corn on the Cob! Enjoy delicious corn in minutes and don't heat up the whole house by cooking sweet, juicy corn on the cob in the pressure cooker. It's the easy way to cook it!
No need to get a steamer basket or special accessories either! Just follow this easy step-by-step guide!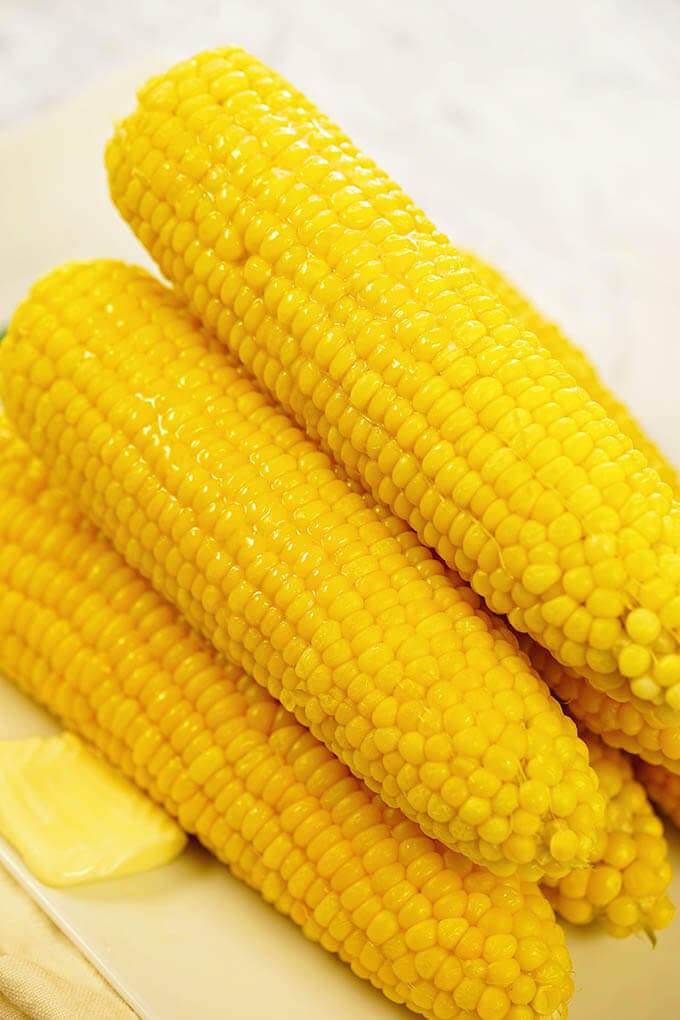 Next time try Mexican Street Corn Casserole Recipe - it's so yummy and easy to make!
Jump to:
Why you'll love this recipe
✔️ easy!
✔️ delicious!
✔️ This will be your favorite way to make sweet summer corn on the cob, perfect corn every time!
Hot, steamed corn. Melty butter, do vegetables get any better than this?
Ingredients
Only two simple ingredients! Please refer to the printable recipe card at the bottom of this post for the exact measurements.
fresh corn on the cob
water
Instant pot instructions
This is an overview of the instructions. For complete directions, scroll down to the bottom!
Start by shucking the corn and removing all of the corn silk.
Add the steam rack to the bottom of the pot.
Pour in two cups of water.
Place up to six individual ears of corn cobs on top of the trivet in rows of three in a criss-cross pattern (see below).
Close and place the electric pressure cooker in the sealing position.
Set on steam, high pressure, and set the timer for two minutes.
Quick release at the end; enjoy the perfectly cooked corn!
Stove top instructions
Bring a large stock pot of water to boil on the stove top.
Add the ears of corn.
Boil corn for ten minutes.
Grilling corn on the cob
Shuck the corn and remove all of the silk.
Place the corn on a large piece of aluminum foil. Dot with butter and drizzle a little water on top.
Wrap the ears in foil and place them right on the grill. Turn the foil packet occasionally. Grill until tender, 15-20 minutes.
Grilled corn with husk
Another method is to soak the corn - husk, silk and all for about 30 minutes then place them directly on the hot grill.
Grill until tender, turning ever 3-5 minutes to avoid burning the corn. This will also help the corn cook evenly. It will take 15-20 minutes.
or... shuck the corn, soak in water and place it directly on the grill turning often. This will get you great char on the corn, just watch it carefully as it can easily burn.
Equipment
The following are affiliate links. We are a participant in the Amazon Services LLC Associates Program, an affiliate advertising program designed to provide a means for us to earn fees by linking to Amazon.com and affiliated sites.
FAQ's
Can you pressure cook corn on the cob?
Yes, pressure-cooking corn on the cob is an excellent way to steam corn.
How long does cooking Corn on the Cob in Pressure Cooker take?
It only takes two minutes to cook corn on the cob in the instant pot.
How many ears of corn can you cook at a time?
That will depend on the size of your pressure cooker. My Instant Pot is a six quart and will easily fit six cobs of corn.
Can you use this method for frozen corn?
Absolutely, you steam frozen corn in the instant pot! Set the time to 4 minutes and cook on manual, high pressure. Quick release at the end.
Things to know
The Instant Pot is a perfect way to cook corn on the cob!
I've cooked as many as 6 ears of corn at a time and as few as two. There is no difference in the steps or cooking time.
This method works for up to six ears of corn. (I would have cooked more just to check it out, but six ears is all I can fit in my Instant Pot).
Storage
Refrigerate - If you have leftovers, store them in an airtight container and refrigerate. It will last 3-4 days in the refrigerator.
Freezer - Leftover corn can be frozen. Store in a freezer-safe bag. Freeze up to 60 days. You can also remove the corn kernels from the cob. So tasty, it's the perfect side dish!
Variations
Turn this into Mexican sweet corn by adding a little butter and sprinkling the corn with cotija cheese, sour cream, and diced cilantro or toppings of your choice.
Use this to make Corn Salad - so delicious!
Related recipes
I have several soups with corn on the blog and I'd love for you to try them!
More of our favorite instant pot recipes
Serving suggestions
Sweet corn and bbq go together like peas and carrot's wouldn't you agree? So let's serve up an amazing meal!
Don't forget to check out my Amazon storefront for some of my favorite products! 🛍️
If you love this recipe please leave a ⭐⭐⭐⭐⭐ rating!
Easy Instant Pot Corn on the Cob
Made in the pressure cooker, this is the best way to make perfect corn every time!
As an Amazon Associate I earn from qualifying purchases.
Ingredients
6

ears of corn

2

cups

water
I earn a commission from Instacart from qualifying purchases.
Instructions
Shucking the corn and be sure to remove all of the silk.

Place the stainless steel pot in the pressure cooker, add the steam rack/trivet to the bottom of the vessel.

Pour in two cups of water. A

dd the corn in rows of three in a criss-cross pattern.

Close and lock the pressure cooker,

set on steam and set the timer for two minutes.

When the time is up, turn off the pressure cooker and do a quick release.

Use tongs to remove the corn. Serve and enjoy!
Notes
You can cook 2 to 6 ears of corn at a time in your pressure cooker. There is no difference in the steps or time for cooking. 
Nutrition
Calories:
77
kcal
|
Carbohydrates:
16
g
|
Protein:
2
g
|
Fat:
1
g
|
Sodium:
17
mg
|
Potassium:
243
mg
|
Fiber:
1
g
|
Sugar:
5
g
|
Vitamin A:
170
IU
|
Vitamin C:
6.1
mg
|
Calcium:
4
mg
|
Iron:
0.5
mg
Sign up for my recipes here!!
Don't worry, we'll never share your email.
Step-by-step instructions to make sweet corn in the pressure cooker. You'll love how easy this recipe is!
You know what time of year it is don't you? Yup! If you've been following the blog, you know that Fresno State starts selling sweet corn, right about now! Usually I do a live feed from Gibson Market, but not this year because... I had eye surgery that day.
I've been whining about that for a while, right? Seriously I'm so over the whole eye thing! 😀
If you haven't heard this story before then let me share just a bit! The Fresno State Ag Department is known for their sweet corn. People drive from San Francisco down to Fresno and from as far south as Los Angeles to stand in line for hours to be the first to get corn on the cob.
Yes, you read that right, hours!
The most I've stood in line has been 3 hours. That was the first year I moved to Fresno. I remember thinking I'm sure Dan is joking, it can't be that bad right?
So I sauntered out there about 8:30 and ended up not getting into the market until almost noon!
Met some nice people, so that was great. I stuck it out just to see what all the fuss was about.
And I've been back ever since! Waiting in line is totally worth it!
So though I didn't get the first ears this year, we are still feasting on corn. It's that sweet and that good!
Summer in Fresno is HOT! We've topped triple digits several times just in the last week. We're rounding out June, with the heat of the summer coming on in full force the last thing I want to do is boil water on the stove.
First published: June 6, 2018, Last updated May 19, 2022, improving instructions and readability.