Vegetarian Corn Chowder that is spicy, creamy, rich and hearty! Fresh crunchy corn on the cob, spicy chipotle peppers and creamy potatoes make a simple, flavorful vegetarian corn chowder that is full of big flavor! This is a quick and easy dinner!
First Published: August 18,2018… Last Updated: July 21, 2019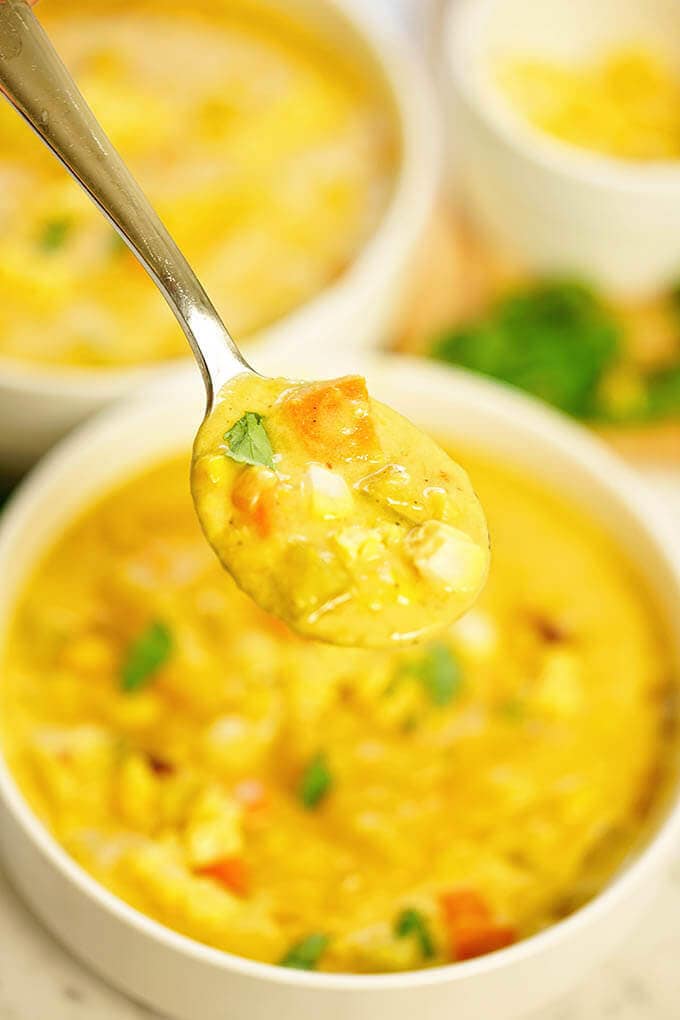 Vegetarian Potato Corn Chowder
Corn Chowder Recipe
It's a tragic thing, I've developed a severe allergy to corn, well not the corn itself but the husk. Anyone else have that issue?
Now don't get me wrong, it really hasn't changed much except that I bring piles of corn home and my wonderful husband is nice enough to husk it for me. As long as I don't touch the husk I'm fine.
But it really hasn't stopped me because there are so many delicious meals to be made with corn like Turkey Corn Chowder, Instant Pot Corn on the Cob and Black Bean Corn Avocado Salad! I know you understand!
You're going to love this chowder! It's full of vegetables, it's bright, crunchy and filling and one of our favorite summertime soups! Our local corn grown thru the AG department at Fresno State is world–renowned for the best corn, but you know this because I've bragged about it before!
But don't be sad, if you're not nearby, stop by a local farmers market or stand. Sweet corn is readily available now that the end of summer is near and I know there's some great corn with your name on it!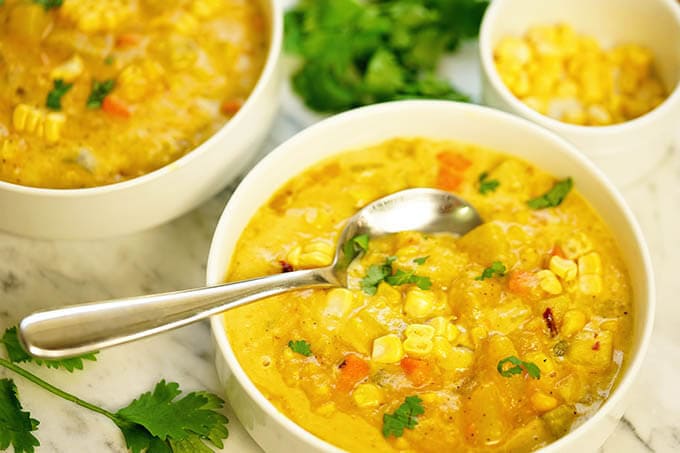 Corn Chowder
Grocery List for Soup Recipe
corn on the cob

yellow onion
russet potatoes
carrot
celery
garlic
chipotle pepper
vegetable stock
cream
spices – salt, pepper, red pepper flakes, yellow curry powder, coriander and turmeric
There's lots of spices in this soup and you're going to love the combination of flavors. It's easy and flavorful. Super savory and easy to make. The hardest part? Eating only one bowl! It's kind of like that old chip commercial daring you to eat just one!
What makes it a chowder?
This Vegetarian Corn Chowder is thick and hearty. Chowders are rich and creamy and often contain potatoes and onions. For more delicious bites about Homemade Soup – click here for my Complete Soup Guide.
How do you thicken up soup?
Many chowders are thickened by flour, cornstarch or other thickeners. This chowder is thickened by simply blending a portion of the soup.
The potatoes and corn blend perfectly to thicken this soup!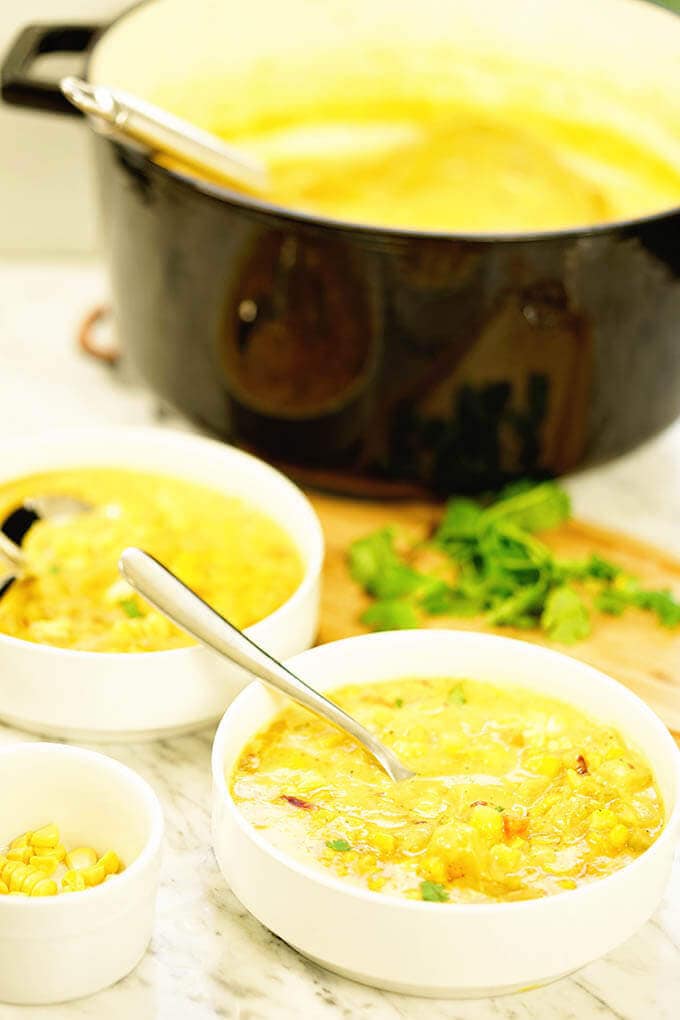 Vegetarian Summer Corn Chowder
A spot of heavy creamy takes this right over the top making it creamy and delicious![/caption]
What gives this chowder it's spicy warmth?
Chipotle pepper. Don't worry, it's just one. It adds warmth and body to the chowder without adding overbearing heat. It's absolutely delicious, hearty and an AMAZING chowder!!
No chipotle peppers? Use red pepper flakes to give this soup a bit of zing!
How to make Vegetarian Corn Chowder
Shuck corn and remove the silk, cut the kernels off the cob.
Set aside 1/2 cup of the corn kernels.
Peel and dice the onion, carrot and potatoes.
Heat a stockpot over medium heat, add the olive oil and vegetables.. Season well and sauté for 5 minutes, stirring occasionally.
Add garlic and sauté.
Add the stock, increase the heat to high and bring to a boil. Boil until the potatoes are tender.

Remove two cups of the soup and blend until creamy.
Add it back into the stockpot.
Add the cream and stir. Garnish with reserved corn and cilantro.
My friend Nicole sent me a picture of a meal she enjoyed at a local restaurant. A beautiful bowl of corn chowder finished off with a drizzle of truffle oil. I have to say, that had me drooling! 😀
Next time I make it, I will add a drizzle of truffle oil too!
So how about it, have I talked you into trying this soup?
Want all of my soup-making tips and tricks? Be sure to click here!
<
Some of the items below contain affiliate links; I am a participant in the Amazon Services LLC Associates Program, an affiliate advertising program designed to provide a means for us to earn fees by linking to Amazon.com and affiliated sites. However, I only promote things that I love and think you will love, too. For more information, please see my Disclosure Policy.
Be sure to leave a comment below and tell me what you think of this recipe, I'd love a five star rating!! AND if you make it, be sure to tag me @bowl_me_over or #bowlmeover
Vegetarian Corn Chowder
Print
Vegetarian Corn Chowder
Made with local fresh ingredients and bursting with the flavors of summer, Vegetarian Corn Chowder takes just over 30 minutes to make. It's rich, hearty and creamy bowl of chowder.
Ingredients
4

ears of corn

shucked, silk removed and sliced off the cob

1

yellow onion

peeled and diced

2

cups

russet potatoes

peeled and diced (about 2 medium potatoes)

1

carrot

diced

1

stalk of celery

diced

2

cloves

garlic

minced

1 1/2

tsp

salt

3/4

tsp

pepper

1

chipotle pepper

diced, or substitute with 1/4 tsp red pepper flakes

1/2

tsp

yellow curry powder

1/2

tsp

coriander

1/2

tsp

turmeric

4

cups

vegetable stock

1

cup

heavy cream

2

tbsp

olive oil

2

tbsp

butter

2

tbsp

cilantro

minced (optional)
Instructions
Shuck the corn and remove silk. Carefully slice the kernels off the cob. Reserving about 1/2 cup of the kernels and set them aside.

Peel and dice the onion, carrot and potatoes. Be sure to cut the potatoes in a small dice, about 1/2″ x 1/2″. Mince the chipotle pepper.

Heat a stock pot over medium heat, add the olive oil and onions, corn, celery and potatoes. Season with all of the spices; salt, pepper, red pepper flakes, curry powder, coriander, turmeric and chipotle. Sauté for 5 minutes until the onions just begin to soften, stirring occasionally.

Add garlic and sauté until the garlic becomes fragrant (about 30 seconds).

Add the vegetable stock. Increase the heat to high and bring to a boil. Boil about 10 minutes or until the potatoes are very tender.

When the potatoes are tender, remove about 1/3 of the soup and add to a blender. Blend until creamy and pour back into the stock pot.

Add the cream and stir together well.

Garnish with reserved corn and minced cilantro.
Nutrition
Calories:
326
kcal
|
Carbohydrates:
26
g
|
Protein:
4
g
|
Fat:
24
g
|
Saturated Fat:
12
g
|
Cholesterol:
64
mg
|
Sodium:
1282
mg
|
Potassium:
476
mg
|
Fiber:
2
g
|
Sugar:
6
g
|
Vitamin A:
2900
IU
|
Vitamin C:
9.7
mg
|
Calcium:
44
mg
|
Iron:
0.9
mg
Sign up for emails here!
Don't worry, we don't share emails!