The complete guide to everything you need to know to make the BEST homemade soup and stew. Delicious, flavorful bisques, stews, chowders and soups all packed with amazing flavor and fresh ingredients. It's easy to make when you know all the tips and tricks!!
Jump to:
BEST Homemade Soup
I was talking to some colleagues recently and I told them I'm not asking for much... I just wanted to be number one in google when you search for soup! You know, so when you go to google and search for Easy Potato Soup Recipe you see mine first!
Or maybe Authentic Posole, White Bean Soup or even a simple Chicken Noodle Soup.
Is that wrong? Nah!!! 😀
In fact, one of the pictures on my vision board is a bowl of soup with a crown entitled Soup Queen!
Anyway, I was challenged to write down everything I know about making delicious soup.... and so I did! The next day I wrote a little bit more and then a little bit more.
I've compiled all this information into a guide and I know you'll find this a fun and informative read! I hope you reference it often and share it with your friends! Soup is a meal your whole family will love!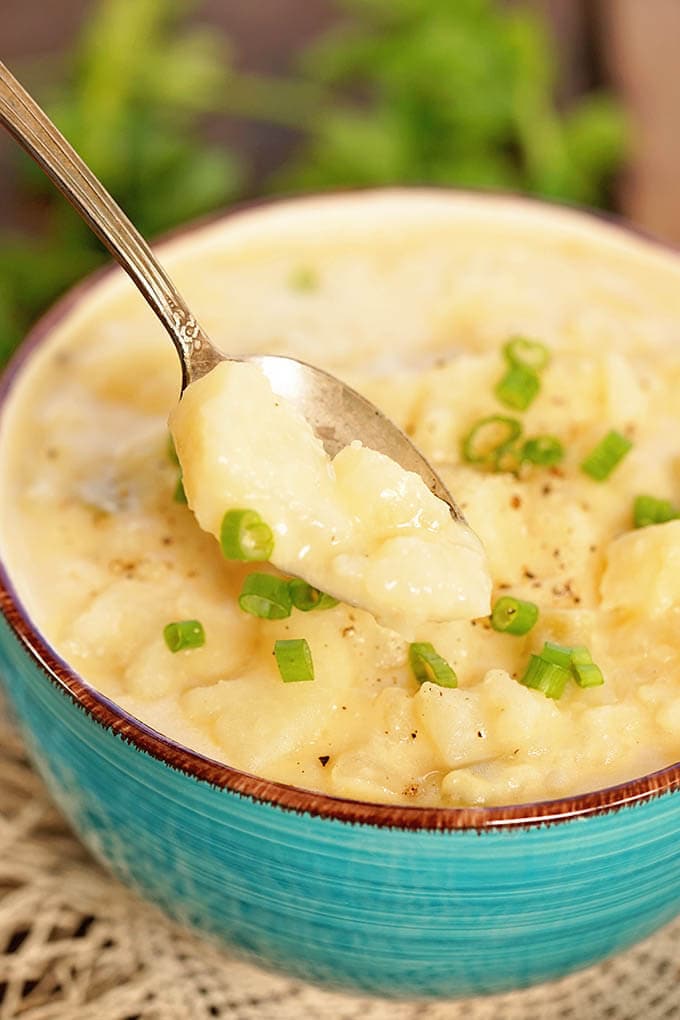 Do you love soup?
Do you love soup? I do and it's been a staple in my home for years and homemade soup is true comfort food. It's an easy flavors meal.
It's also a great way to clean out the refrigerator while making a delicious and nutritious meal for your family.
Some soups like this Butternut Squash Soup freeze well. Where soups like Chicken Noodle Soup taste better on day two! Often making soup ahead of time gives the flavors time to combine and develop.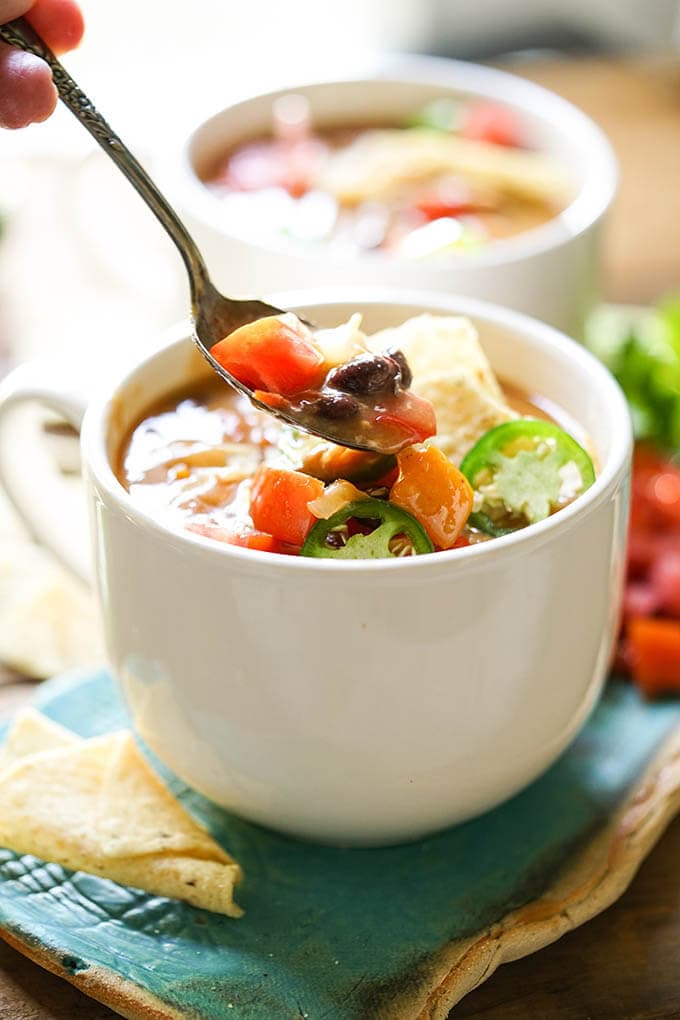 How do you make soup from scratch?
Without a doubt soup is my favorite meal! I have over a hundred homemade soup recipes on the blog, you can find them here!
Start by choosing a fat to sauté your protein and vegetables
Butter goes well with rich bisques and chowders - but will scorch when used over high heat - here's a tip use ½ butter ½ avocado or corn oil, both have high smoke points. You will still get the flavor of butter but reduce the chance of scorching!
Olive oil is great with Italian flavors like Minestrone Soup and delicious with Tomato Bisque Soup.
Bacon fat adds a ton of flavor.
Corn oil and avocado oils can both be used over high heat without adding additional taste to cloud the flavors of your recipe.
Select the protein
Chicken, seafood, pork, beef or lamb
Vegetarian options include hearty mushrooms, roasted vegetables or simmered potatoes
What vegetables will you use?
Potatoes, onions, carrots, celery, zucchini, eggplant, spinach, kale, cabbage, peppers, garlic, peas, asparagus, cauliflower - choose your favorite!
Choose your stock
Homemade Stock Recipes;
If you don't have time to make it, purchase good quality stock. Be sure to read the ingredients and check the sodium content on the package.
Often times an inexpensive box of stock is full of sodium. Salt makes everything taste better, but with the amount of sodium packed into it, you might as well just open the salt shaker and pour a cup into your soup!
This isn't the case with all brands. Moral of the story - read the packaging!
Pick your spices and herbs
Vegetables - basil, oregano, parsley and rosemary - red pepper flakes, garlic, coriander, cilantro and tarragon offer intense flavor.
Seafood - bay leaves, old bay seasoning, dill, garlic, black pepper, rosemary and saffron
chicken - rosemary, tarragon, thyme, parsley, oregano, bay leaves, sage, garlic, lemongrass and fresh or dried ginger
Beef - rosemary, thyme, bay leaves, parsley, garlic, salt, pepper, red pepper flakes
Now it's time to make soup!
Heat a large heavy bottom pot over medium heat.
Add the fat.
Sauté the protein or base.
Add the vegetables.
Add the spices and herbs.
Simmer the pot until the meat is tender and the vegetables are cooked thru.
Taste and adjust seasonings, this is truly the most important part! Often what a pot of soup needs is a touch of salt to make it taste just right!
The following is an affiliate links. We are a participant in the Amazon Services LLC Associates Program, an affiliate advertising program designed to provide a means for us to earn fees by linking to Amazon.com and affiliated sites.
FAQ's
How do you pick a great soup pot?
Choose a vessel with a heavy, thick bottom, this will help it distribute heat evenly - perfect for making just about any kind of soup, stew, bisque or chowder. Not only will it work well for soup, but it will also be a versatile cooking vessel and last for years to come!
Stock - Should you make it or buy it?
Is homemade stock better? I'm going to give you a resounding YES! No time to make it, do the next best thing and purchase good quality stock. Watch the amount of sodium the cheaper brands are loaded with it.
Why do the experts dice vegetables the same size?
Dicing the vegetables the same size will help everything finish cooking at the same time! Additionally when you dunk your spoon into a bowl of soup you want to taste all the flavors, right? That's hard to do if some pieces are too big to fit on the spoon.
Why is homemade soup good for you?
Soup contains a delicious balance of carbohydrates, protein and vegetables. A bowl of soup has minimal calories but is packed with nutrition! When you're not feeling well, a bowl of chicken soup and a warm, comforting meal is a perfect choice! It is easily digested but filled with nutrients. Like this recipe for chicken noodle soup!
Soup is a healthy way to start a meal because it fills you with vegetables and broth; just be sure to choose the proper soup! A cream-based soup can be high in fat and calories. Broth-based soups are lower in calories and (often) carbohydrates too!
Homemade soup is a better choice than canned because you can control the sodium, canned soup is often high in additives.
How do you thicken homemade soup?
with flour - mixing a couple of tablespoons of flour with water or broth until it is smooth and lump free. (If it is not "lump free" before adding it to the soup -  the soup will have lumps in it!) Add the slurry to the soup while stirring vigorously and continue to cook for a couple of minutes. This will cook the flour. Otherwise, you'll have a flour taste - ew!
with cornstarch - 2 tablespoons cornstarch combined with 3 tablespoons cold* water - mix until smooth (*If you mix cornstarch with warm water it's almost impossible to get the lumps out!) Pour into the hot soup while stirring vigorously.
with an egg(s) - start by beating the egg(s). Drizzle about ½ cup of the hot broth into the eggs to avoid curdling, stirring vigorously while you pour. Next, add the egg mixture to the soup. Stir and cook until thickened.
with pureed vegetables - cooked Yukon gold potatoes provide a rich thick texture when pureed. The starch from russet potatoes will help thicken soup. Grating a raw sweet or russet potato directly into a soup will thicken too! As it cooks it will slowly melt into the soup and release its starch.

Potatoes aren't the only vegetable you can use though. Cauliflower, corn, carrots, turnips and peas all puree nicely and will thicken the base of a soup! Removing a portion of it and adding the vegetables to blender works great like in this vegetarian corn chowder recipe. Adding the mixture back into the soup will make a nice creamy base.
You can also use a handheld immersion blender, just blend the entire soup until it's the consistency you're looking for. Bonus? You don't dirty any extra dishes!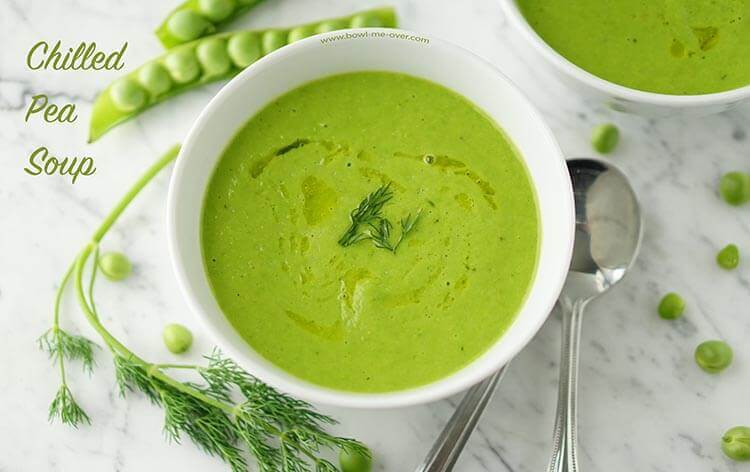 What is the difference between a bisque and chowder?
This is a great question! Bisque and chowder are two types of soup with a thick consistency.
A bisque has a smooth texture. It is a creamy soup that has been thickened and is pureed until creamy like my Tomato Bisque.
Bisque Soup originated in France and was primarily made from a seafood stock. It has evolved and is now more widely accepted as a smooth and creamy soup.
Popular recipes for bisque are lobster, crab, and seafood. Tomato, mushroom, and cauliflower are great vegetarian options.
A chowder is a type of soup that is often prepared using milk or cream. It's thickened with a roux (flour or cornstarch) and left with big chunks of vegetables that give it a great texture. Popular chowders are clam chowder, seafood chowder, turkey and corn chowder.
How do you give Homemade Soup that extra pizzazz?
This is one of my favorite things to do when making soup. You can add ingredients at the end of soup making that give it that extra somethin' somethin'! Ingredients that you can't put your finger on but will have your eyes rolling back in your head with delight!
Swooning and lip-smacking and you'll most definitely be saying mmmmmm!!!! Don't be shaking your head - you know you do it!
How do you make that happen? By adding acidity and freshness at the end of cooking.
Often you'll see soup served with a garnish of fresh parsley, green onions or cilantro. This is more than just making it pretty. It also adds a burst of freshness! Here are some combinations for your soups that will take it to the next level.
Give your meal a burst of freshness!
lemon juice and minced parsley - a burst of fresh lemon flavor adds a bright, clean note to beans, vegetable or chicken soup recipes.
salsa and cilantro - a spoonful of salsa on your tortilla soup adds loads of flavor and a zesty bite - perfect for tortilla and taco soup, any Mexican flavored soup!
sesame oil - a little goes a long way with sesame oil. It has a heady rich aroma and it will coat the inside of your mouth - it's a beautiful accompaniment for almost any Asian soup.
olive oil - a drizzle of olive oil on a bowl of creamy bisque will take it right over the top!
balsamic, cider or red wine vinegar - just a touch added to a beef stock will wake up the flavors
pickles - yes pickles - don't skip these! Topping off a cheeseburger soup with pickles gives it the perfect amount of zest. It cuts thru the richness of the heavy meat, cheese and bacon.
wine - walk right by the cooking wines, DO NOT use these when it comes to season a soup. Don't cook with something you won't drink and I sure won't drink cooking wine. Red wine adds a special burst of flavor, especially to a tomato based soup. White is delicious in clear soup. Wine needs time to develop flavors and is best when added during cooking (rather than a drizzle at the end).
pesto - I always keep a jar of pesto in the refrigerator. Pesto is made with basil, pine nuts, parmesan cheese, olive oil and salt. A spoonful of pesto added to your soup at the end imparts many flavors and makes it taste like you've simmered it all day!
fresh herbs - minced parsley will add flavor to  Instant Pot Lentil Soup or just about any soup! You can also use green onions, cilantro, basil or dill - just a sprinkle over the top of your soup will brighten the flavors.
sour cream, creme fraiche or yogurt - a dollop adds creamy coolness to a spicy soup.
parmesan rind - next time you finish grating parmesan, take the rind, wrap it well and tuck it in the freezer. Add this to your next bean, minestrone or vegetable soup. The rind imparts a TON of flavor! Add it at the beginning of the cooking process and remove it before serving.
What can I add to homemade soup to make it less spicy?
Sometimes you follow directions exactly, but when you taste the meal you've prepared, you realize it's just WAY TOO SPICY.
Do you throw it out? No! Here are ingredients you can add to your soup to combat the heat.
Beat the heat with these add-ins!
sour cream, creme fraiche or yogurt - as mentioned above this will cool a spicy soup. The dairy like sour cream combats the heat in your mouth and will slightly cool the meal.
water, stock or canned tomatoes - increasing the volume will obviously distribute the heat. Of course, it also dilutes other flavors and spices so you'll need to adjust the seasoning.
peanut butter - did you just make an amazing bowl of Asian soup only to realize it's fire hot! Cream a couple tablespoons of peanut butter with equal stock, then add it to your soup. The peanut butter will help coat the inside of your mouth similar to dairy products.
sugar - sweet/hot is all the rage and there's a reason, sweet combats heat! A tablespoon of sugar or honey will help balance the heat, but be careful, a little will go a long way and you do not want an overly sweet meal.
lemon/lime or a teaspoon of vinegar - like rock, paper, scissors - acid trumps heat - add sparingly!
Soup MUST Haves!
LOVE your crockpot? Me too! Here's a round up with 40+ Slow Cooker Soup Recipes! Perfect for busy families and easy weeknight meals!
Equipment
The following are affiliate links. We are a participant in the Amazon Services LLC Associates Program, an affiliate advertising program designed to provide a means for us to earn fees by linking to Amazon.com and affiliated sites.
What's your favorite homemade soup?
Please comment below or email me at [email protected]
If you are looking for the 10 most popular soups on the blog - this post has them all in one spot and they are delicious!
Last but most importantly...
Don't forget to taste your meal before serving and adjust seasoning as needed! It's amazing what a sprinkle of salt or pepper will do!