With fall and winter quickly approaching, the cravings for a hot, steamy bowl of soup take over. Okay, I'll admit that I'm down for a bowl of soup even in hot weather, but when there's a chill in the air, it's even better! Here are our 10 Best Homemade Soup Recipes!
Each of these easy soup recipes is tried, tested, and bowl-you-over good, meals your whole family will enjoy!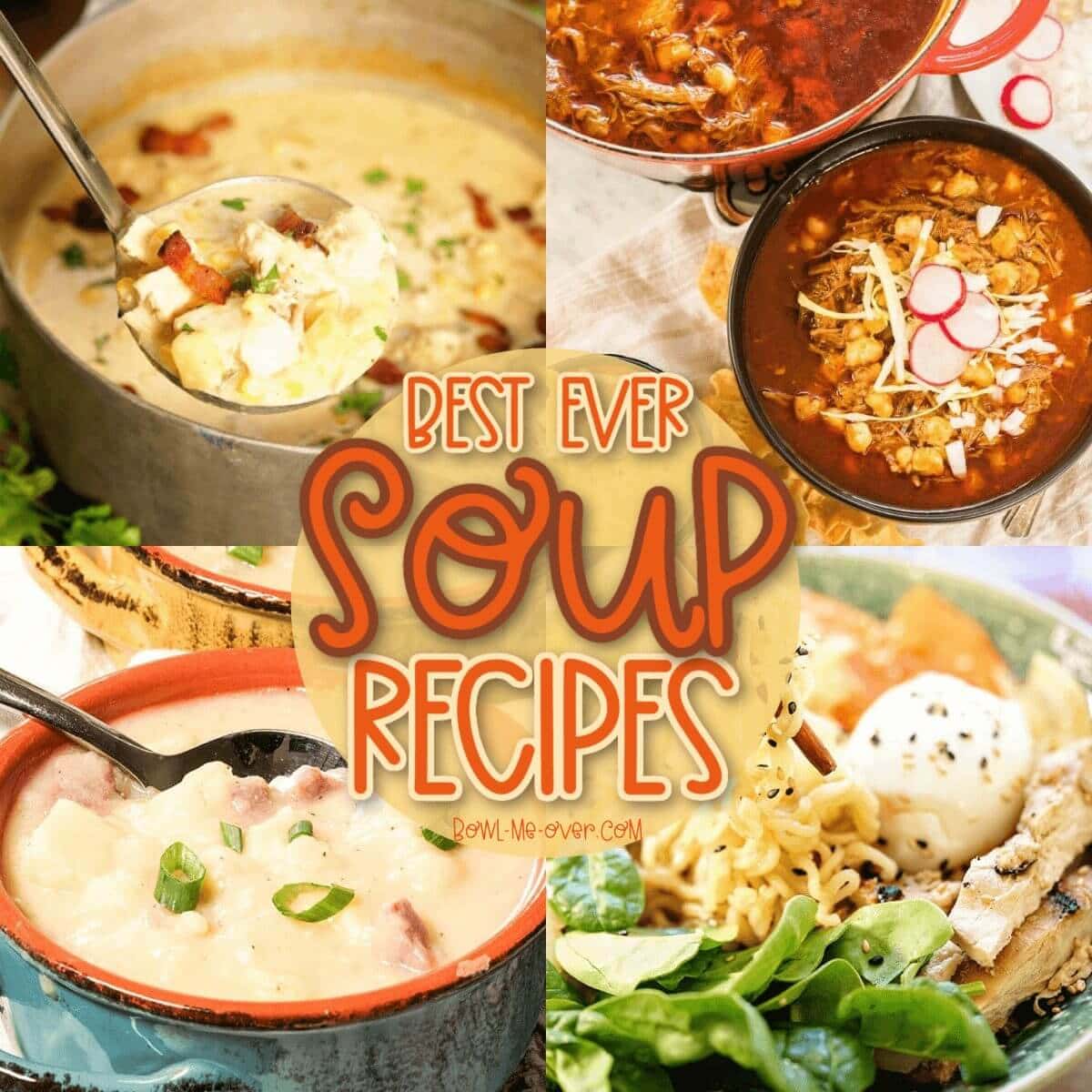 Jump to:
Why these are the best
Among this list, you'll find several quick options that make perfect busy weeknight meals. You'll also find several that are great for the freezer, so you can do the work once and enjoy it twice!
These are simple soup recipes, sure to make you feel warm and cozy. Many even taste better the next day! Soup is the ultimate comfort food!
Easy Potato Soup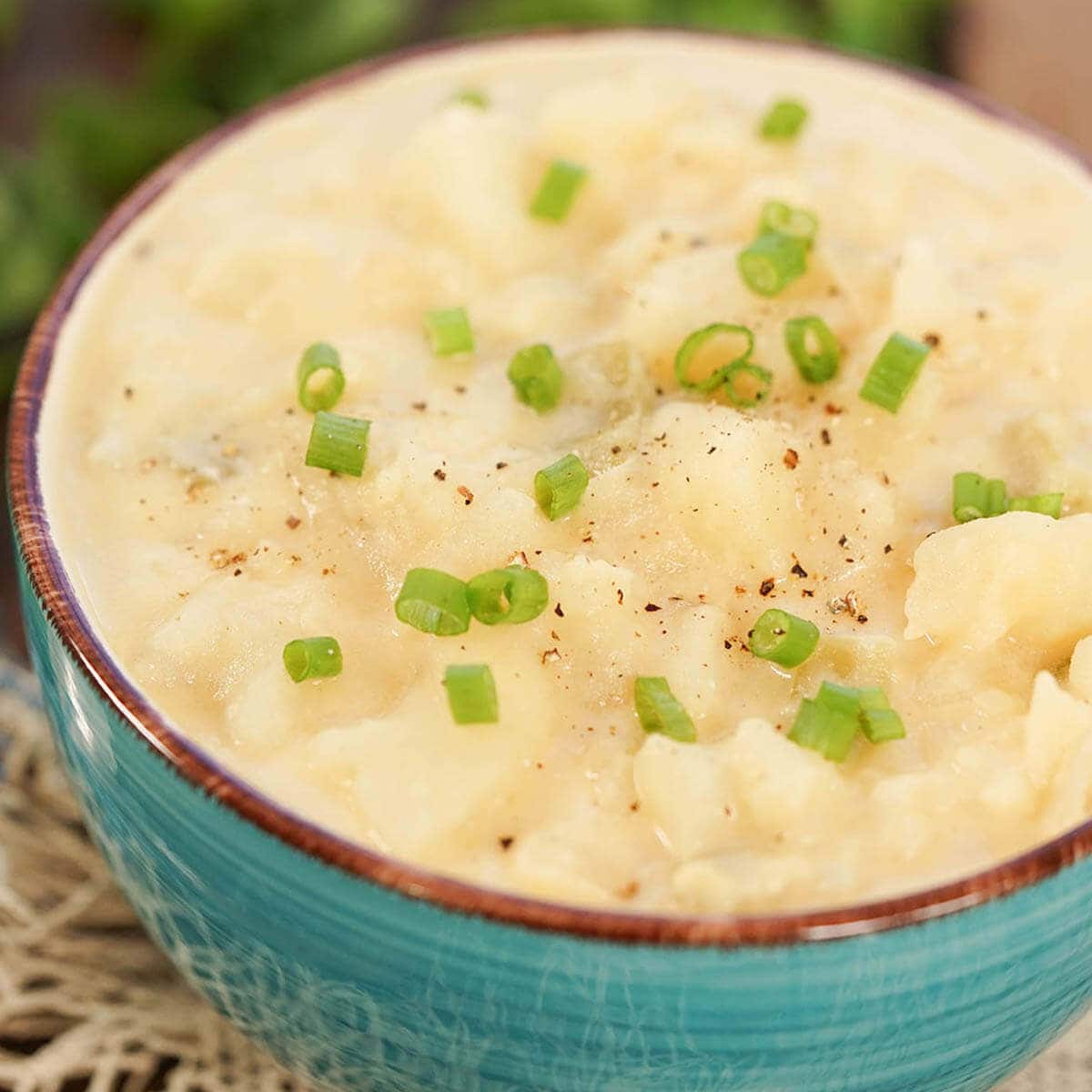 Our Easy Potato Soup is thick, creamy, hearty, and filling—everything you'd want in a soup when you're famished on a chilly day. The good news is that you can make it in about 30 minutes with simple ingredients you probably have on hand already.
A 30-minute soup that tastes like it's been simmering for hours? Yes, please! Instead of using milk or heavy cream, try sour cream to enhance the flavor profile.
We prefer our soup thick and chunky, but if you like yours a little soupier, add more vegetable stock. Serve with crusty bread, a light salad, or a sandwich to complete the meal.
Ham and Bean Soup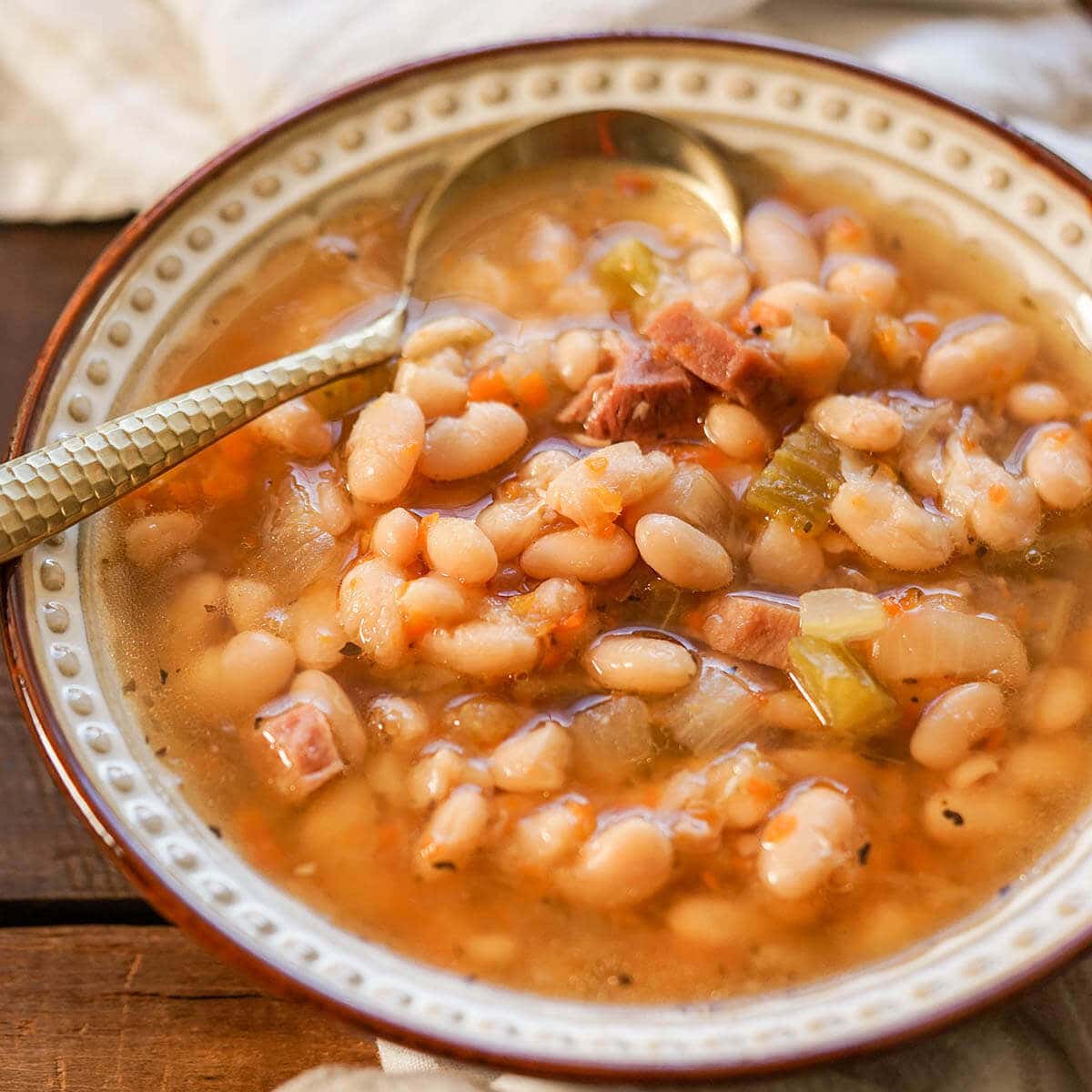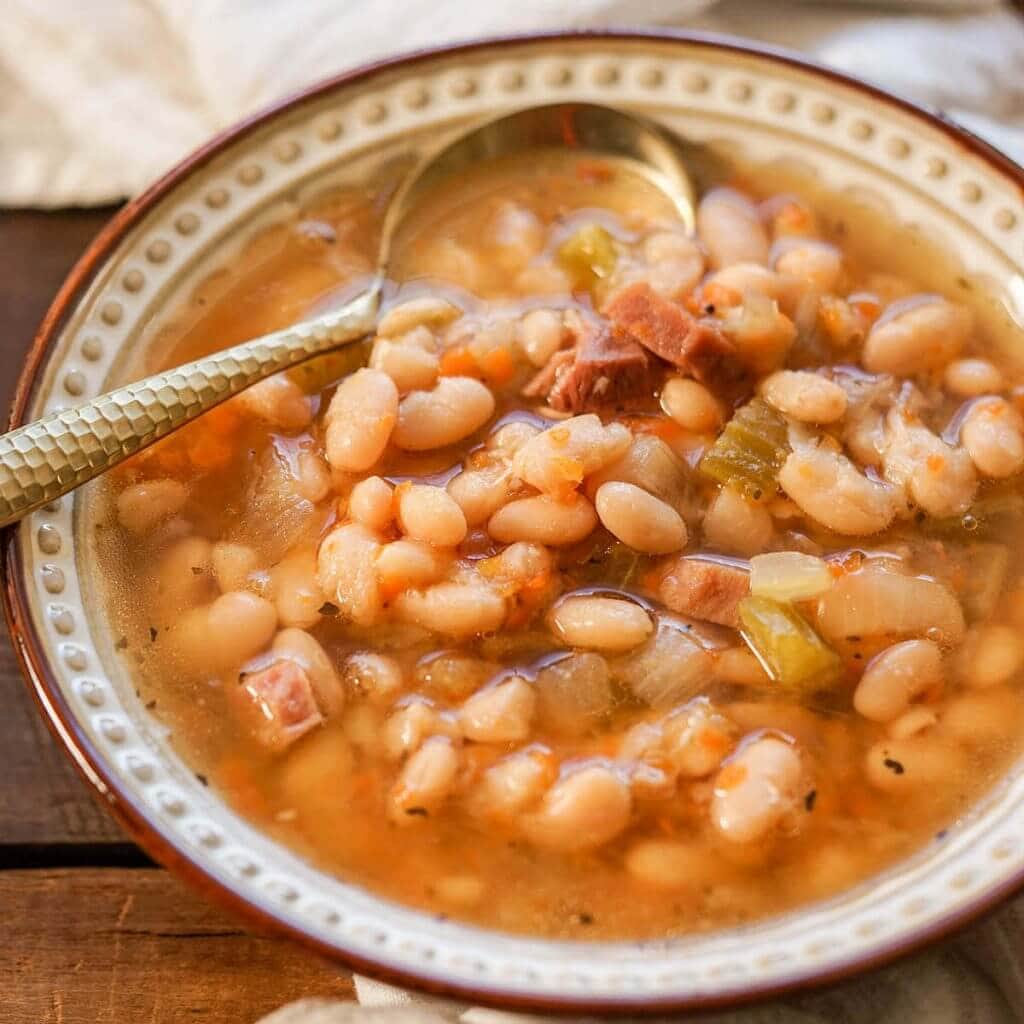 Hearty navy bean soup is rich and hearty. This easy soup is made with white beans and can be made on the stovetop, slow cooker or in a pressure cooker.
Tender beans and salty ham make the perfect combination of flavor! It's perfect for a cold night, it's a cozy soup and so delicious!
If you love this recipe, be sure and try French Onion Soup Recipe - it's amazing!
Authentic New Mexico Posole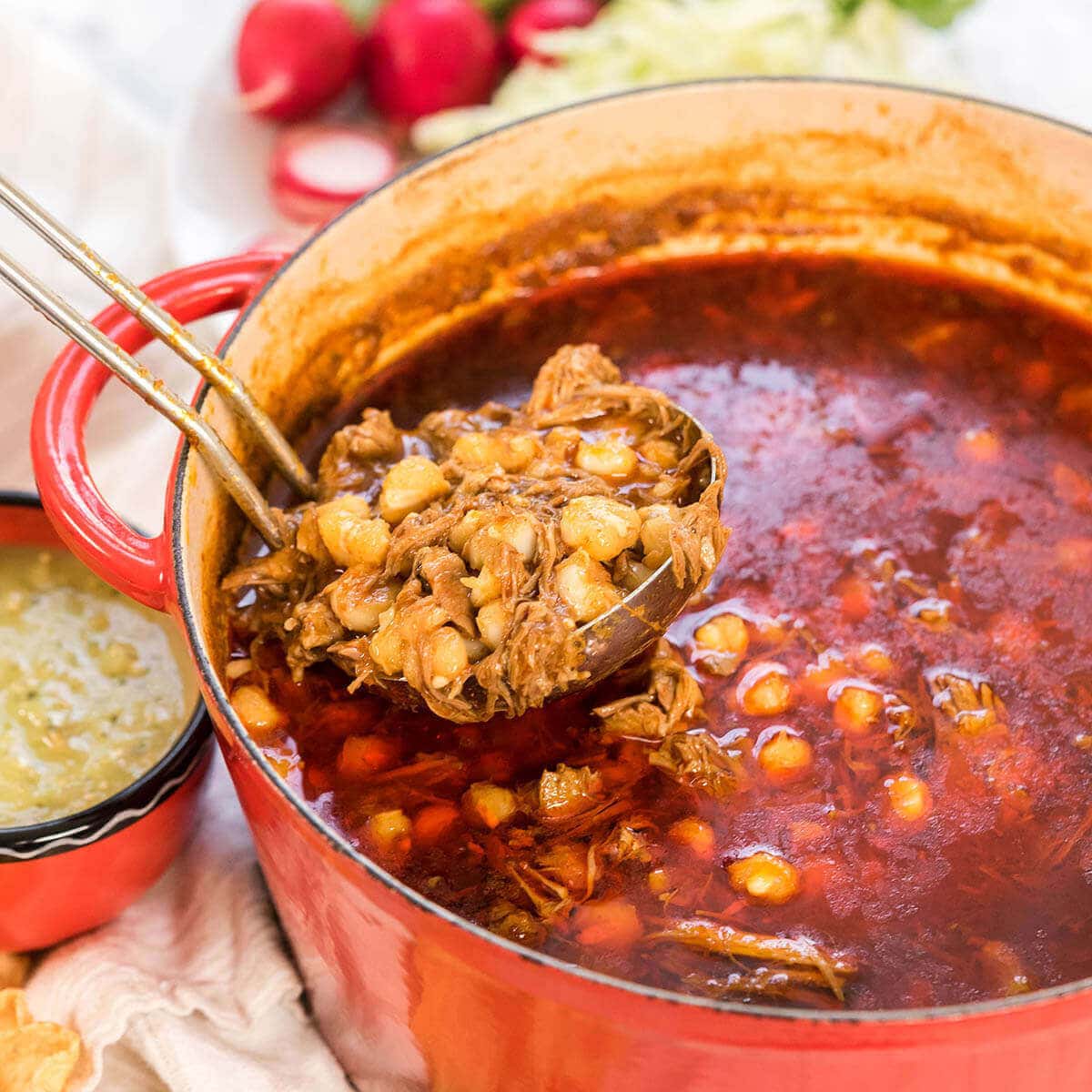 Our flavorful New Mexico hominy stew is packed with rich, warm flavor with a heat that's just right. Although it takes about 4 hours to make, don't be intimated. This stew is incredibly easy; it just takes a bit of time to build up the stew and develop the flavors.
Posole is a hearty soup, made with tender pork (use butt, shoulder, or loin), hominy, red chile sauce, and basic spices. Garnish the stew with cabbage, onions, radishes, or limes. If you want to serve something on the side, try chips and salsa, tortillas, cornbread, or a simple salad.
Homemade Tomato Bisque
You're going to love the layers of flavor in our Tomato Bisque! Bisque is creamier and thicker than tomato soup, so it's more filling. It's ready in just over 30 minutes, so this bisque makes the perfect weeknight or lunchtime meal.
It gets its delicious smoky flavor from the paprika and fire-roasted tomatoes and the tangy, earthy flavor from the goat cheese. Of course, if you're not a fan of goat cheese, simply sub in cream cheese instead.
[adthrive-in-post-video-player video-id="9X6xewzO" upload-date="Mon Sep 14 2020 00:00:00 GMT+0000 (Coordinated Universal Time)" name="10 BEST Soup Recipes Ever" description="This list includes our 10 BEST soup recipes ever! Each one is tried, tested, and bowl-you-over good. Quick and easy recipes you will enjoy!"]
Serve with warm, crusty bread. This soup is perfect for chilly nights and cool days. It freezes beautifully, so reserve some (or double the recipe) and put it in the freezer for an easy meal later.
Instant Pot Ham and Potato Soup
This meaty, hearty, savory, thick Ham and Potato Soup will quickly become a family favorite! It's made with two kinds of potatoes—Yukon Gold for the creamy texture and some russet potatoes to thicken the soup.
While we made ours in the Instant Pot, you can easily adapt it for the stovetop or slow cooker. Pair this filling soup with a green salad or a classic grilled cheese sandwich.
Lentil Soup
This recipe for Vegetarian Lentil Soup is made in the pressure cooker for a quick and easy meal. It's finished with a splash of red wine vinegar and a drizzle of olive oil. Delish!
This delicious vegetable soup takes only minutes to make in the Instant Pot, it's such an easy way to cook a quick meal. Greek Lentil Soup is an easy stew that is simple, hearty and delicious!
There are a variety of Vegetarian Soup Recipes like this recipe for Butternut Squash Soup and more in the vegan and vegetarian category.
Turkey Corn Chowder
For a stick-to-your-ribs kind of soup, try our Turkey Corn Chowder. It's perfect for using up those holiday turkey leftovers, but it's fantastic with leftover chicken, too. With big chunks of potato and turkey in a thick, creamy soup, you can't go wrong.
Use frozen yellow corn or creamed corn for added creaminess. If you're tempted to leave out the Tobasco sauce, DON'T! Just give it a chance—it really adds that something extra to the flavors.
This chowder is ready in less than an hour when using the Instant Pot!
Sausage and Okra Stew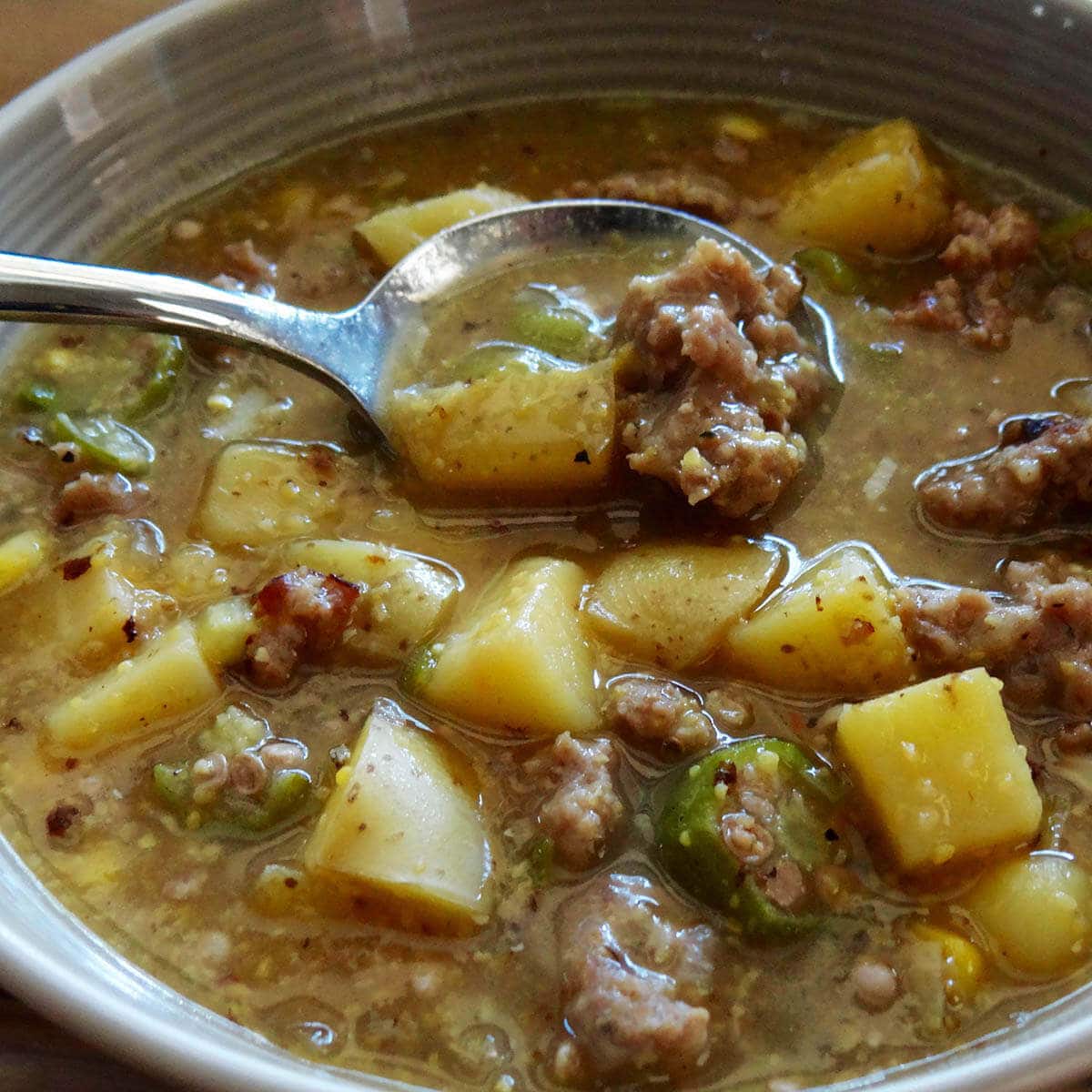 Think of this as an autumn harvest stew with all the delicious, earthy flavors of fall thanks to the potatoes, corn, and okra.
It's a fusion of Italian and American flavors to create a thick, hearty, rich, flavorful stew that's so filling and delicious. The okra is coated with polenta in this recipe, giving it a bright, crunchy flavor and texture.
Serve with crusty bread to soak up all that flavorful broth!
Crock Pot Beef Stew with Dumplings
How could you not love beef stew and dumplings in one yummy dish? The beef is so tender and flavorful, surrounded by big chunks of carrots, potatoes, and light, fluffy dumplings.
The secret to tender stew meat is cooking it low and slow, so the slow cooker is the ideal appliance for this recipe!
It's a meal on its own, but if you'd like to serve something with it, try a light salad or some dinner rolls to sop up all that beefy goodness.
Vegetable Orzo Soup
Make a delicious, easy meal for your family in just 30 minutes. This healthy soup is chock full of flavor and good-for-you ingredients. Carrots, celery, spinach, fire-roasted tomatoes, onions, orzo pasta, and more come together in this simple weeknight soup.
It keeps in the fridge for three days, so if you meal prep your lunches, this soup's for you! It also freezes well, so consider doubling the recipe to stash some in the freezer.
Zuppa Toscana Soup
We're all missing some of our favorite restaurants right now, but you can get that restaurant flavor and quality right at home. This copycat Olive Garden Zuppa Toscana Soup is easy, savory, flavorful, and delicious. That's why I had to include it with the best soup recipes ever!
Of course, you'll want to serve it with salad and some amazing breadsticks the Olive Garden way, right? Our recipe calls for kale, but if you're not a fan, swap it for spinach or Swiss chard.
With Italian sausage, diced potatoes, onions, and your favorite greens, this is a hearty, satisfying soup that is perfect for fall evenings and cold weather.
Easy Ramen Noodle Soup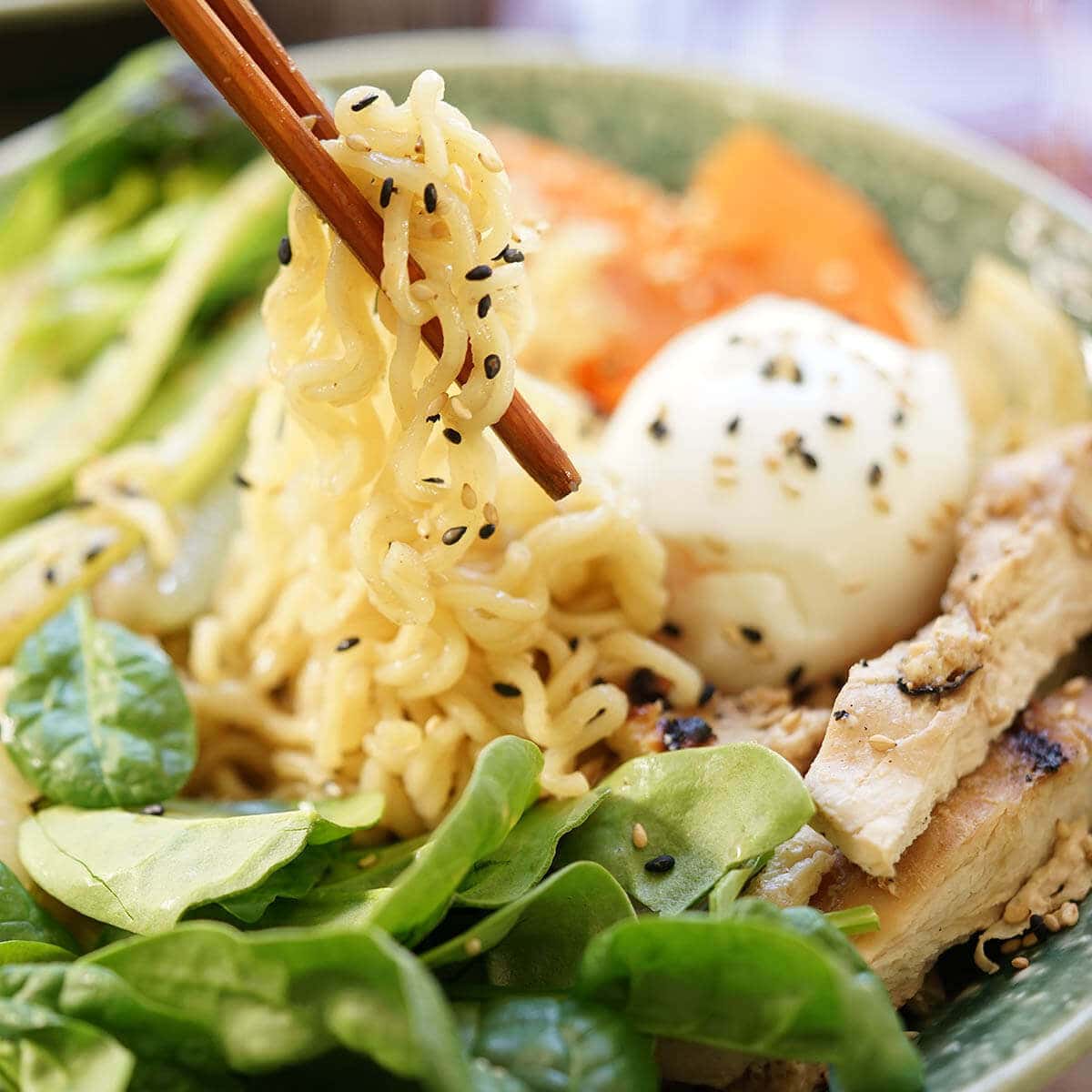 Dress up ordinary Ramen noodles with crunchy veggies and leftover chicken for an easy weeknight meal that's pure comfort food! Leftover barbecued pork is another yummy addition to try in this soup.
Don't leave out the soft-boiled eggs; they add richness and protein to the bowl. While we used carrots, broccoli, mushrooms, and bok choy, you can add your favorite veggies or whatever you have on hand.
A splash of soy sauce is all the flavoring you need.
It's a versatile recipe that easily allows substitutions and will still come out tasting fantastic.
If you'd prefer a classic Homemade Chicken Soup Recipe, then you'll love this! is filled with onions, carrots, celery and all kinds of yummy root vegetables AND only takes about 20 minutes to make!
Soup making tips
You know soup is my jam, right? Well if you want all of my soup-making tips and be tricks, head over to check it out!
You can up the flavor in many soups by adding just a little something at the end of the cooking process.
Lemon juice and freshly minced parsley brightens flavors.
olive oil or sesame oil will coat the inside of your mouth, giving the soup a richer flavor.
cider, balsamic vinegar or red wine vinegar to beef stock will wake up the flavors. Add just a touch!
If your spicy soups are a little too spicy there are some easy ways to cool the heat. Be sure to check it out for more ways to take your soup to the next level!
You'll learn how to making soup from scratch, how to thicken it, what gives them the BEST flavors and brightness. Learn what recipes freeze best and which should be eaten immediately. It's like a soup encyclopedia!
Expert Tip: Garnish with fresh parsley, green onions or cilantro for brightness. Adding a fresh squeeze of lemon, lime or a teaspoon of cider vinegar adds a briny freshness. Adding acidity and freshness at the end of cooking will take your soup to the next level!
Looking for more soup? Be sure to check this out for more slow cooker soup recipes!
Pin this list of the 10 BEST homemade soup recipes ever so you'll have the recipe for a hearty, comforting meal handy when you're craving warmth and flavor.