Vegetable Orzo Soup
Last week I did a blog swap with Liza from Beautiful Healthy Sweet.  Liza shared an amazing dessert with us – Healthy Chocolate Pumpkin Bars and I shared this soup on her site.  Well just in case you didn't make it over there to check out that recipe, I wanted to share it with you today.  It's a delicious light and healthy vegetarian soup.  Full of beautiful crunchy veggies, just a bit of pasta and finished with a squeeze of lemon and parsley.
And this soup is delicious!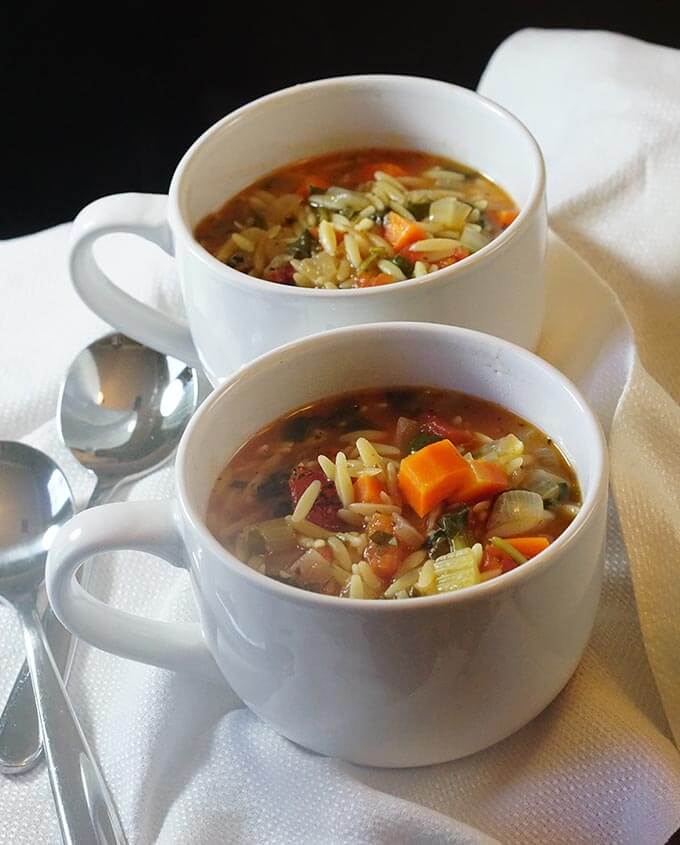 It is healthy and easy too!  My Vegetable Orzo Soup starts with bright fresh vegetables like spinach, celery, carrots & onions.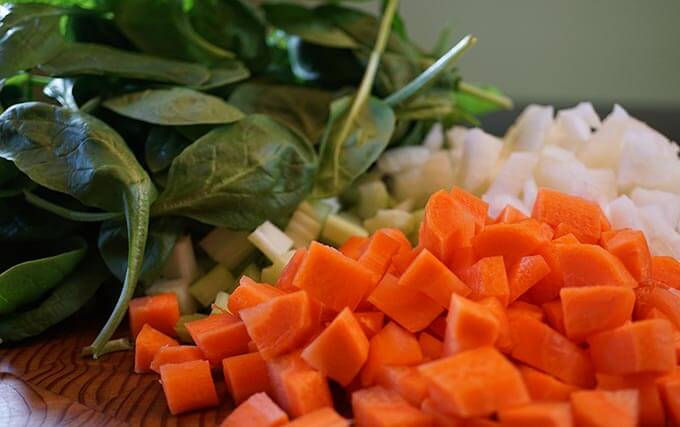 Check out this picture – it isn't enhanced in the least!  These carrots really were this bright and vibrant.  I'm a big fan of the farmers market and our produce here in Fresno is unbelievably fresh and delicious.
You'll start by dicing the vegetable, onions, carrots & celery. I try and dice them uniformly so they cook in equal time and also so they fit easily onto a soup spoon.  Then into the pot they go with just a bit of olive oil.  Next you'll add the spices and sauté the vegetables until everything just begins to soften – about 5 minutes or so. Add the spinach, orzo, tomatoes, stock & water.  Increase the heat and bring it to a boil, stirring often.  The orzo only takes about 9 minutes (cook according to package directions).  Once it comes to a boil, give it a really good stir and then reduce to medium heat.
Continue to cook stirring often for a couple of reasons – the orzo will want to stick to the bottom, but also stirring the orzo will help release the starch in the pasta and help to thicken the broth.
And what it becomes, is a beautiful and delicious pot of soup! Because it cooks so quickly the vegetables still have a bit of a crunch – that gives the soup great texture too.  Finishing the soup with a squeeze of lemon and bit of chopped parsley keeps the flavors bright and fresh.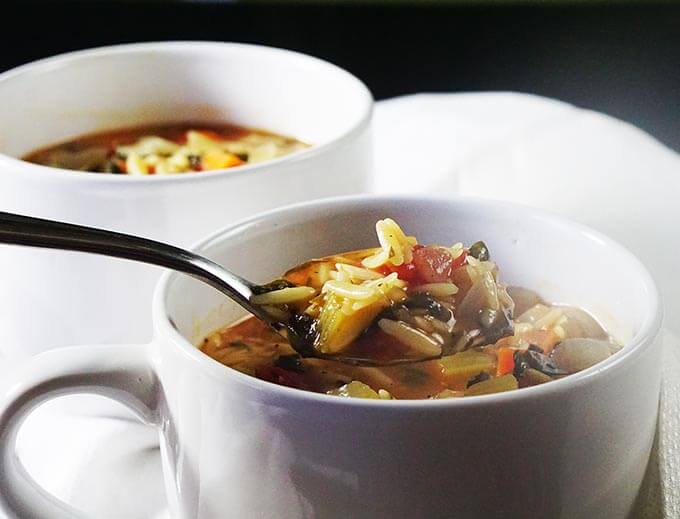 And just that quickly – less than thirty minutes your beautiful soup is complete. You are ready for dinner tonight!  It takes about as long to chop the vegetables as is does to cook the meal!
Who is ready for soup tonight?  😀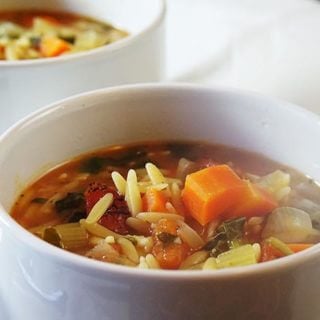 Vegetable Orzo Soup
Fall is the perfect time for a delicious harvest soup and these easy flavors come together in a snap. Vegetable Orzo Soup is a healthy meal packed full of flavor.
Ingredients
3

carrots

2

stalks celery

1

yellow onion

8

cups

spinach

1

clove

garlic

1 14.5

oz

can fire roasted tomatoes

1

cup

orzo pasta

4

cups

stock

3

cups

water

1

tablespoon

olive oil

1

teaspoon

italian seasoning

1

teaspoon

salt

1/2

teaspoon

pepper

Pinch red pepper flakes

1/2

tablespoon

lemon

(optional)

1

tablespoon

parsley minced

(optional)
Instructions
Dice the carrots, celery & onion. Heat a large stockpot over medium heat. When it is good & hot, add the olive oil. Then add the carrots, celery & onion. In addition add the spices - Italian seasoning, salt, pepper and red pepper flakes. Sauté for 4-5 minutes until the vegetables begin to soften. Add in the garlic & sauté for about another minute, until the garlic becomes fragrant.

Run your knife thru the spinach a couple times, chopping it into bite sized pieces. Add it to the soup pot. Next add the pasta and give everything a good stir. Poor in the tomatoes, stock and water. Increase the heat to high and stir well to combine. Bring to a boil, then reduce the heat to medium - you'll still want to keep it a light bubble and cook until the orzo is cooked thru - about 8-9 minutes. Continue stirring the soup often. As mentioned earlier, the orzo will want to stick to the bottom of the pan. In addition, stirring it will release the starches in the pasta and help to thicken the soup.

When the orzo is cooked, remove the soup from the heat. Add a squeeze of fresh lemon juice and about a tablespoon of chopped parsley for bright fresh flavor.
Nutrition Facts
Vegetable Orzo Soup
Amount Per Serving
Calories 257
Calories from Fat 36
% Daily Value*
Total Fat 4g 6%
Sodium 1798mg 75%
Potassium 656mg 19%
Total Carbohydrates 46g 15%
Protein 8g 16%
* Percent Daily Values are based on a 2000 calorie diet.
So tell me, what is your favorite soup?
Do you eat soup year-round (we do!) or only in the winter and fall?
I hope you enjoy this meal because soup is good food! 😀